10 Boucle Ottomans to Create a Cozy Retreat
A boucle ottoman is not only a practical addition to your living space, but it also brings a touch of elegance and sophistication to your decor. This unique piece of furniture is characterized by its soft and textured boucle fabric.
Boucle fabric is a type of textured fabric with a looped surface, creating an appealing tactile experience. This texture is achieved by using boucle yarns, which are made by spinning together multiple strands of fibers, often with one strand being intentionally looser than the others. The result is a soft and cozy fabric that's perfect for upholstery, making it an excellent choice for ottomans, beds, sofas, chairs, benches, and more.
Boucle ottomans are incredibly comfortable, thanks to the softness and plushness of the boucle fabric. This makes them perfect for putting your feet up after a long day or providing extra seating for guests. The unique texture of boucle fabric adds visual interest to any space, making boucle ottomans an eye-catching addition to your living room, bedroom, or home office. They can serve as a focal point in the room or blend seamlessly with your other furniture.
Best Boucle Ottomans For Sale
Boucle ottomans come in a variety of shapes, sizes, and colors. Whether you prefer a round, square, or rectangular ottoman, you'll be able to find one that complements your existing furniture. For your inspiration, we've rounded up 10 boucle ottomans you can buy - browse our selections below to find the perfect one for your home.
You may also like: 25 Boucle Chairs That Bring Style and Comfort to Your Home
Boucle Louise Storage Ottoman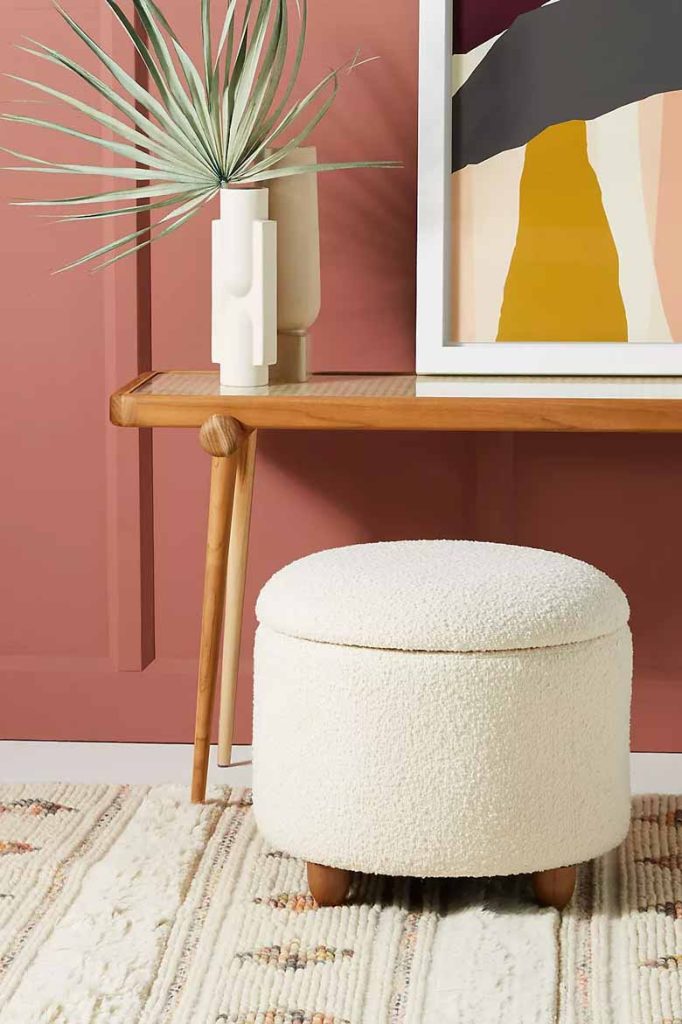 Supported by sturdy maple wood feet, this charming round ottoman is wrapped in a plush, textured boucle fabric that provides a super soft spot to rest your feet. Lift the round top cushion to unveil concealed storage space, ideal for tucking away magazines, neatly folded throws, and other items to keep your living area organized and clutter-free, especially when entertaining guests.
Helene Upholstered Storage Ottoman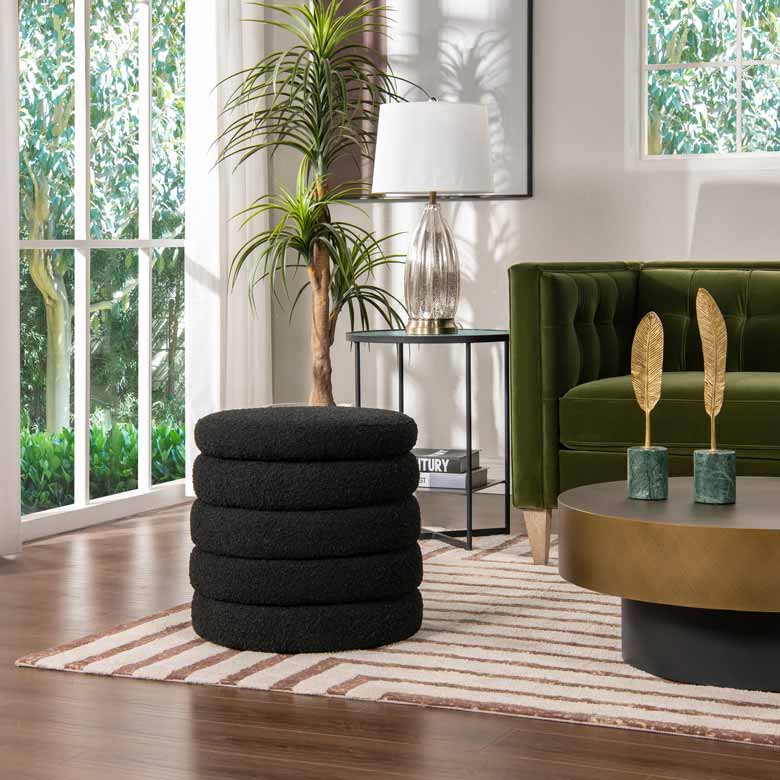 Combining style and functionality, this round storage ottoman is a versatile addition to any space. Use it as a unique side table or additional seating in your living room, or place it in the bedroom for extra storage. This boucle ottoman features a convenient lift top, revealing ample storage space underneath. Choose from two colors: Black and Ivory White.
Auburn Performance Fabric Ottoman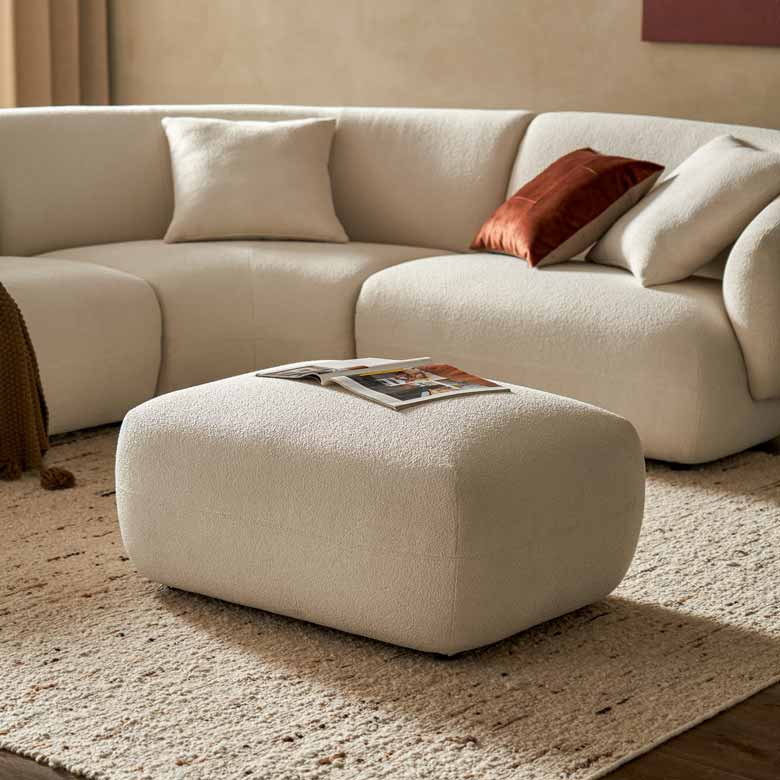 This boucle ottoman effortlessly fits into any space. The performance fabric ensures a soft and comfortable feel, inviting you to rest your feet. Versatile and functional, this ottoman serves multiple purposes. Use it as a cozy footrest while lounging on the couch, or place a tray on top to transform it into a stylish table. Additionally, it provides extra seating when needed, making it a versatile and practical addition to your living area.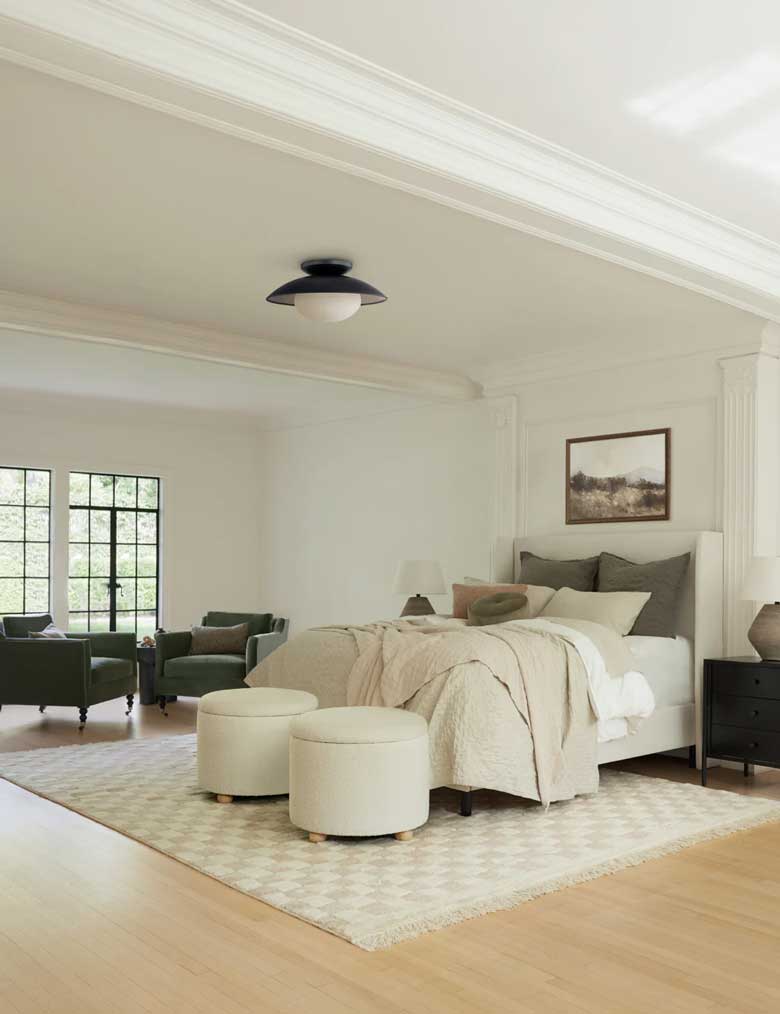 Another great choice is this white boucle ottoman with storage from Lulu and Georgia. This ottoman adds a touch of chic sophistication to any living room or bedroom. The round shape is complemented by sturdy pinewood feet, creating a versatile floating accent that effortlessly blends into your decor. Lift the plush top to reveal a spacious storage compartment, perfect for neatly organizing blankets and other essentials.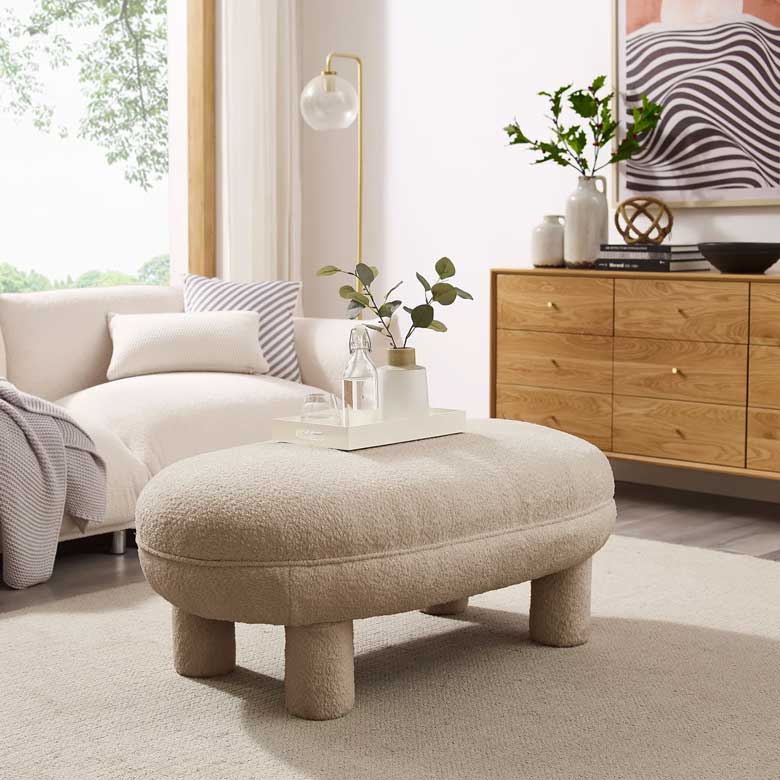 This comfy oval boucle ottoman is the perfect choice for moments when you want to relax. With its soft boucle upholstery and sturdy legs, this piece adds a touch of style to any space. Whether you're seeking a cozy spot to relax or a statement piece to elevate your decor, this oval ottoman is a must-have. Choose from four colors: Camel, Denim Blue, Smokey Gray, and White.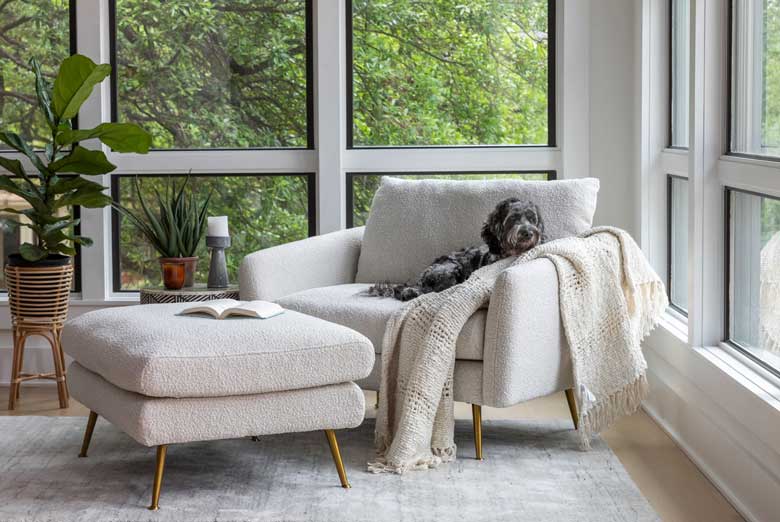 Perfect for the living room or bedroom, this chic boucle ottoman is a great choice for anyone who wants to add a touch of mid-century-inspired style to their space. The high-resiliency foam wrapped in feathers provides comfort and support, while the gold legs add a touch of luxury. For the ultimate relaxation experience, pair this boucle ottoman with a matching boucle chair or a snug sherpa chair.
Boucle Louise Wood-Topped Storage Ottoman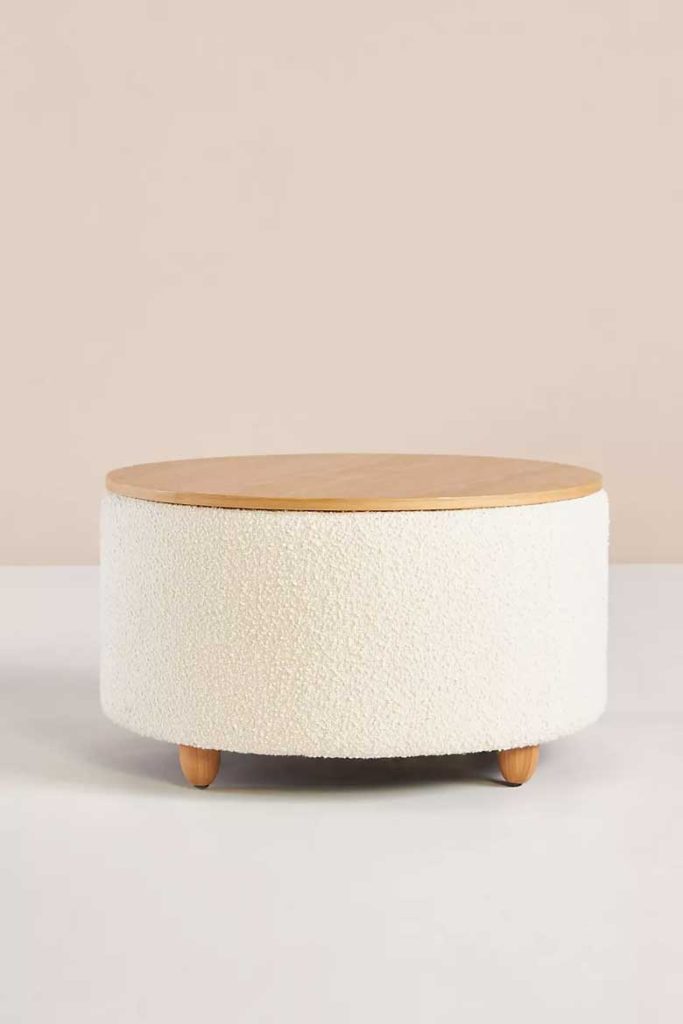 This versatile ottoman merges style with functionality. Rendered in a plush, textured boucle fabric, it features a removable round top cushion that opens to reveal discreet hidden storage space. The sturdy maple wood legs provide a sleek contrast to the tactile upholstery. Use this chic and practical ottoman as extra seating in the living room or at the foot of the bed in the bedroom. Or take advantage of its storage compartment to neatly tuck away magazines, blankets, and more to keep clutter at bay.
Enoki 21" Wide Round Storage Ottoman with Storage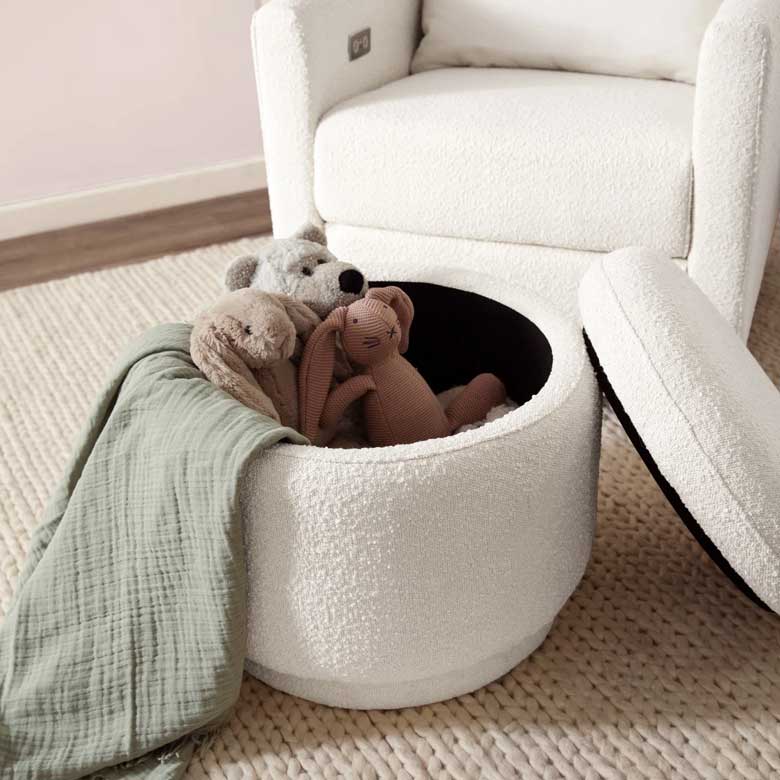 This boucle ottoman is perfect for the kids' room. Featuring a rounded silhouette, this piece is upholstered in a woven boucle fabric and offers storage for toys, sheets, or blankets.
Kartyr Upholstered Ottoman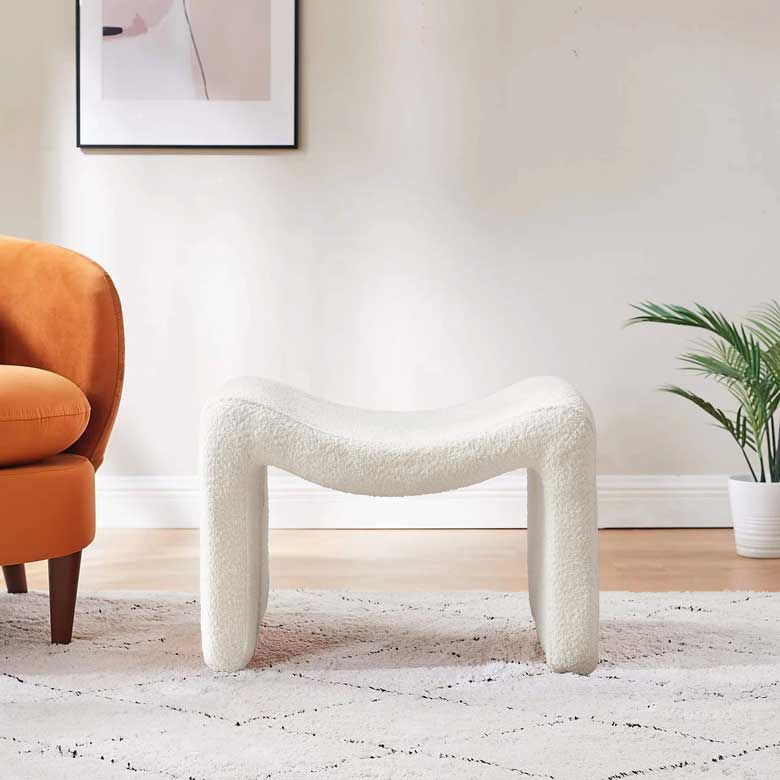 This boucle ottoman is the perfect addition to any contemporary home. It can be paired with a chair for added comfort, used as a footrest, or as an occasional surface to hold books or decor. It's available in multiple colors: White, Yellow, Gray, Green, Orange, and more.
White Boucle Ottoman with Removable Wooden Lid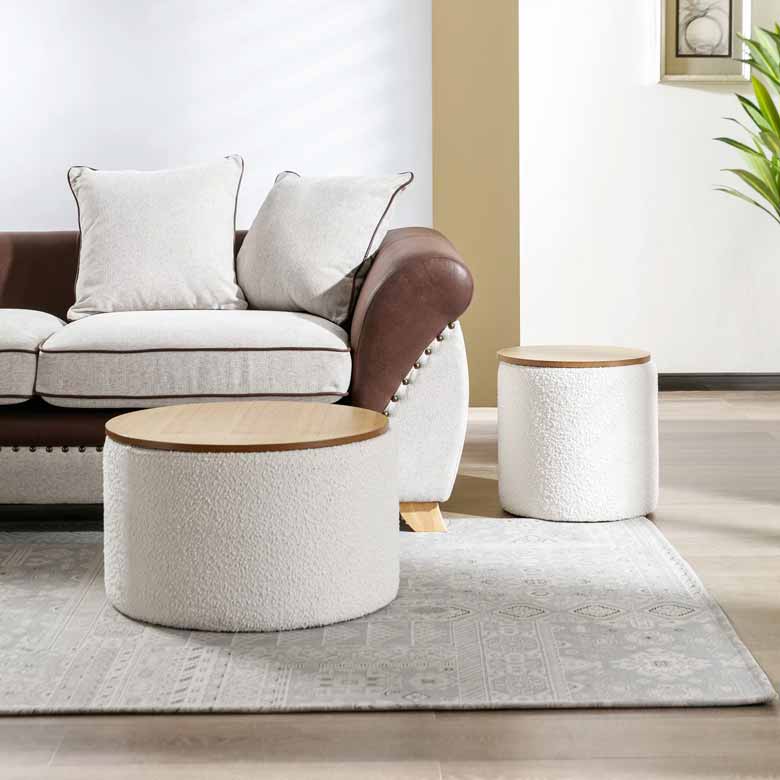 Keep your space organized in style with this convenient round storage ottoman. Perfect for tucking away clutter, it features a removable wooden top that lifts off to reveal a handy interior compartment. With its discreet yet spacious storage capabilities, this ottoman footstool has many uses around the home. Stash extra blankets and pillows inside to keep your bedroom clutter-free, hide books and magazines away in the living room, or conceal TV remotes in the family room to maintain a clean look.
Read next: 12 Boucle Benches for a Cozy and Chic Home