12 Modern Coffee Tables for a Stunning Living Room
Adding a modern coffee table to your living room is a great way to make your home feel stylish and inviting. We all know what it's like to have guests over, to share a fresh cup of coffee or tea with. It's a great experience provided you have a great coffee table to match the beverages. These modern coffee tables promise just that: a pleasant experience and great design to impress those who come visit.
Best Modern Coffee Tables You Can Buy
With so many coffee tables available on the market, choosing the perfect one for your home can be difficult. For your inspiration, we've rounded up 12 modern coffee tables you can buy - browse our selections below.
You may also like: 10 Round Coffee Tables With Storage to Keep Your Home Organized
Bryant Black Coffee Table With Reclaimed Oak Shelf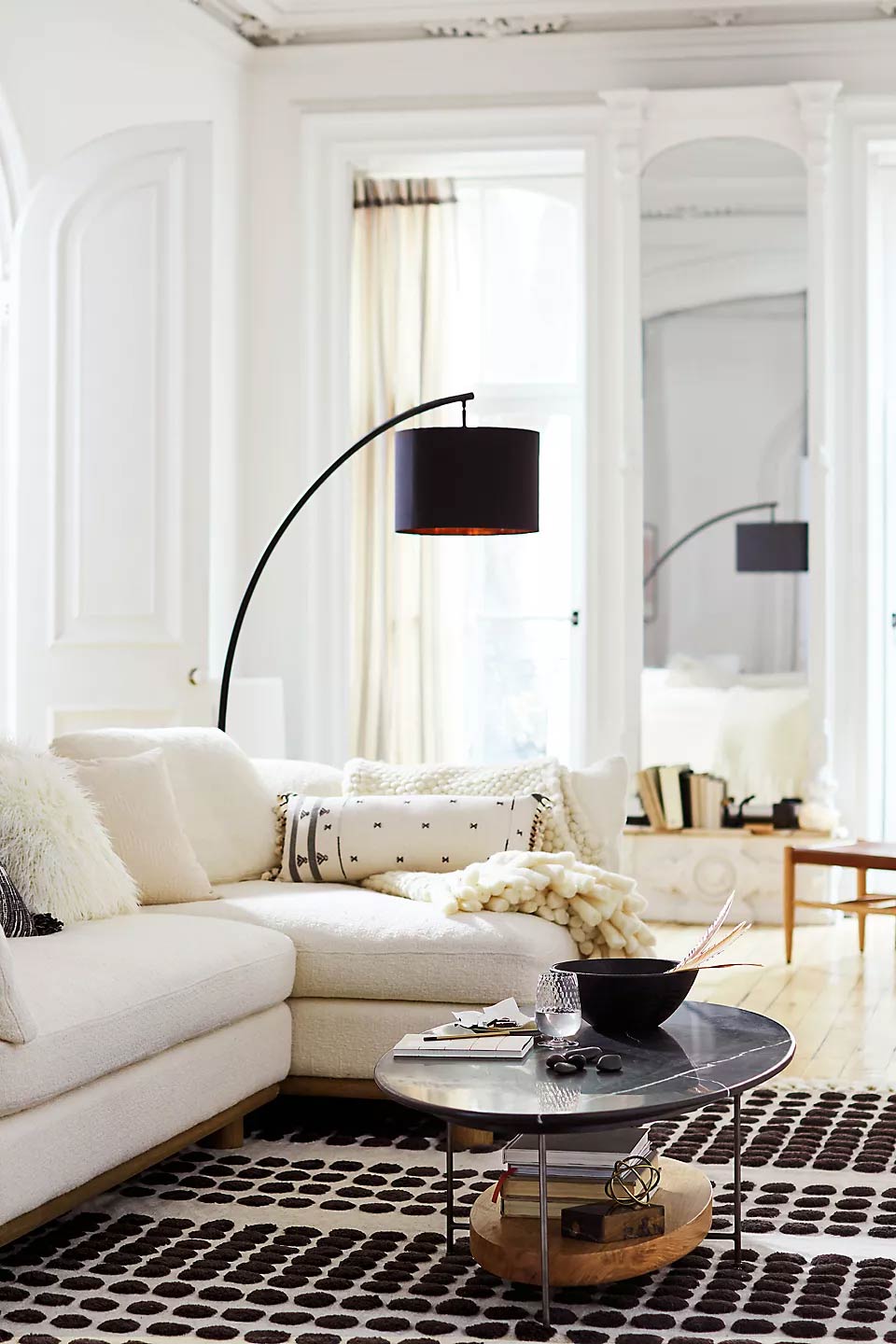 This coffee table is an instant upgrade to any home. The black marble top and thin cast iron legs offer the table a timeless, modern feel, while the reclaimed oak shelf provides a slot for extra storage space.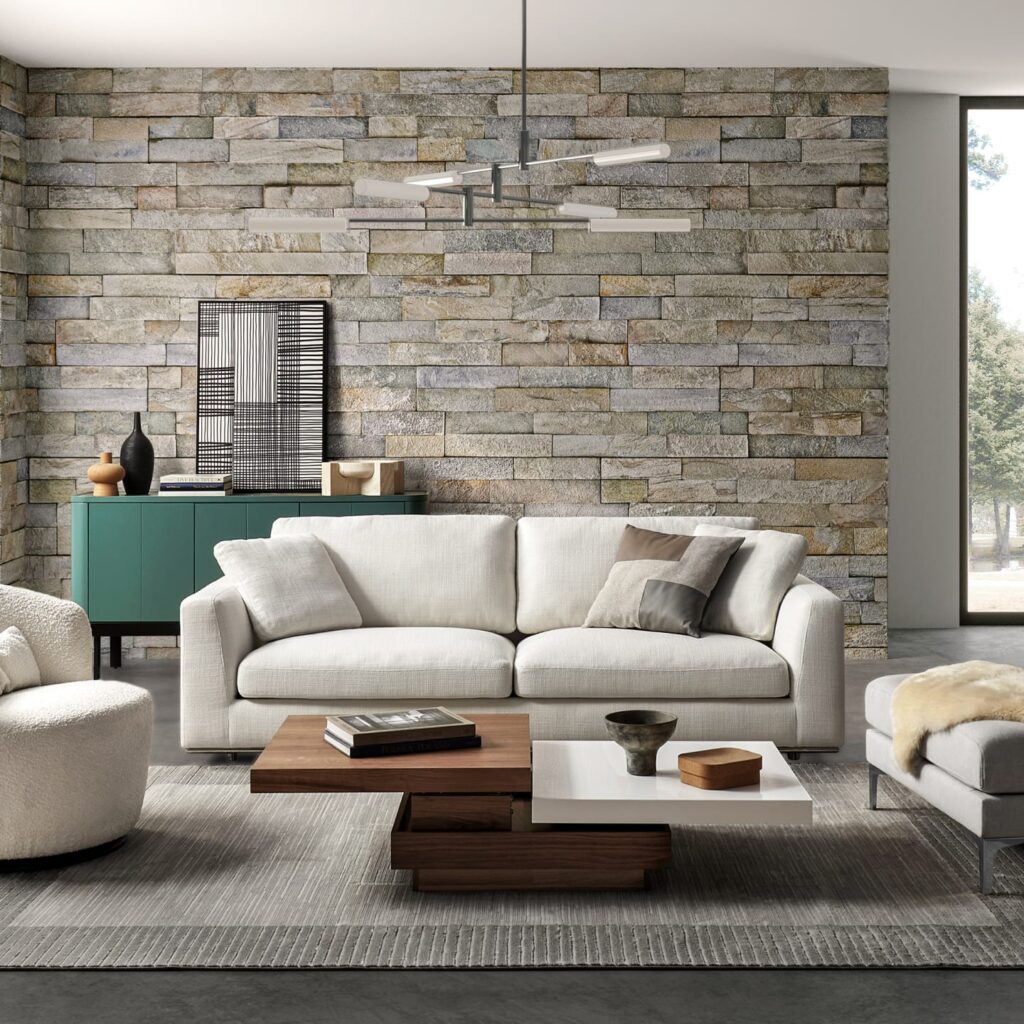 Andre Coffee Table has a beautiful design and incredible functionality. Measuring 55"W x 27.5"D x 13"H, this modern coffee table showcases style and class. It allows for multiple configurations depending on your needs, which makes it a great choice for both large and small living rooms. It also comes with storage that can be used for remotes or magazines.
Cupid Geometric Coffee Table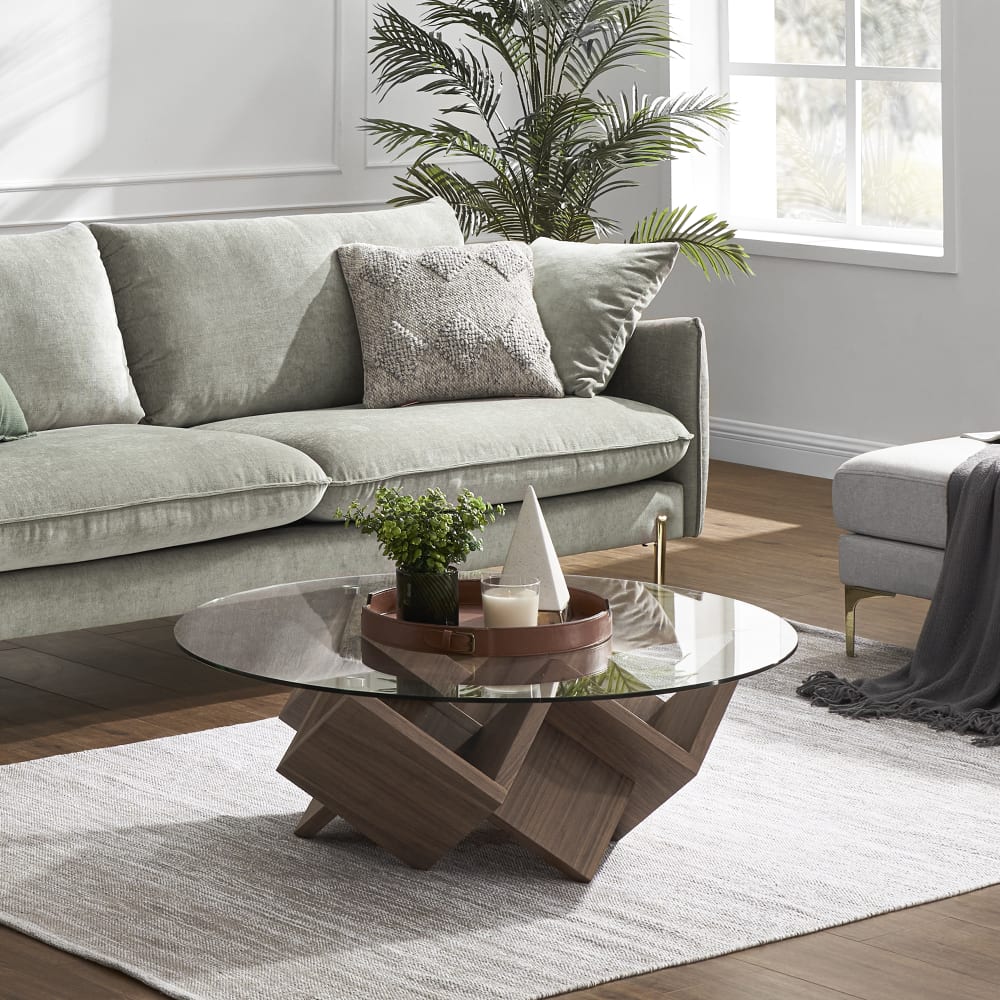 This geometric coffee table will surely be the centerpiece of any living room. Featuring a round glass top and a sculptural walnut base that serves as both an art piece and a display storage, this modern coffee table will impress all your guests. It's easy to assemble and great for displaying some of your books. It measures 39.3" W x 13.3" H x 39.3" D and it's available at Castlery, click on the link below to read more details.
Bercher Nesting Coffee Table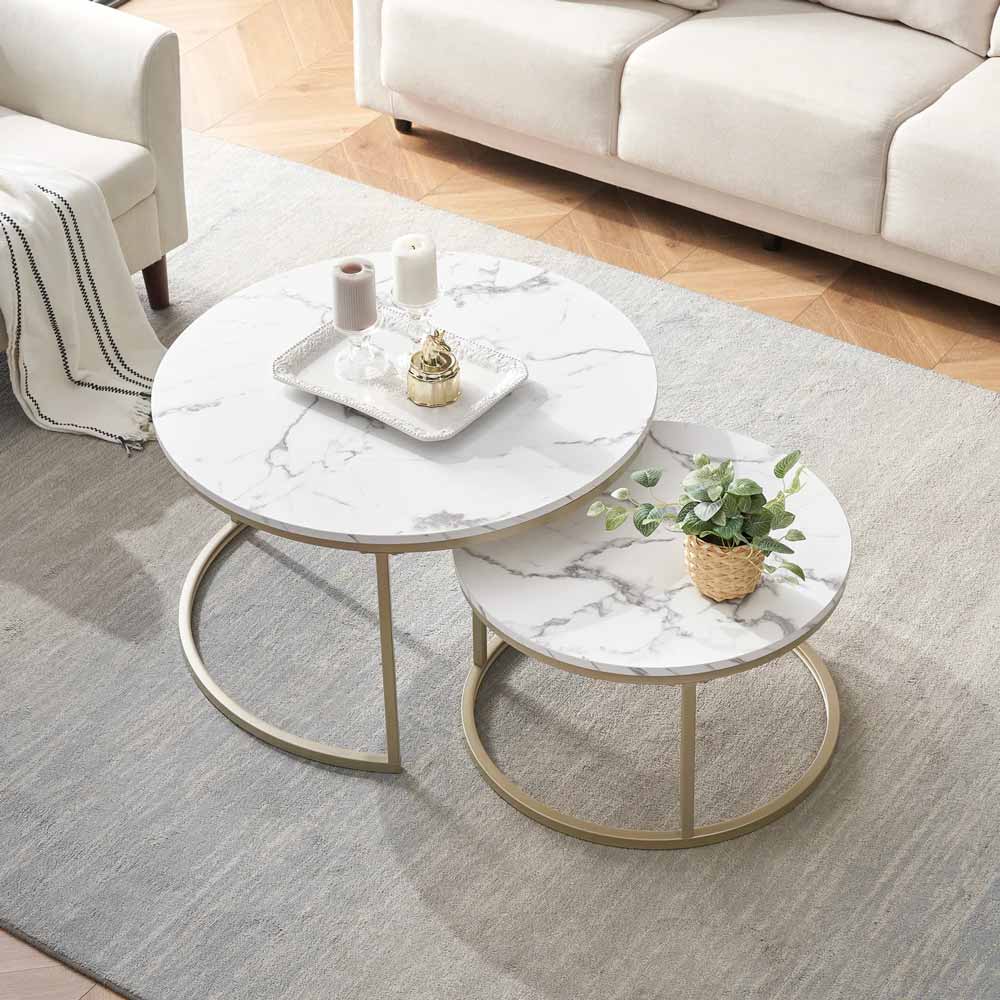 Perfect for a modern or contemporary living space, this stylish nesting coffee table set measures 31.4'' W X 17.6'' H X 31.4'' D overall and features a faux white marble top and a metal base for each table. You can choose from multiple colors and finishes: Soft Gold, Bright Black, Nano Gold, Silver, and Morandi Purple Gold.
Modern Drum Coffee Table, Trapezoid Faux Marble Coffee Table, Fully-Assembled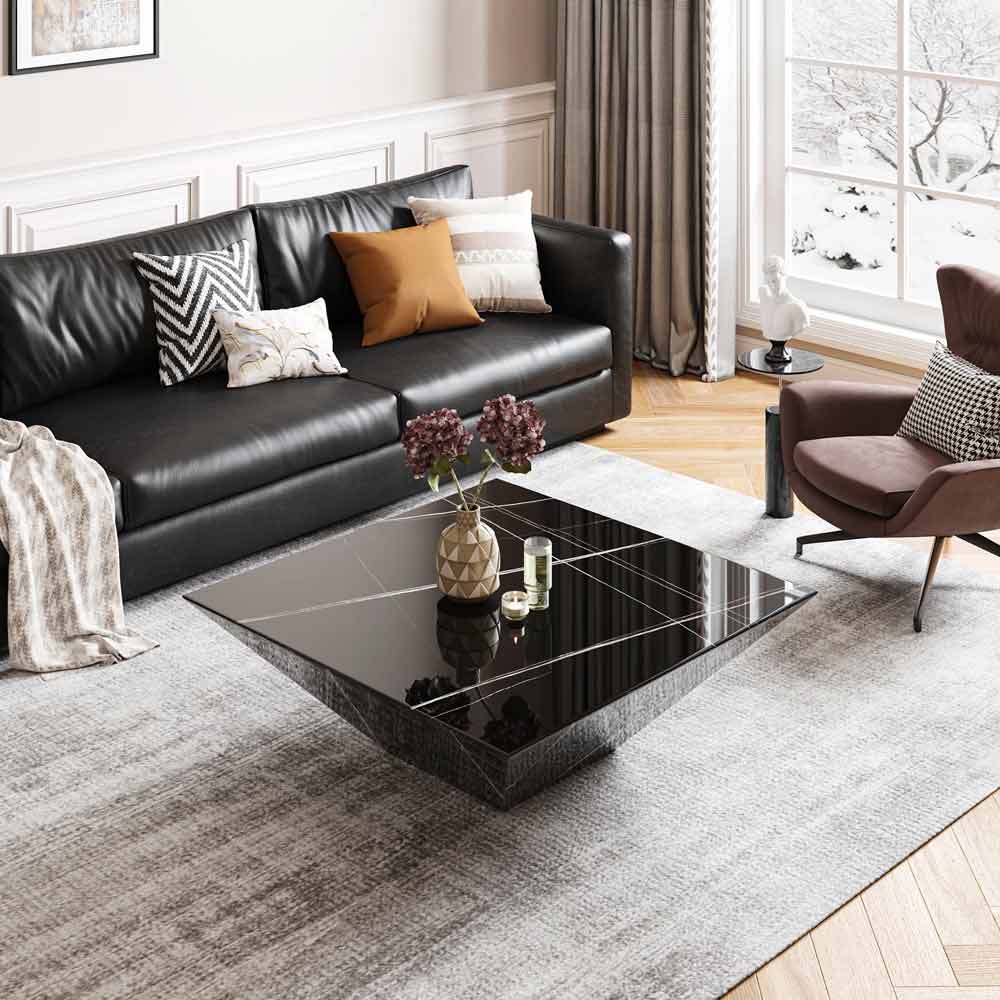 With its trapezoid shape and minimalist design, this coffee table brings sleek, modern style to any room. The black faux marble top features subtle veining that complements the geometric frame. More than just a table, this sculptural piece doubles as an artistic accent, instantly elevating your space. This modern coffee table is available in two colors: White and Black.
Peri Rectangular Coffee Table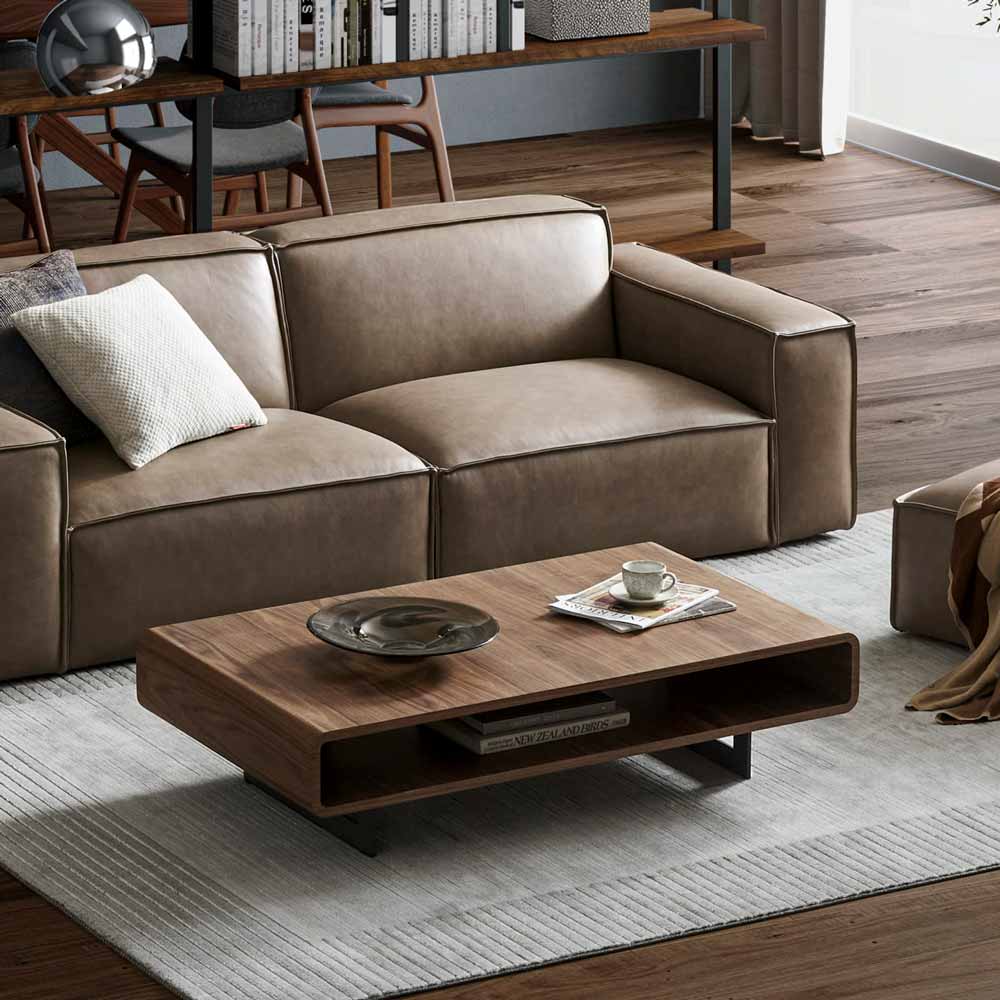 If you want style, elegance and functionality at an affordable price point, then this modern coffee table is perfect for you. The rounded corners create a safer living environment for families with kids, and the open shelf provides plenty of storage space. It measures 47.2" W x 27.5" D x 11.8" H, so it's quite low-profile. The walnut veneer blends well with most furniture.
Finnley Round Coffee Table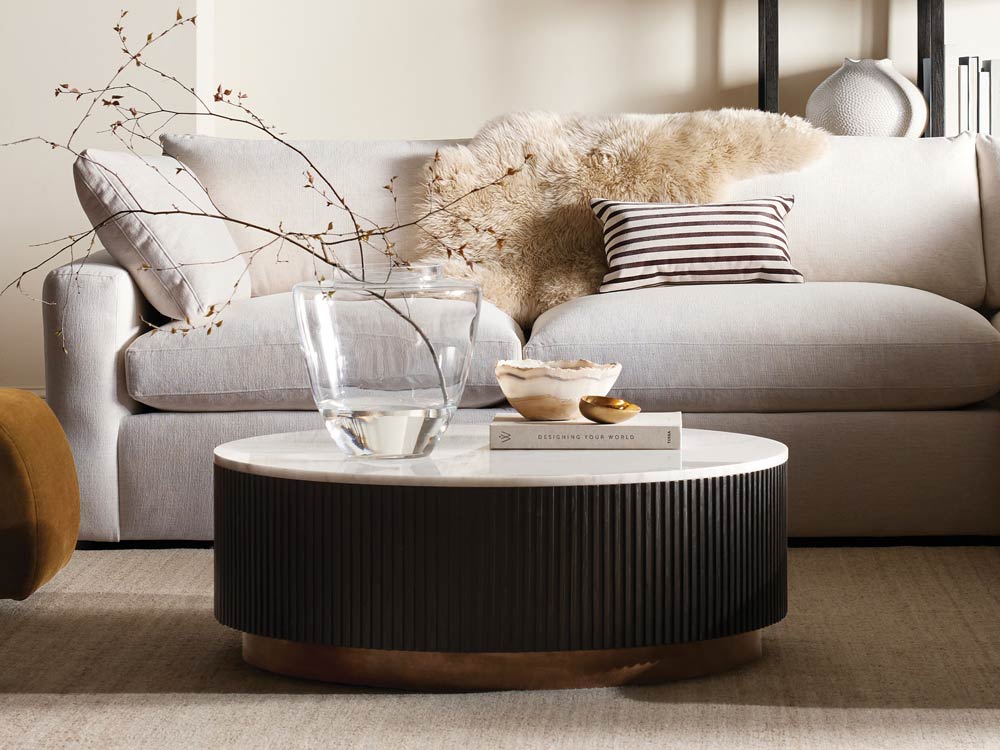 This beautiful coffee table brings style and luxury to any living room. It measures 42" W x 14.5" H x 42" D and it's available in two finishes: Ebony and Liath Smoke.
Cuffie Modern Coffee Table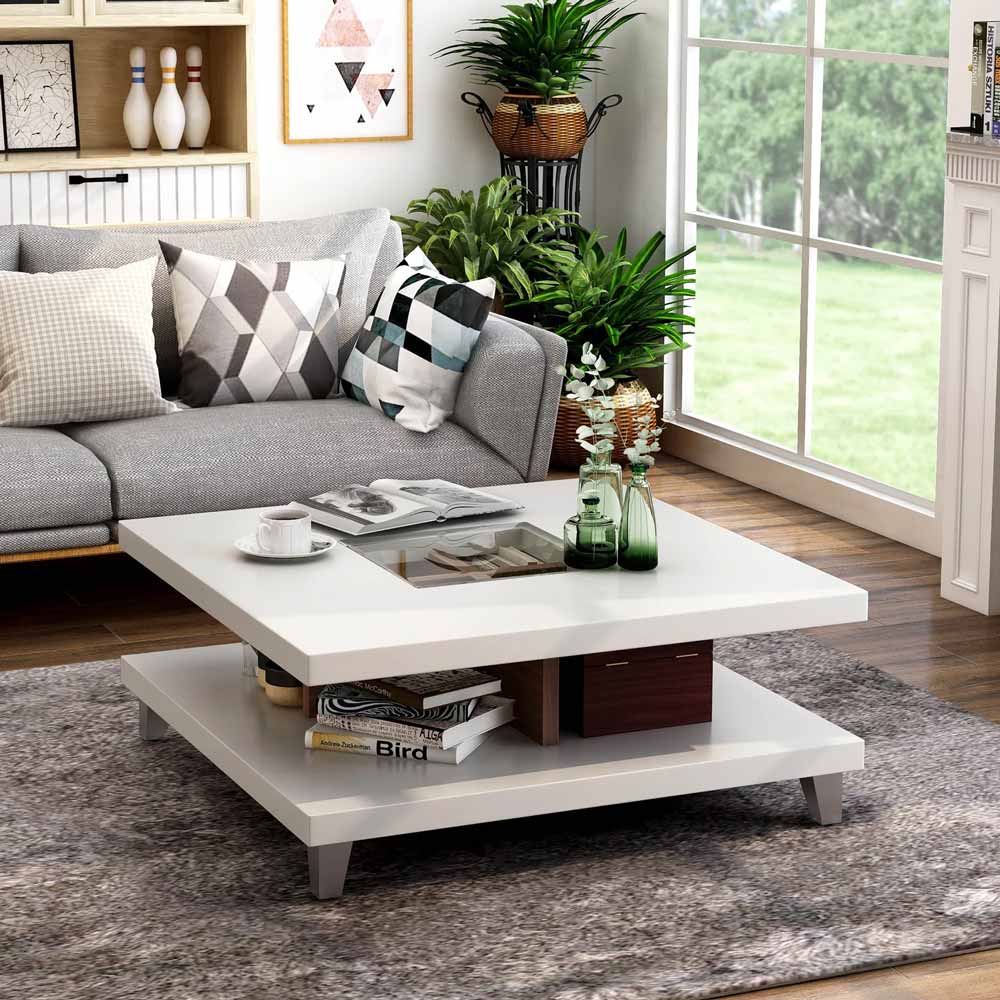 This modern two-tier coffee table is a must-have piece for contemporary living rooms. Featuring ample space to stage decorative items, store remotes, and serve drinks, it offers both form and function. The eye-catching design has two tabletop tiers connected by a central wooden piece. Supported by four tapered silver legs, the lower shelf provides convenient storage for books, magazines, and more.
Cozayh 2-Piece Coffee Table Set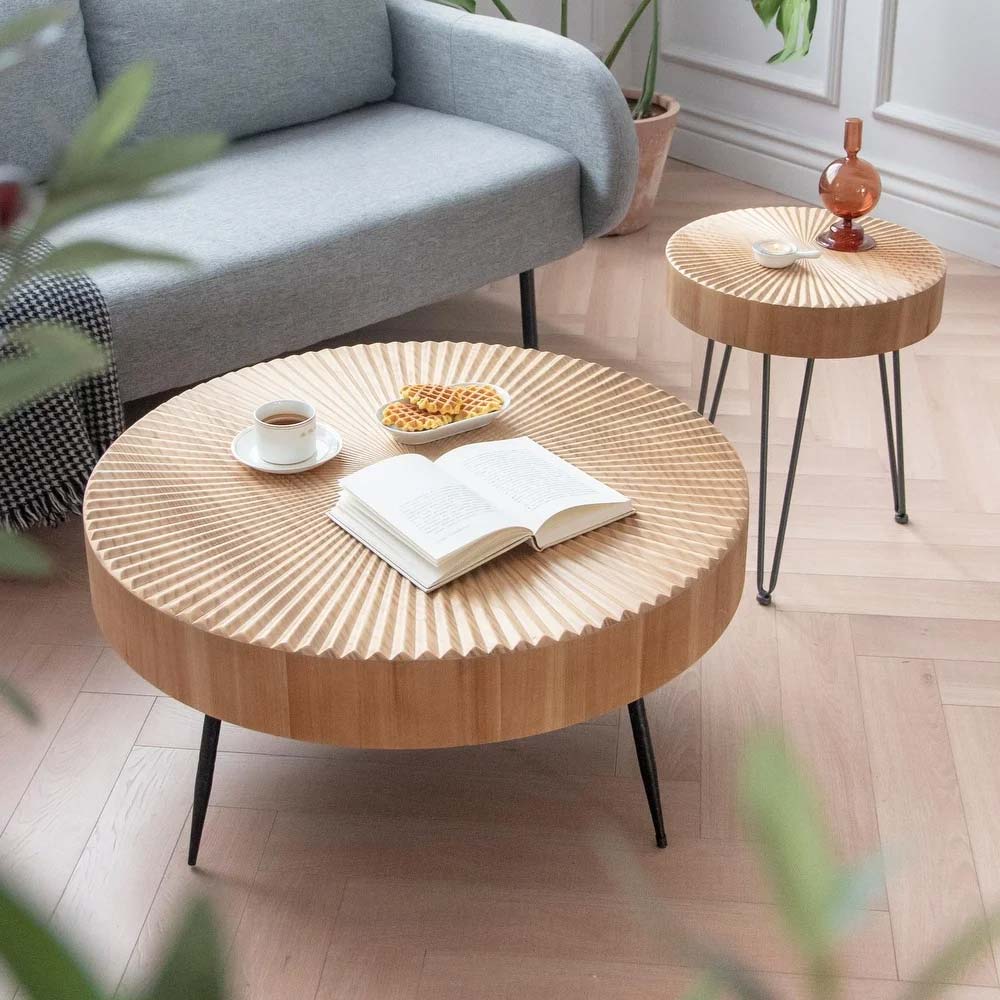 This 2-piece coffee table set easily integrates into any living space space. The coffee table measures 31.5" W x 14.2" H x 31.5" D, and the side table measures 15.7" W x 18.4" H x 15.7" D. The set is easy to assemble and it's available in Ring and Radial table top patterns.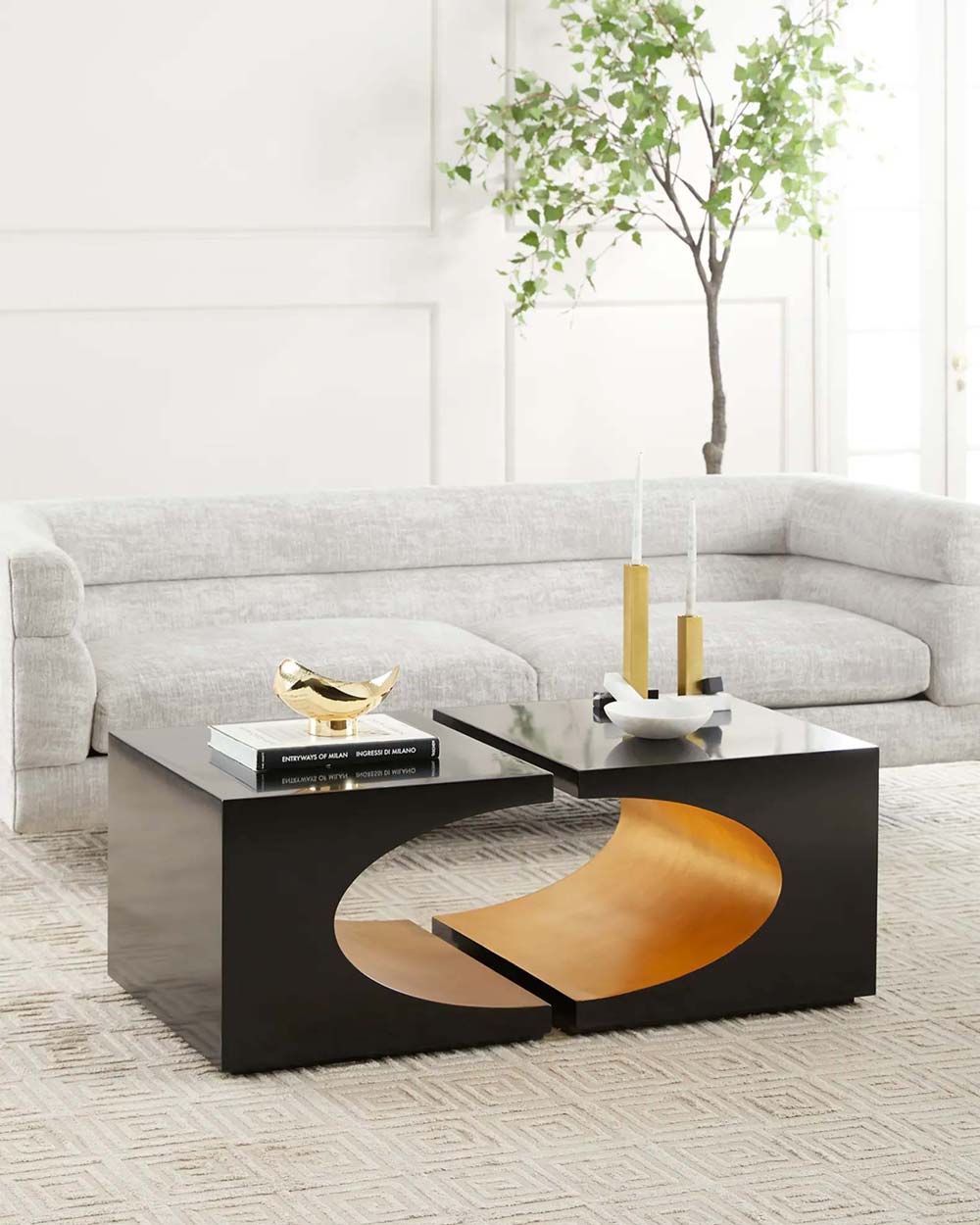 Measuring 52"W x 24"D x 19"H, this two-piece cocktail table is handcrafted from mahogany solids and veneers, and finished in black lacquer and gold leaf.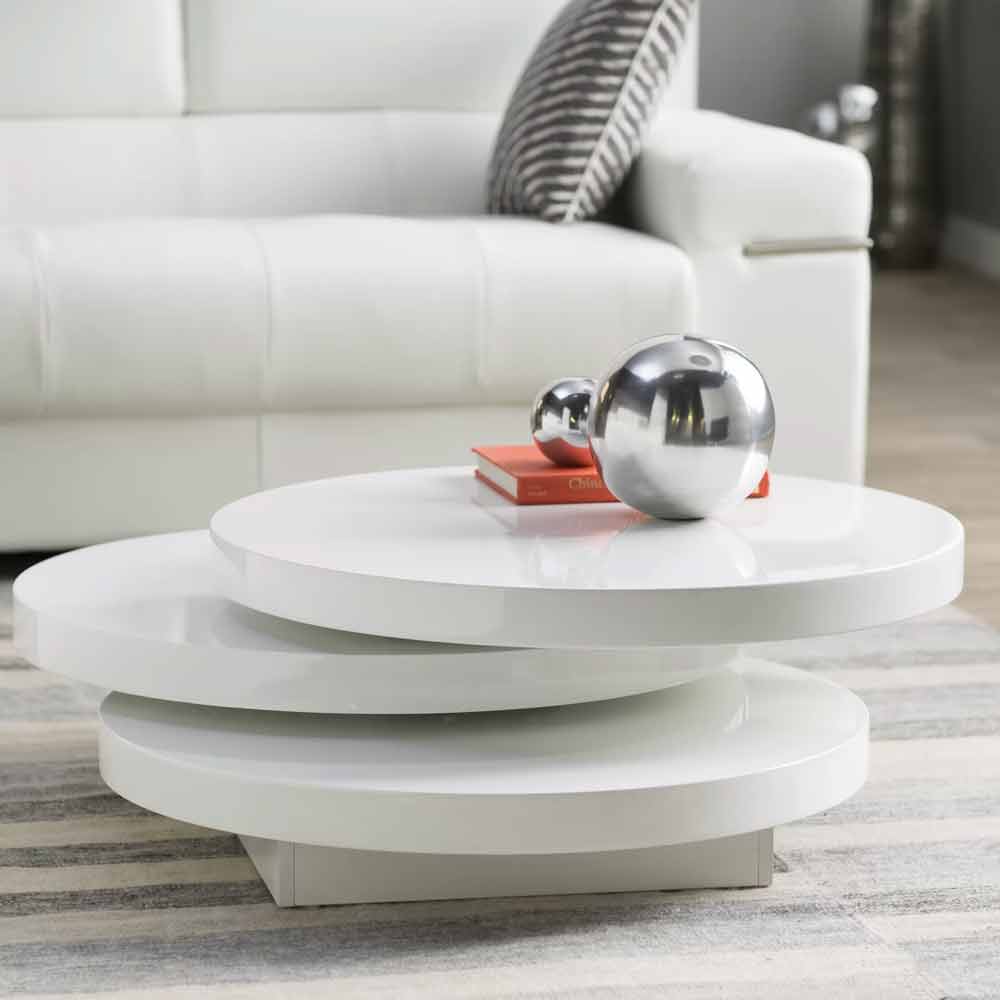 This modern coffee table offers triple the surface area and styling options. The round tabletop cleverly features two swiveling tiers that can be positioned asymmetrically to create a unique, sculptural look. When stacked, it measures a compact 31.5" wide, making it ideal for smaller living rooms. With three tiers that can be arranged in multiple configurations, this versatile coffee table provides ample display space for decor items, books, and more while adding contemporary flair. The glossy lacquer finish and sculptural design make this coffee table an eye-catching focal point.
Modern Drum Coffee Table with Oak Veneer, Sintered Stone Top, 2 Solid Wood Drawers, White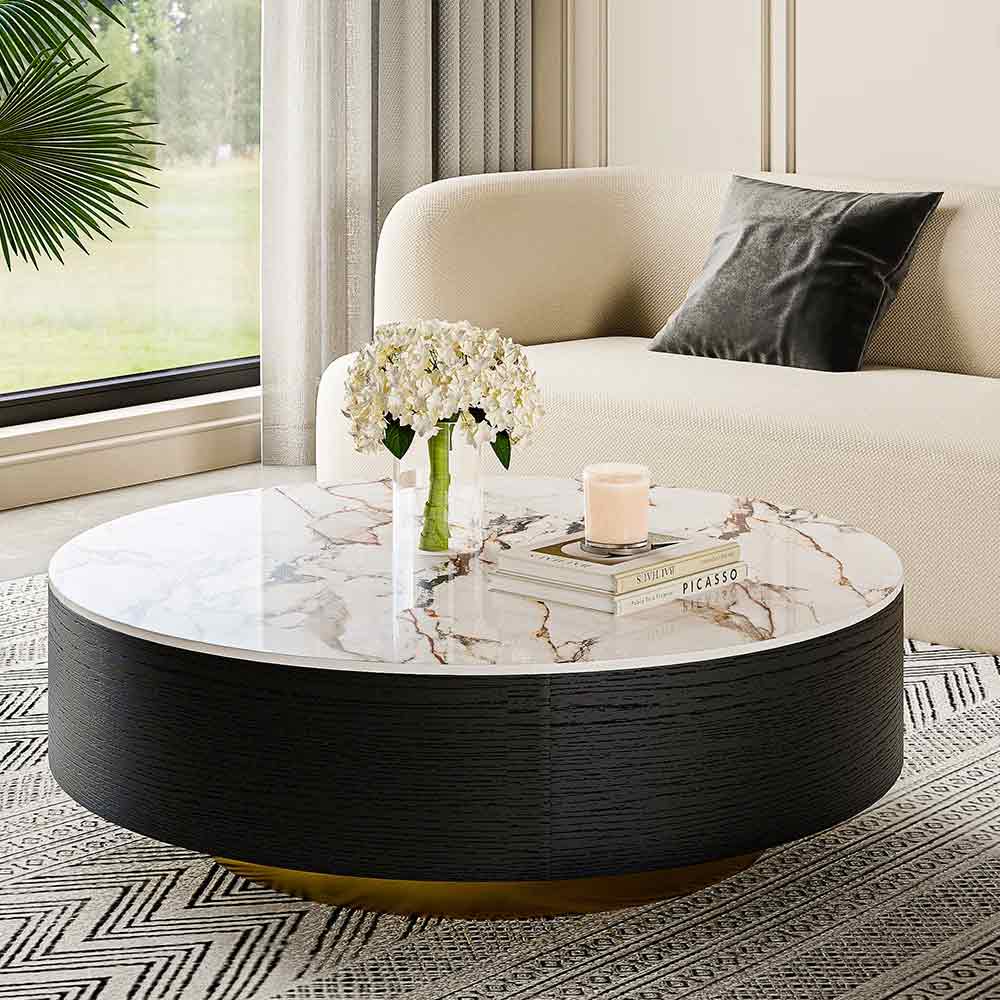 This modern drum-shaped coffee table brings contemporary style to any space with its creative design. The table features a sintered stone top in a neutral white hue. Below, the cylindrical body is crafted from oak veneer in a rich, natural wood finish. Two drawers provide discreet storage for TV remotes, coasters and more.