10 Sherpa Chairs That Will Transform Your Living Space Into a Cozy Retreat
A sherpa chair brings style and comfort to any home. Its ultra-plush, wool-like upholstery provides a warm, inviting retreat - perfect for curling up with a good book or enjoying a cup of hot cocoa on a cold day. The fabric also adds depth and visual interest, making it a great option for those looking to enhance their decor.
With the increasing popularity of hygge decor – a Danish concept that emphasizes comfort and coziness – sherpa chairs are very much in vogue. They fit seamlessly into a variety of decor styles, from modern minimalist to boho-chic, and add a touch of warmth and texture to any space.
While sherpa chairs make a stylish statement, they are primarily about comfort. Whether you're unwinding after work or lounging on a lazy Sunday, a sherpa chair is the ultimate haven for relaxation. Place a sherpa chair near a floor lamp or side table to create a dedicated cozy corner. Or use it as a luxe accent piece to add a touch of warmth to an existing seating arrangement. However you use it, a sherpa chair promises comfort and style.
Best Sherpa Chairs For Sale
For your inspiration, we've rounded up 10 sherpa chairs you can buy - browse our selections below to find the perfect one for your home.
You may also like: 25 Boucle Chairs That Bring Style and Comfort to Your Home
Teddy Fabric Fluffy Comfy Upholstered Faux Fur Armchair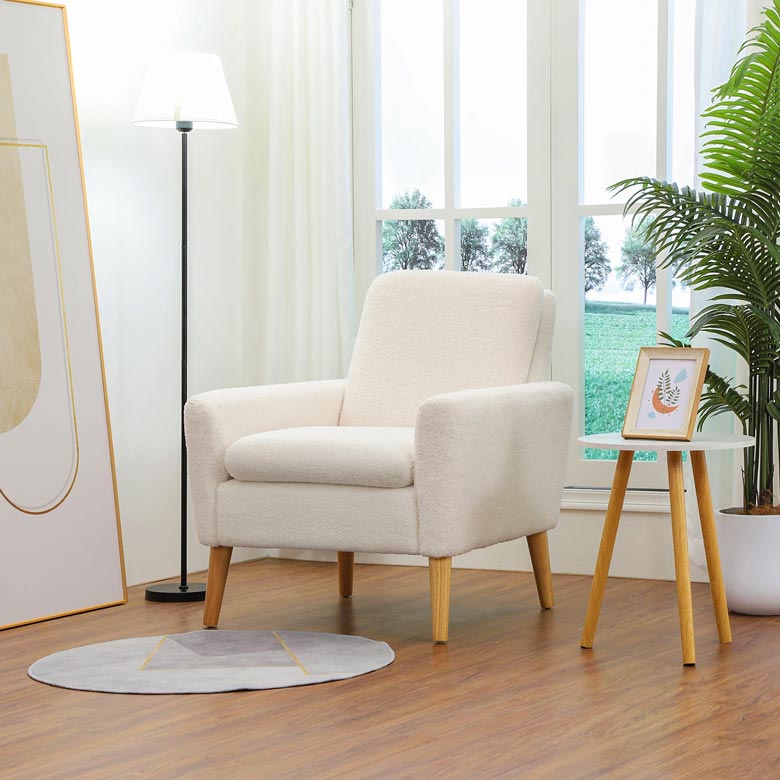 Designed to offer a truly relaxing sitting experience, this white sherpa chair provides the perfect spot to unwind after a long day. Versatile in style, it brings a mood of calm sophistication to any room. Place it in the bedroom for quiet moments of rest, in the living room for lounging with company, home office for breaks between tasks, or library nooks for getting lost in a book. This sherpa armchair measures 27.17'' W x 34.25'' H x 23.62'' D and is available at Wayfair.
Magda Teddy Bear Boucle Lounge Chair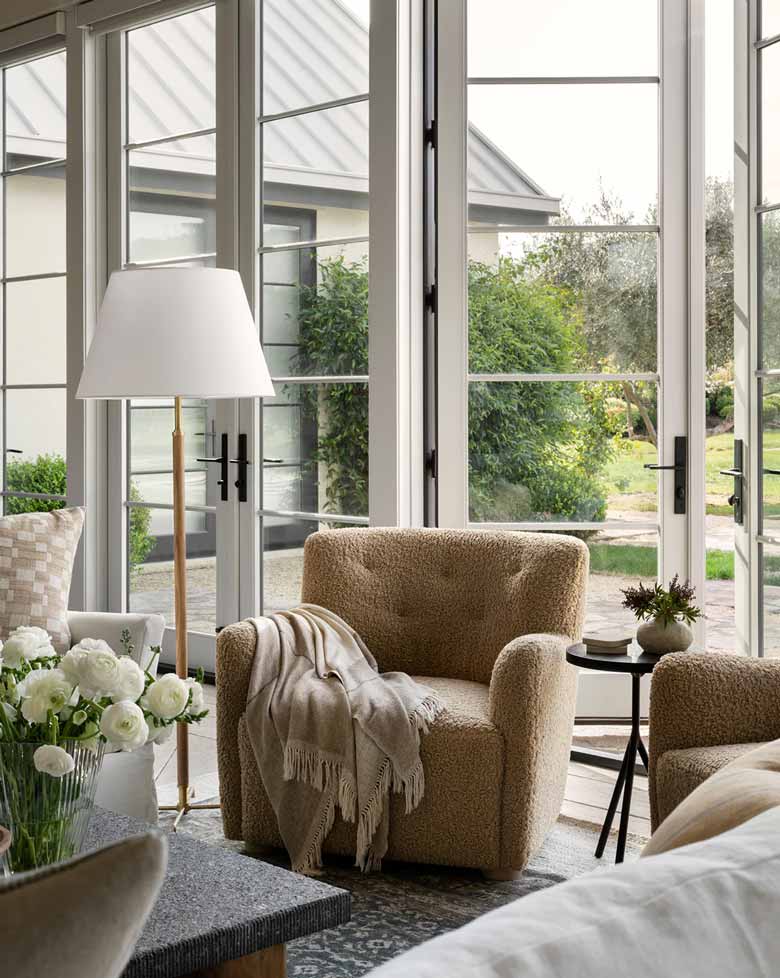 Featuring a solid white oak frame, plush seating, and subtle tufting, this modern shearling lounge chair offers luxury and comfort. It measures 34" W x 32" H x 34.25" D and is available in two colors: Beige and Caramel.
Mira Cream Swivel Sherpa Chair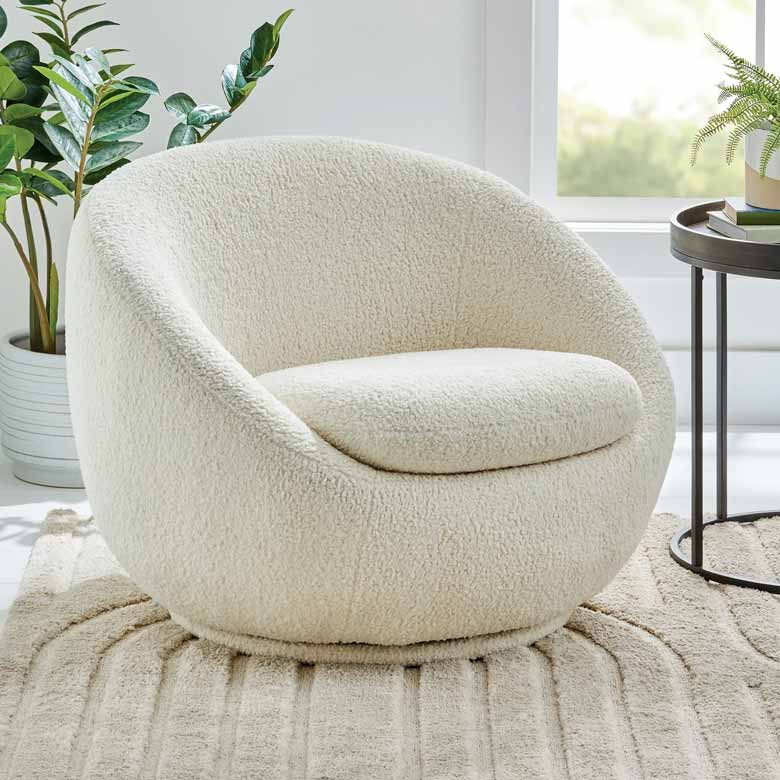 This swivel sherpa chair looks gorgeous. Its contemporary design will enhance any space, whether it's your living room, bedroom, home office, or cozy reading nook. It measures 34.3''W x 27.5''H x 33.5''D, it features a 360-degree swivel base, and comes fully assembled.
Abbie Upholstered Side Chair
Another great choice is this small sherpa chair. Measuring 25.6'' W X 30.3'' H X 26.8'' D, this chair adds an inviting modern touch to any living room or bedroom. The foam-filled seat and back ensure a plush seating experience, while the sinuous spring seat construction provides additional support for relaxation. Choose from multiple colors, such as Black, Blue, Gray, Pink, Mustard, and more, the one that matches your decor.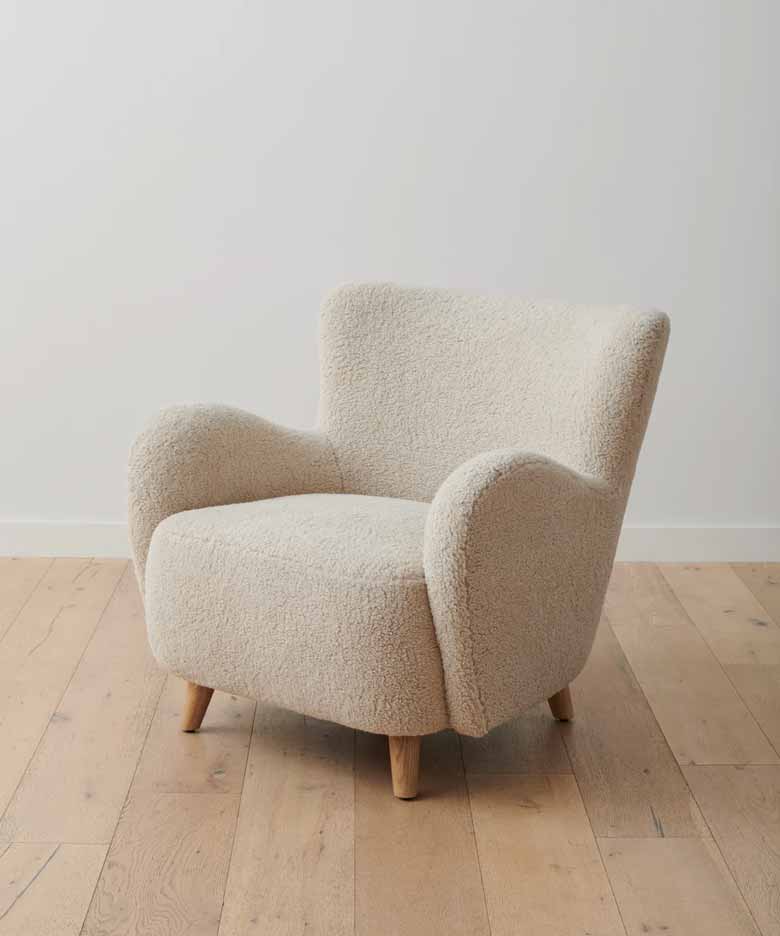 This comfortable sherpa chair is the perfect choice for moments when you want to relax. With its soft upholstery and solid White Oak legs in a natural finish, this chair adds a touch of timeless design to any space. This sherpa chair measures 32"W x 30"H x 33"D and is available in two colors.
Chynia Upholstered Barrel Chair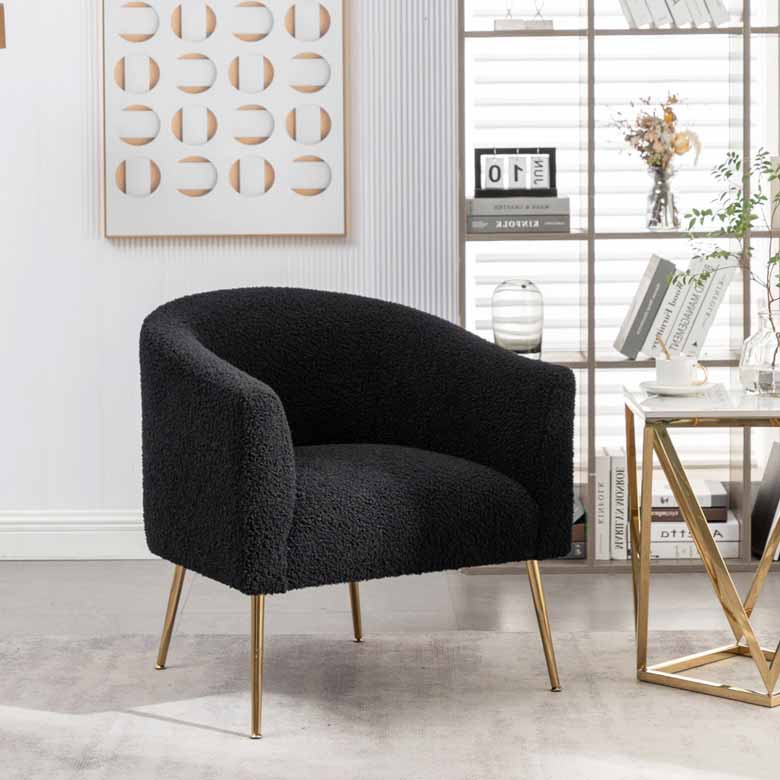 Perfect for the living room, bedroom or home office, this sherpa accent chair is a must-have for anyone who wants to add a touch of mid-century-inspired style to their space. It has a low profile, round shape backrest and gold legs for a touch of luxury. Choose from two colors: Black and Beige.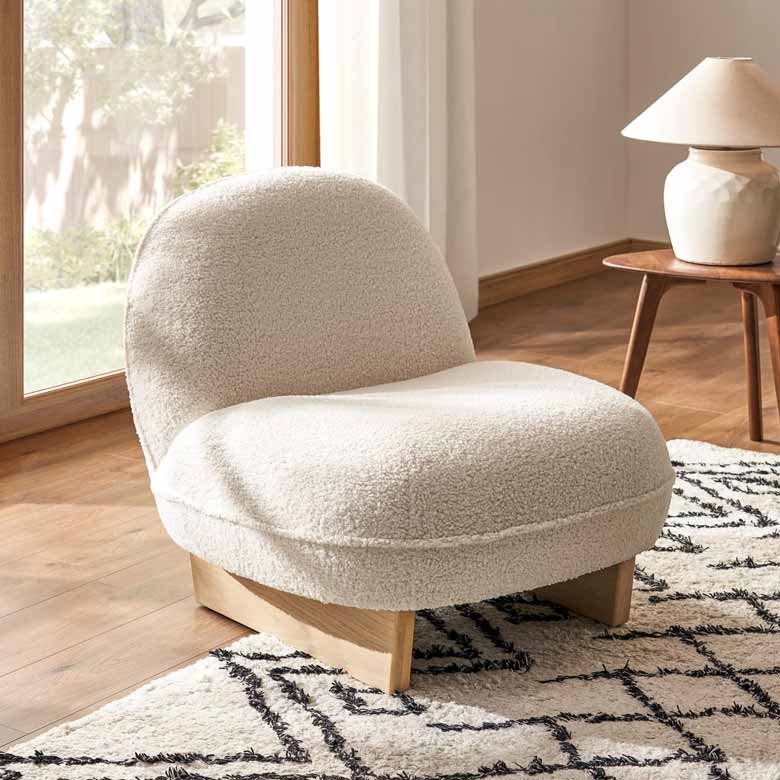 With its tilted backrest and wooden sled legs, this sherpa chair is both stylish and comfortable. It measures 31.1" W x 29.3" H x 37" D and is available in two colors: White and Brown. Whether you're looking to create a cozy reading nook or simply add character to your living room or bedroom, this chair is a must-have.
Steinfeld Upholstered Barrel Chair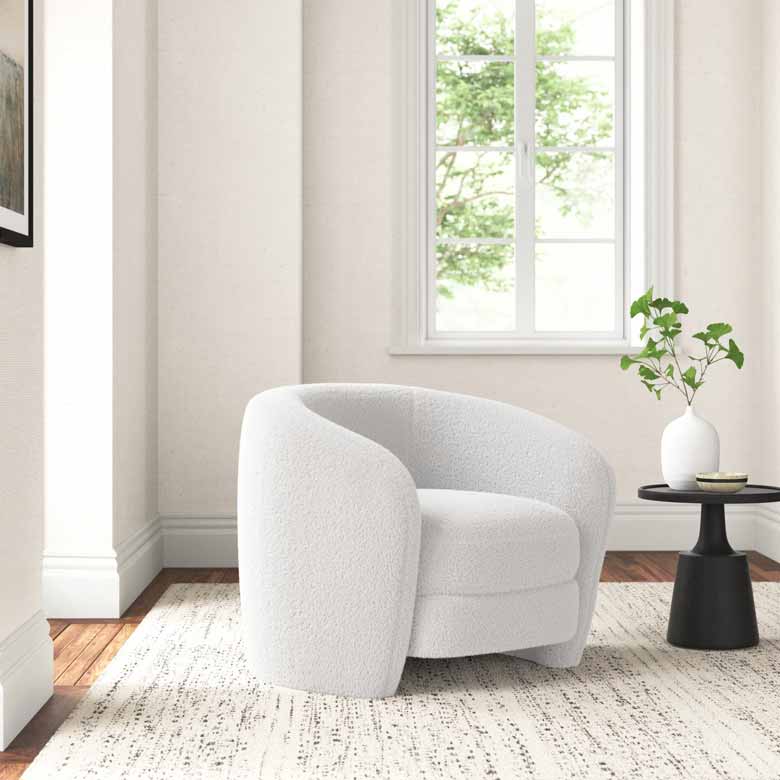 This sherpa barrel chair combines style and comfort. Made from solid pine wood, it showcases a sleek design with a tight back and curving, round arms. The seat is enhanced with sinuous springs for added support, while the seat and back are padded with foam fill for optimal comfort. The plush white fabric blends well with any color pallete and adds a touch of luxury and a cozy feel to the chair.
Swivel Barrel Accent Chair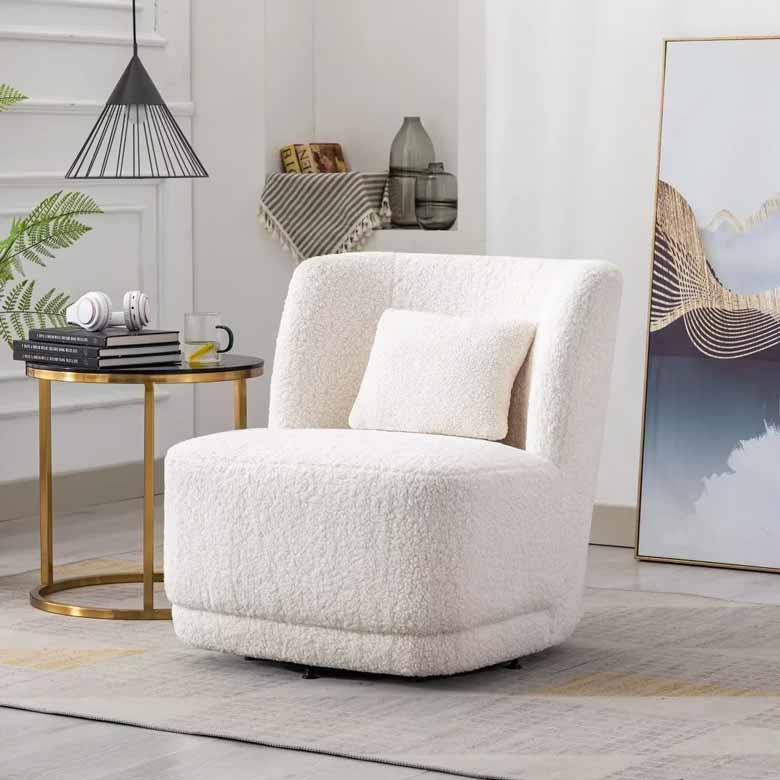 Upholstered in plush faux shearling fabric, this swivel barrel chair is a great choice for small spaces. It features a sleek rounded silhouette and a 360-degree swivel base, allowing you to effortlessly engage in conversations or change your focus with ease. Choose from six colors: Blue, Gray, Green, Pink, White, and Yellow, the one that fits your home.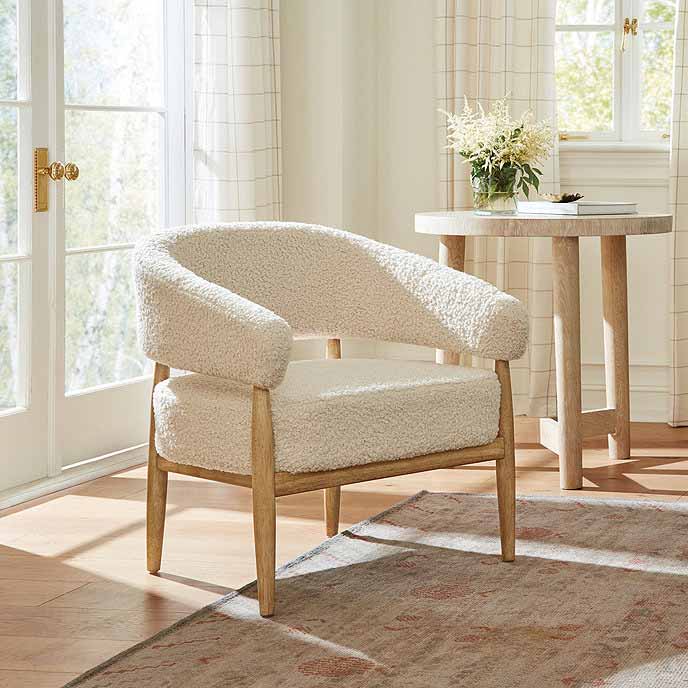 With its inviting design, this sherpa chair offers the perfect spot to cozy up and unwind after a long day. It measures 28 1/2"W x 31"H x 26 3/4"D and features a cozy, wrap-around back and deep comfy seat covered in faux shearling.
Read next: 12 Boucle Benches for a Cozy and Chic Home