Boucle Benches: A Blend of Comfort and Style
If you're looking to add warmth and comfort to your living room, bedroom or entryway, consider a boucle bench. Boucle benches not only provide extra seating but also act as chic accent pieces that work well with many decor styles.
What Is Boucle Fabric?
The word "boucle" comes from French and means "to curl." Boucle fabric has a distinctive looped, curled texture created during the weaving process. It's usually made of wool or a wool blend, though it can also contain cotton, silk or synthetic fibers.
Boucle fabric is soft to the touch and has low liquid absorption, which makes it an excellent upholstery choice for sofas, chairs, beds, ottomans, benches, accent pillows, and more. It has a luxurious yet casual feel and is often found in soft neutral tones like cream, gray, and taupe.
Why Choose a Boucle Bench?
Boucle benches are popular right now because they work well with various home styles like rustic, bohemian, mid-century modern, and minimalist. Their unique texture and stylish look make them stand out in any space and provide a polished yet inviting look. Here are some of the benefits of boucle benches:
They offer stylish extra seating
Boucle benches provide comfy additional seating in living rooms, bedrooms, entryways, and more. Their soft, plush upholstery gives guests a place to sit and elevates your space.
They act as chic accent pieces
Boucle benches function as stylish accents that complete a room. Their textured upholstery and clean lines suit both modern and rustic spaces. Use a boucle bench to fill an empty corner or place one at the foot of your bed to make an inviting seating area. You can enhance a boucle bench by adding decorative touches like throw pillows, blankets, or nearby art. These accents help create a layered, curated look.
They come in various styles
Boucle benches come in many styles and colors. When picking out a bench, think about your room's existing style and color scheme. Go for neutral shades like beige, gray, or cream for a flexible choice that can work well with any look. Or pick a bright color or pattern to make a bold statement and add visual interest. You should also consider the size of your space and how you'll use the bench. A bigger bench can act as an eye-catching focal point in a large living room, while a smaller bench may suit an entryway or bedroom better.
They provide hidden storage
Some boucle benches have storage compartments under the seat. This gives you space to store items like blankets, books, baskets, or shoes while keeping them out of sight.
Best Boucle Benches for Sale
If you want to make a cozy reading nook, comfortable seating area, or welcoming entryway, a boucle bench is a great choice. To help you find the right one, we've rounded up 12 boucle benches for sale. Browse our selection and pick your favorite today!
You may also like: 10 Stylish Boucle Beds to Enhance Your Bedroom Decor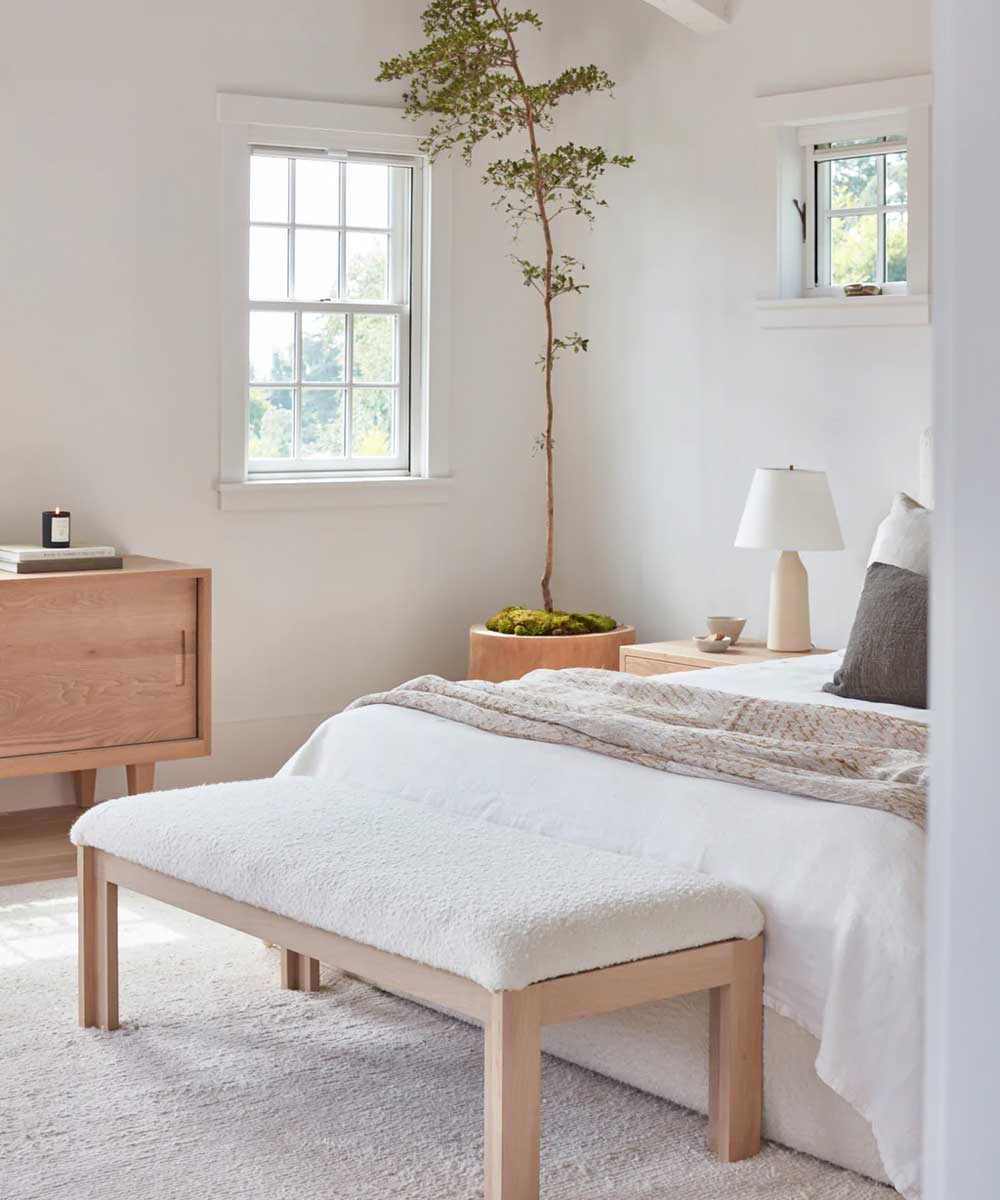 The Otto bench from Jenni Kayne is a luxurious addition to any living space. Whether positioned at the foot of your bed, in an entryway, or along a hallway, its ivory wool boucle upholstery adds subtle texture and style. And if you want to take comfort up a notch, pair it with some plush pillows. This boucle bench measures 54''W x 22''D x 16''H and is available in three colors: Ivory Wool Boucle, Natural Wool Boucle, and Textured Natural Linen.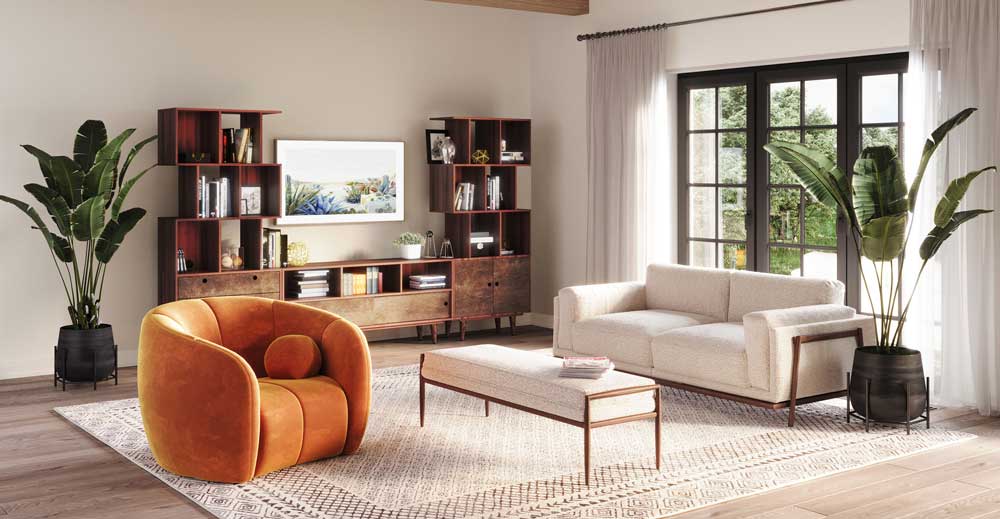 Sophisticated yet inviting, the 55-inch Fritz fabric bench from Kardiel is ideal for living rooms and bedrooms. Whether you want to relax in comfort or use it as a stylish surface for entertaining, the Fritz bench's plush boucle upholstery and clean lines suit any purpose. Measuring 55"W x 22"D x 16.2"H, this boucle bench will add a touch of elegance to your space.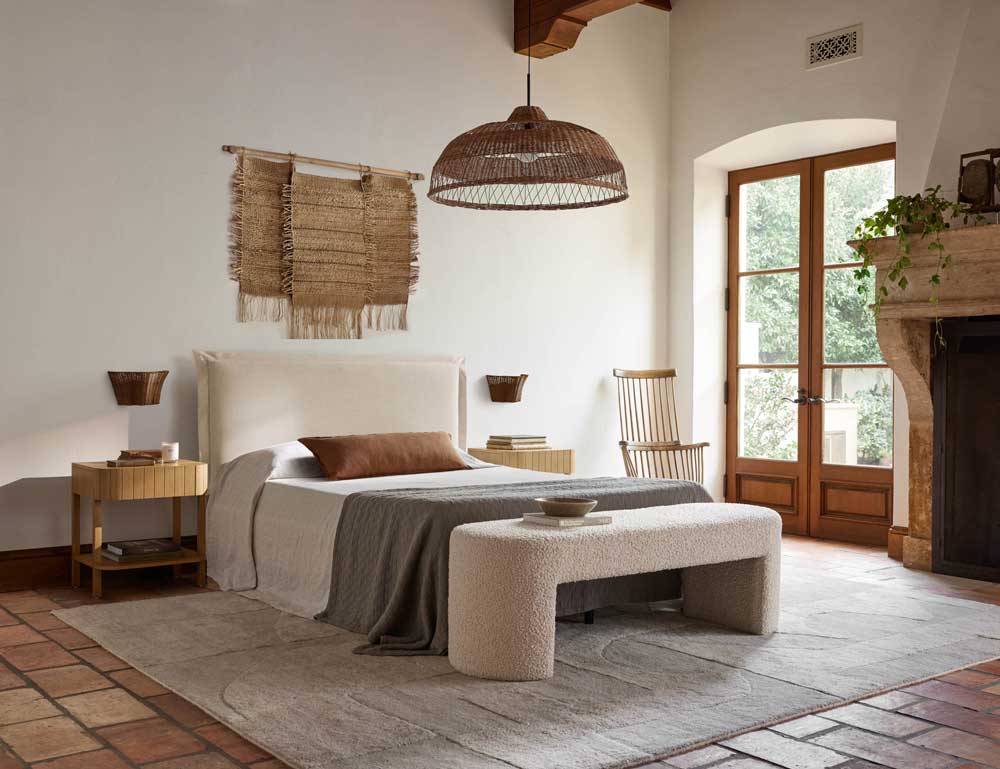 The Mikhail boucle bench from Lulu and Georgia is a chic and functional addition to entryways, bedrooms or hallways. Its sleek design and boucle upholstery provide style and comfort. Measuring 62"W x 18"D x 19"H, the Mikhail boucle bench is custom made and ships in 12 to 14 weeks.
White & Black Wooden Entryway Upholstered Bench Boucle with Abstract Metal Legs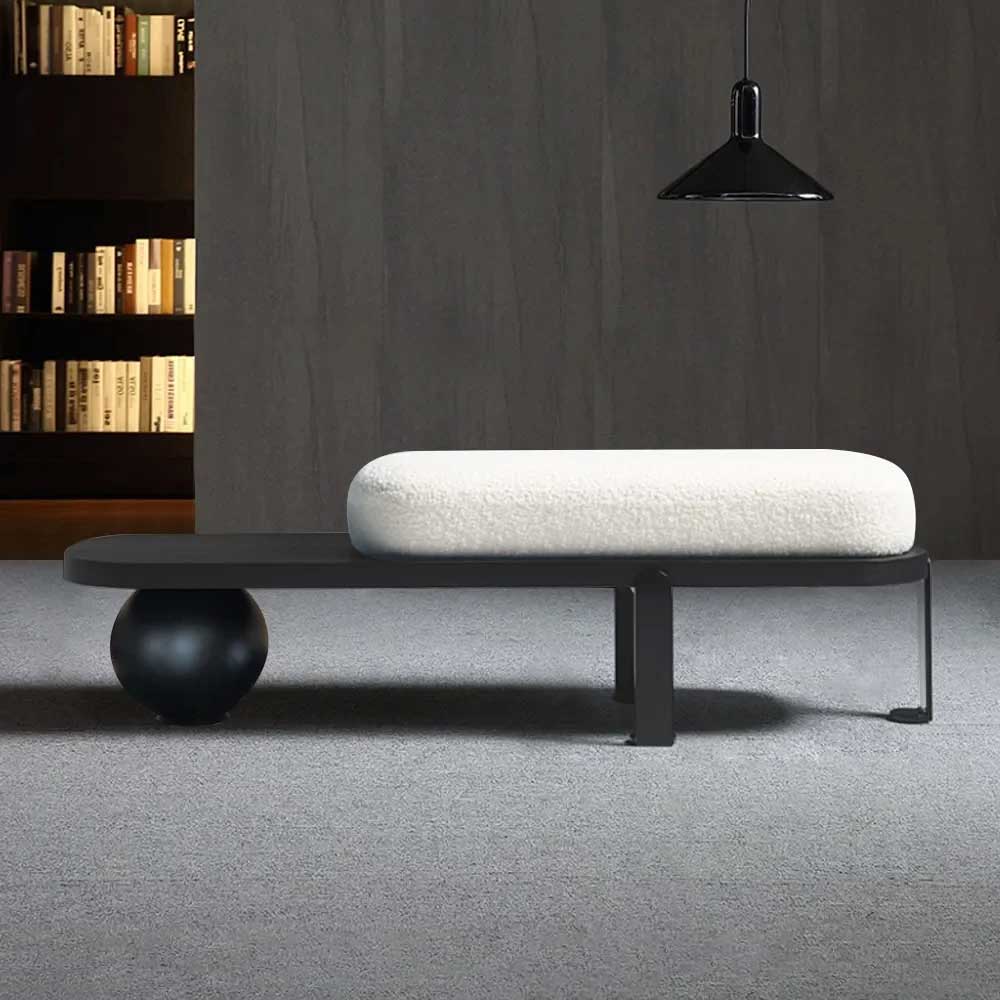 This white & black bench features modern metal legs and boucle upholstery and is a must-have for anyone looking to add a touch of modern luxury to their interior. This bench not only adds elegance to your space, but also helps keep your home organized by providing storage space for toys, miniatures, magazines, and keys.
Its soft seat cushion makes slipping on and off shoes comfortable and easy. Measuring 47.2" W x 16.5" H x 13.8" D, this versatile bench suits any room and comes in gold or black frames to match your decor.
Peyton Boucle Fabric Bench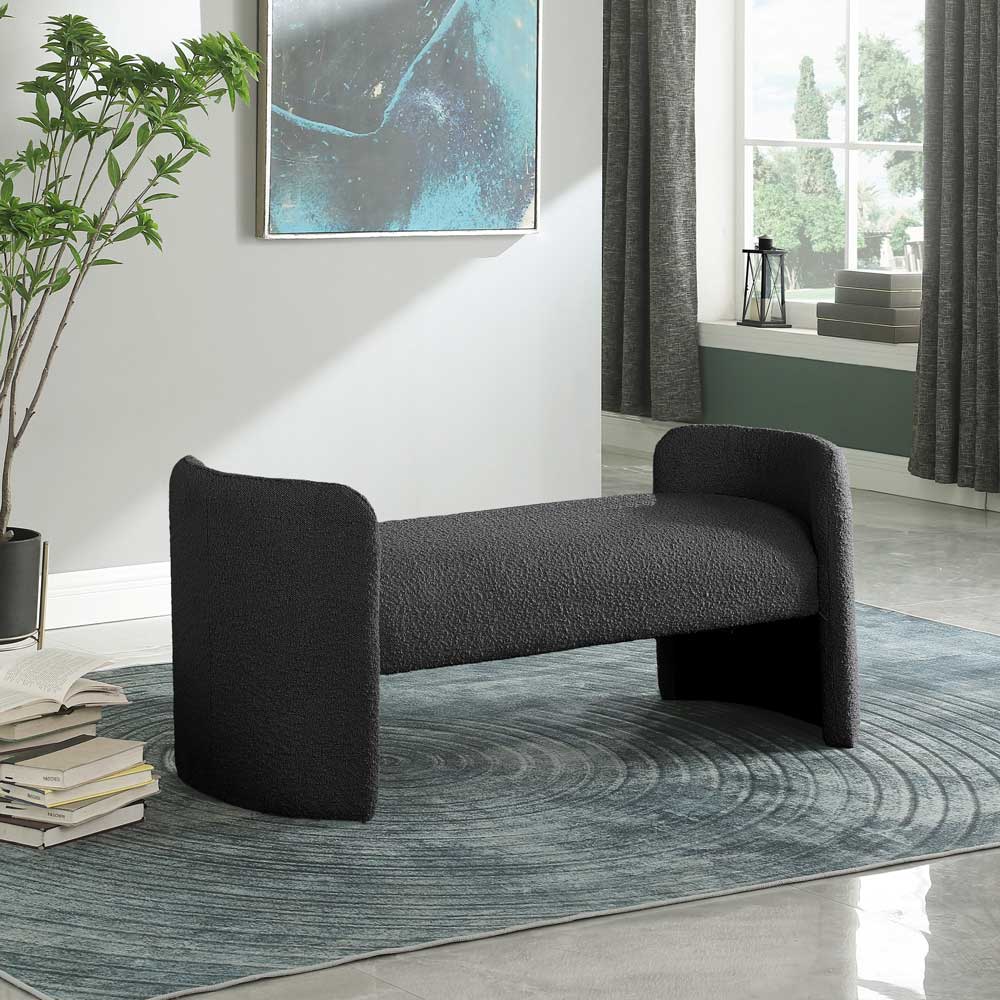 The Peyton boucle fabric bench from Wayfair offers stylish extra seating for bedrooms, entryways and more. This bench is ideal for placing at the end of your bed or in your foyer or entryway - providing a comfortable spot to sit while putting on shoes or boots.
Measuring 52.5'' W X 22'' H X 21'' D, its rounded arms and boucle upholstery add elegance to contemporary spaces. Choose between black, cream, gray, and green to complement your decor.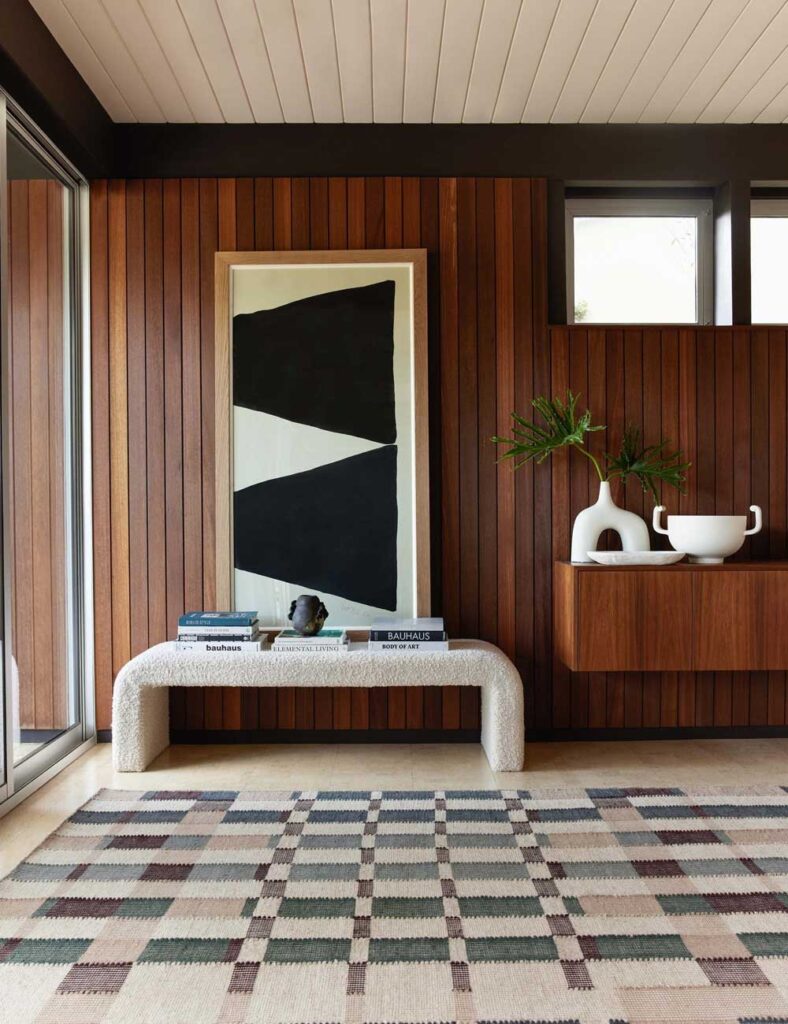 Sophisticated and luxurious, the 62-inch Tate arch bench from Lulu and Georgia features lustrous boucle upholstery wrapped around a sleek wooden frame. Its arched back provides style for entryways, bedrooms, or living rooms. This boucle bench comes in six colors to suit your space.
Boucle Bench with Gold Metal Legs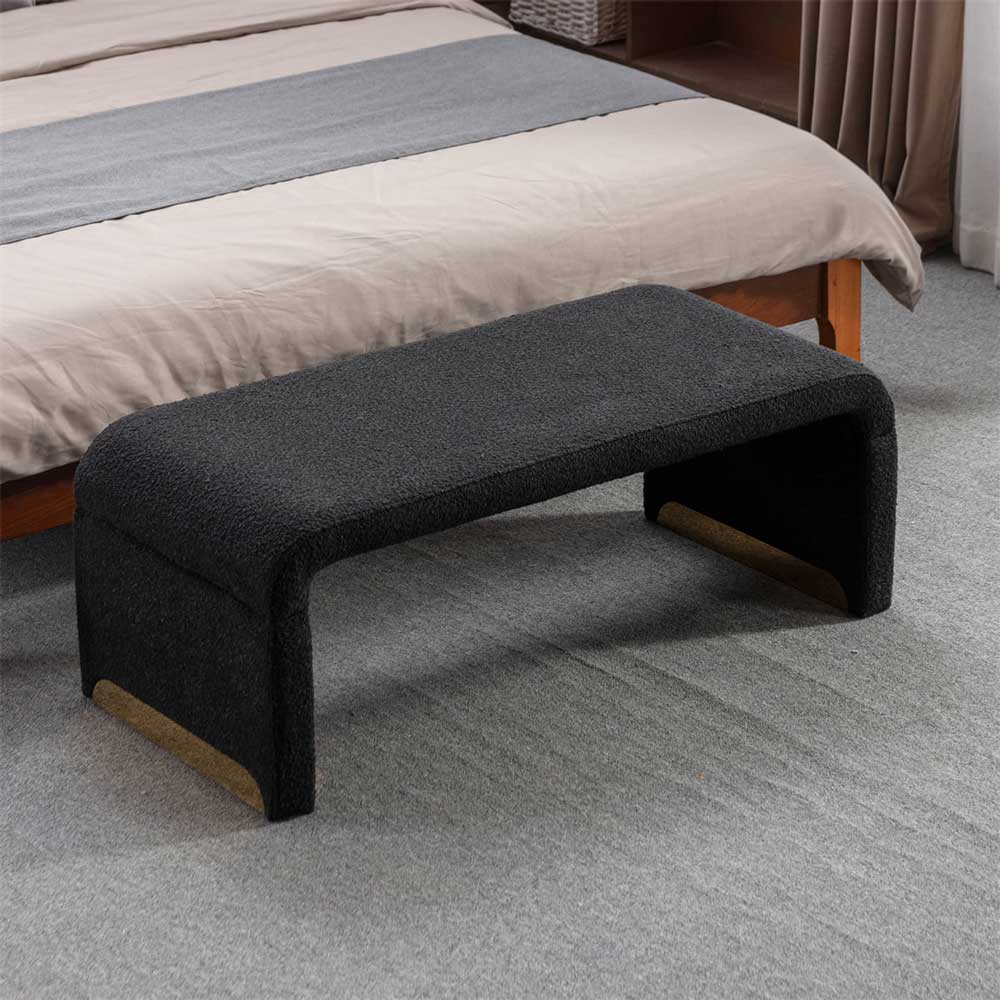 This bench with gold metal legs offers versatile, functional seating and style for living rooms, bedrooms, entryways, and more. Its boucle upholstery and stylish legs provide a warm, polished look. Measuring 43.31'' W X 16.14'' H X 19.69'' D, this bench comes in multiple colors to upgrade your decor.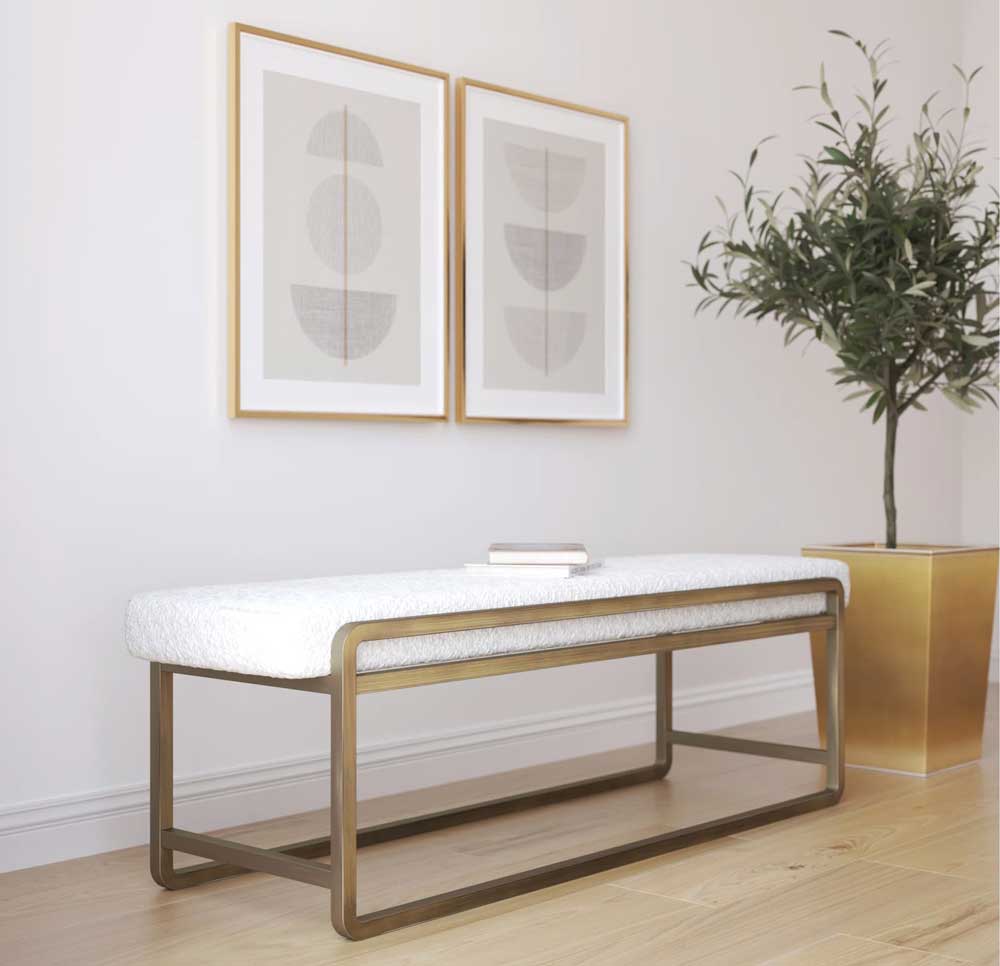 This boucle bench with stainless steel base provides luxurious seating for living rooms, bedrooms, and entryways. Its angular metal base supports a textural boucle cushion for comfort and style. A matching stool is also available to create a cohesive look. And the best part? No assembly is required, so you can enjoy this beautiful bench right out of the box. Multiple color options are available.
Nebula Boucle Upholstered Bench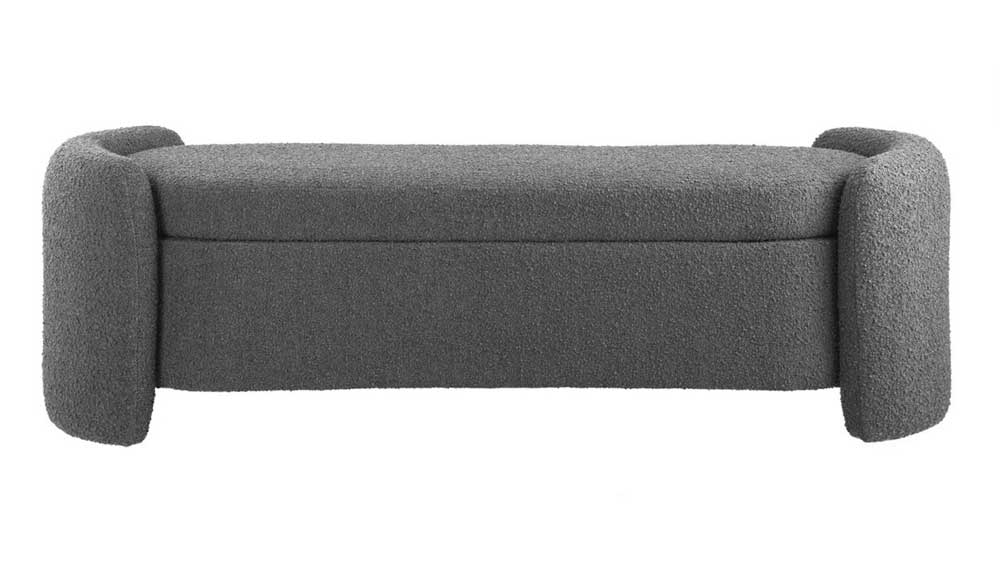 The Nebula boucle upholstered bench offers style, comfort and storage for living spaces, bedrooms, entryways and offices. Its boucle upholstery and dense foam padding provide premium seating, making it the perfect spot to kick up your feet and relax. It also features a hinged seat with an 80-degree angle that reveals a spacious storage area, perfect for hiding TV remotes, extra blankets, magazines, books, and more. Measuring 62"W x 21.5"D x 19"H, this boucle bench keeps belongings out of sight in its 35.5"W x 17.5"D x 10"H storage compartment.
Modern Bedroom Boucle White Bench Upholstered Ottoman with Storage & Gold Legs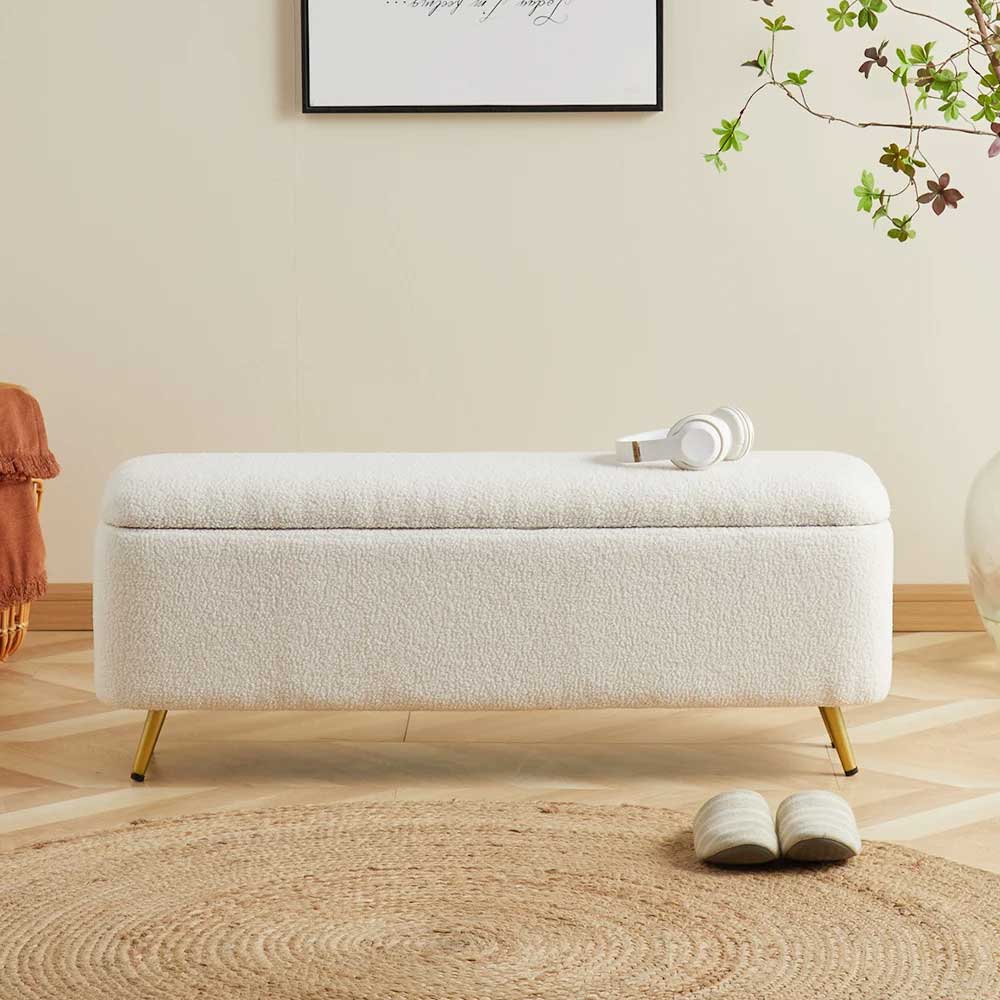 Supported by sturdy metal legs, this boucle bench provides excellent support and stability, making it a perfect addition for your living room, bedroom, or entryway. Measuring 43.3" W x 17.3" H x 14.2" D, this bench provides ample storage space for toys, throws, and other household items.
White Boucle Storage Bench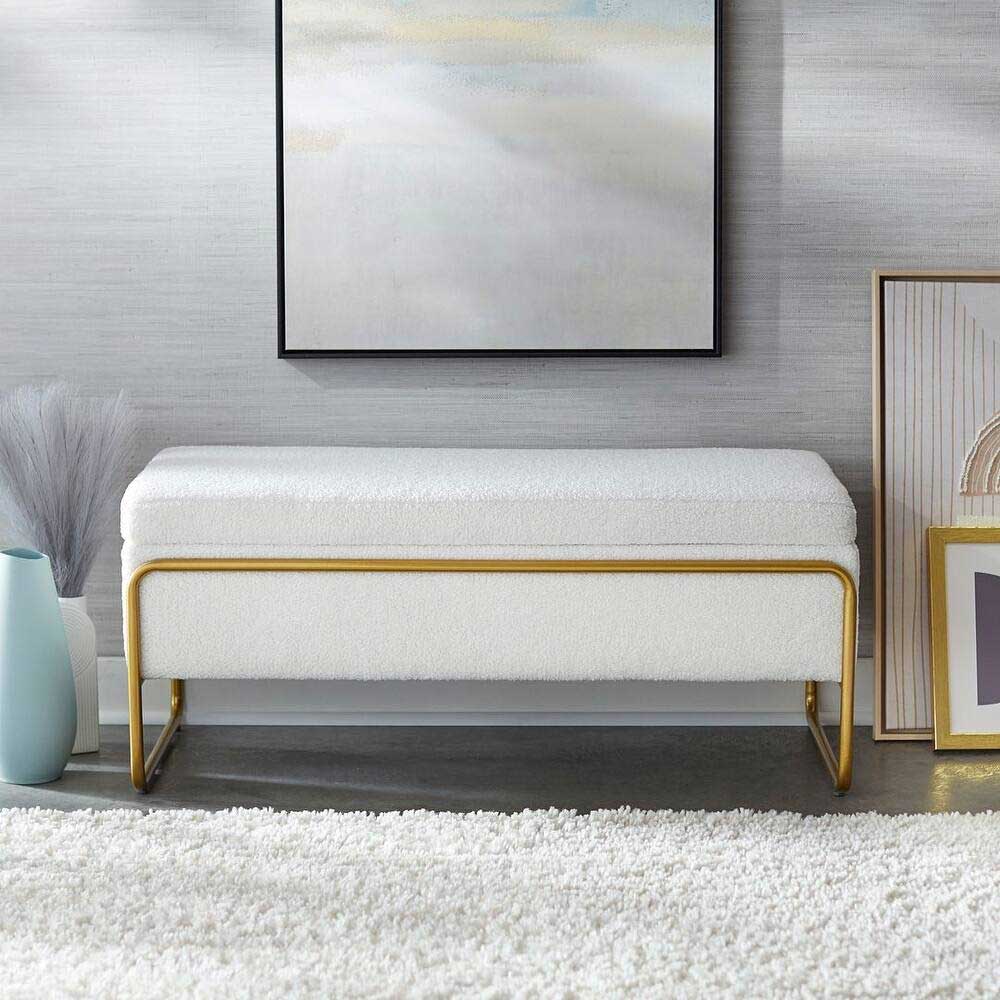 Upholstered in a lush white soft boucle fabric and featuring a gold powder-coated metal sleigh base, this bench exudes sophistication and style. It's the perfect piece to add a touch of glam to any space. With its ample storage space, this bench allows you to store your items out of sight. It measures 35.5" W x 17" H x 17" D, and you can choose from two colors - white and pink - to match your existing decor and add a touch of elegance to your space.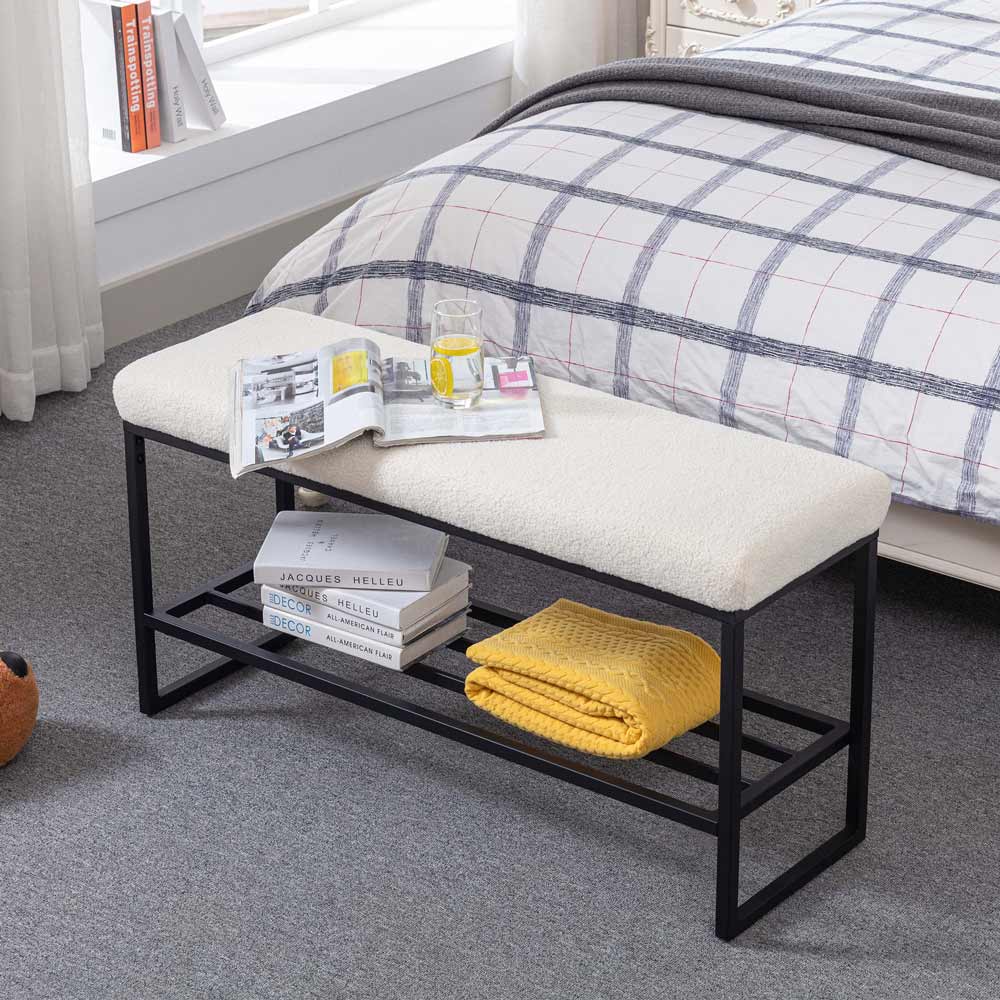 This upholstered bench is perfect for adding seating under the window or at the foot of the bed. It can be used in the bedroom, living room, foyer, or corridor as an entrance shoe bench, ottoman, or accent furniture, providing additional seating whenever needed. The finely crafted matte black metal frame is not only durable but also elegant, adding a touch of sophistication to your decor. This boucle bench measures 40.6" W x 13.8" D x 21.3" H and is available at Walmart.