Coffee Tables With Storage: The Perfect Blend of Style and Function for Your Living Space
A round coffee table with storage offers a stylish, practical solution for your living space. It can make your room seem larger, keep your space tidy, and serve as a beautiful centerpiece for your living room.
Its smooth, circular shape adds a touch of elegance to the space, while the integrated shelves or hidden compartments keep remotes, books, and other small items out of sight but within reach. This multifunctional design is ideal for compact apartments or homes where maximizing storage is key.
How To Style a Round Coffee Table
When styling your new coffee table, have fun playing with layers of textures, colors, and heights. Start with an attractive tray and fill it with a thoughtful mix of decorative and practical items — maybe a stack of your favorite books, a small plant, a vase of fresh flowers, or some stylish decor pieces. Just be sure to leave room for TV remotes, coffee cups, and other frequently used items! For a cohesive look, incorporate colors, textures and shapes that complement your existing pillows, rugs and wall art.
Think about accessibility and conversation when arranging your sofa around the coffee table. Ideally, your coffee table should be about 14 to 18 inches from your sofa—close enough to set down a drink, but far enough to stretch out your legs. The coffee table should be roughly the same height as your sofa's seat (or slightly lower), and it should be easily reachable from all seating positions.
For round coffee tables, a sectional or L-shaped sofa is ideal, creating a cozy, intimate setting. Alternatively, two sofas facing each other or a sofa-loveseat combo can also work well.
Best Round Coffee Tables With Storage
Ready to upgrade your living room? Here are 10 round coffee tables with storage to consider for your home.
You may also like: 12 Modern Coffee Tables That Are Sure to Impress Your Guests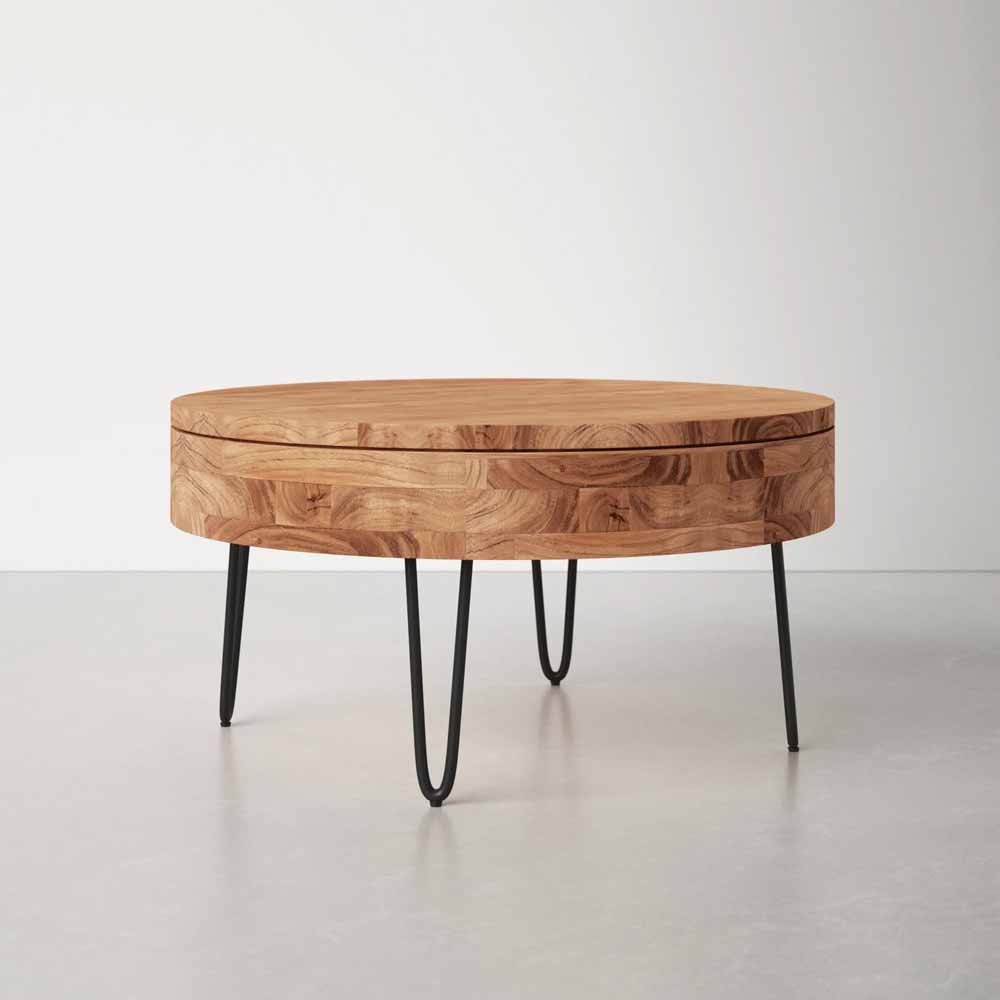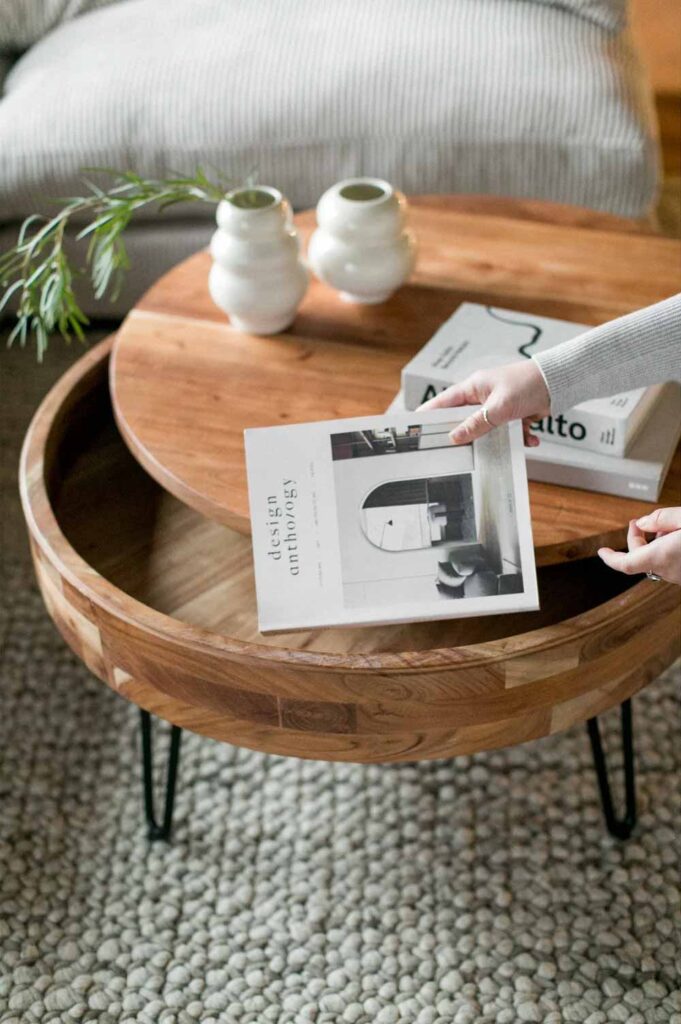 Measuring 31'' W x 16'' H x 31'' D, this mid-century modern coffee table strikes the perfect balance between style and function. Its clean-lined round shape is made from solid acacia wood, featuring a warm natural finish. Tucking discreetly beneath the tabletop, a hidden storage compartment provides ample space to stash coasters, magazines, remotes, and more. Slim iron hairpin legs in a sleek black finish add subtle contrast while giving the table a light and airy silhouette.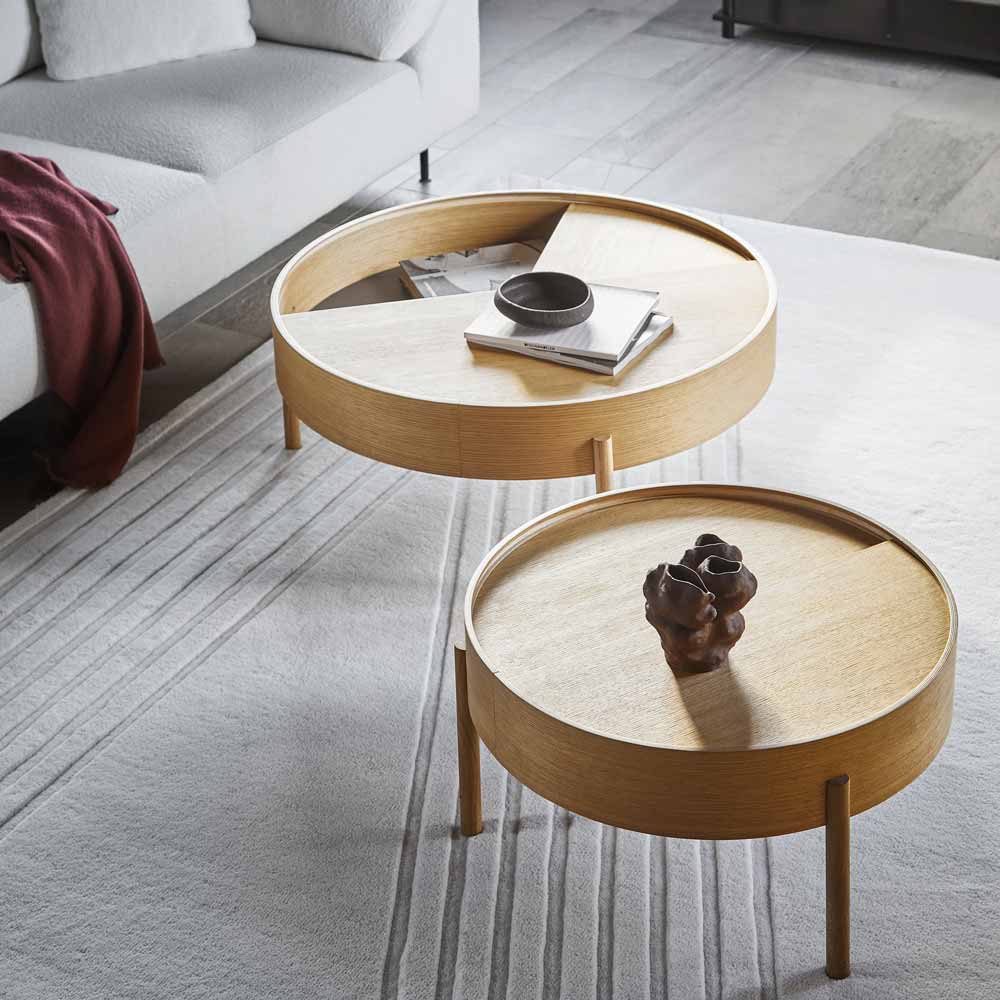 This round coffee table has a simple, yet playful design. The rotating tabletop easily shifts from open to closed, allowing you to display or tuck away items as needed. With five color options and three size choices, you can find the perfect match for your home decor.
Lift Top Extendable Frame Coffee Table with Storage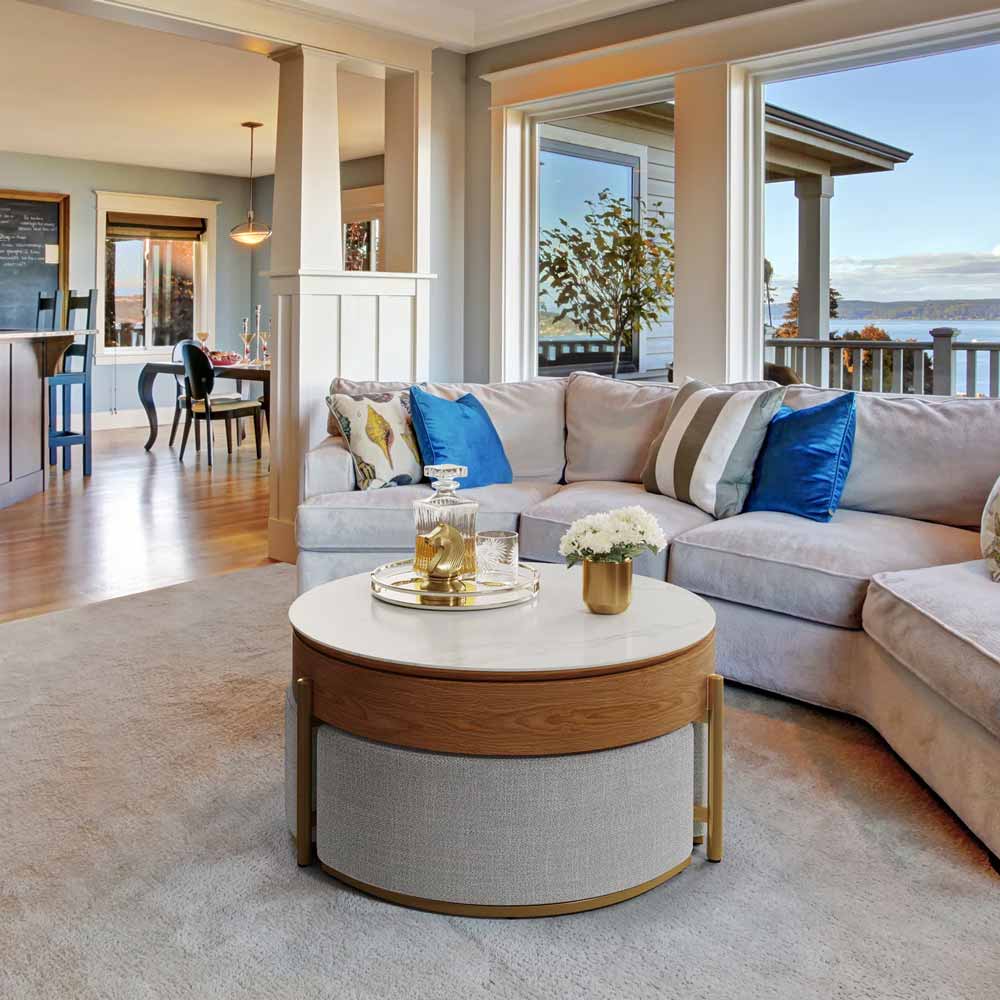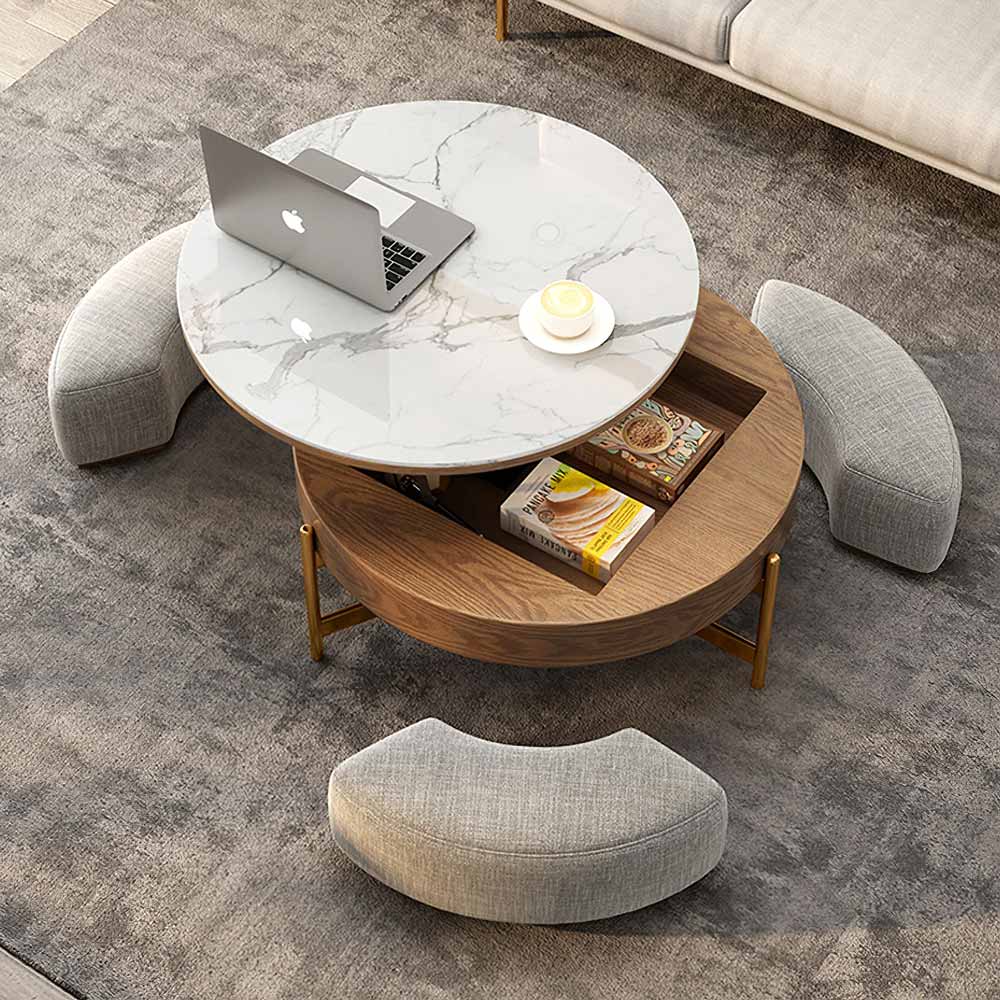 Featuring a lift-top design, this beautiful coffee table is a great addition to any living room. Keep it lowered for a surface to write, read, or enjoy a drink, or raise it up to access the hidden storage compartment and extra height. It comes with three ottomans that can be neatly tucked away under the table when not in use.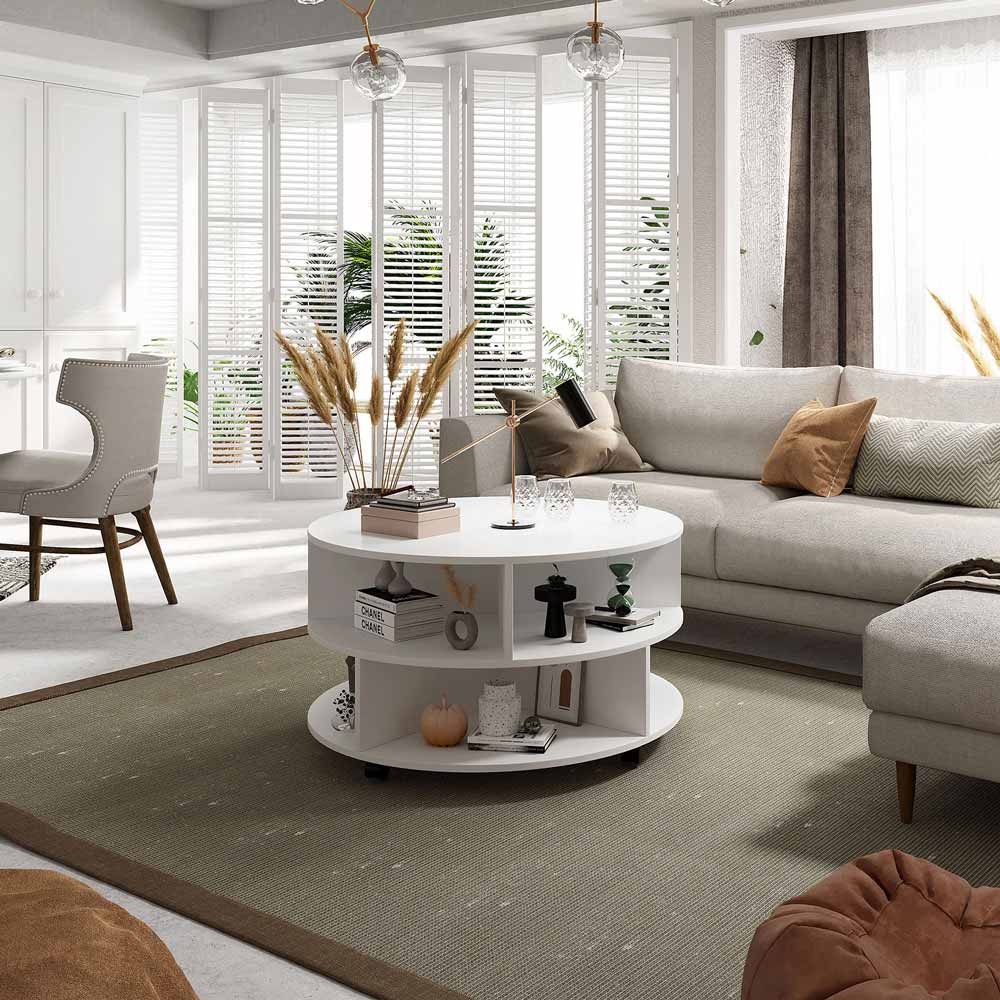 This round two-tier coffee table with shelves is perfect for any living room, large or small. It features eight divided compartments, providing ample space for books, magazines, decor items, and more. The four universal casters allow smooth mobility so you can reposition it with ease. This round coffee table is available in two colors: white and black.
White Round Modern Wood Swivel Coffee Table with Storage Drawer in Gold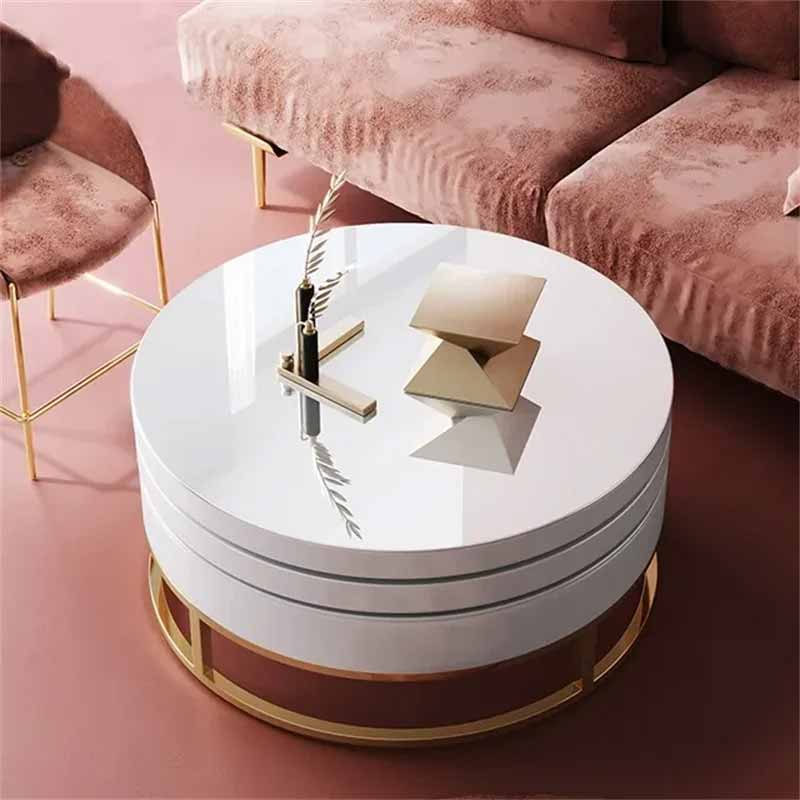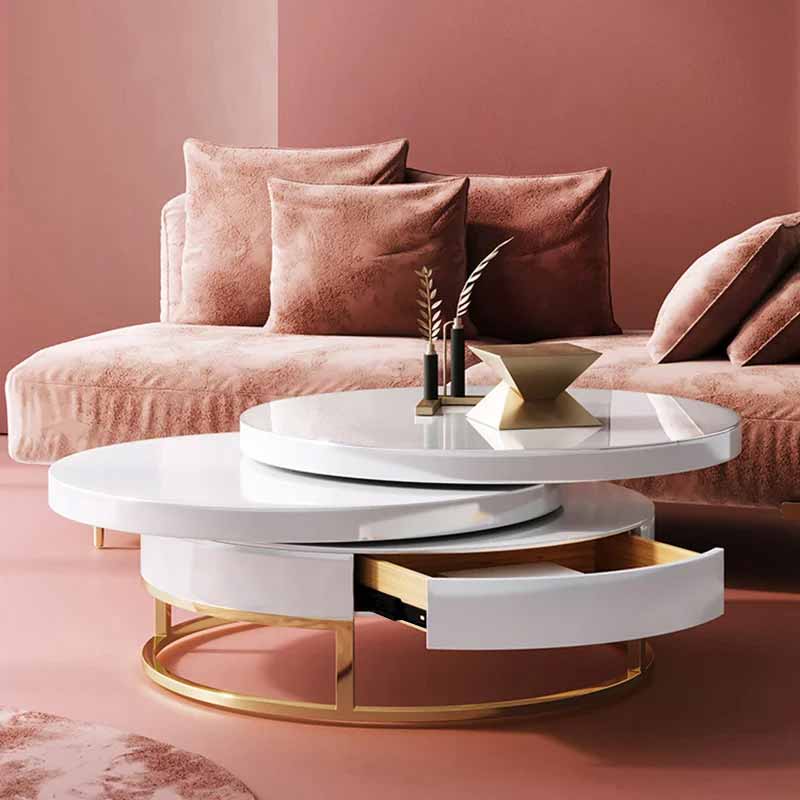 This swivel coffee table is gorgeous. It's available in three colors (white, black, and gray) and features a storage drawer for keeping remotes, gadgets and other small items organized yet close at hand.
Zoe Mid-Century Modern Round Coffee Table with Storage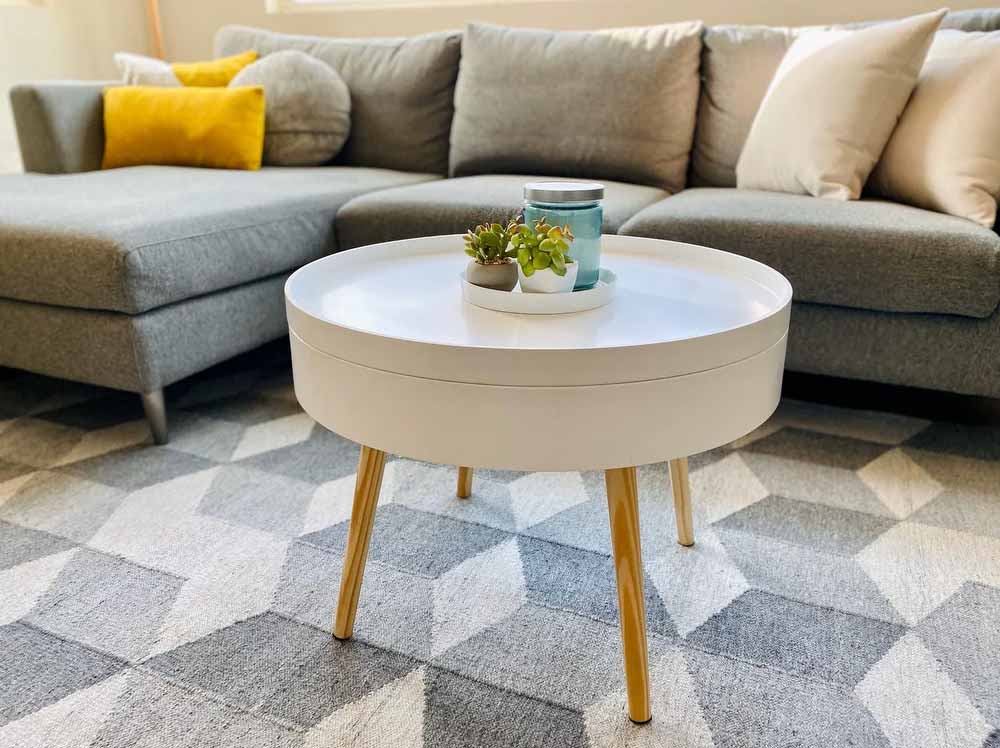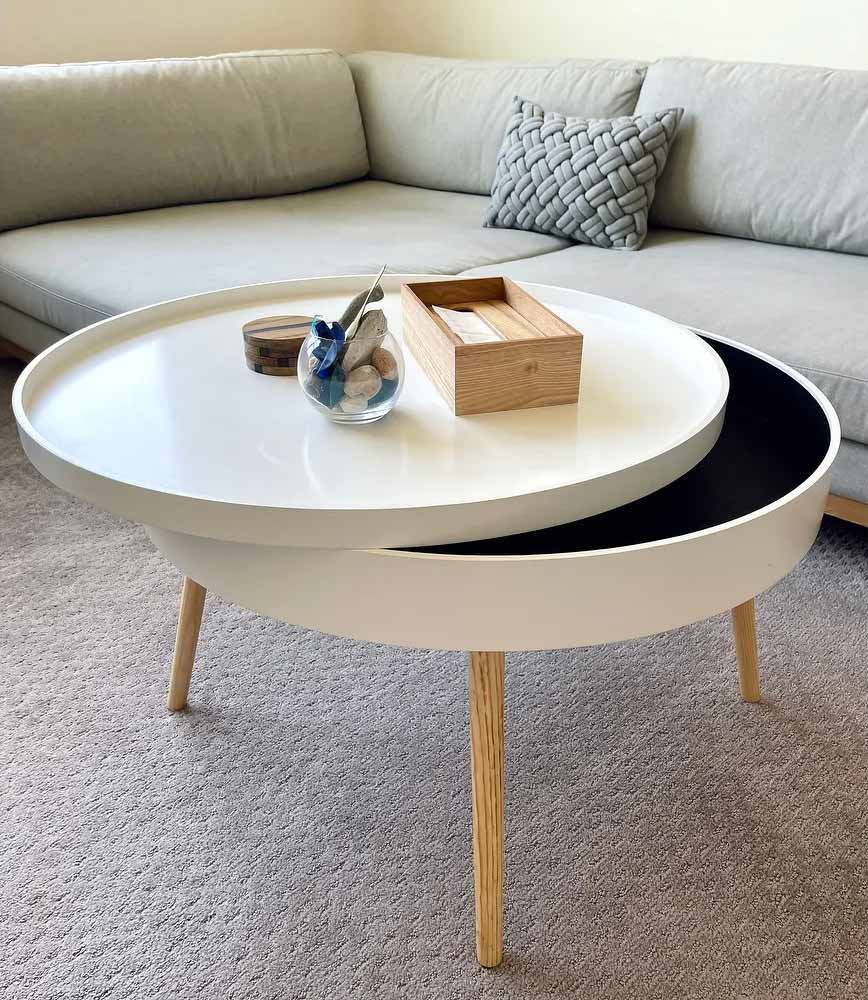 Bring a touch of Mid-Century and Scandinavian style to your home with this charming round coffee table. Showcasing a minimalist yet striking design, the tabletop lid opens to reveal a spacious storage compartment, perfect for organizing books, magazines, and more. Choose from two colors: white and black.
Upholstered Round Storage Ottoman Coffee Table with Storage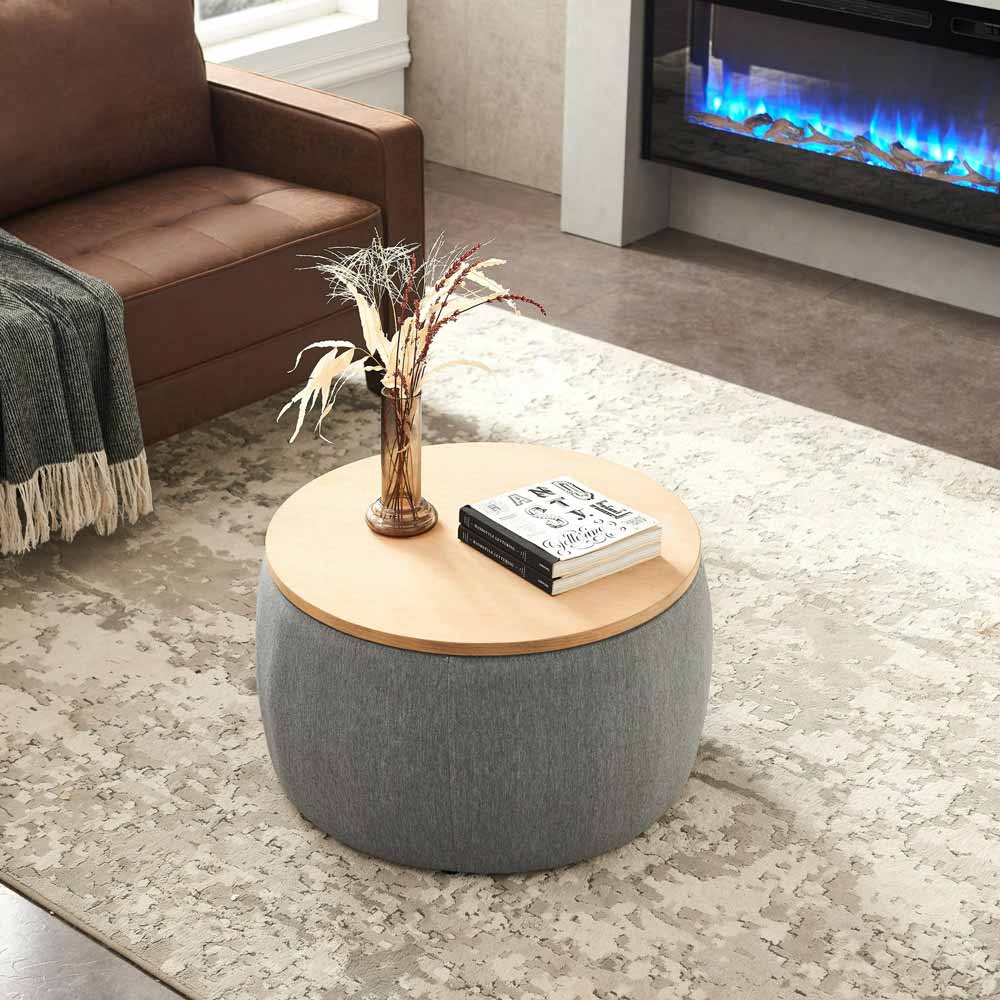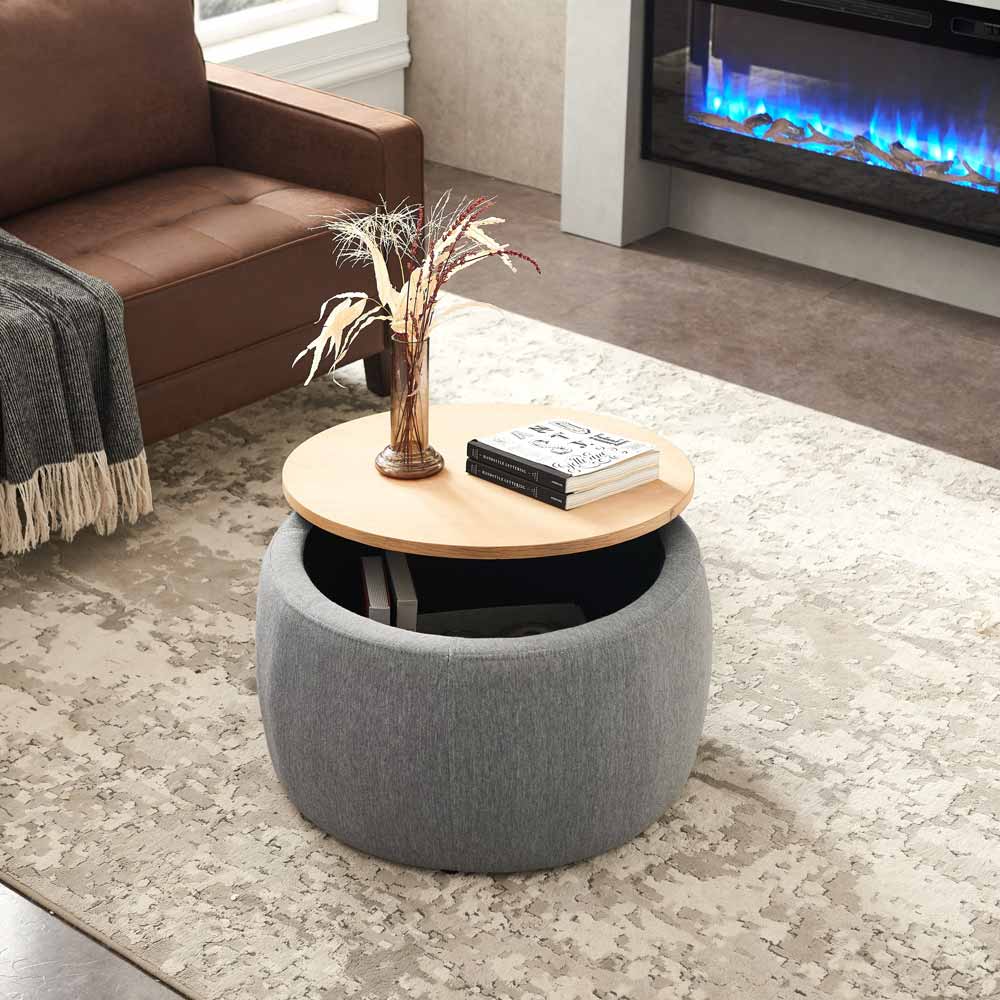 This upholstered coffee table strikes a perfect balance between functionality and aesthetics. It can be used as a stylish end table, comfortable ottoman seat, or organized storage unit. The hidden storage under the lid provides ample space to keeps books, magazines, candles, and more.
Set of 2 Round Sintered Stone Top Nesting Coffee Table with Drawer Black & Gold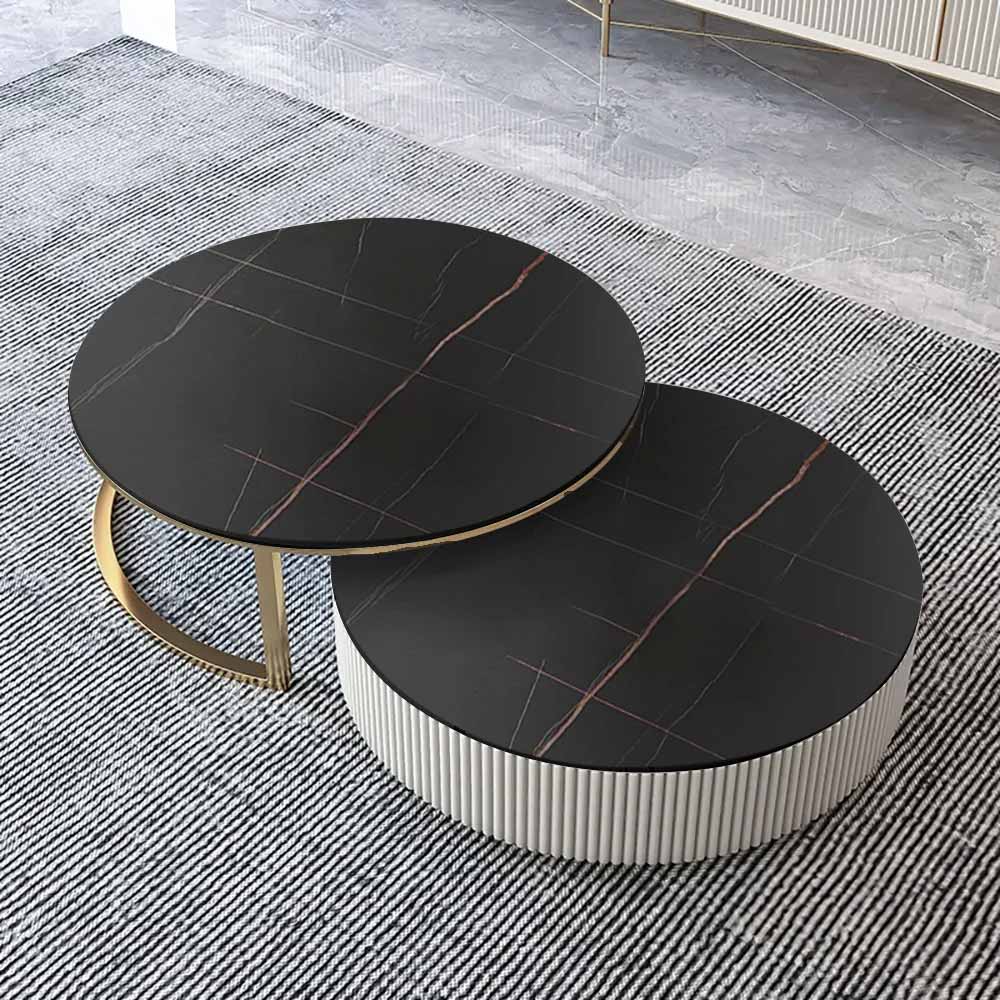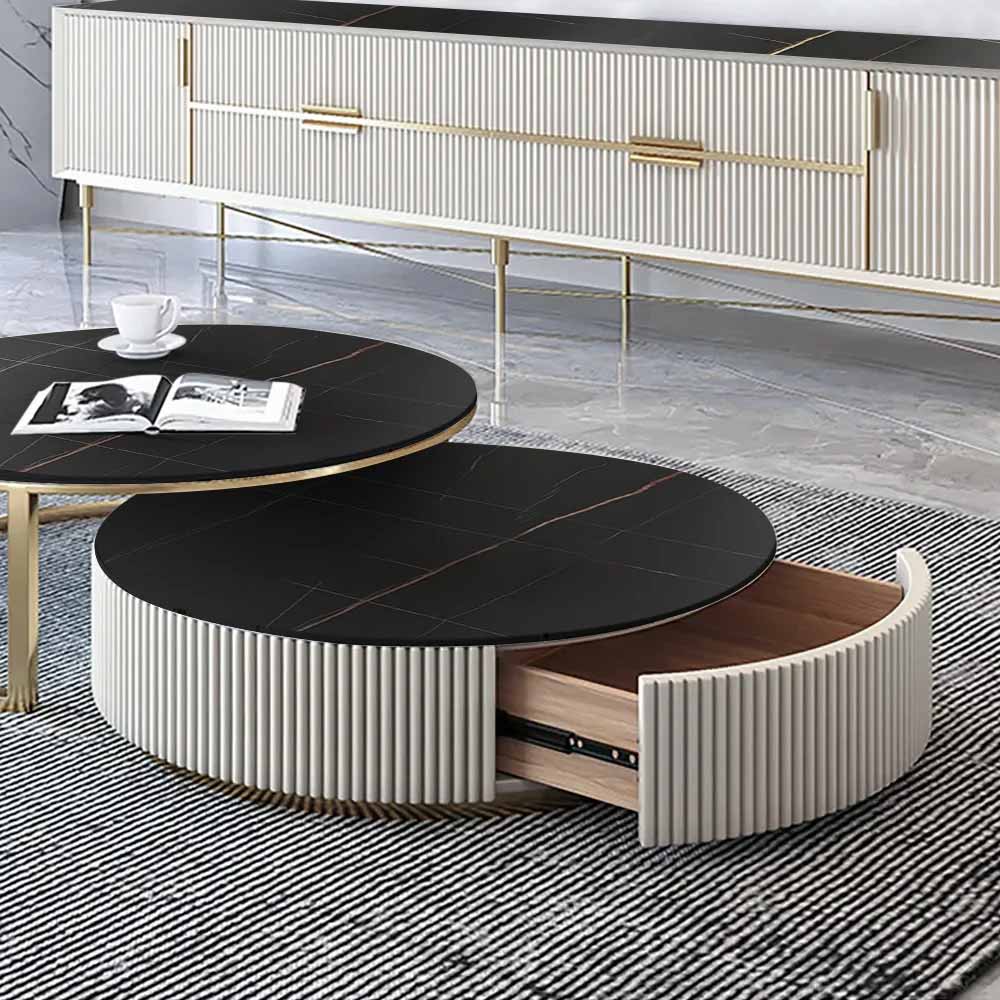 Perfect for a modern or contemporary living space, these nesting coffee tables feature a Sintered Stone top, a sturdy metal-based finish in gold and a storage drawer. Nest the smaller table discreetly within the larger for a clean look or pull the two apart to maximize surface space when entertaining guests.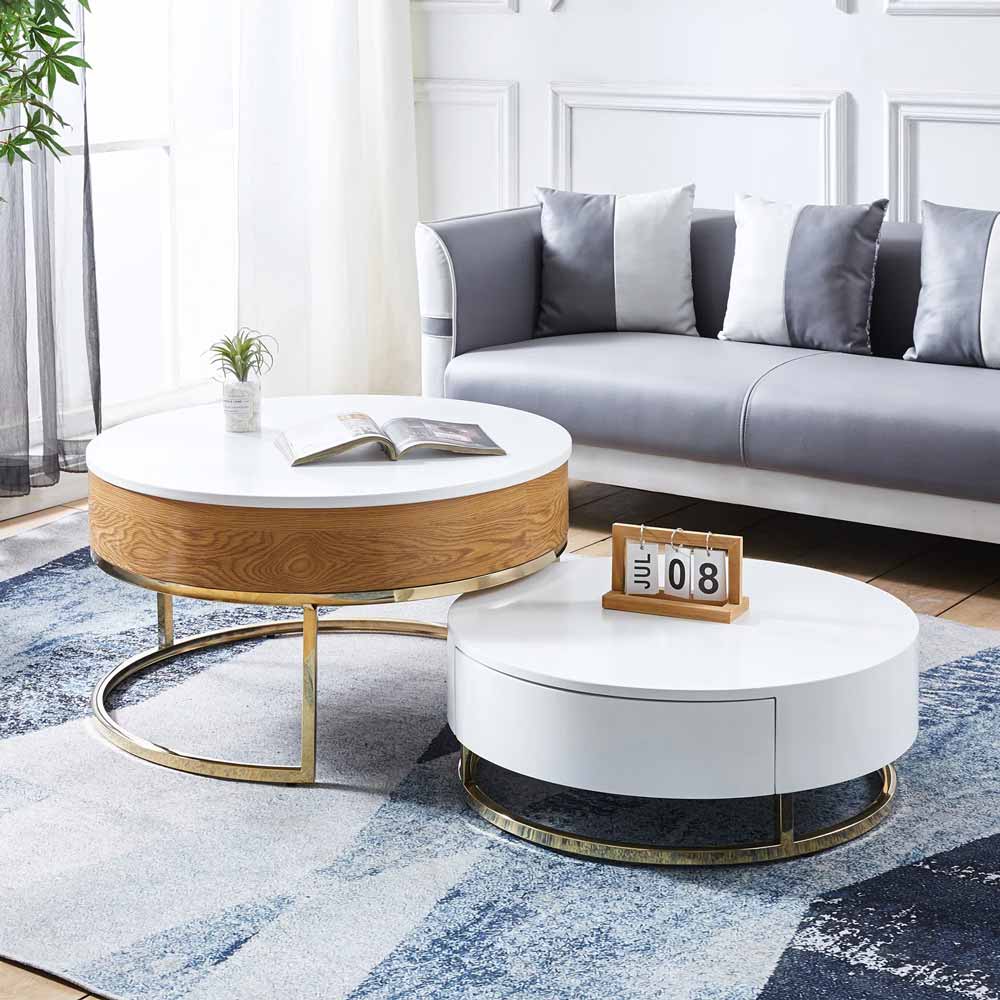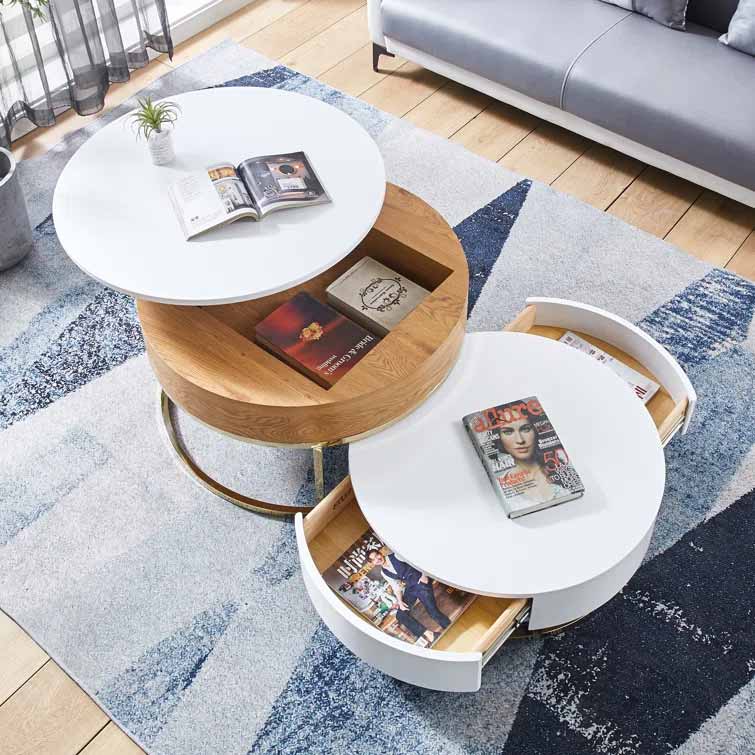 These white nesting coffee tables will elevate any living space decor. The round lift-top design reveals hidden storage space, while two built-in drawers provide additional room for books, magazines, and other items.
Modern Marble Top Round Coffee Table with Metal Base and 2 Drawers - White&Black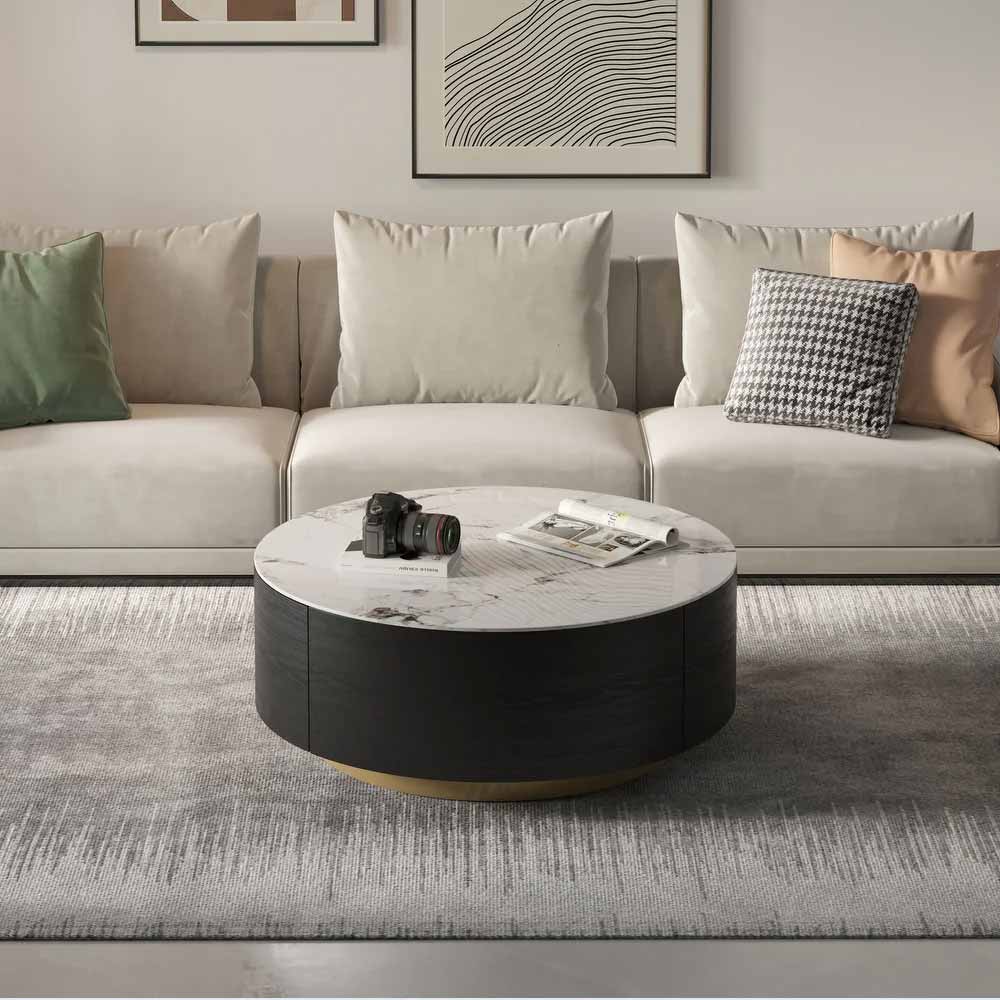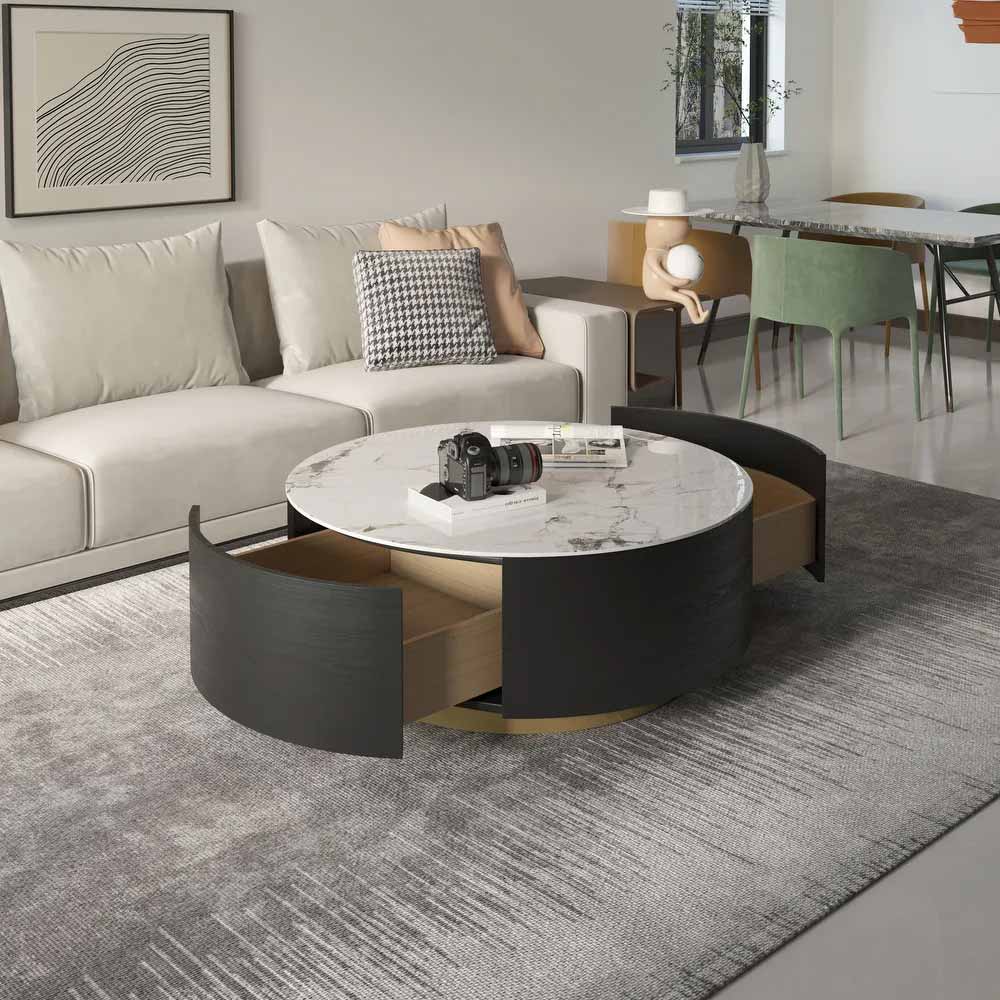 Our final pick is this round coffee table with two drawers. The white marble tabletop features subtle grey veining for a contemporary look. The metal base boasts a rounded silhouette to complement the circular marble top. And with two built-in drawers, this table offers both beauty and versatile storage.