10 Leather Swivel Chairs for Maximum Comfort
There's a certain sense of timeless sophistication that a leather swivel chair brings to a room. With its rotating base and luxurious leather upholstery, it offers a unique blend of function, comfort, and style. Whether you're furnishing a home office, upgrading your living room, or creating the perfect reading nook, a leather swivel chair is a great choice.
Designed to turn smoothly on its axis, a leather swivel chair provides you with the freedom to face any direction without moving the entire chair. Most swivel chairs offer 360-degree rotation, allowing you to face any direction with ease. The leather upholstery adds a touch of luxury while being durable and long-lasting.
Leather swivel chairs have a versatile, timeless appeal that allows them to complement various decor styles. From traditional to sleek contemporary, these chairs can fit into any space.
Best Leather Swivel Chairs For Sale
If comfort, style, and flexibility are high on your priority list, a leather swivel chair may be the perfect addition to your space. They're great for lounging or working. Plus, the swivel function offers an easy way to shift your focus, whether you're turning to join a conversation or swiveling to face your computer. For your inspiration, we've rounded up 10 leather swivel chairs you can buy - browse our selections below to find the perfect one for your home.
You may also like: 25 Boucle Chairs That Bring Style and Comfort to Your Home
Deryn Genuine Leather Swivel Barrel Chair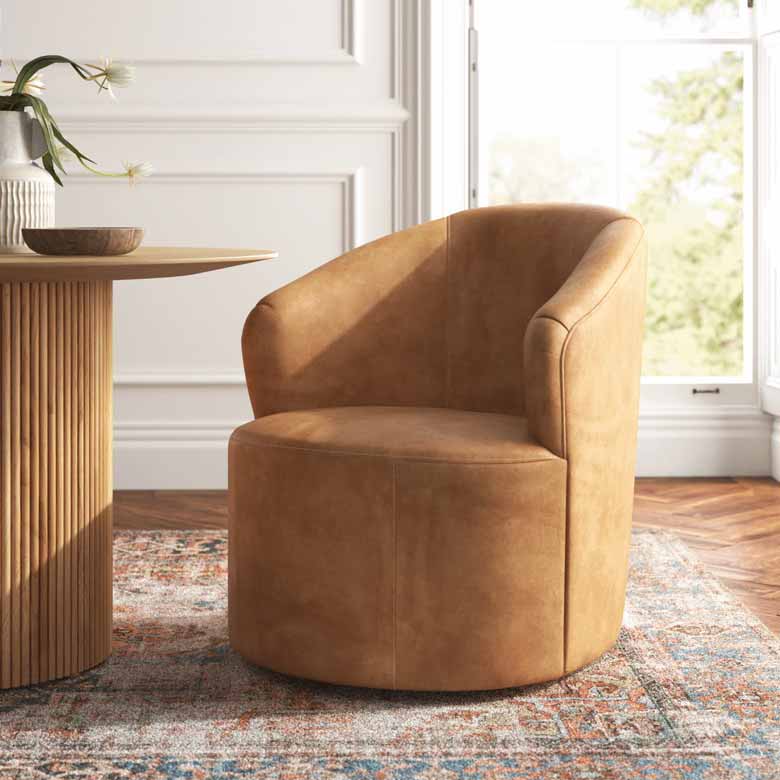 The perfect blend of sophistication and functionality, this leather swivel barrel chair delivers instant luxury. This chair features genuine leather upholstery and a 360° swivel base, and is available in five color options. The sinuous springs and foam-filled cushions offer optimal support, ensuring a comfortable and relaxing seating experience. The rich leather lends a refined, elevated look that works in modern and traditional spaces alike. With no assembly required, you can start lounging and swiveling in style as soon as this statement chair arrives.
Kensington Genuine Leather Swivel Armchair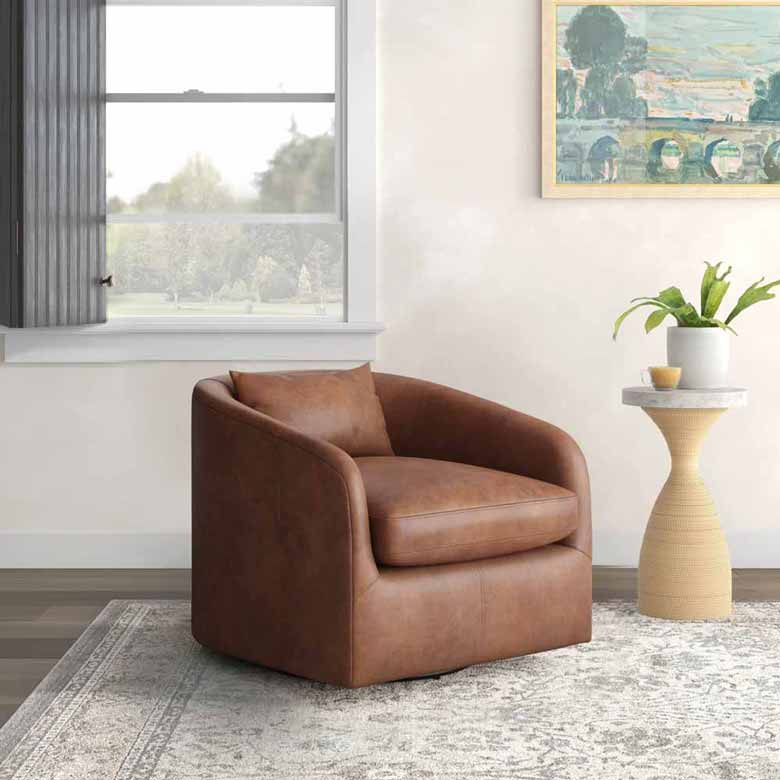 This chair blends tradition and innovation with its classic silhouette and smooth hidden swivel base. Its sleek upholstery is made of 100% genuine leather, exuding a luxurious feel. Curved arms and a single pillow offer a relaxed yet refined look. This armchair measures 31.5'' W x 27'' H x 35.5'' D and is available in two colors.
Dehaven Leather Swivel Accent Chair
This black leather swivel chair brings a style to any living room or home. It measures 32'' W x 31'' H x 32'' D and features 100% genuine leather upholstery and high-resiliency 2.2 density foam cushioning for superior comfort and support. The tall arms, padded cushion, and rounded back design invite relaxation after a long day. Choose from three colors: Black, Dove Gray, and Espresso.
Arden Leather Swivel Armchair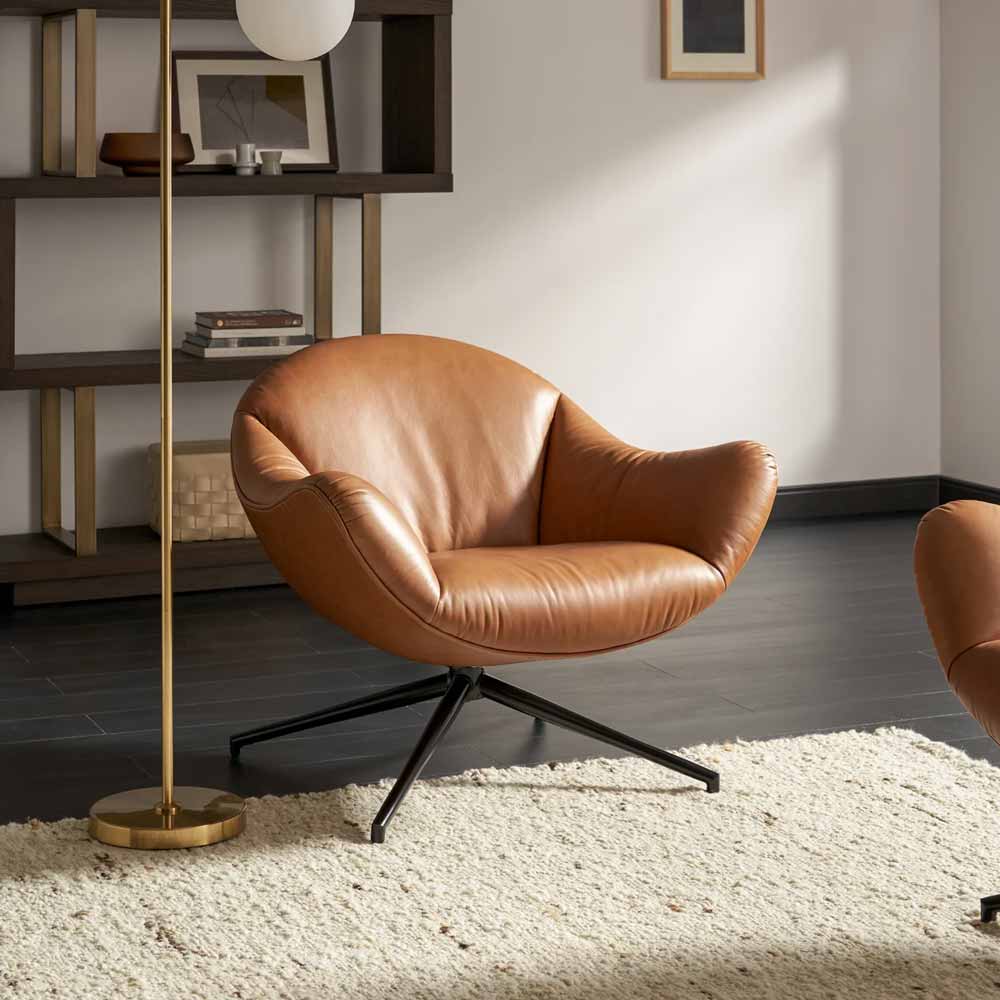 This modern leather swivel chair promotes relaxation and offers an inviting lounge experience. Upholstered in smooth leather, it measures W35" x D33.1" x H29.5" and features a 360° swivel base. Whether placed in the living room, bedroom, family room, or even used as a desk chair, this versatile piece effortlessly complements any space.
Quinton Leather Swivel Chair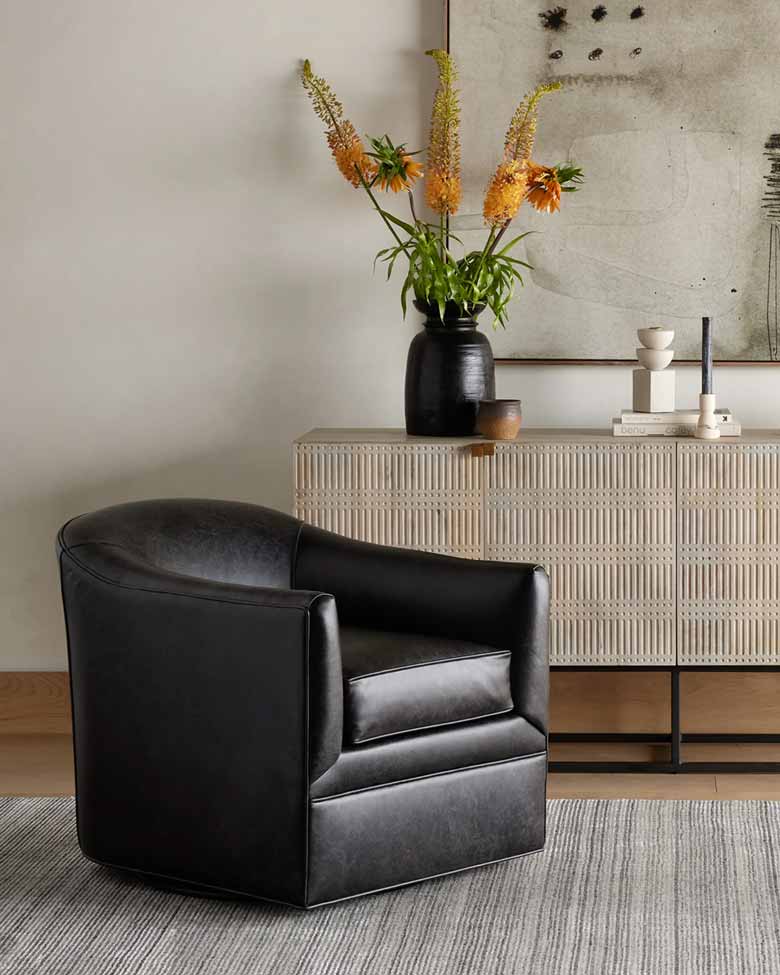 This chic and comfortable black leather swivel chair is the perfect choice for moments when you want to relax. With its black-colored top-grain leather and 360-degree swivel design, this chair adds style to any space.
Olivar 28.74'' Wide Genuine Leather Swivel Barrel Chair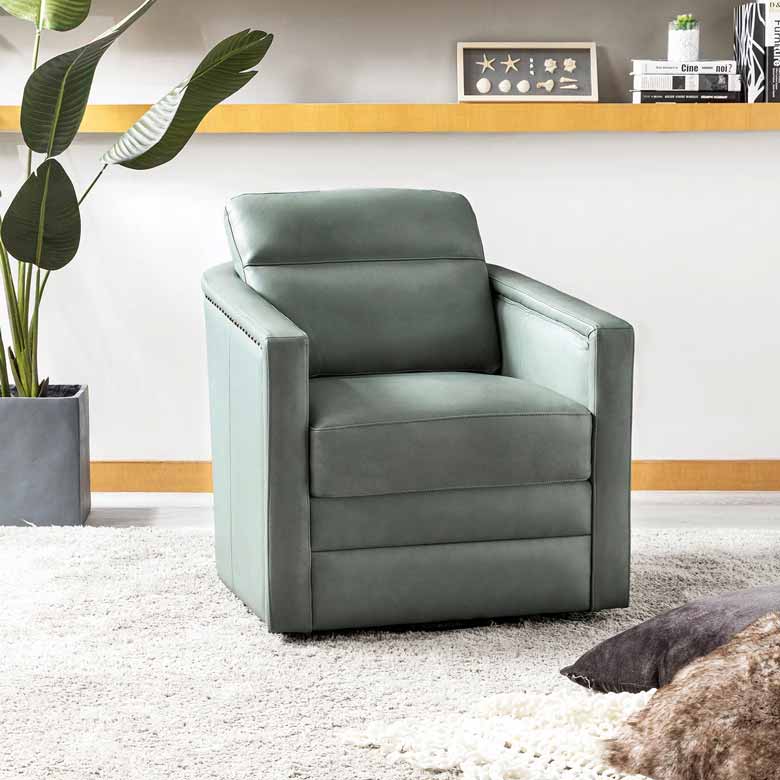 If you want style, elegance and functionality, this genuine leather swivel barrel chair is perfect for you. It features square arms and a loose back for a streamlined feel. Whether you're entertaining guests or simply lounging in style, this leather chair provides the ultimate comfort and aesthetic appeal. Choose from multiple color options, such as Camel, Chocolate, Brown, Black, Navy, Gray, and more.
Leather Full Swivel Chair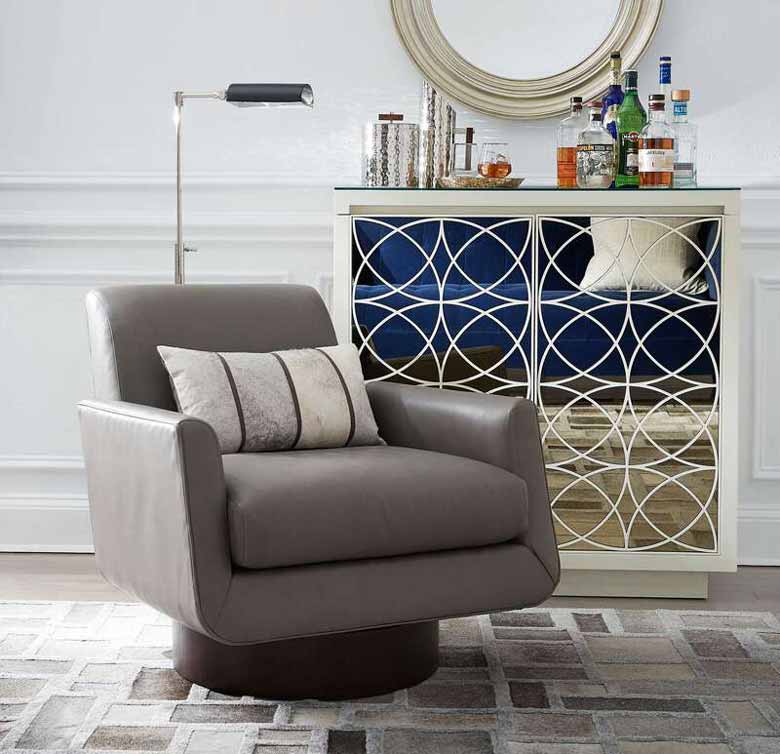 This mid-century-inspired leather swivel chair makes a striking statement from every angle. Its sleek, low-profile design features a generously proportioned bullnose seat and a supportive angled back, ensuring exceptional comfort. Choose between a wood or metal base to customize the chair to your preference.
Emery Boucle / Leather Swivel Chair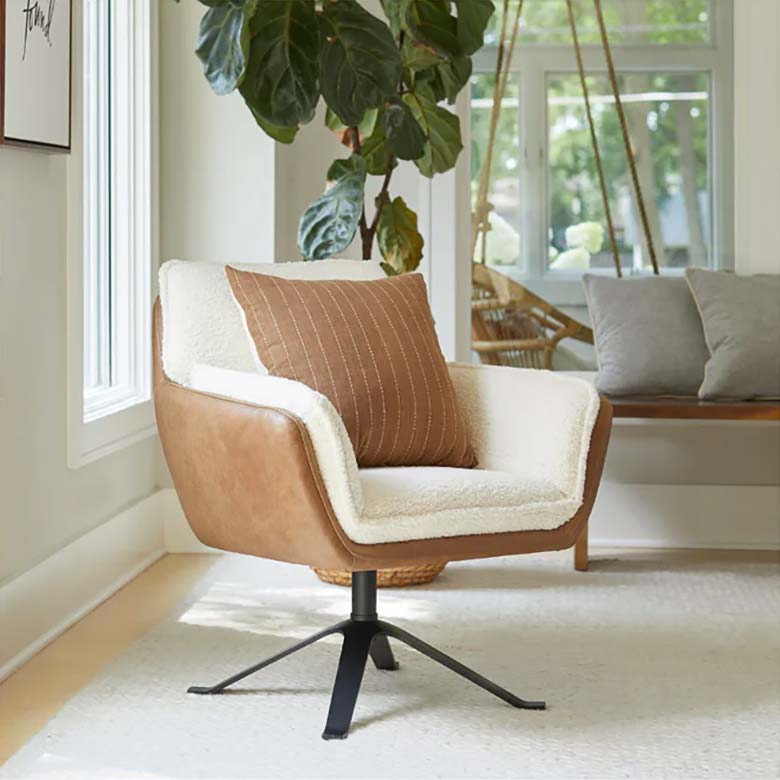 This stylish swivel chair will bring a sophisticated, chic vibe to any home. The seating surface showcases a luxurious boucle fabric upholstery, while the outer shell boasts supple leather, creating a harmonious blend of textures. Choose from two color combos: Ivory Boucle seat with a Brown Leather outer shell or Charcoal Boucle seat with a Black Leather outer shell the one that complements your existing decor.
Dowlin Leather Swivel Barrel Chair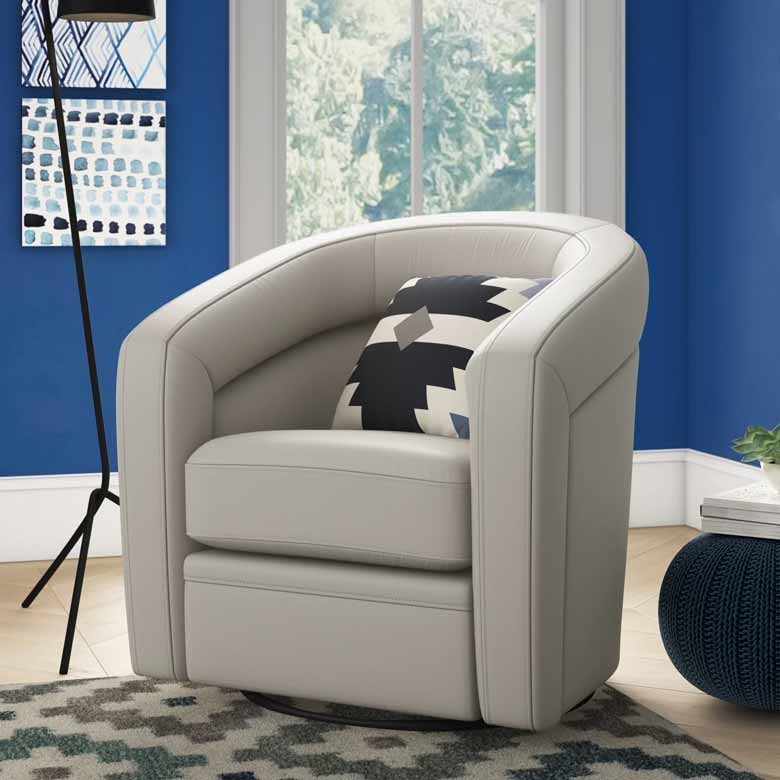 With its inviting design, this leather swivel chair offers the perfect spot to cozy up and unwind after a long day. The plush foam-filled seat provides comfort and support for up to 300 pounds. Choose from two colors: Gray and Brown.
Killeen 30.31'' Wide Genuine Leather Swivel Rocker Recliner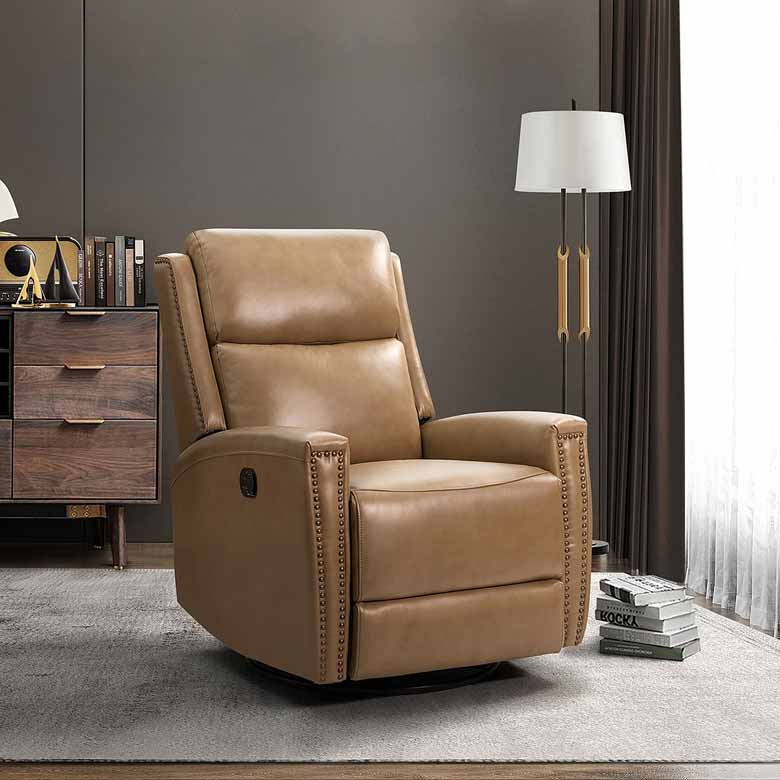 Indulge in the ultimate lounging experience with this genuine leather swivel recliner. Crafted from smooth genuine leather and manufactured wood, this chair offers three adjustable positions and is available in multiple colors. The inviting design and plush seating make it the perfect spot for quality time with your entire family.
Read next: 20 L-Shaped Couches That Will Transform Your Living Room