Stunning Oval Dining Tables for Modern Homes
When selecting the central piece for your dining space, an oval dining table is a great choice. It offers a unique blend of practicality, style, and versatility. With smooth, rounded edges instead of sharp corners, an oval table provides a soft, organic look perfect for cozy dining rooms and open-concept living areas.
Oval dining tables offer versatility for all dining experiences, from intimate family meals to festive holiday feasts. The curved form creates a more intimate and conversational setting compared to square and rectangular tables. Yet oval tables still provide ample space when you need it.
Oval dining tables are very much in style and are likely to remain so. Regardless of whether your decor style leans towards classic elegance, contemporary flair, mid-century modern charm, or industrial chic, an oval dining table effortlessly integrates into your design scheme.
Looking beyond style, an oval dining table is a practical choice. Its rounded shape offers flexible seating options, making it easier to squeeze in an extra guest or two when necessary. Its curved edges and lack of corners also make it a safer option in homes with young children, reducing the risk of bumps and bruises.
Best Oval Dining Tables for Sale
An oval dining table is a choice that's both visually pleasing and space-efficient, making it a worthy contender when choosing your next dining table. Whether you're hosting a grand dinner party or simply sharing a meal with your family, it sets the stage for memorable dining experiences. For your inspiration, we've rounded up 12 oval dining tables you can buy - browse our selections below to find the perfect one for your home.
You may also like: 15 Leather Counter Stools for a Stylish Kitchen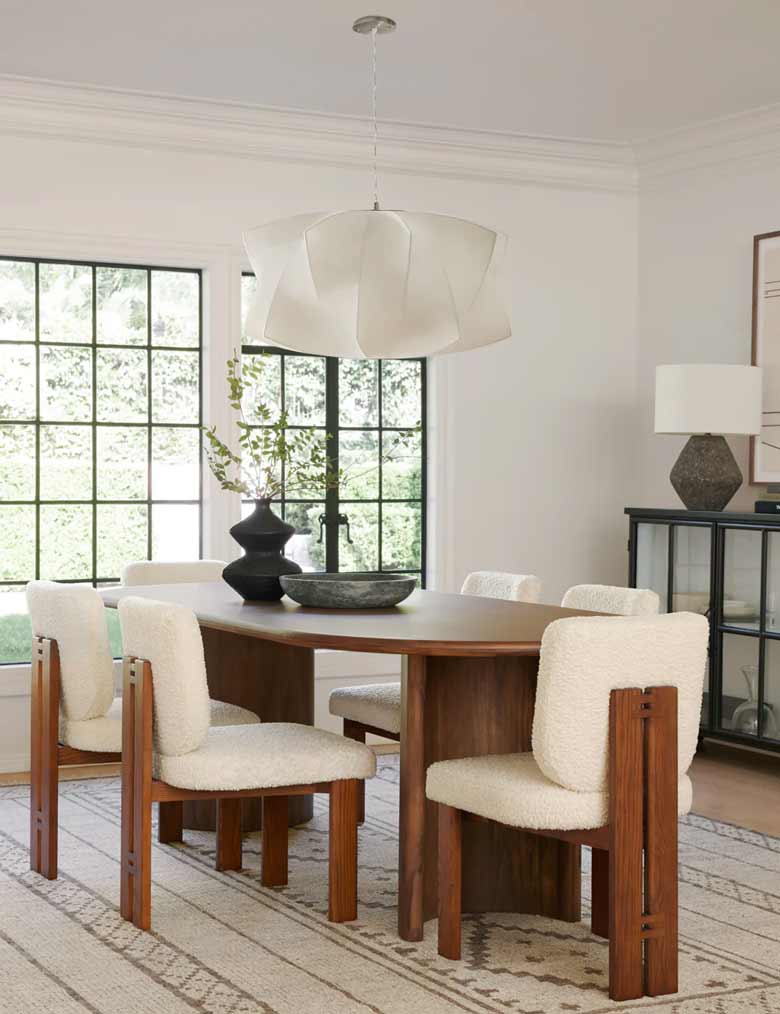 Measuring 94"W x 30"H x 42"D, this oval dining table is a great choice for any home. It features a timeless design with sleek, curved legs for a modern look, and can seat up to six people. Choose from two color options: Brown and Sand.
Brighton Oval Dining Table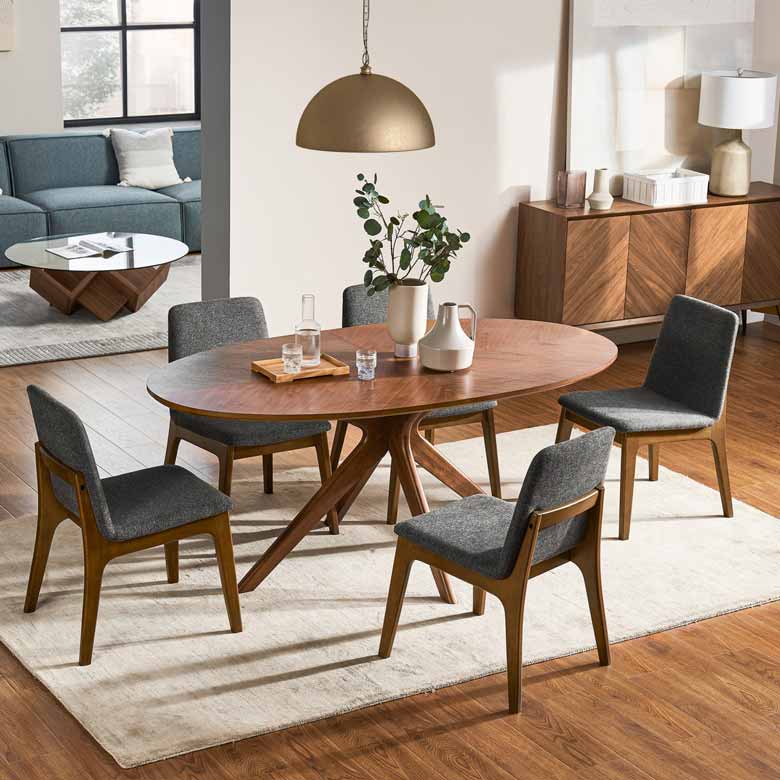 Crafted with a scratch-resistant walnut tabletop and supported by solid wood legs, this oval dining table from Castlery brings a touch of mid-century style to any dining space. This table is perfect for intimate family meals or larger dinner parties. It measures 70.9" W x 29.9" H x 38.2" D and can comfortably accommodate up to six guests.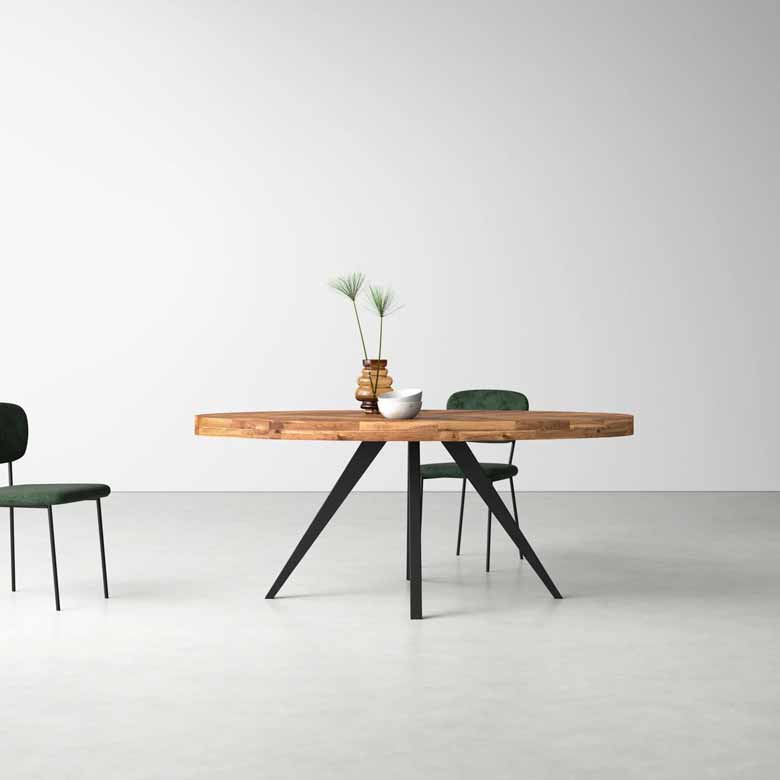 This farmhouse-inspired oval dining table comfortably seats up to six people. Perfect for cozy evenings with family and friends, it measures 72'' W x 30.5'' H x 42.5'' D and is available in two colors: Brown and Black.
Crafted from oak and finished in a natural, smooth tone, this oval dining table complements any space. The playful legs, formed by pairs of sturdy columns, create a unique visual appeal. Adding to its charm, subtle ribbed detailing graces the perimeter of the tabletop. It measures 84" W x 30" H x 38" D and seats up to 6 people.
Taplin Oval Metal Base Dining Table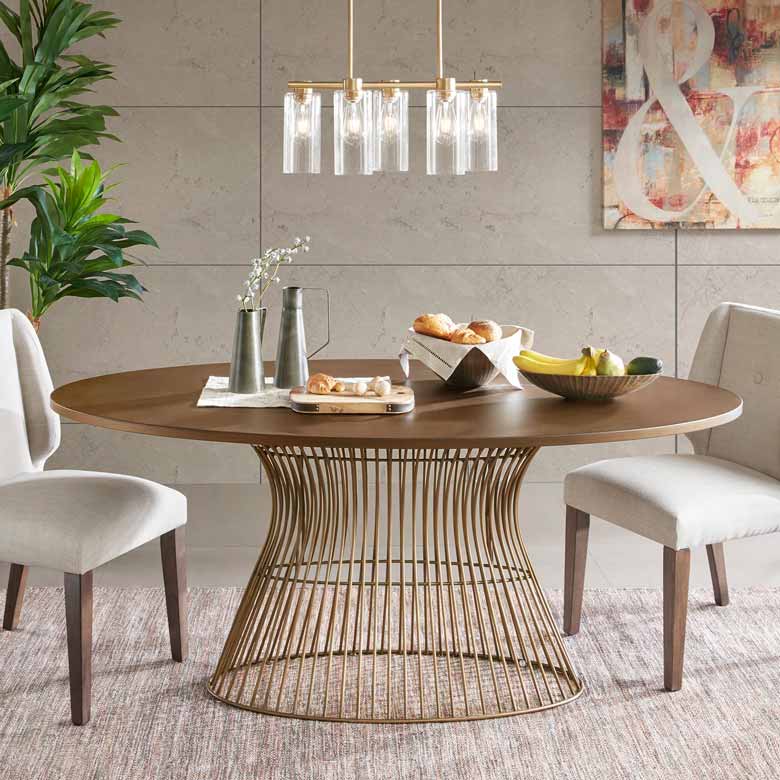 This modern oval dining table features a timeless design that will instantly become the highlight of any dining room. The tabletop is crafted from MDF with a rich wood veneer finish that adds organic texture, while, the metal base provides a striking, sculptural foundation. This oval table measures 68'' W x 30'' H x 37'' D and comfortably seats 6 people for dining with friends or family. Choose from two colors: Bronze and Black.
Beth Oval Dining Table, Brown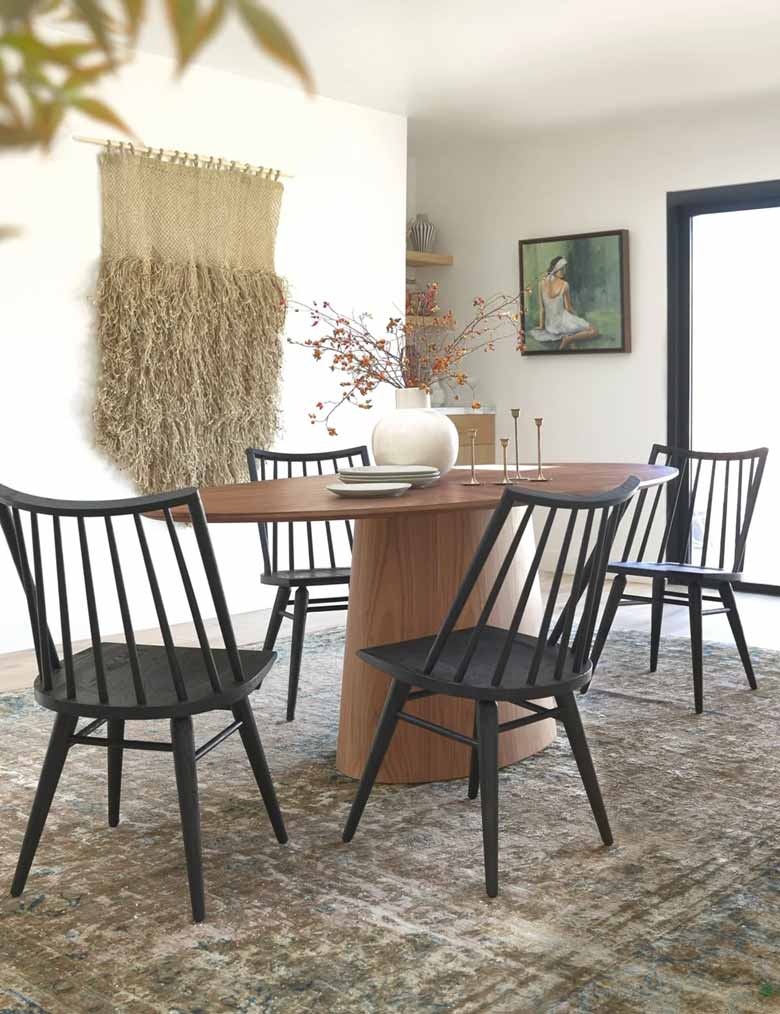 This oval dining table is perfect for intimate gatherings. Made from walnut, this pedestal table has a clean and minimalist design and comfortably sits 4 people. The tabletop showcases a star-like inlay pattern, adding a touch of subtle decorative detail that enhances its overall charm.
Murcell Carrara Marble Oval Dining Table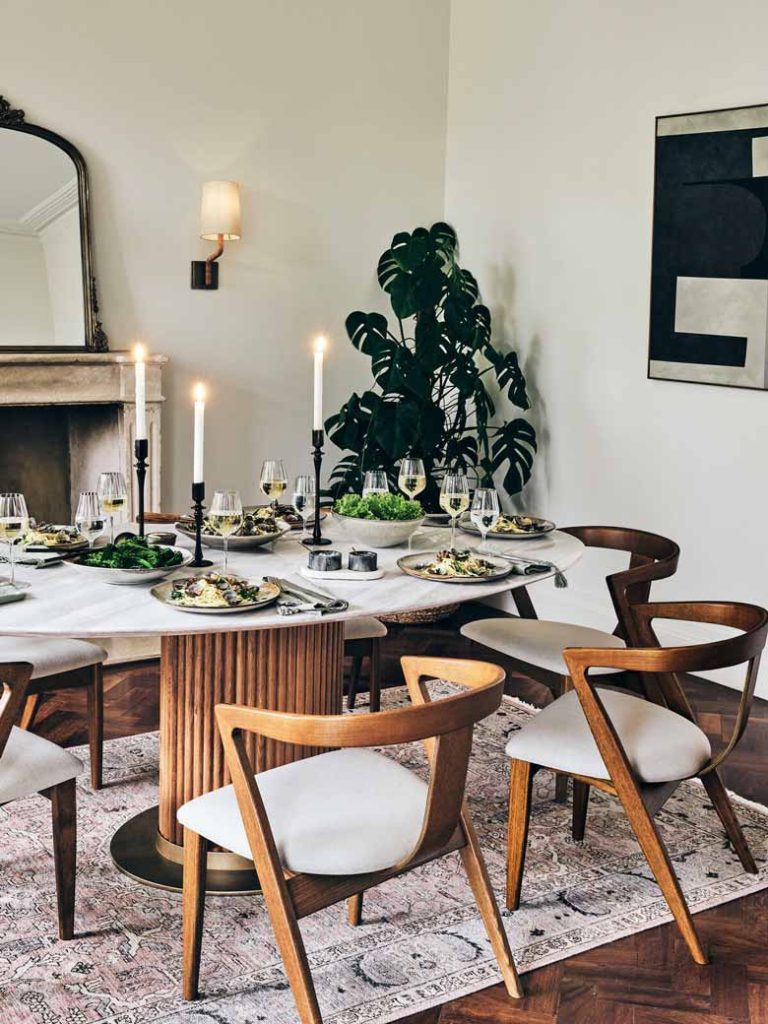 With its gorgeous tabletop and solid-oak-clad pillar base, this marble oval dining table showcases a sleek and sophisticated design and will stand out in any dining room. It's constructed from polished Carrara marble, renowned for its elegant appearance and characterized by intricate grey veining. The natural beauty of the marble adds a touch of luxury to any dining space, creating a captivating focal point that exudes timeless charm. Measuring 78.7" W x 29.9" H x 47.2" D, this oval dining table seats six to eight people.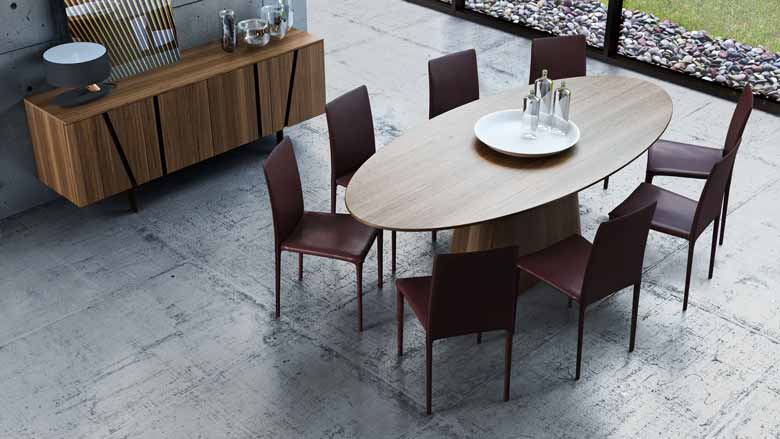 This contemporary oval dining table is a true statement piece. Its reverse-pyramid table top, resting on a tapering base, creates a visually striking and grand appearance. Measuring 95" W x 30" H x 43" D, this table comfortably accommodates up to 8 guests, ensuring a delightful dining experience for larger gatherings. Choose from four colors: White, Smoked Oak, Walnut, and Glossy Chateau Gray, the one that complements your existing decor or personal style.
Another beautiful piece you can buy for your home is this white marble oval dining table from Scout & Nimble. The smooth white marble tabletop provides a refined and timeless look, while the sturdy brass-finished iron base lends eye-catching contrast. Measuring 74" W x 30" H x 34" D, this table creates a warm, welcoming atmosphere perfect for hosting cozy dinner parties for 4.
Lippa 78" Oval Wood Dining Table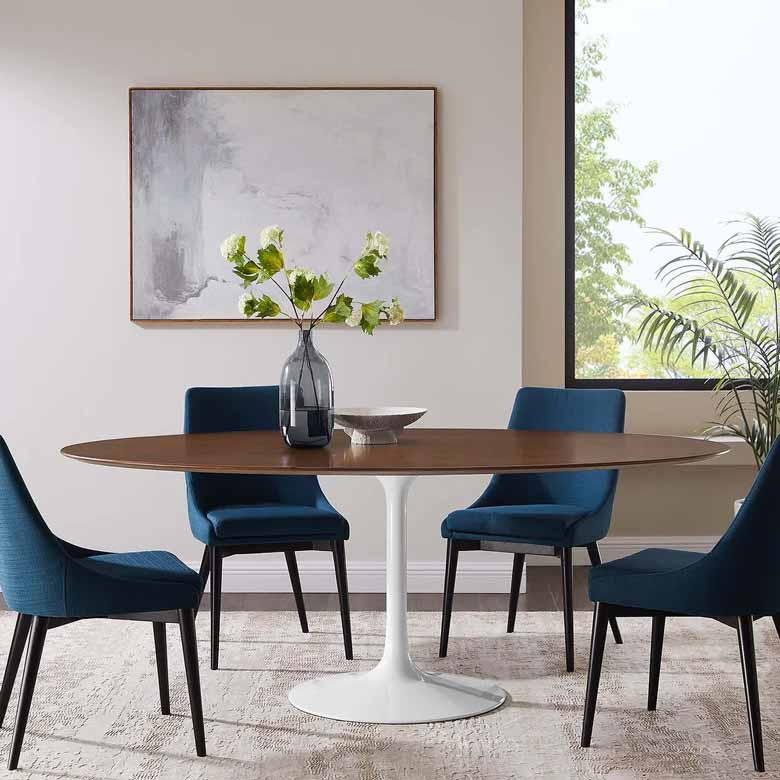 Whether you're hosting gatherings with loved ones or enjoying everyday meals, this pedestal oval dining table is a great choice. Crafted from MDF with walnut wood veneer and a beveled edge, it offers a contemporary yet timeless design that effortlessly blends with any decor. Its sleek tapered metal pedestal base, finished with a chip-resistant lacquer, adds to its visual appeal. To ensure the protection of your flooring, this tulip dining table comes with a non-marking felt pad.
Cherner Oval Dining Table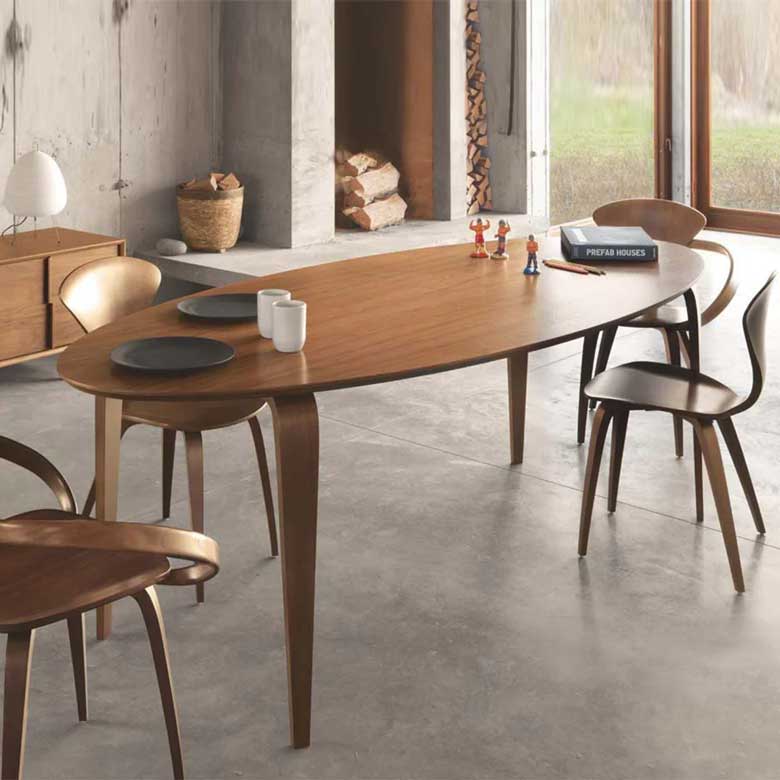 Designed to accommodate up to 8 people, this oval dining table offers ample space for entertaining. Its top is constructed from 1-1/8" thick cross-ply plywood, featuring a profiled exposed edge that adds a touch of visual interest. The table stands on laminated wood legs, also with exposed edges, which provide stability and support while adding to the table's overall aesthetic appeal. Choose from two different sizes: 84" and 92" in width, and four finish options: Classic Walnut, Natural Walnut, Classic Ebony, and White Oak.
Laudine Extendable Dining Table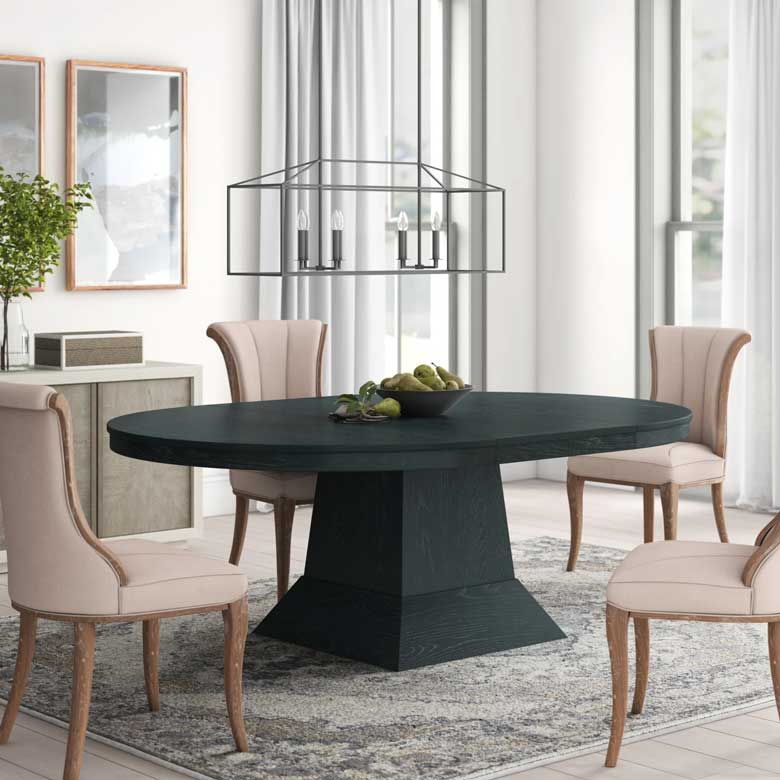 If you have a growing family or frequently entertain guests, this extendable oval dining table is a great choice. Crafted from high-quality solid and engineered wood, it features a versatile dark oak finish that effortlessly complements any decor. The table's sturdy square pedestal base provides stability and adds a touch of classic elegance to its design. When fully collapsed, this table comfortably seats four people, creating an intimate dining setting. However, when you need extra space to accommodate larger gatherings, simply add the two removable leaves. With the leaves in place, the table expands to seat up to six people comfortably.