10 Modern Shower Curtains to Instantly Upgrade Your Bathroom
Modern shower curtains can instantly add a touch of color and personality to a boring bathroom with minimum fuss, expense and effort. Besides their aesthetic value, shower curtains are also a necessity for protecting your floor from overflowing water. And the best part of buying modern shower curtains is the fact that they can easily be replaced to achieve a similar or totally different look and feel.
While it is important to consider your current bathroom design, you don't have need to feel limited by it. Mixing styles, materials and colors to complement your current space can be fun and the end result can be very rewarding.
For example, if you already have a colorful bathroom we suggest picking a neutral color with an interesting fabric shower curtain texture or pattern. On the opposite side of the spectrum, if your bathroom has a monochromatic scheme, it's a good idea to choose a more colorful shower curtain to liven up the space. If your bathroom lacks sufficient sun, buy a white shower curtain to let in a little extra light and make the room feel larger.
For your inspiration, we've rounded-up 10 modern shower curtains to update your bathroom - browse our selections below to shop the look.
Sweet Jojo Designs Hotel Shower Curtain in White/Black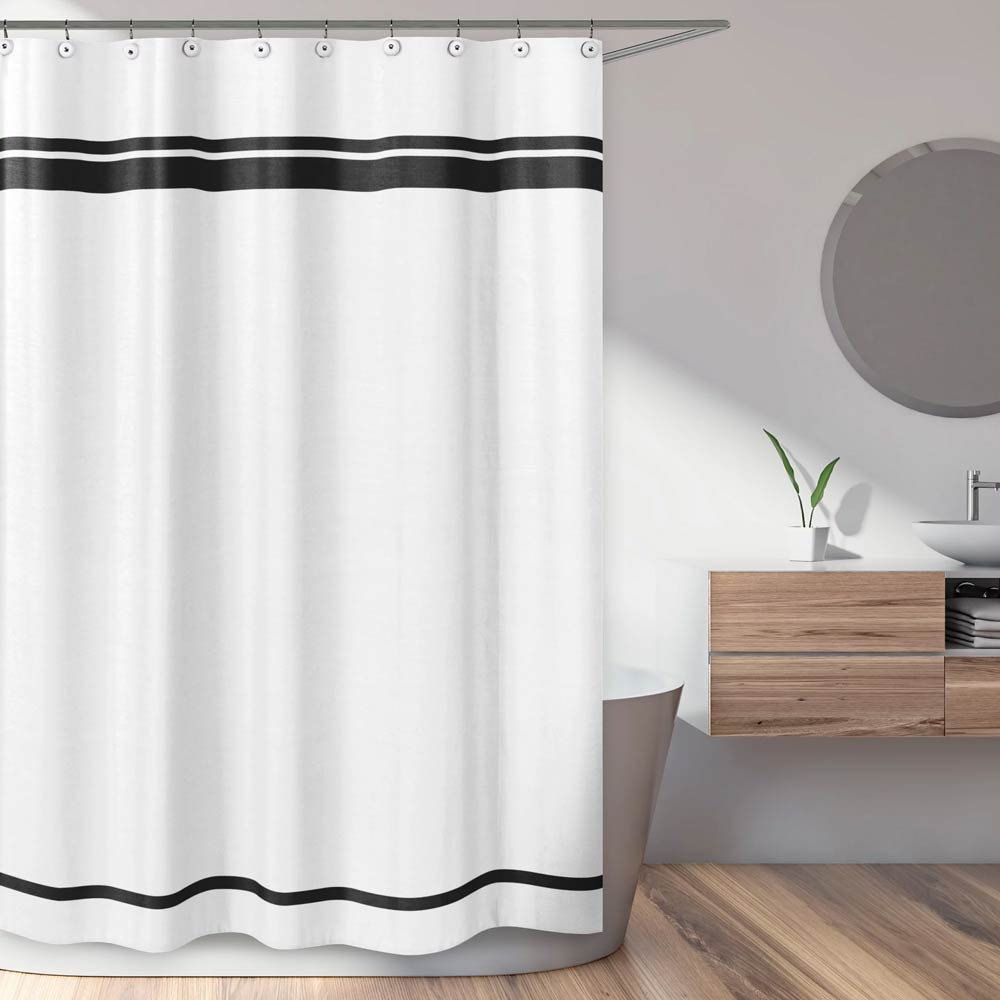 Give a simple and chic touch to your bathroom decor with this 100% cotton white shower curtain. It measures 72" L x 72" W and has top and bottom black horizontal border stripes, which gives it an elegant look. You can balance its monochromatic look with a colorful bathmat or towels. Available at Bed Bath & Beyond.
Porch & Den Onassis Modern Stripe Tassel Shower Curtain - Navy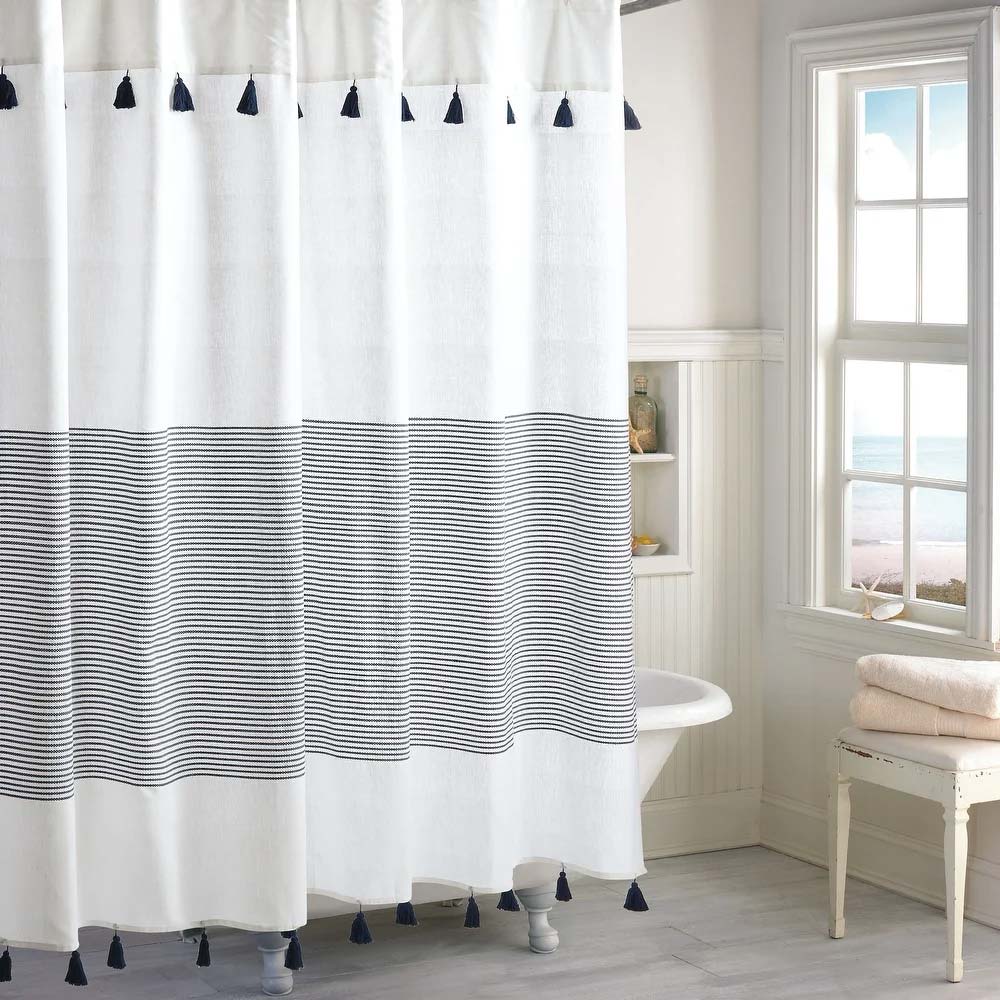 This modern shower curtain is beautiful and elegant, perfect for your master bath or guest powder room. Made of 100% cotton, it measures 72" L x 72" W and features horizontal stripes and playful tassels. This shower curtain is available at Overstock in four different colors, click on the link below to read more details.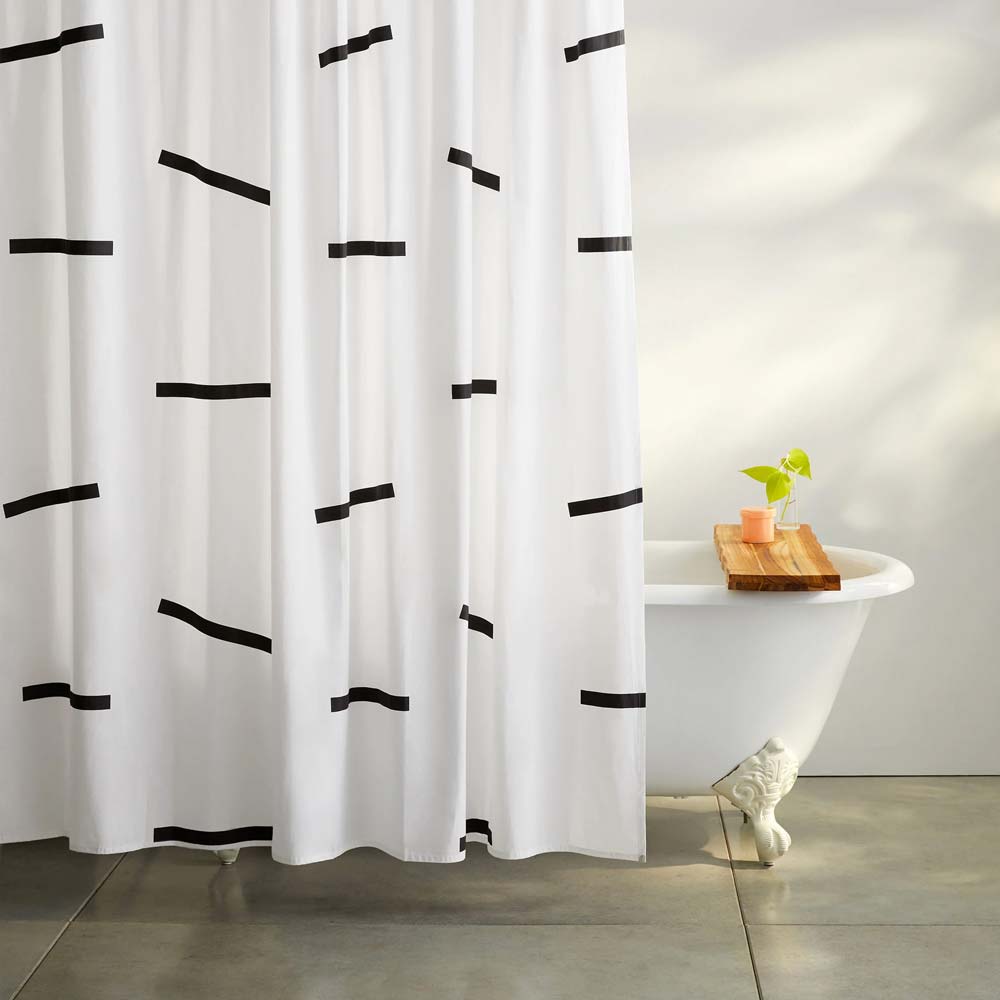 This modern shower curtain from Brooklinen will add style to any bathroom. Made of 100% cotton, this 72" x 72" shower curtain is available in 4 playful patterns: Black Dash on White, Black Windowpane on White, Steel and White Oxford Stripe, and Orange Grove on Grid.
Gap Home Easy Stripe Organic Cotton Shower Curtain, Navy, 72"x72"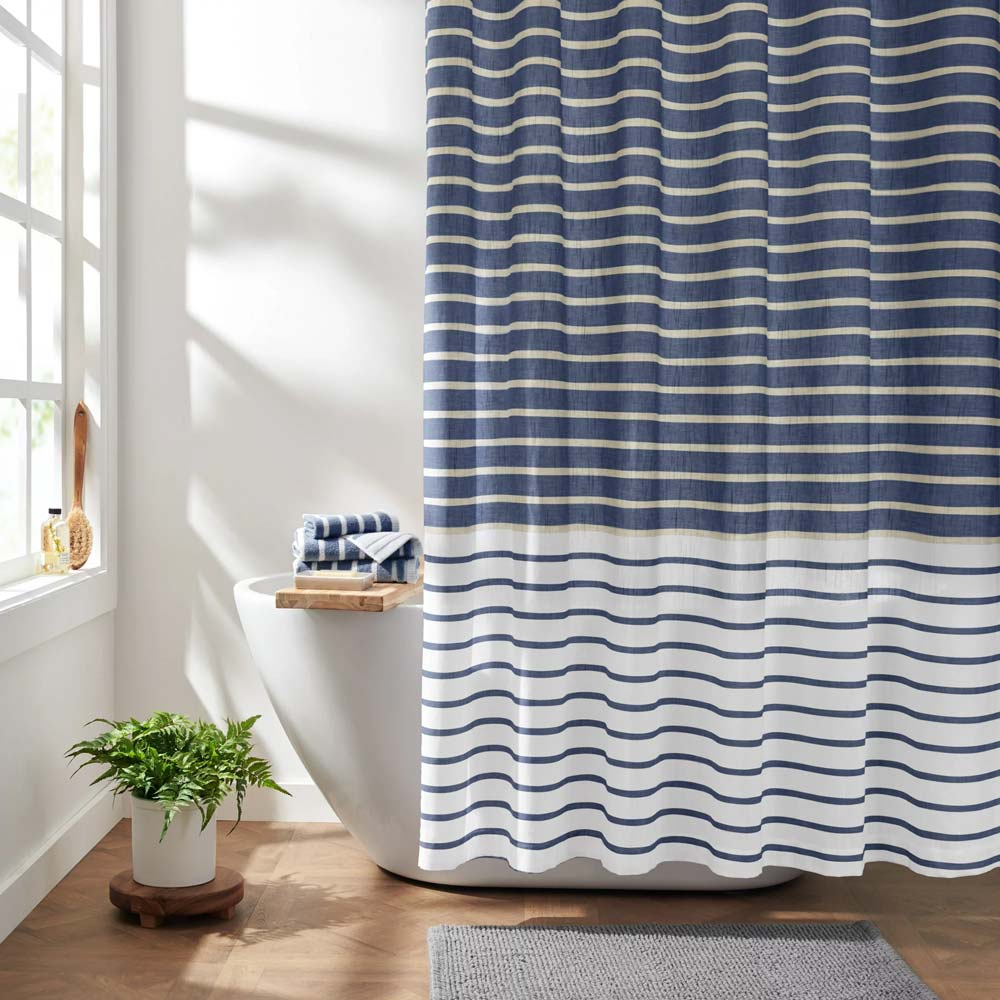 If you want style, elegance and functionality at an affordable price point, then this modern shower curtain is perfect for you. It measures 72" L x 72" W, and comes in multiple color options.
Lush Decor Weeping Flower Shower Curtain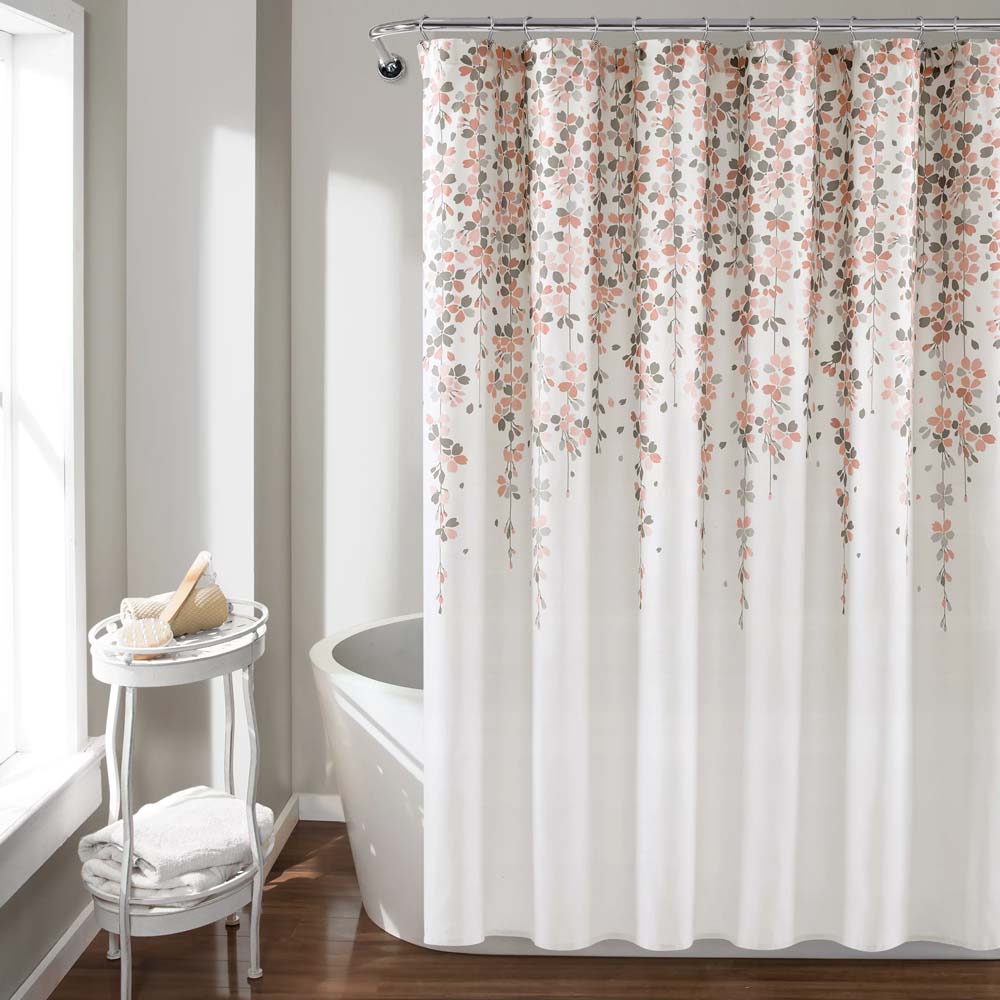 This shower curtain has a floral design and it's made from 100% polyester. With this piece, your bathroom will have a beautiful, instant focal point.
DKNY Highline Stripe 72-Inch x 72-Inch Shower Curtain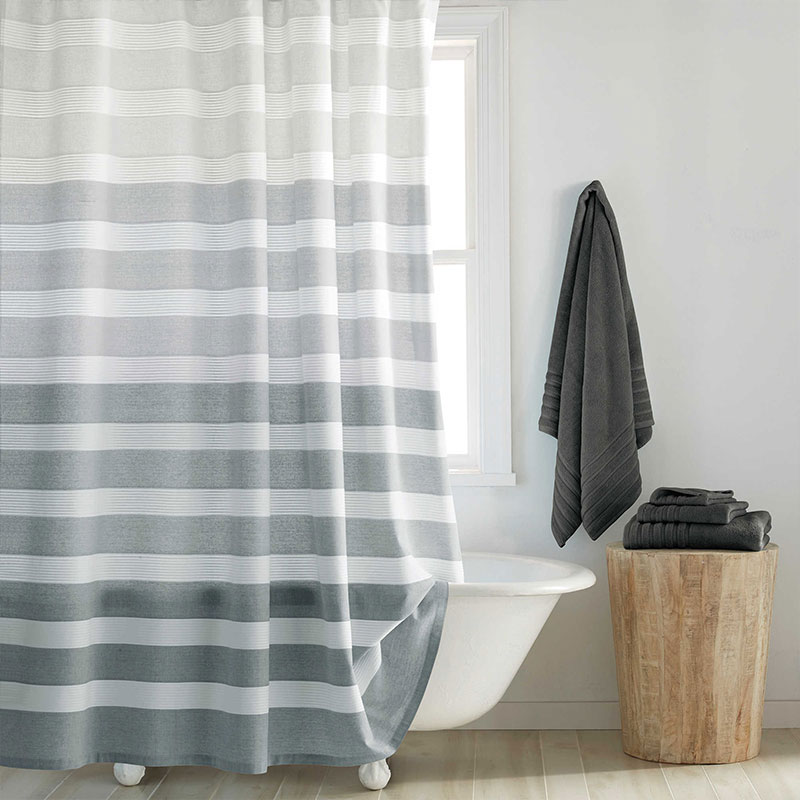 Featuring ombre horizontal stripes with alternating ribbed stripes, this stylish shower curtain adds a sophisticated touch to any bathroom decor. Available at Bed Bath & Beyond in three different colors (gray, taupe and white).
100% Cotton Shower Curtain with Tassels for Bathroom Decor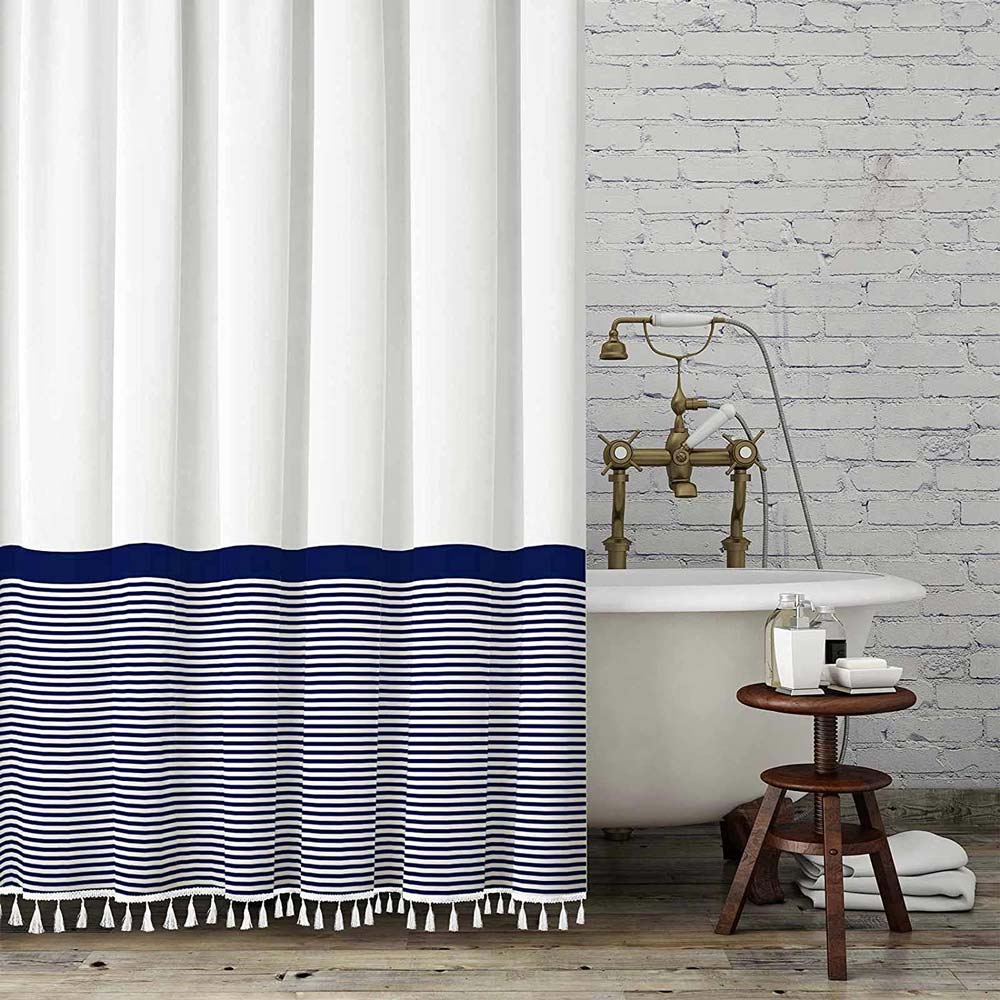 This white and blue shower curtain features a timeless stripe design that can blend in with any bathroom decor. It measures 72" L x 72" W, it's machine washable and comes with 12 metal hooks.
Madison Park Essentials Glendale Printed Shower Curtain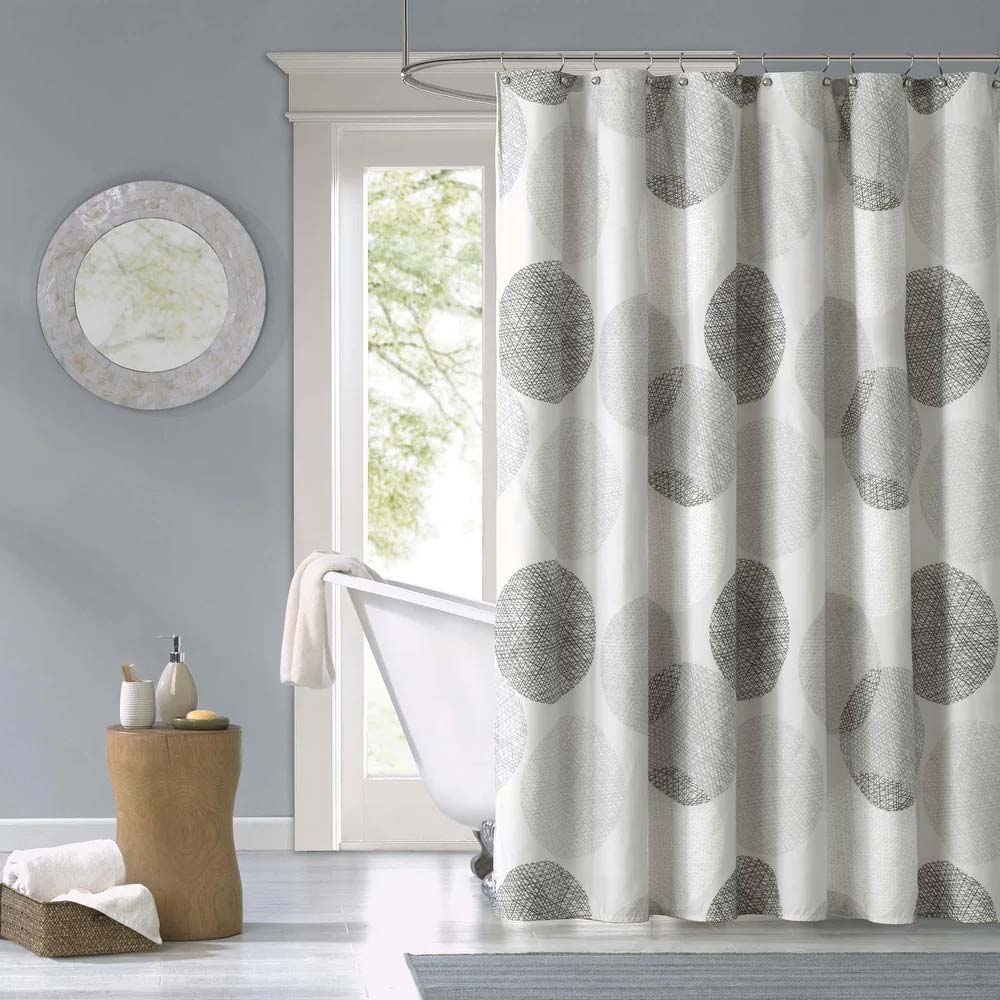 Another stylish shower curtain is this piece from Overstock. It measures 72" L x 72" W and has 12 button holes at the top, making it easy to hang.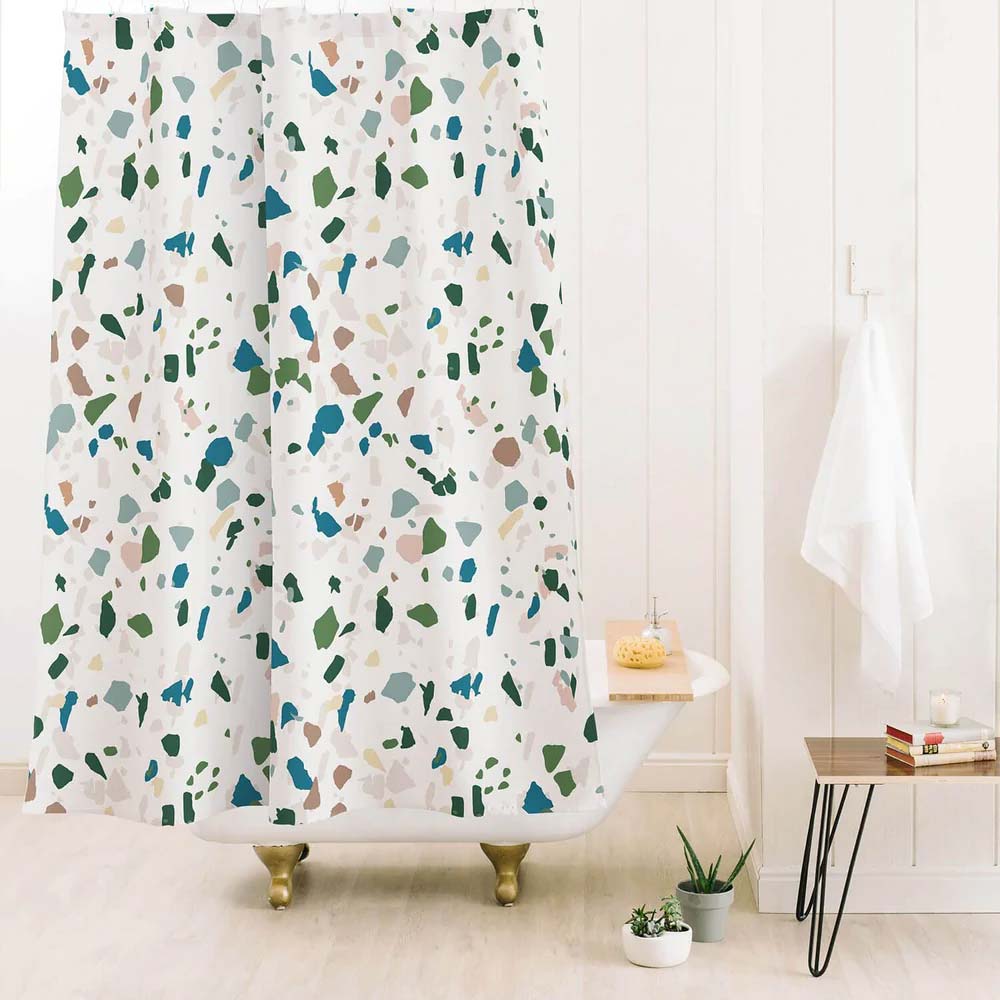 This colorful shower curtain it's quite an interesting and youthful choice that will transform a dull space into something much more lively. You can pair it with a neutral bath mat or rug.
Botanica Organic Cotton Shower Curtain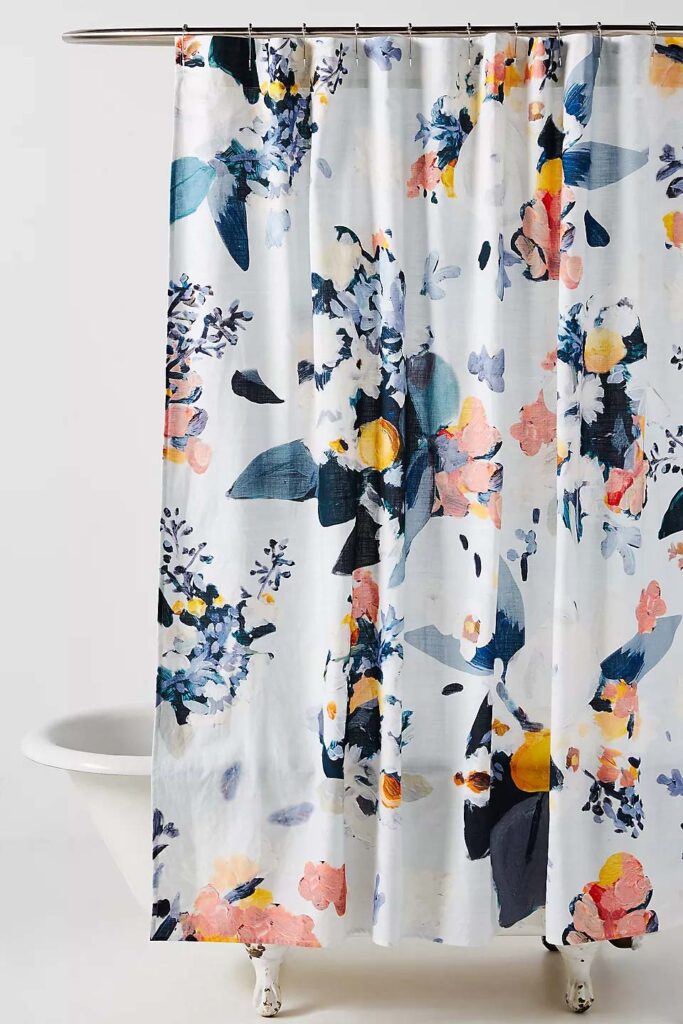 A fun and modern addition to any bathroom is this colorful shower curtain from Anthropologie. Measuring 72" L x 72" W, this organic cotton shower curtain definitely makes a statement in any bathroom it's placed in.