Tips to make your small bathroom look bigger
When you have a small en-suite or bathroom, it can be challenging to create a functional space that also looks good. But done right, the entire room can seem brighter and more spacious. No matter the size of your bathroom, there are some design tricks you can use to give the illusion of space. Here are our best tips on how to make a small bathroom look bigger.
Light & colors
Increase natural light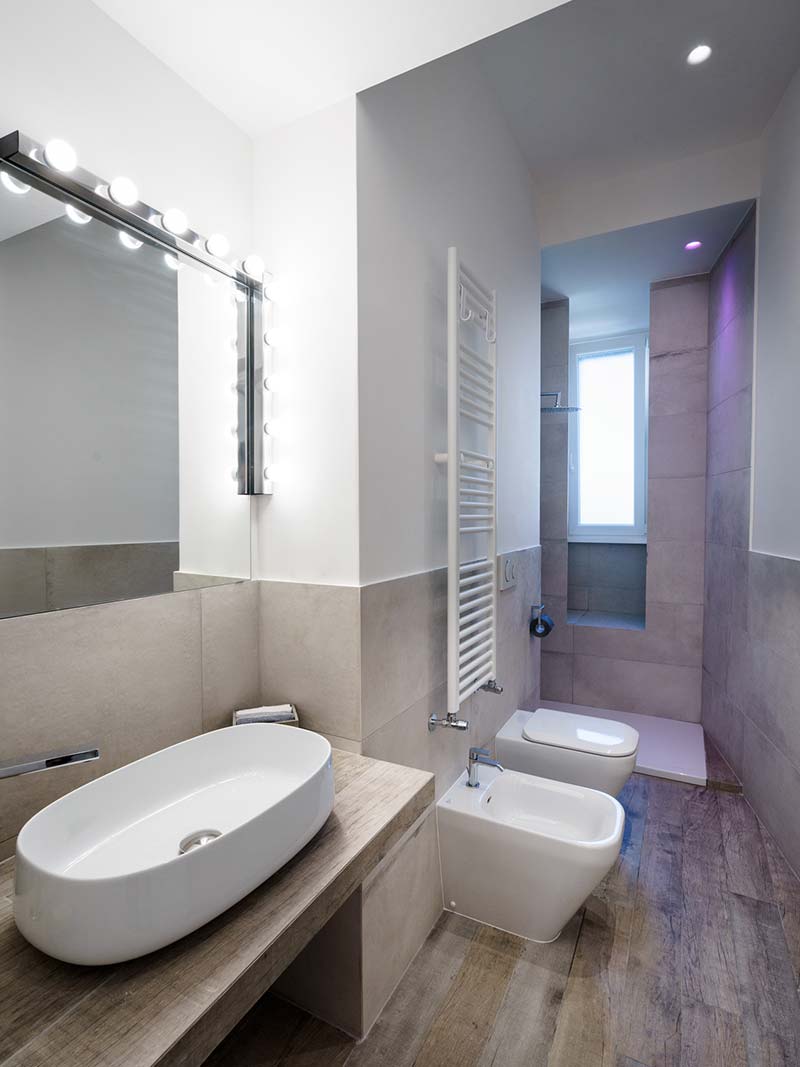 Natural light makes a small bathroom look bigger. Unfortunately, we often don't have much natural light available in small bathrooms, which can make them seem dark, dingy, and a little cramped.
If you have a small window in your bathroom or no windows at all, install an additional window or a skylight to bring more natural light into the room. If this is not an option, a glass window above the bathroom door could also do the trick, if there is enough daylight coming from the adjacent hallway.
Avoid using shutters that block the light. Instead, you can replace your clear glass window with frosted privacy glass or you can cover it with a translucent shade, which will let the light enter the room, while maintaining privacy. To amplify light, you can add a wall light or illuminated bathroom mirror.
Add a large mirror to reflect light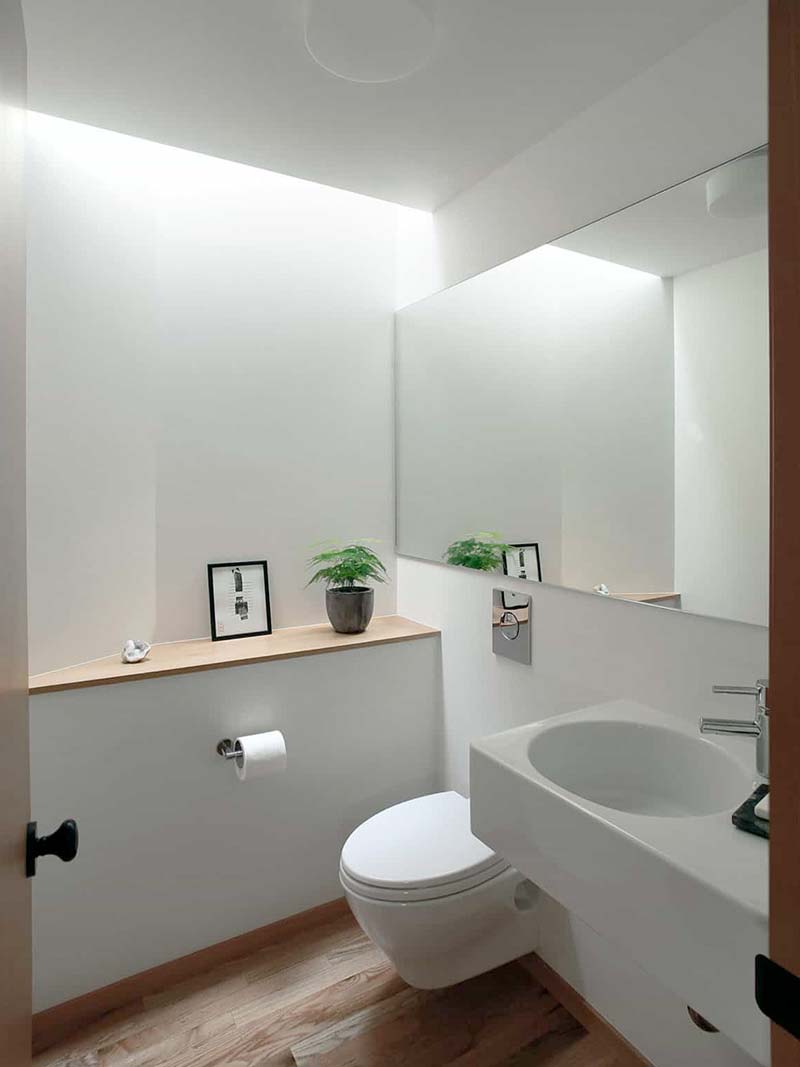 A large mirror opens up the space and reflects light, making your small bathroom feel bigger. The more light you can reflect, the bigger your bathroom will seem. Rather than having a small mirror above your vanity, consider mirroring a whole wall of your tiny bathroom. You can also use multiple small mirrors to achieve the same visual effect. In this example, SHED Architecture & Design opted for a frameless mirror.
Choose neutral colors for your small bathroom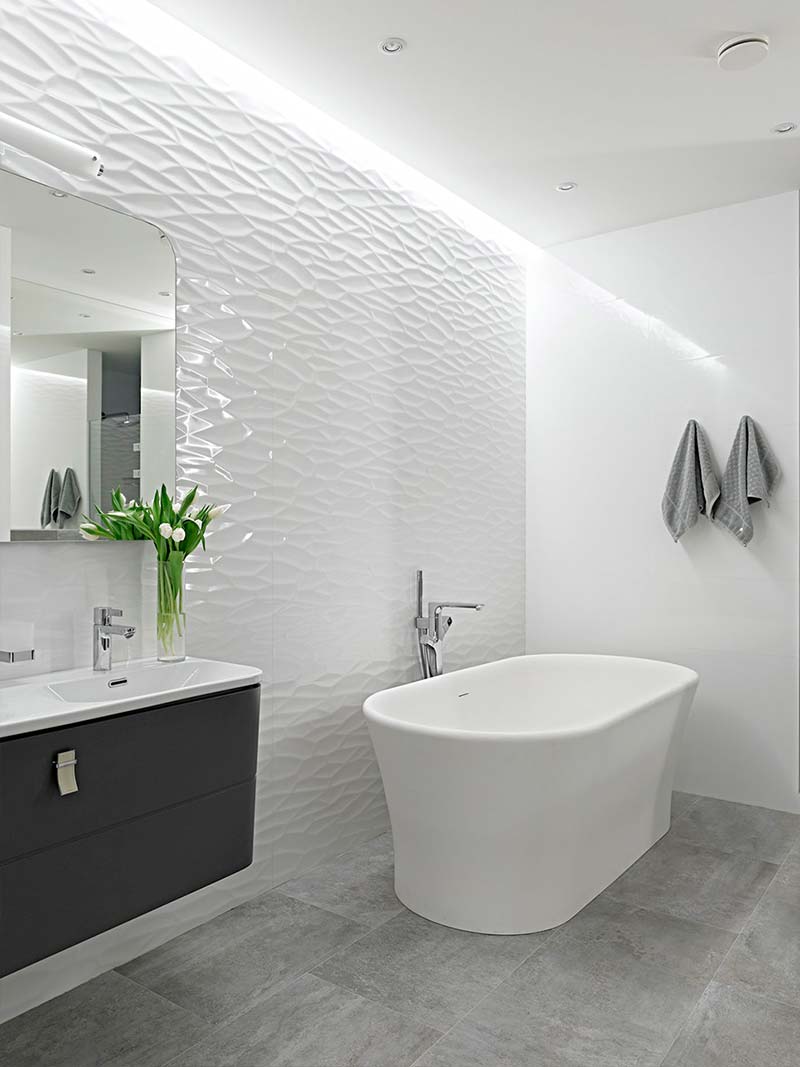 Bold patterns and colors can overwhelm a tiny room. Instead, choose a light, neutral color palette for your small bathroom to create clean lines from floor to ceiling. Use the same neutral colors for floor tiles to maintain the same uninterrupted look and feel. For example, Alexandra Fedorova used white for the walls and gray for the floor tiles - great color options for a small bathroom. You can see the project here.
Shower tips
Replace the shower curtain with glass panel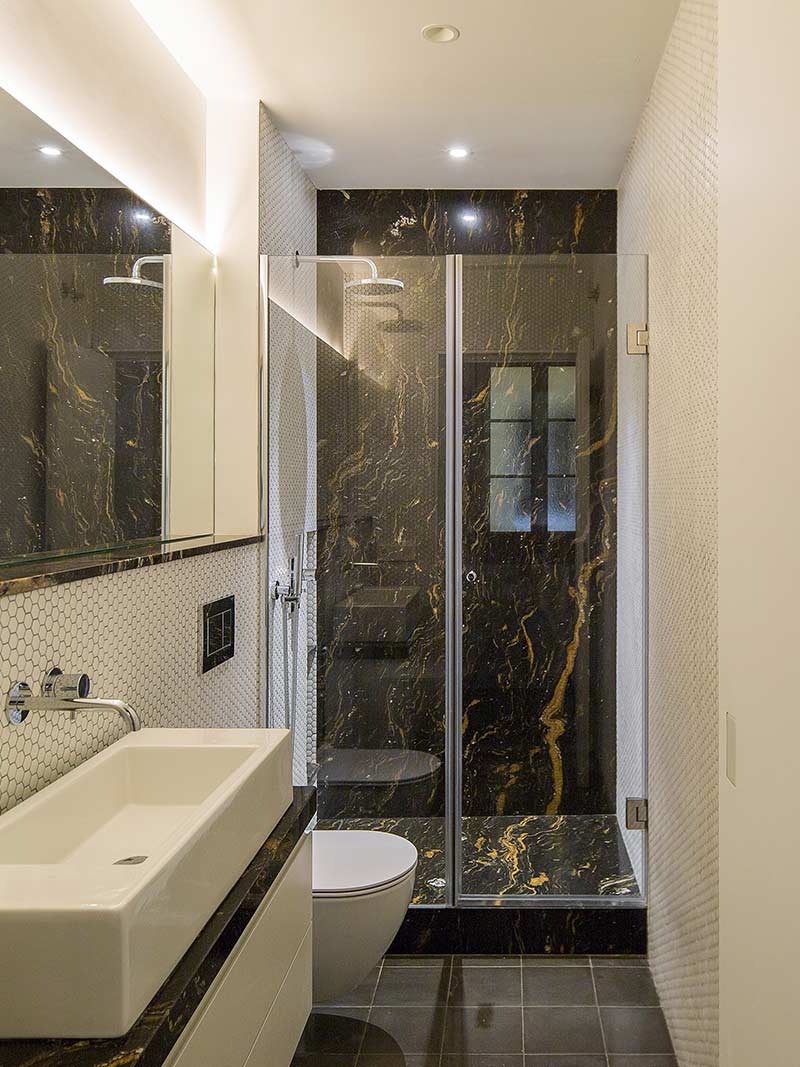 Shower curtains provide privacy, but they can have the effect of creating a visual wall, dividing your bathroom into sections. This will make it look smaller. To expand the look of your bathroom, replace the shower curtain with a glass panel or door. For a seamless look, frameless shower doors get rid of all visual barriers and are a great option for a small bathroom.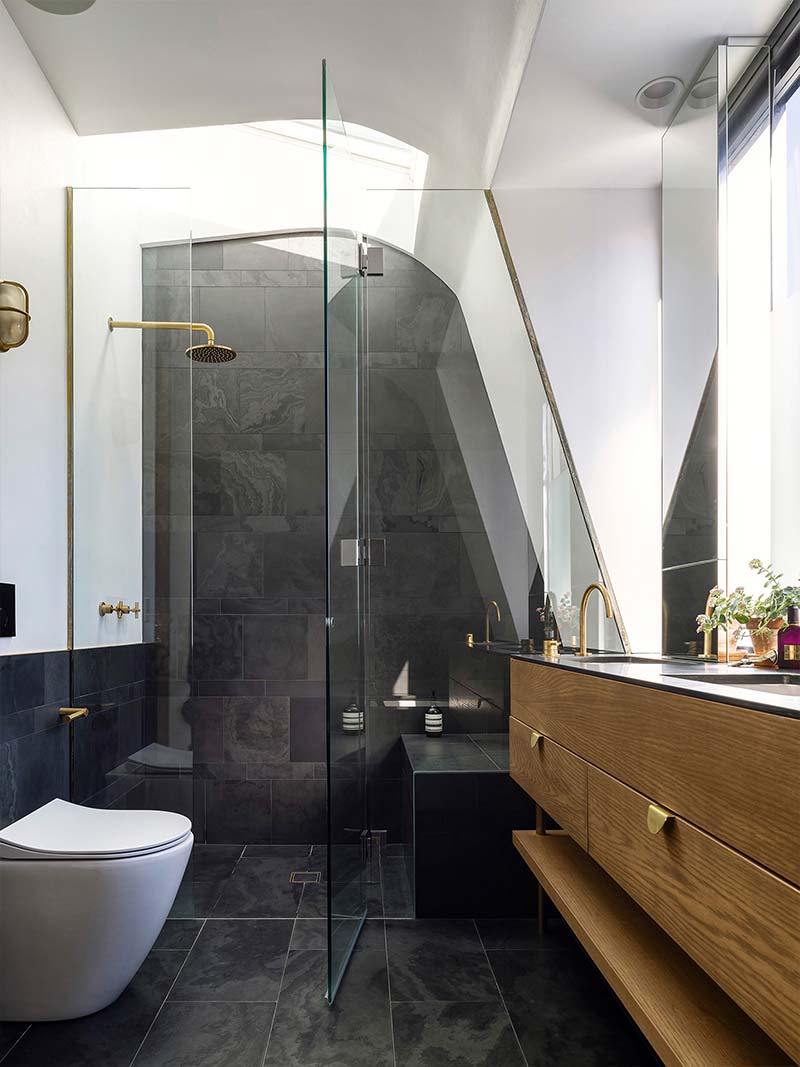 Another way to make your small bathroom look bigger is to replace the bathtub with a shower. As much as we all love to soak after a long day, a small bathroom doesn't have enough space for a comfortable tub. Bathtubs take up a lot of space and are not the best choice for smaller bathrooms. So instead of forcing a small tub to fit, choose a stand-up shower with glass walls.
How to make a small bathroom look bigger with tiles
Install tiles all the way up to the ceiling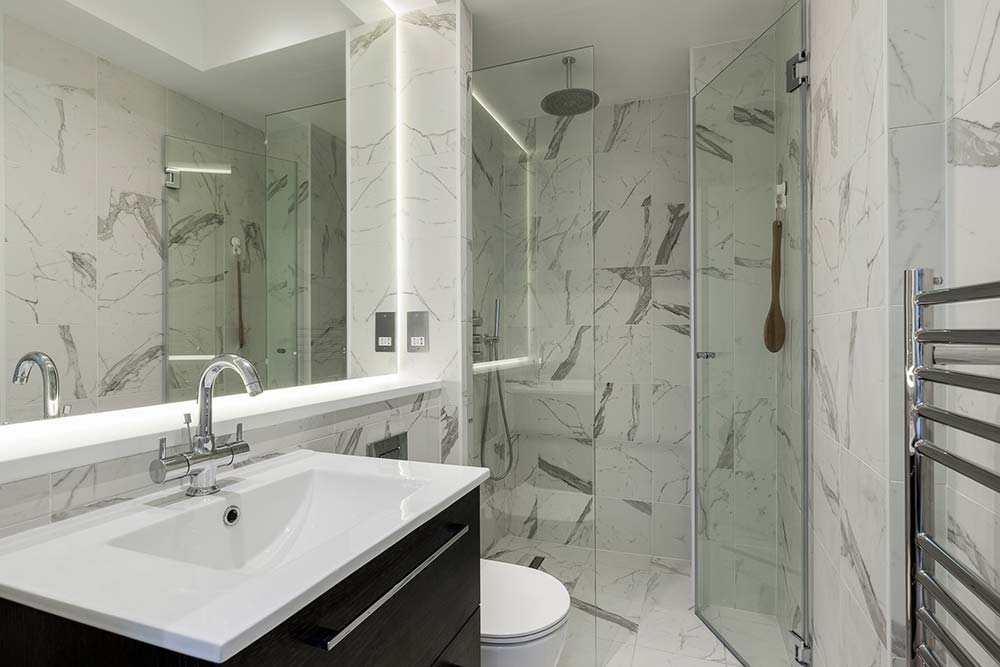 Another tip to make your small bathroom look bigger is to install tiles all the way up to the ceiling. This way, you eliminate any horizontal dividing lines on the walls, especially if you choose larger and lighter colored tiles. The ceiling will appear higher and the entire room more spacious.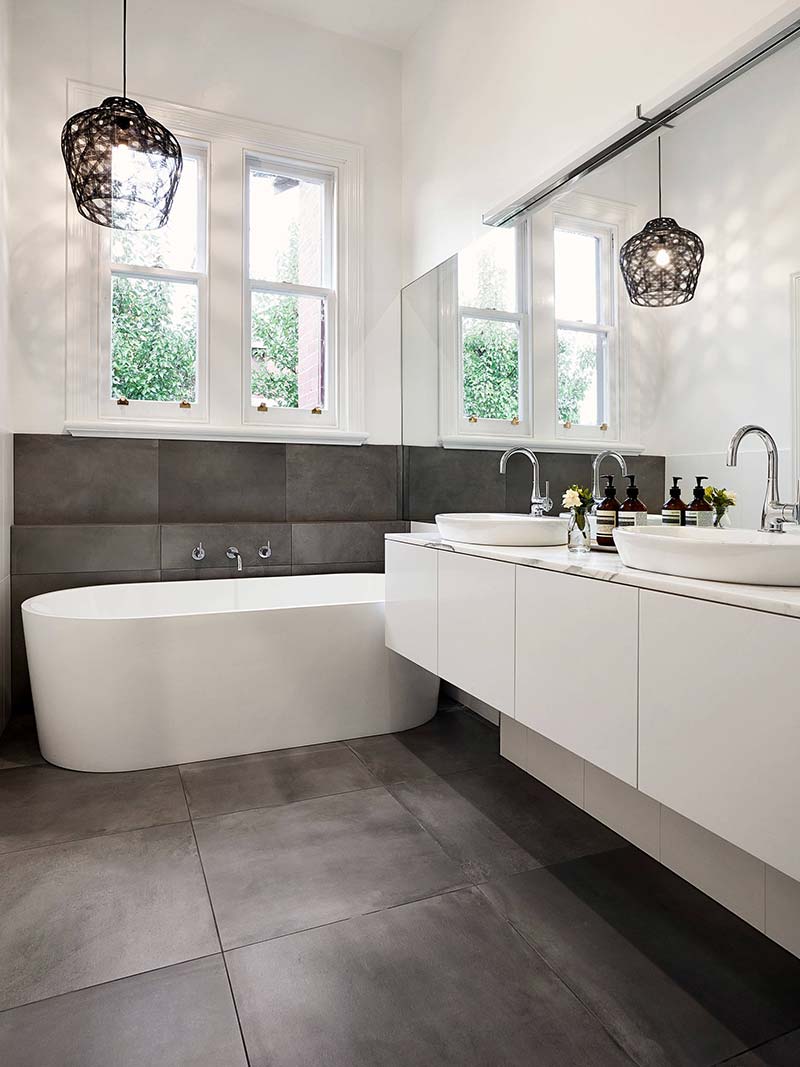 For your tiny bathroom we recommend using large floor tiles. The bigger the tiles, the better. Choosing large floor tiles will widen your floor space, making the room look less cramped, and your small bathroom will appear much larger.
Storage ideas for a small bathroom
Use open shelves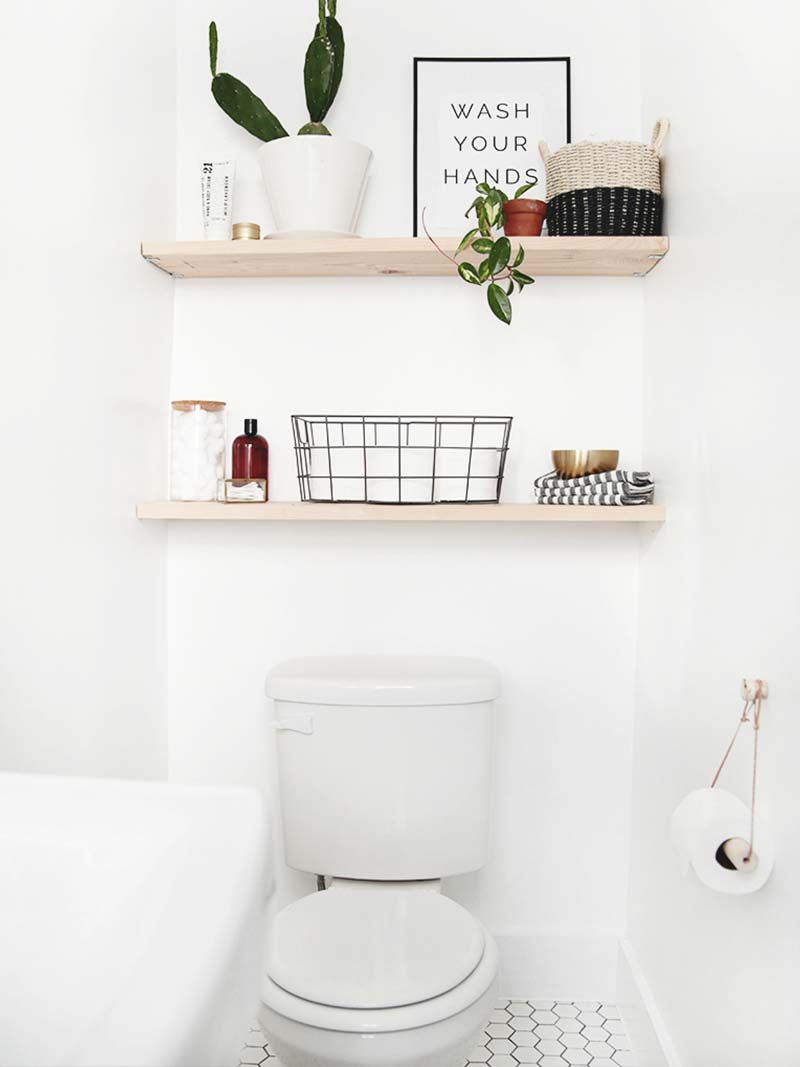 If you can't use the space you've got, and can't fit anything under the sink, think about using some open shelves instead. Open shelving is an easy and affordable way to save space and to add style to your bathroom. We love how stylish these shelves look in this small bathroom.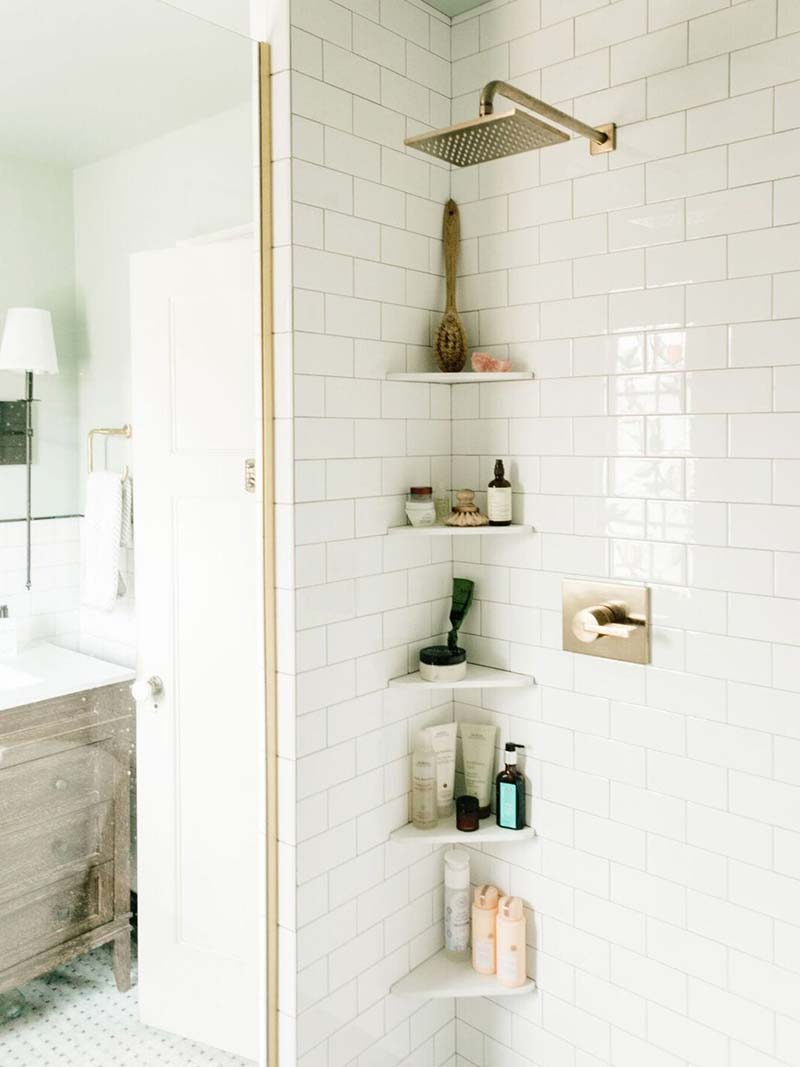 Shower shelves allows you to unclutter your bathroom and place everyday items in a convenient place. They are a great option for bathrooms with limited space. Keep everything clean and organized and you'll be able to make the bathroom feel as large as possible. In this example, these shower shelves are perfect for all the shampoos and body washes.
Choose a small sink for your tiny bathroom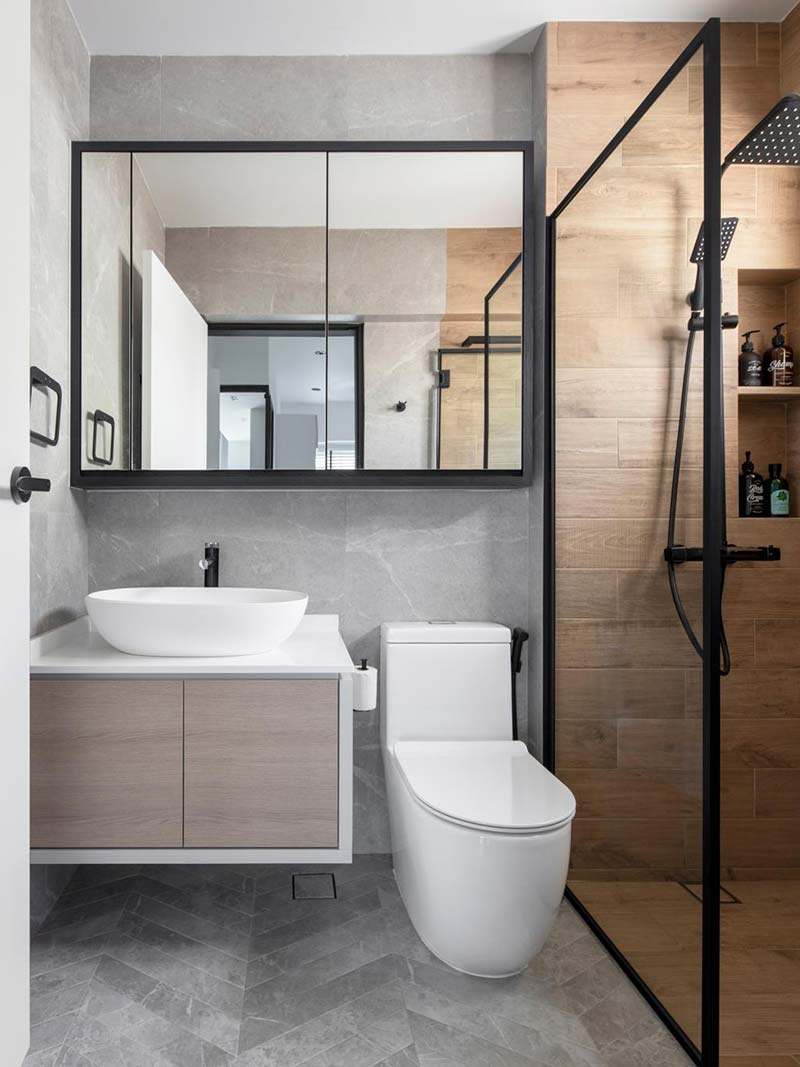 If you have a tiny bathroom, you don't want to overwhelm it with a very large and bulky sink. Instead, choose a small one that will complement the proportions of your bathroom. A pedestal or floating sink are great choices for small bathrooms. A floating vanity will give the illusion of space, while providing plenty of room to store your daily essentials.