Loft Bed with Desk: The Space-Saving Solution for Kids' Rooms
Trying to fit everything your kid needs into a small bedroom can feel like a puzzle. Where do you put the bed, desk, and all those toys in a tight space? A loft bed with desk creates room for it all by maximizing every inch. This combo lets you get creative with your layout.
Loft beds with desks are the ultimate space-savers. They utilize vertical space, reducing clutter and making the room feel larger. But it's not just about the extra square footage. The desk tucked underneath the lofted bed becomes a cozy nook for your little one to focus on their studies or indulge in their hobbies. It's the perfect spot for a PC, books, art supplies, and other essentials your child needs.
However, loft beds with desks aren't without their downsides. Accessibility can be an issue, particularly for those who find climbing a ladder inconvenient or challenging. Also, making the bed can be a bit of a chore when it's lofted.
Best Loft Beds With Desks for Sale
Loft beds with desks are a stylish and practical solution for small bedrooms. They provide a dedicated workspace and a comfortable sleeping area without sacrificing too much floor space. They are available in a wide range of styles, colors, and materials to suit different tastes and preferences.
When shopping for a loft bed with desk, prioritize safety, quality construction, and built-in storage. Look for models with guardrails, sturdy materials, and organizational features like shelves, drawers, and cubbies. To help you find the perfect one for your kids' room, we've curated 12 loft beds with desks currently available for purchase. Browse our selection below.
You may also like: 10 Round Coffee Tables With Storage to Keep Your Home Organized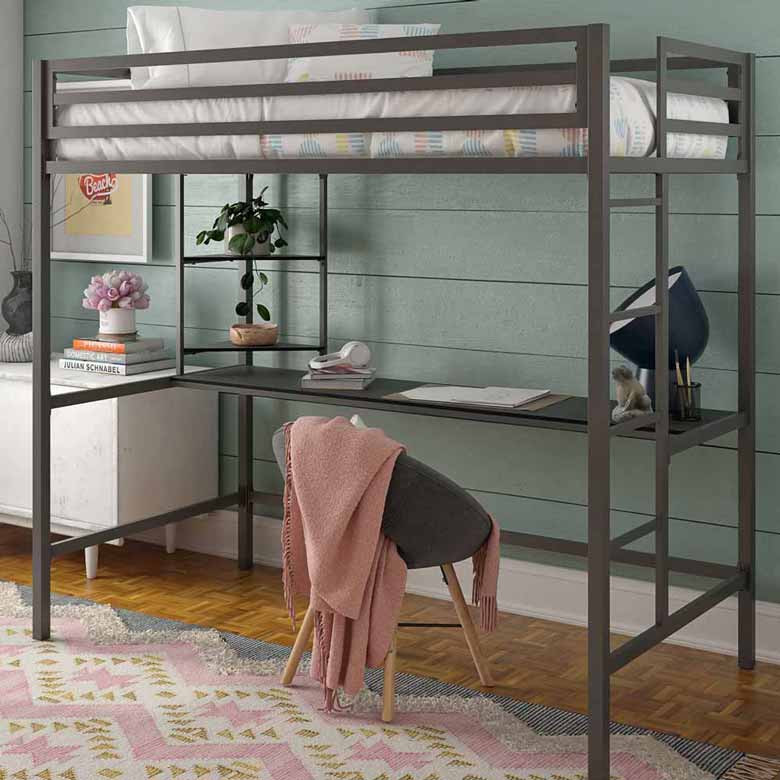 This loft bed with desk and shelves is perfect for the kids' room. It features a full-length wood desk as well as two corner shelves, making it the ideal spot for your child to do their homework. The shelves can be used to store study supplies or to add some decor items. The sturdy metal frame provides safety with an integrated ladder, full-length guardrails, and secured metal slats. This loft bed with built-in desk is available in two sizes: Full and Twin, and three colors: Gray, Off White and Blue.
DHP Lanis Metal Storage Loft Bed with Desk, Shelves, Cabinet and USB Port, Twin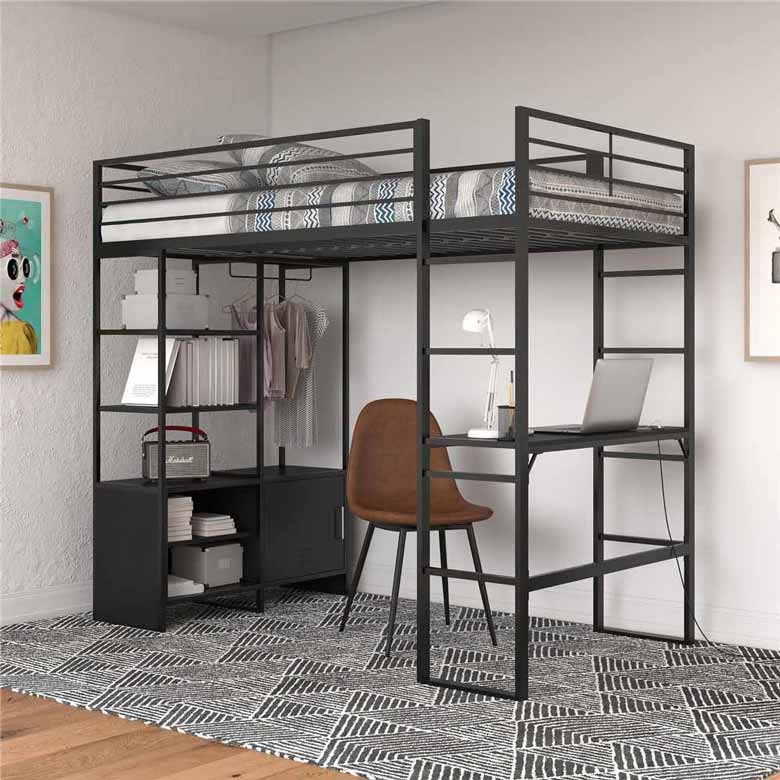 This teen loft bed with desk is anything but basic, maximizing every inch of space. It includes a dual-USB port charging station built into the workstation for quickly powering up a laptop or phone. It also features a closed-door metal locker for tucking away personal items, a closet coat rack, an open 2-tier shelving cabinet unit, and 3-tier shelves that can hold favorite books or picture frames. Fixed ladders on both sides make climbing safe and easy, while full guardrails ensure protected sleep all night long. Offered in on-trend neutrals like Black and Gray, this twin loft bed with desk will complement any decor.
Full Size Loft Bed with Desk, Open Storage Shelf and 2 Drawers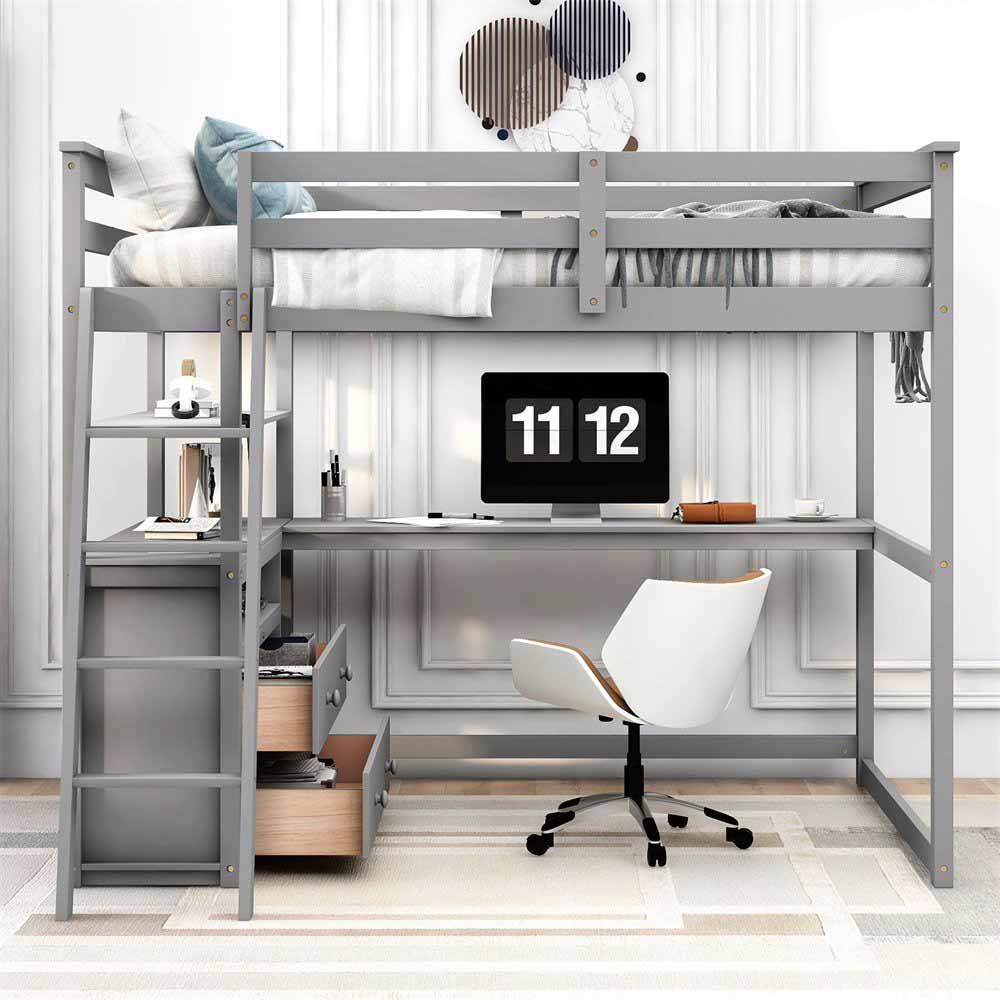 This full loft bed includes an L-shape desk, two shelves and two large storage drawers. The L-shaped desk provides ample workspace for reading, homework or playtime, while the built-in shelves are perfect for storing books and displaying decor. This modern loft has full-length safety guard rails on the top bunk and is equipped with a sturdy 4-step inclined ladder for easy access. It's available in Gray and White.
Decklyn Kids Twin Loft Bed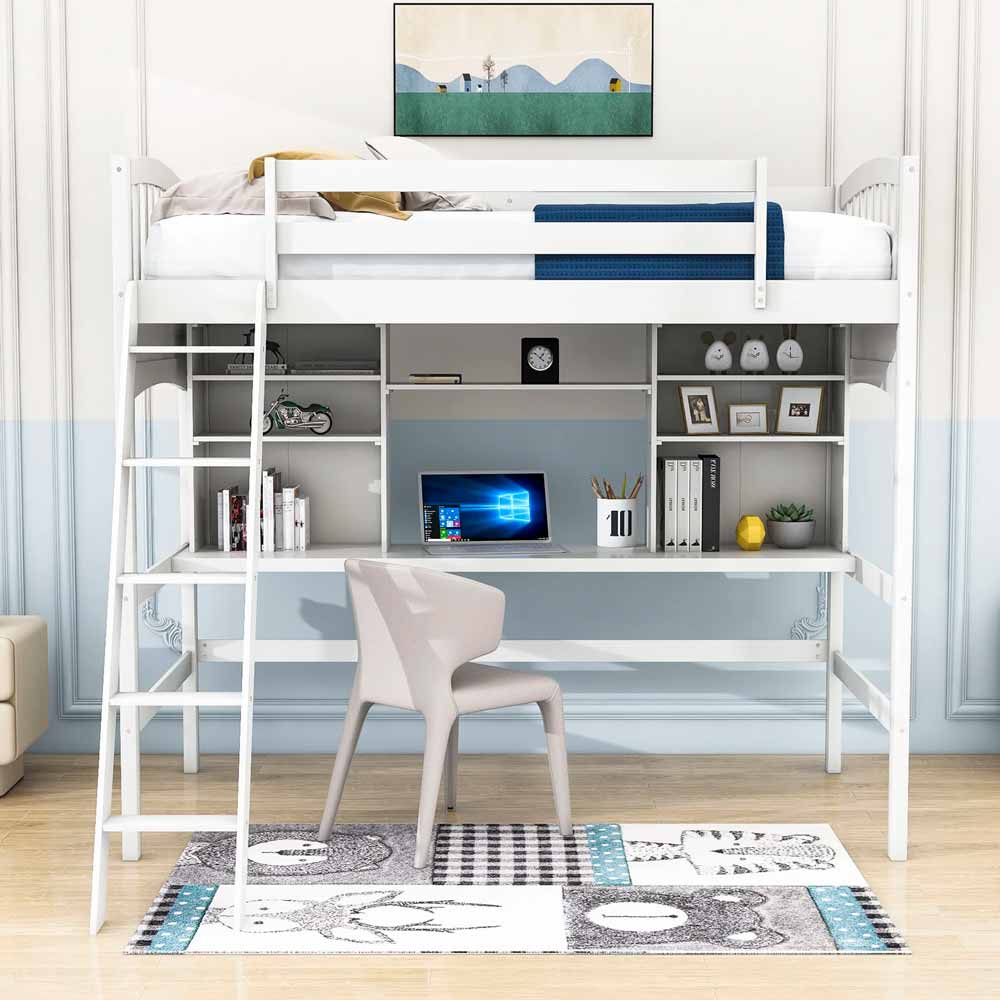 This twin loft bed with desk includes a full-length guardrail for safety and an inclined ladder that can be assembled on either side for easy access. Underneath the lofted twin bed are ample shelves to store books, decor, and more. This clears floor space while keeping favorites within reach. The built-in desk creates a dedicated workspace for school assignments or creative projects. Choose from three colors: White, Espresso, and Gray.
X Rocker - BattleBunk Gaming Bunk Bed with Desk
This gaming loft bed with desk and shelves is perfect for young gamers. The high-rise sleeper bunk fits a twin mattress (not included). Underneath, a built-in gaming desk has room to house multiple monitors and gear for the ultimate gameplay setup. Prized collectibles and accessories can be displayed on the shelves above the desk. With all their essentials in one place, young players can immerse themselves in their favorite games.
X Rocker Fortress Black Twin Gaming Bunk with Built-in Desk and Shelving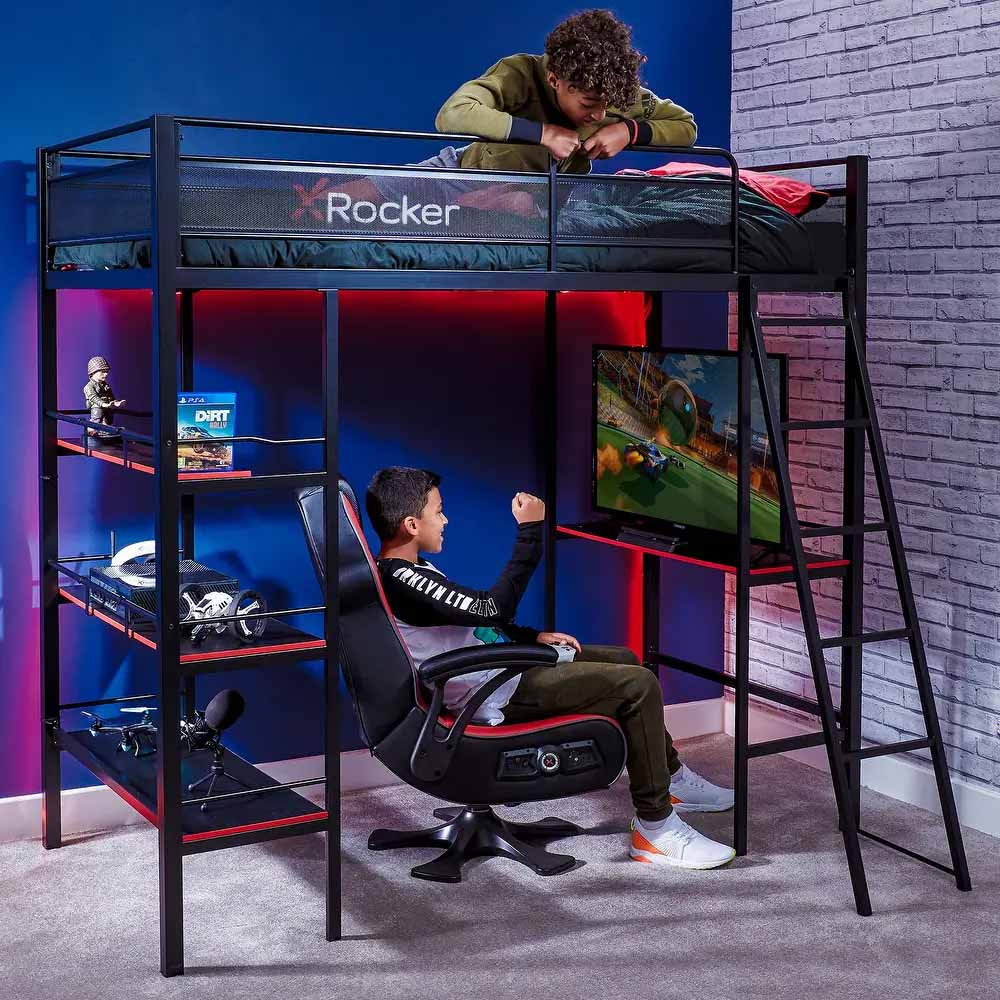 Another great option for gaming, studying and displaying collectibles is this black loft bed with desk and shelves. The built-in desk provides ample space for large monitors, gaming PCs, keyboards, and other essential gear. Three sleek shelves provide a spot to exhibit collectibles, books, and accessories. The shelves feature a modern carbon fiber finish and bold red trim for an eye-catching accent. When it's time to recharge, climb the ladder to the twin-sized bunk overhead. Quality metal frame construction provides durability to support restful sleep and all-day use.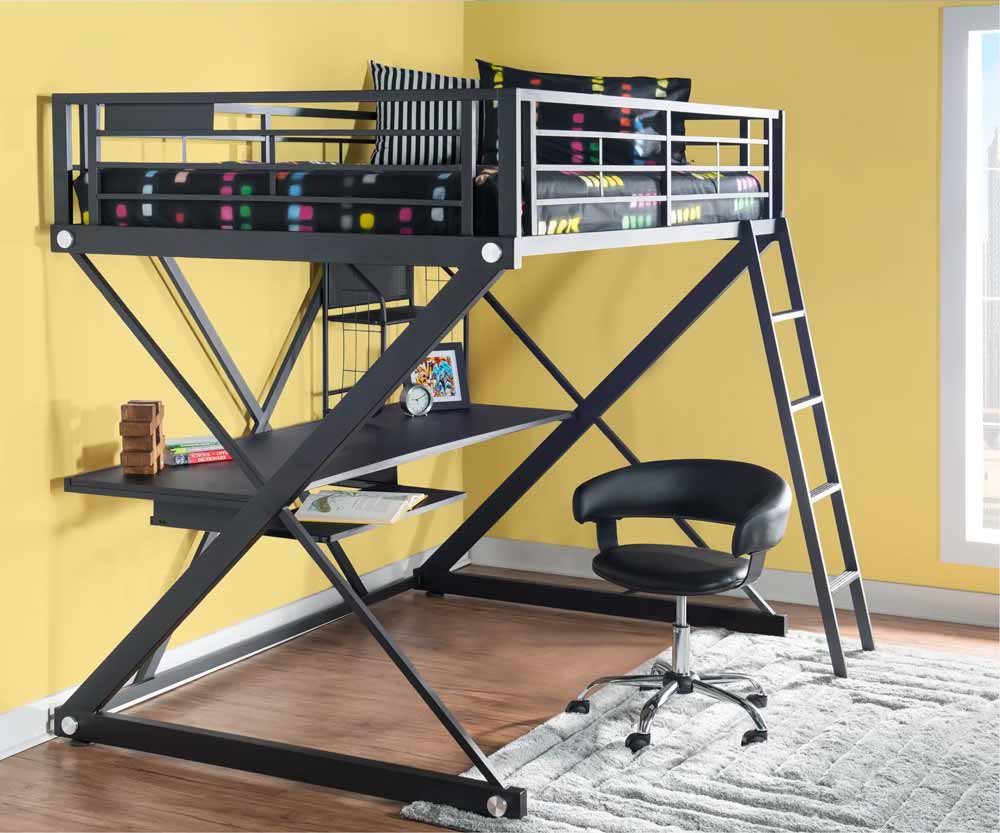 With its modern cantilevered design, this stylish loft bed will enhance any bedroom. The upper bunk is bordered by full-length guardrails for safety, while the right side has a sturdy 4-step ladder for access. Underneath, a large built-in desk provides ample workspace and storage. A pull-out keyboard tray and suspended shelf add functionality.
Everiz Kids Twin Loft Bed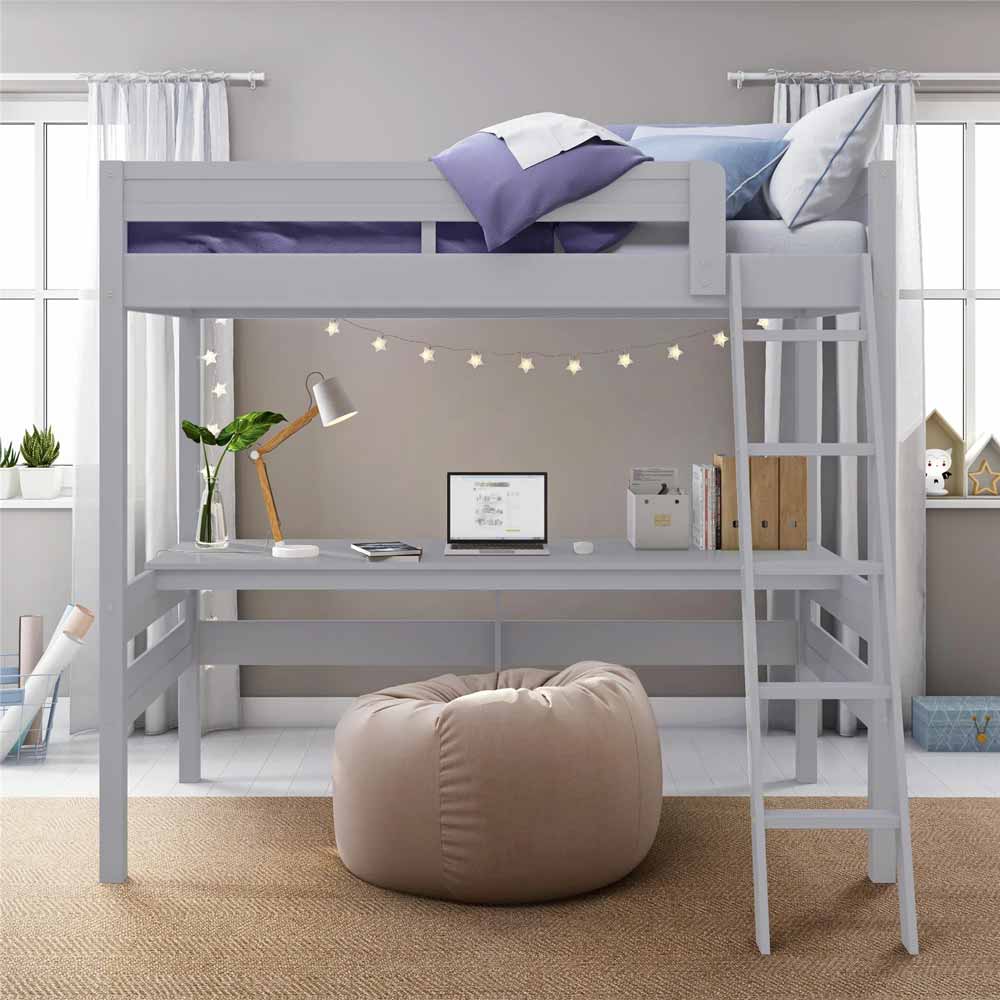 With its sleeping and study spaces combined into one unit, this twin loft bed with built-in desk offers everything a teen needs in a compact, contemporary package. The spacious upper bunk provides a comfortable place to relax, read, or watch movies, complete with a full-length guardrail for added security and an easy-to-climb 4-step ladder. Underneath, a sizable built-in desk creates a useful workstation for completing homework or other projects. The clean-lined slat design on the headboard and footboard gives it style and functionality. Choose from three colors: Gray, White, and Espresso the one that suits your home.
Alix Twin Metal Loft Bed with Desk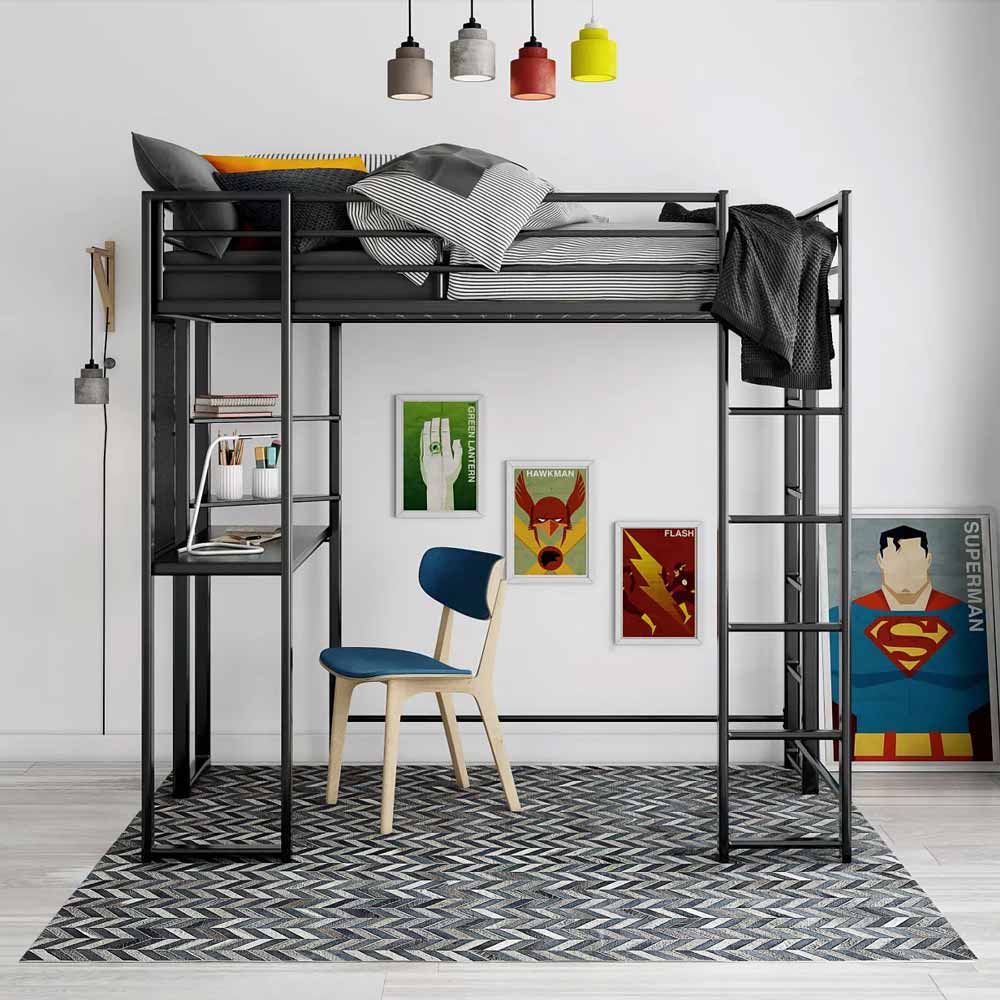 Another great option for small spaces is this metal twin metal loft bed with desk. With its convenient built-in desk and shelf storage, it combines everything you need for studying in one compact unit. The pegboard above the desk provides extra functionality for organizing supplies and displaying important papers within arm's reach. Underneath the twin-sized bunk, the open layout creates a comfortable spot for reviewing notes or completing homework.
Cavallo Kids Bed with Drawers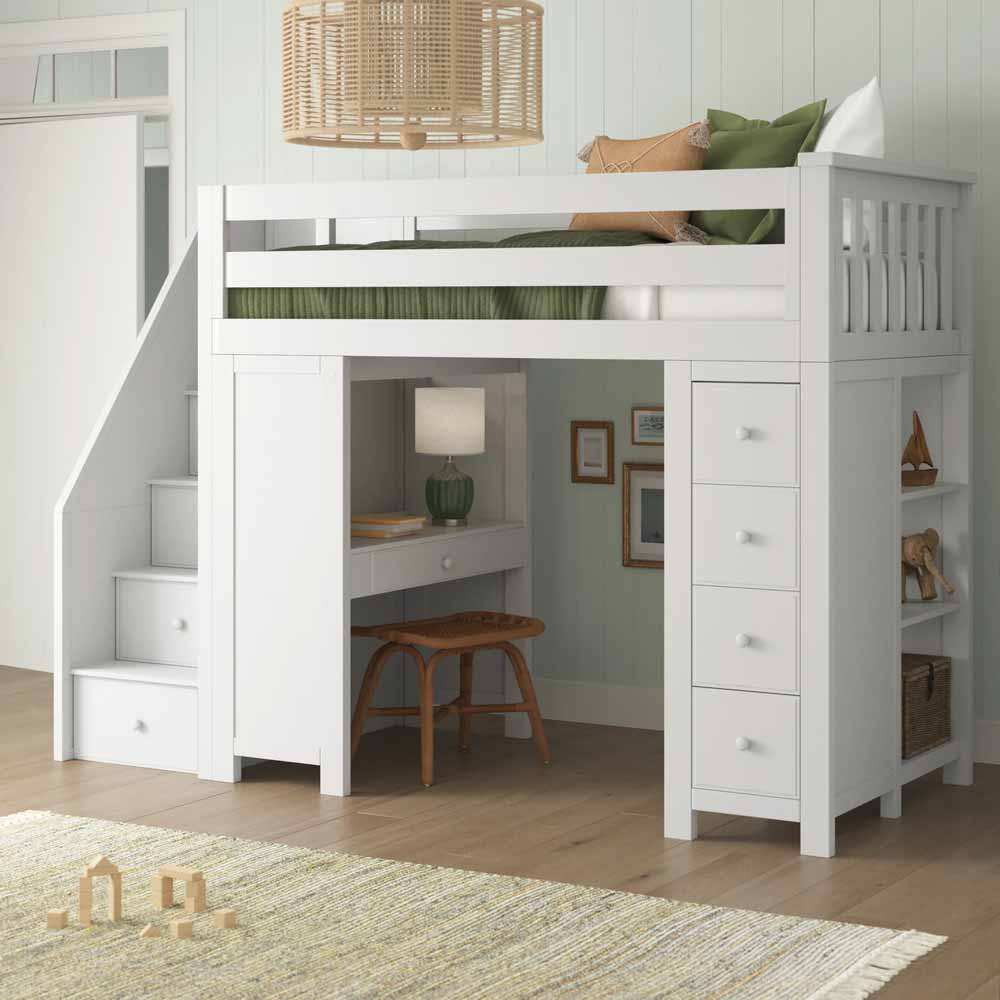 Designed for both functionality and style, this classic twin loft bed is a space-saving all-in-one solution for your child's bedroom. The sturdy solid wood frame features a twin-sized upper bunk for lounging and sleep, bordered by a slatted headboard, footboard, and 15" high guard rails for safety. Below, the built-in desk with storage drawer provides space for studying and playing, while the three shelves neatly display books, toys and treasures within reach. For easy access to the top bunk, a staircase with integrated storage drawers in each step is attached at the side. Four additional handy drawers tucked discreetly on the side keep the room tidy.
Maretti Kids Twin Loft Bed With Pull-Out Desk and Bookshelf​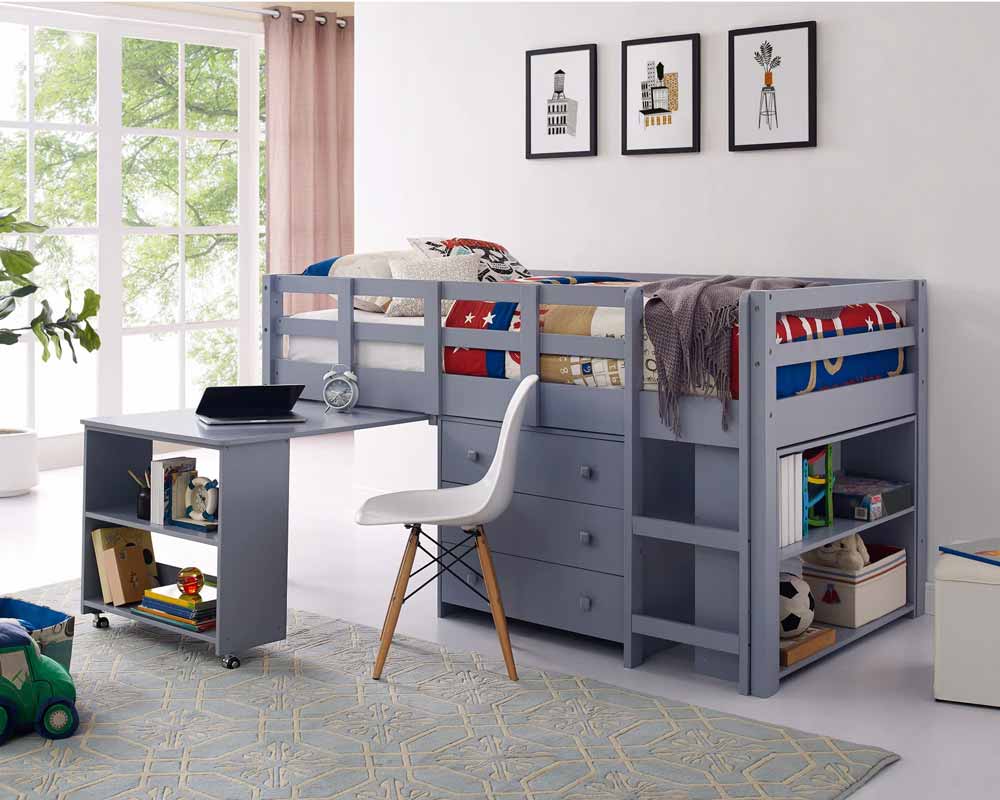 This low loft bed with desk is a great option for the kids' room. The robust construction provides a cozy and secure place to sleep, while the pull-out desk and bookshelf create the perfect space for studying or reading before bedtime. Choose from four colors: Espresso, Gray, White, and Navy.
South Shore Tiara White Twin Loft Bed with Desk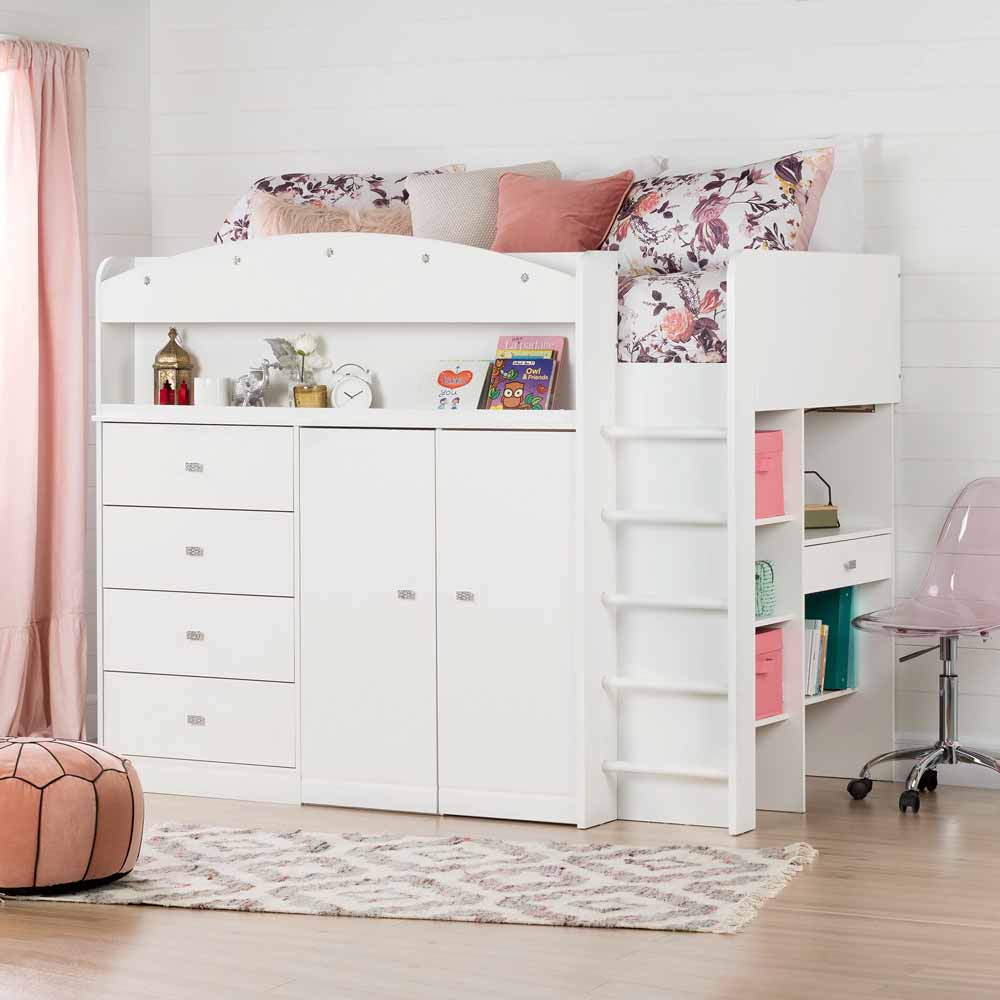 With ample storage space integrated throughout, this twin loft bed provides a comfy sanctuary for play and sleep. Six large drawers and a wardrobe offer plenty of storage to organize clothes and pajamas. For studying or creative time, a built-in desk provides the perfect workspace. The open shelves provide a spot to keep books, pencils, and notebooks. For a touch of style, shimmering jeweled handles adorn the drawers.