Txai House by Studio MK27 is the perfect place to gaze at the Atlantic Ocean while swaying in the hammocks
The Txai House, designed by Marcio Kogan and his practice Studio MK27, merges elements of the vernacular colorful Bahian Houses with the precise lines of Brazilian modern architecture. Located in front of a beautiful beach in the city of Itacaré – in the Brazilian northeast – the site of Txai House reaches 13 meters above the sea level. Even with existing treetops, this striking modern house has amazing views of the Atlantic Ocean.
In order to avoid excessive verticalization, The Txai House was constructed on two levels as the architects explained: "This solution ended up creating a new artificial configuration for the plot, as a second nature, which recomposes the original topography, now with the house settled."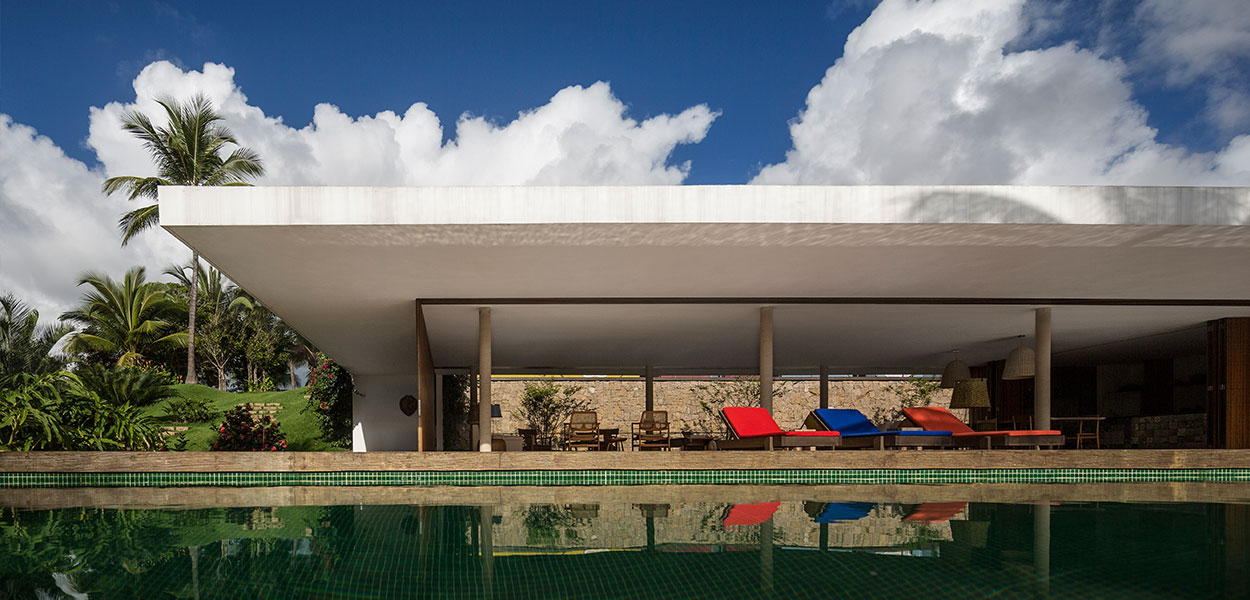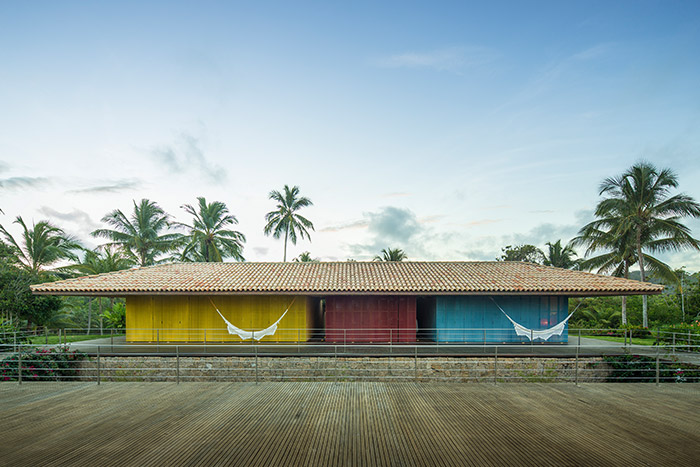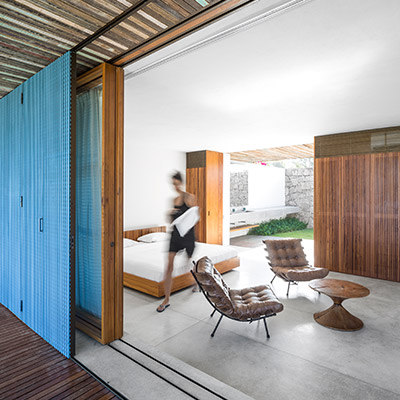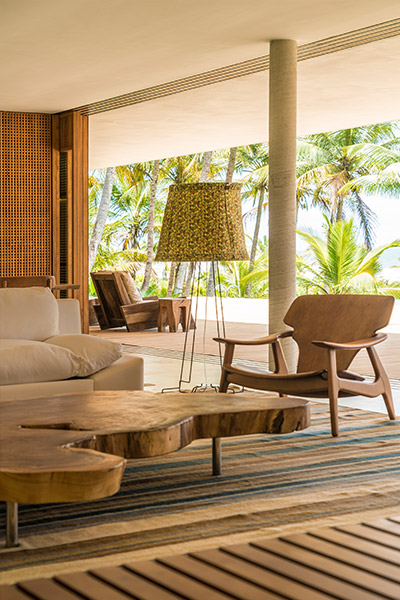 The ground floor houses the open space living room, protected by a large flat pre-stressed slab. The kitchen is joined to this social area, facing the dining room and contained within a wooden volume that also holds a small utility area and a washroom. With a large veranda, all the window frames in this open space living room can be entirely recessed.
In front of the veranda-living-room, there is an infinity pool and a solarium with chaise-longs. On the roof of this first floor there is an open wooden deck with a wonderful view of the Atlantic Ocean.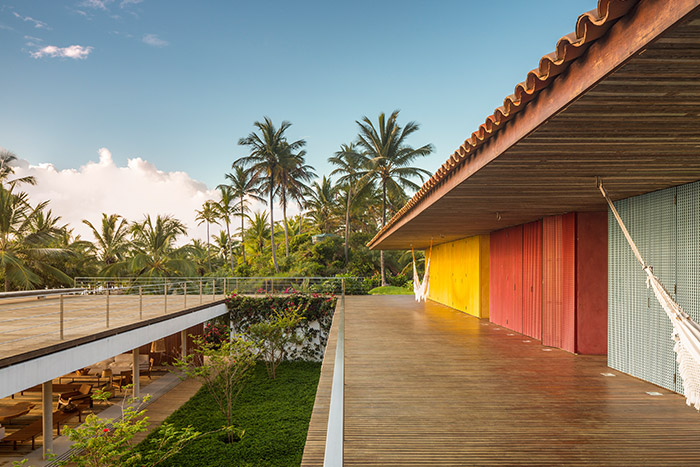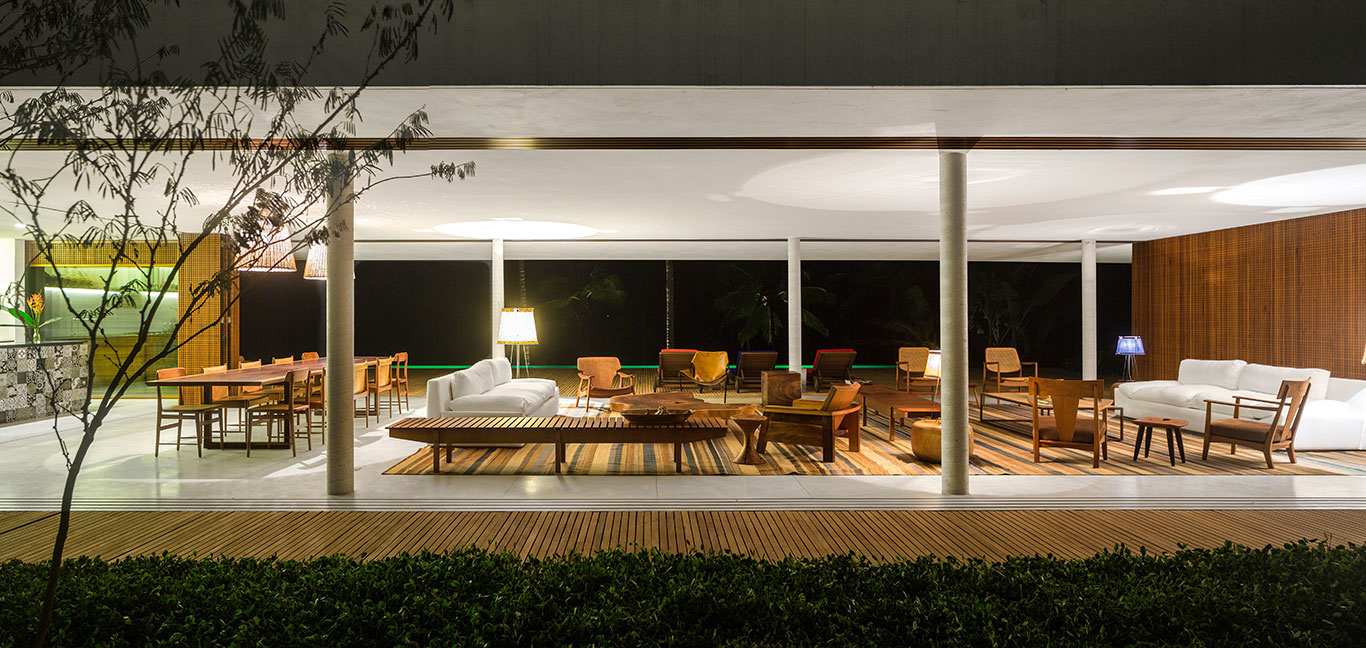 The second floor houses the bedrooms, located under the pitched roof in colorful wooden and stucco volumes.
The lack of connection between the living room and kitchen area to the bedrooms is one of modern house's unique characteristics as Marcio Kogan explains: "The trajectories therefore, are always done from the outside, with the garden as passage. The residents experience the climactic conditions while going from one to the other."
The bathrooms extend outside of the roof and are all opened to the outside, having their own individual gardens defined by walls, like patios. The doors in front of the rooms look out to a generous 2.5m-wide veranda where the hammocks rest on the recycled wood roof.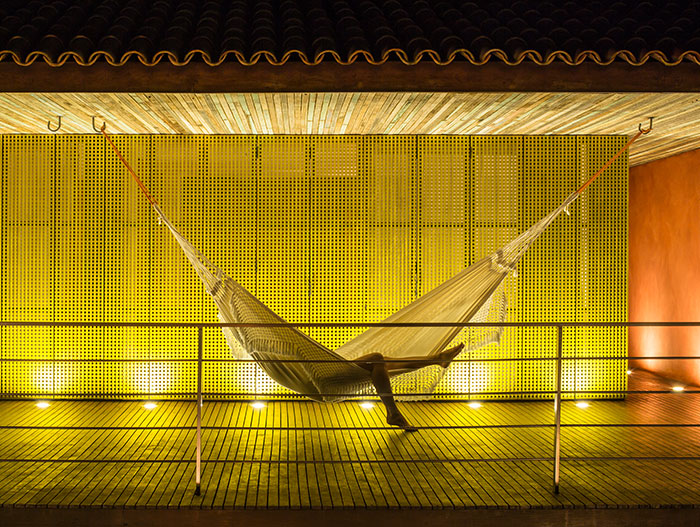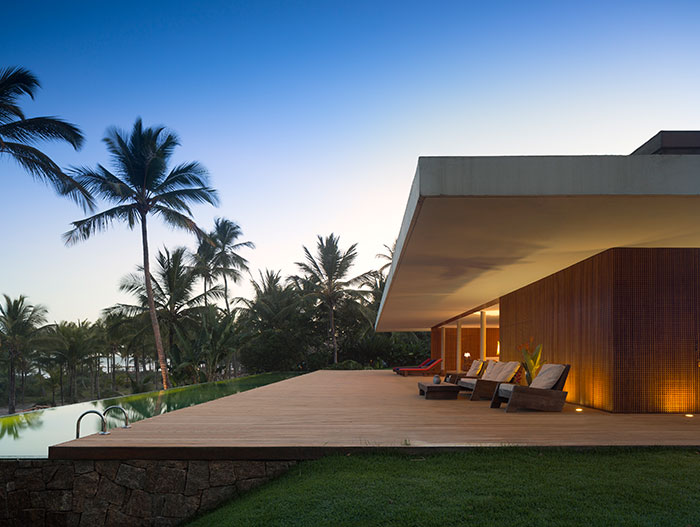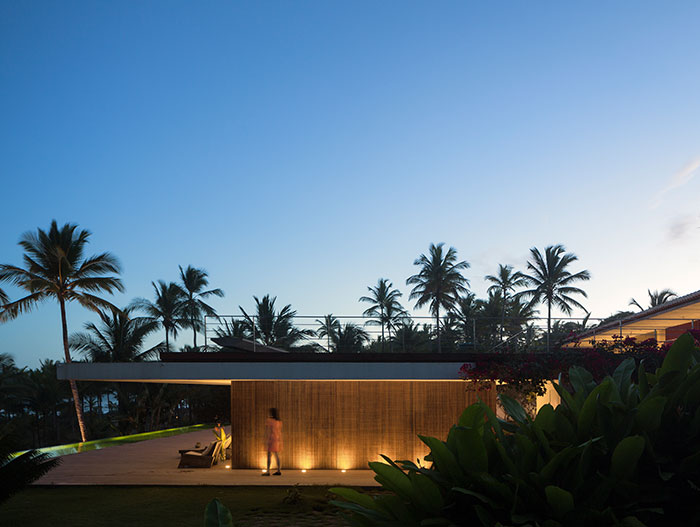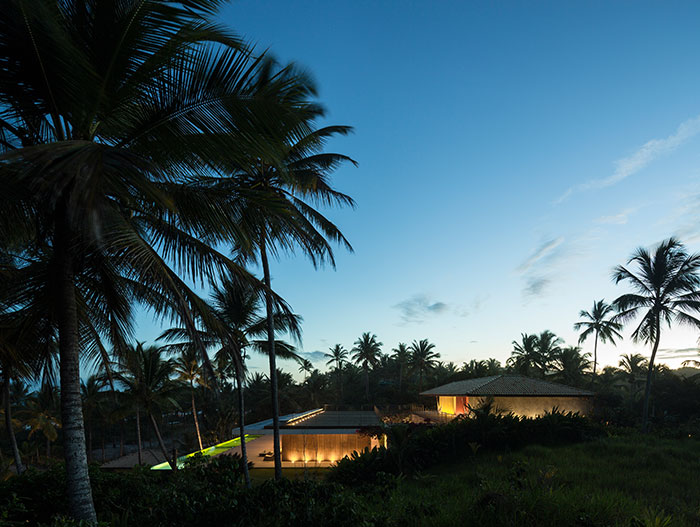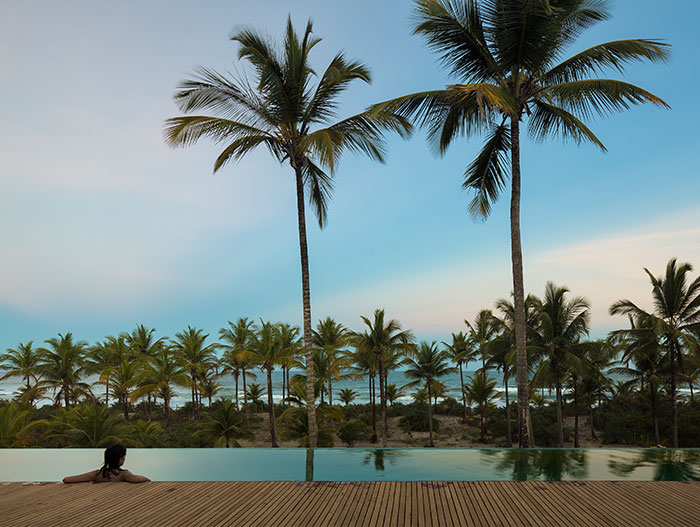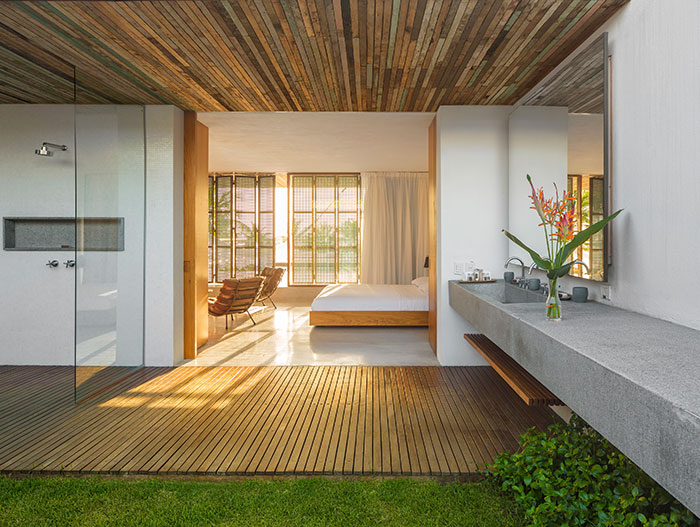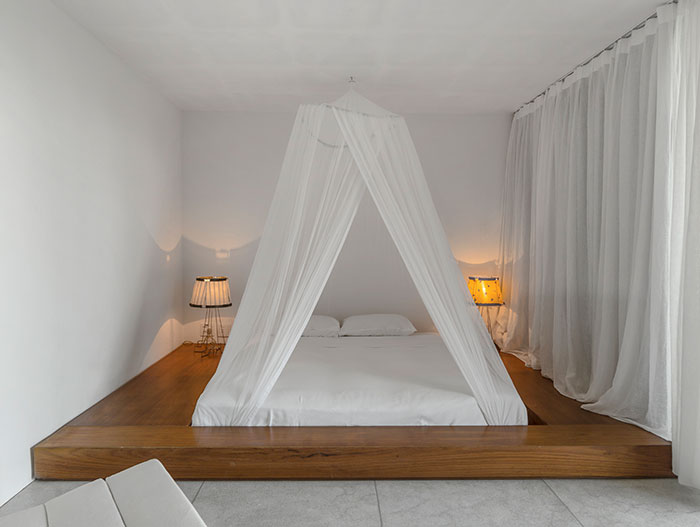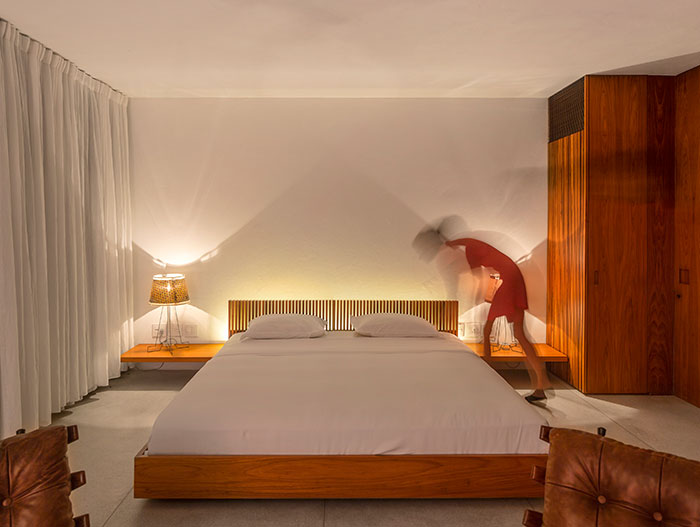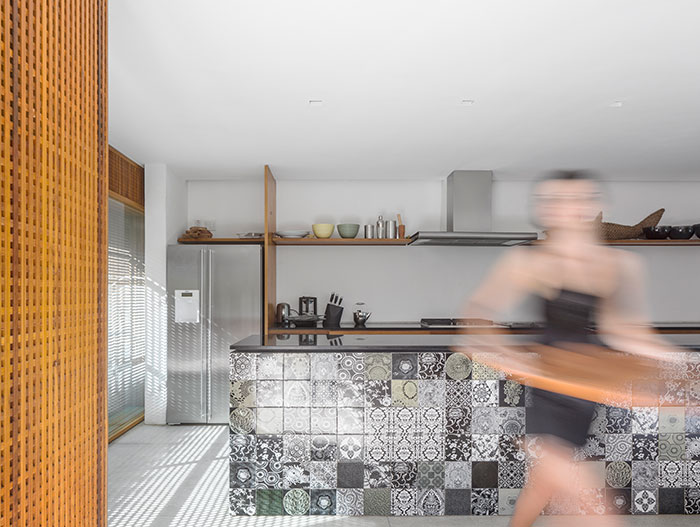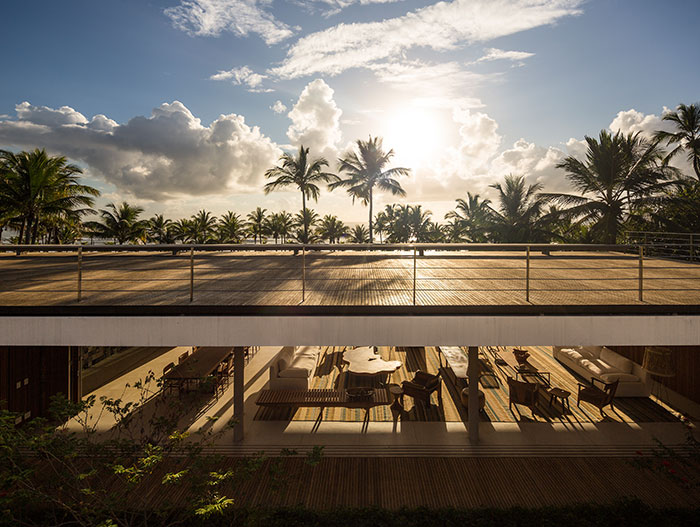 The materials used in the house are all local. Efforts were made to also have raw finishings that age well in the aggressive tropical coastal climate.
"In the case of the volumes, using a color chart inspired by the local houses, the architecture sought live and pure colors which, when applied on the wooden mashrabiya, contributes to the durability of the material in creating a thick layer of protection against the salt air," explained the architects.
The House Txai offers a radical experience of integration between the inside and out. It's a striking residence, with amazing views of the Atlantic Ocean where one can enjoy life at its fullest. As Marcio Kogan concluded "It is a place to drink coconut water, swaying in the hammocks."
Photography by: Fernando Guerra