Beautiful Kitchens With Light Blue Cabinets For Any Style
Choosing the right color for the cabinets is an important step when remodeling the kitchen. If you want to feel calm and collected when you cook, a kitchen with light blue cabinets might be the perfect choice for you. Similar to other kitchen-friendly colors such as white and gray, this versatile hue reflects light well and is a great choice for both large and small spaces.
From traditional to modern, light blue goes well with any interior style, and it is certain to be a color you will love for many years to come.
Get Inspired With These Light Blue Kitchen Cabinet Ideas
If you're considering light blue cabinets for your kitchen renovation, you're spoiled for choice. There's a variety of options that will fit your style and budget. We've rounded up 12 of our favorite light blue kitchen cabinets for your inspiration.
Farmhouse Kitchen With Light Blue Cabinets and Dark Handles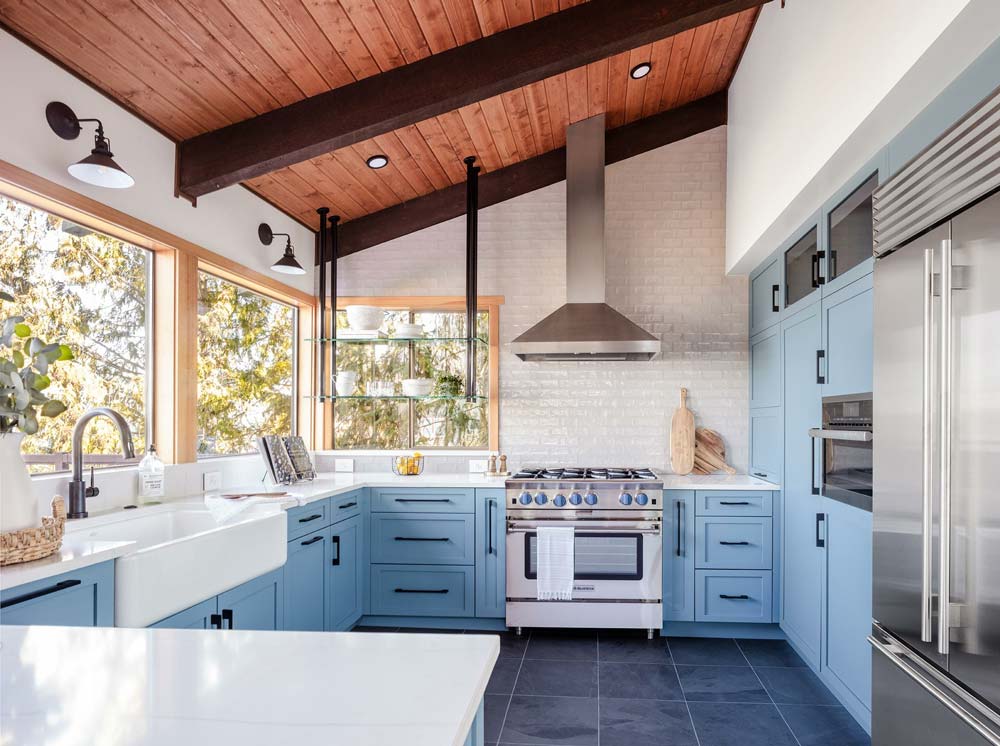 With its perfect combination of style and function, this gorgeous kitchen designed by Acadia Craft features light blue cabinets with dark handles, a farmhouse sink and stainless steel appliances. The white countertops and backsplash lighten up the space, while the light blue kitchen cabinets provide color and interest.
Large Blue Kitchen With White Backsplash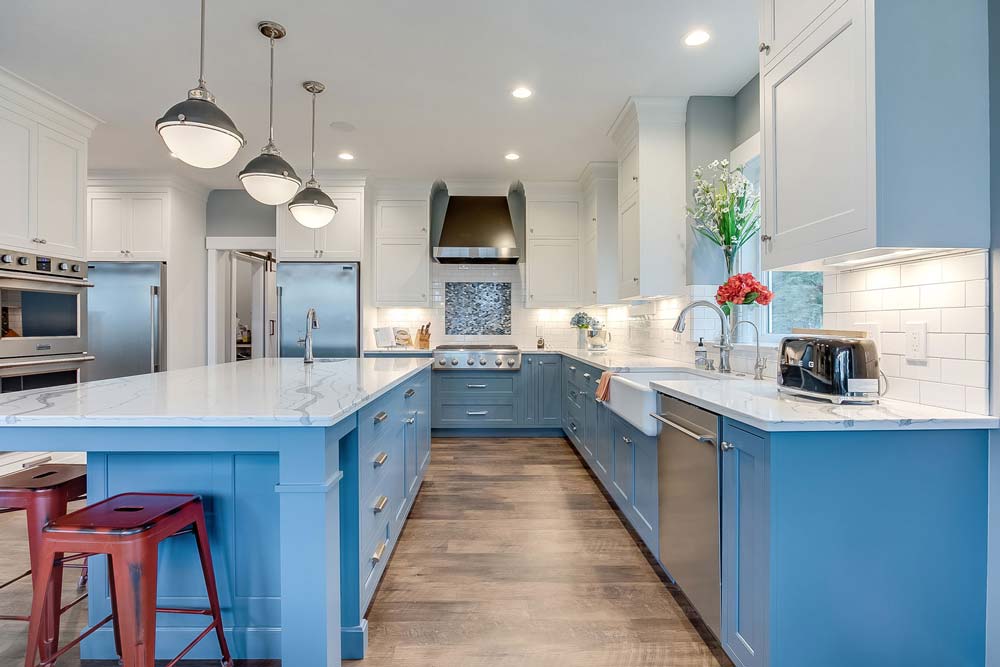 This custom kitchen by Bay Area Contracting adds the perfect splash of color. Inspired by the lakeside views of the property, the firm incorporated light blue into the space, from the cabinetry to the kitchen island.
U-shaped Kitchen With Handleless Cabinet Doors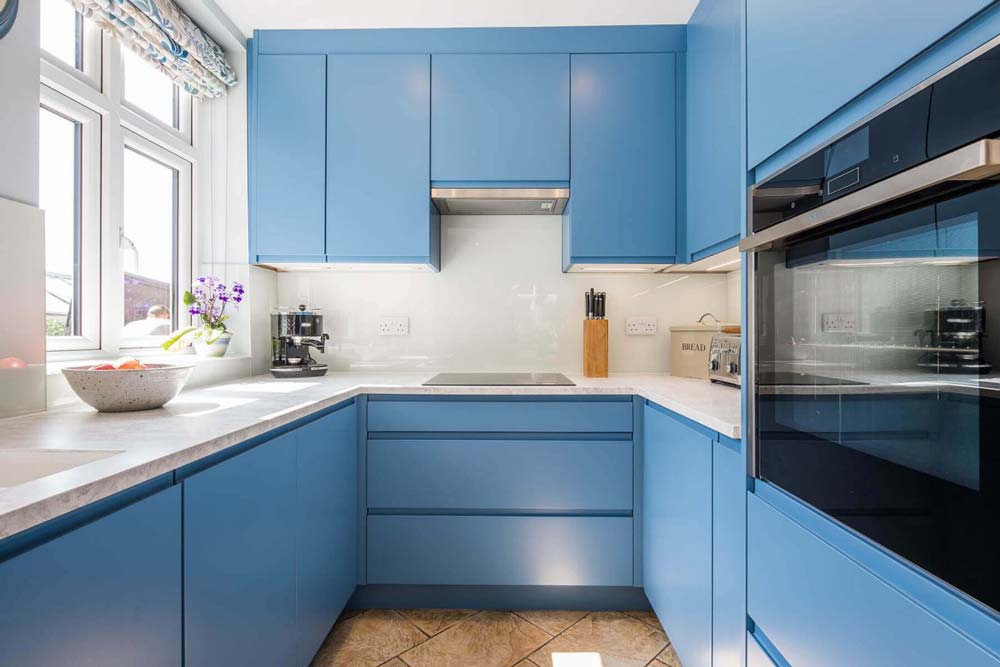 This U-shaped kitchen features light blue handleless cabinet doors, glass backsplash and white countertops. Sheffield Sustainable Kitchens opted for "less is more" in terms of design, keeping the look simple and uncluttered, with plenty of storage space.
Modern Light Blue Kitchen Cabinets and White Countertops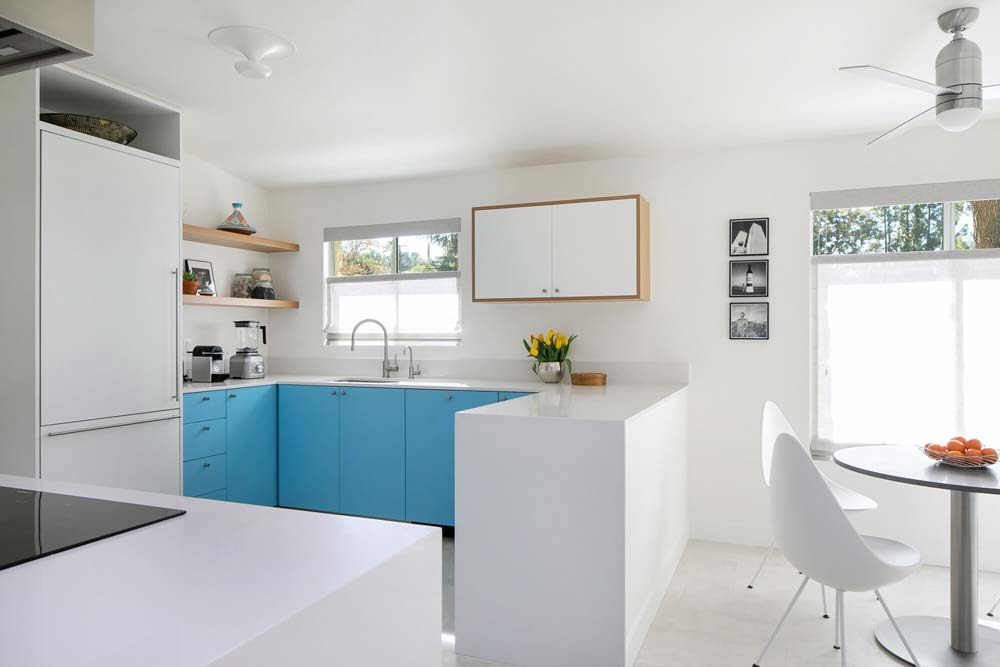 Mahle Design transformed this small U-shaped kitchen into a modern, beautiful space. The light blue cabinetry color is complemented by classic white floor, backsplash and countertops.
Inviting Pale Blue Kitchen With Floating Shelves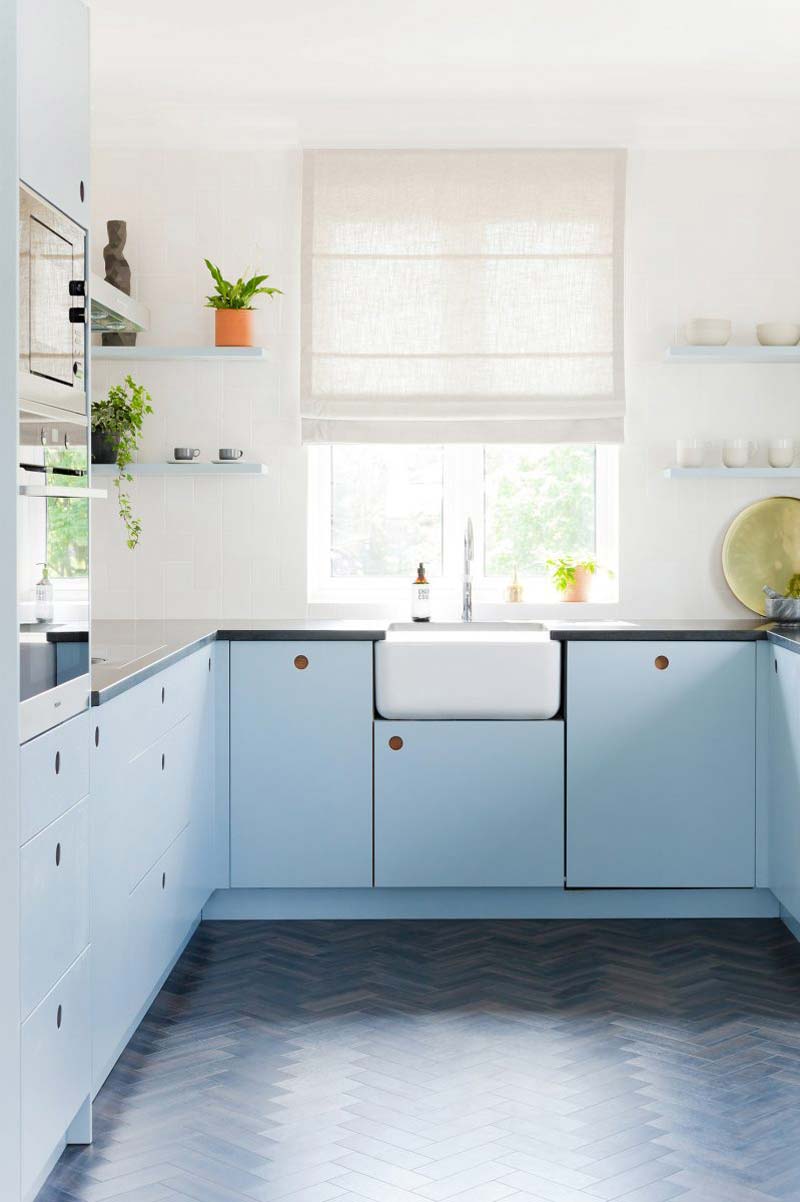 Designed by 2LG Studio, this kitchen looks modern and inviting. The pale blue color brightens up the space and the open shelving makes it feel even airier and fresher.
Bright and Serene Kitchen With Pale Blue Cabinets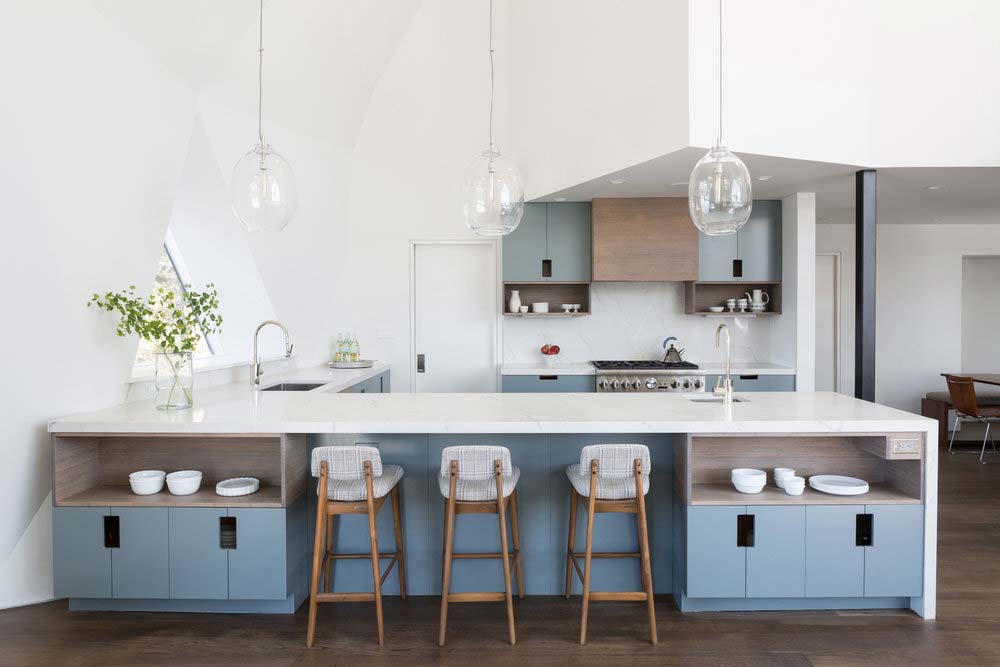 This kitchen was completely transformed by Jess Cooney Interiors to fit their client's needs. It's the perfect kitchen for a family that loves to cook - it has a simple and uncluttered layout, two sinks, stainless steel appliances, quartz countertops and plenty of storage room. The white, light blues, and mix of wood tones make everything feel fresh and inviting.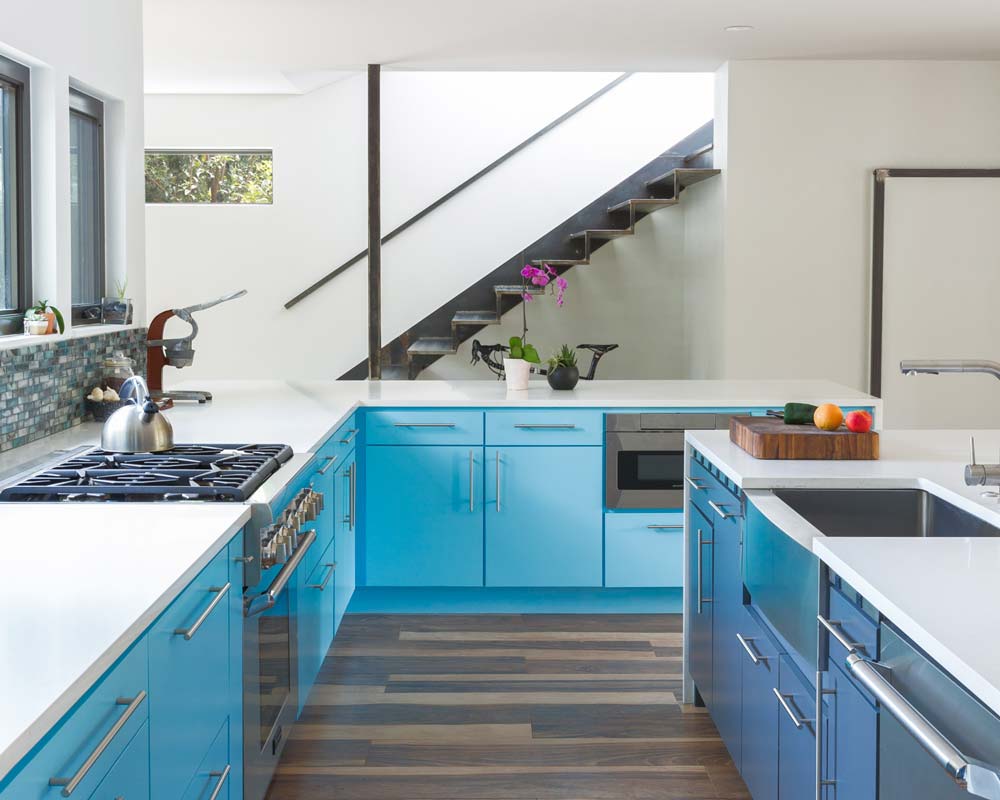 This kitchen by Davey McEathron Architecture looks very stylish. The blue cabinets add a splash of color to the mostly white colored walls, ceilings, and kitchen counters.
Minimalist Kitchen With Light Blue Cabinets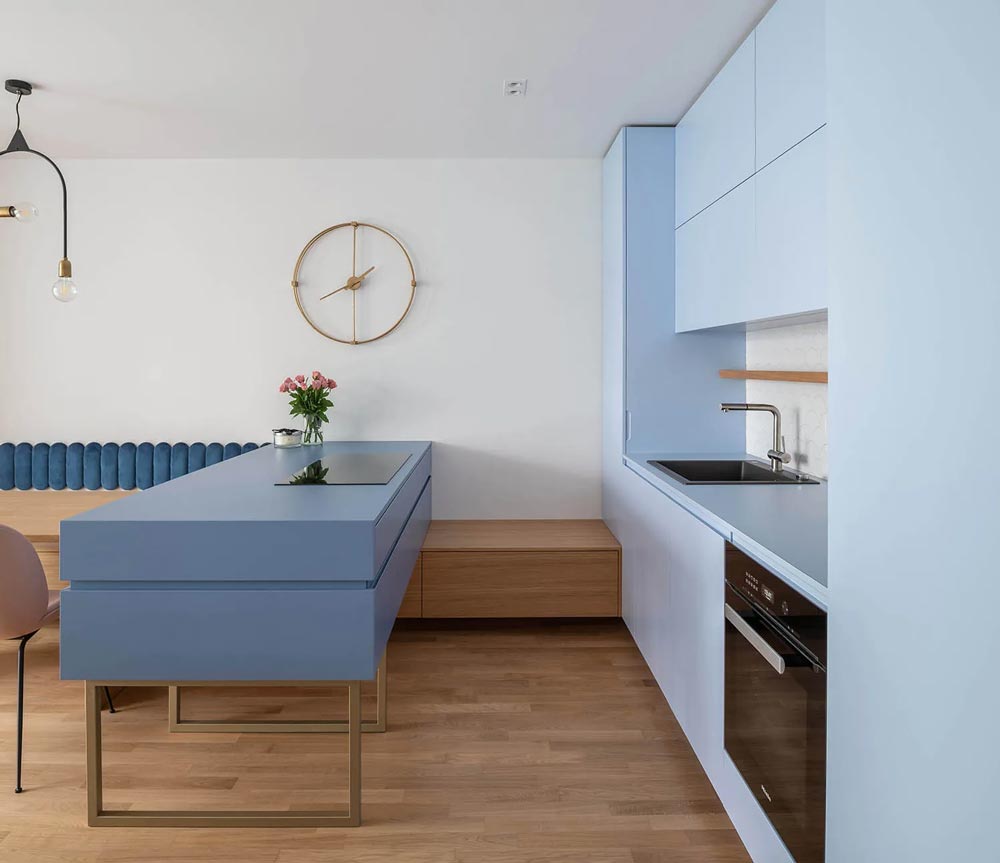 The designers from idea:list studio used two shades of blue for this small kitchen to give it a clean, elegant feel.
Traditional Enclosed Kitchen With Light Blue Shaker Cabinets and Wooden Countertops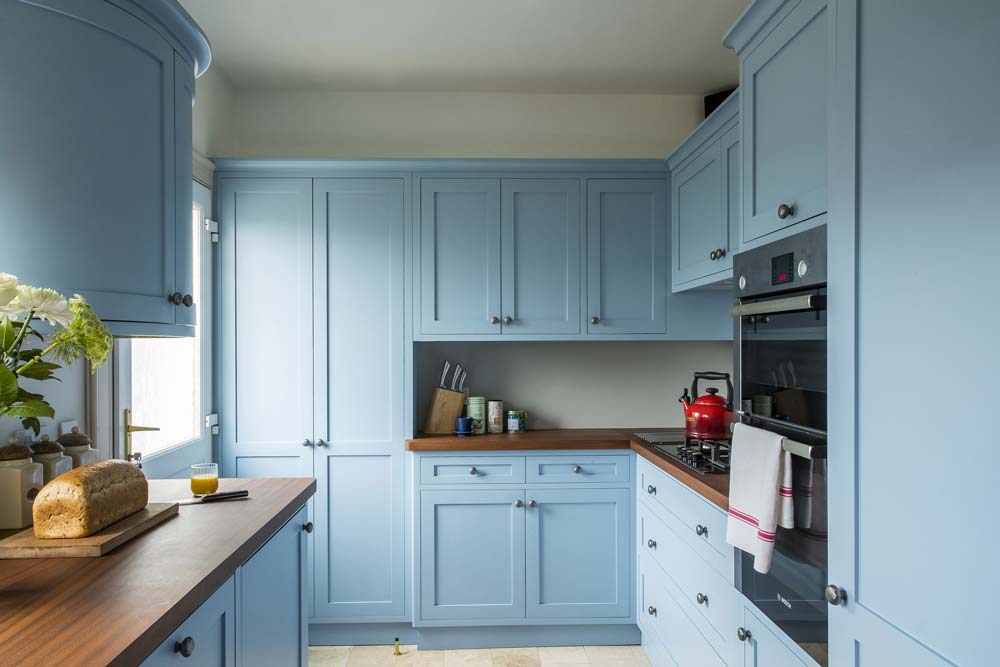 This traditional enclosed kitchen by Ecosse Bespoke Carpentry & Joinery features light blue shaker cabinets, wooden countertops, white backsplash and stainless steel appliances.
Sophisticated Blue Kitchen With Marble Countertops and Backsplash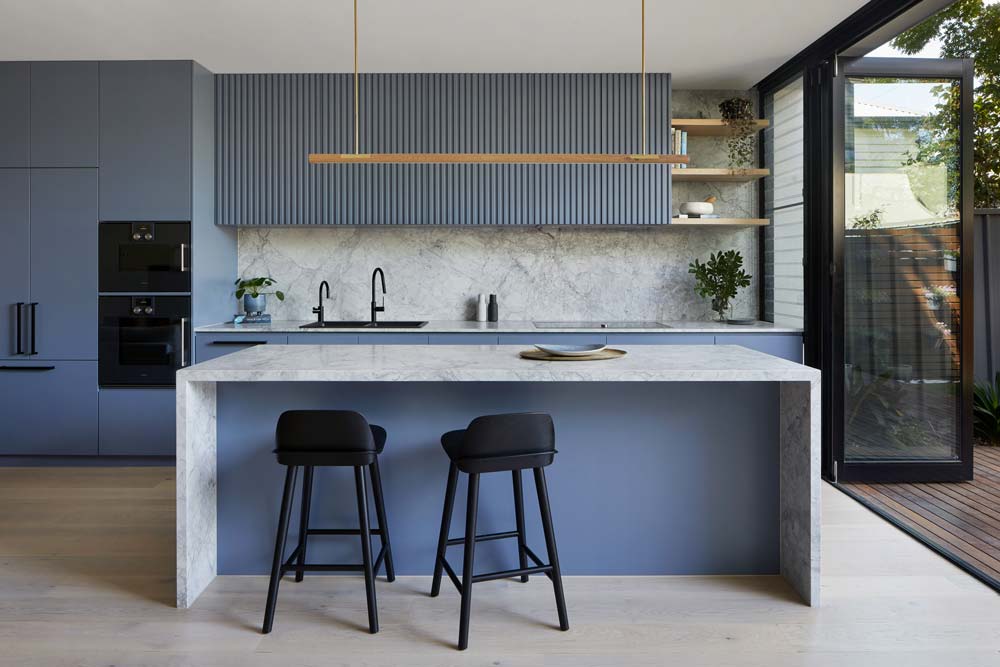 Blank Canvas Architects combined blue color with marble to create an absolutely stunning kitchen. The blue cabinets offer plenty of storage space and add a pop of color. They work perfectly with the marble kitchen island, countertops and backsplash. The floating shelves accentuate the sophisticated and inviting feel of the room.
Light Blue Kitchen With Mirrored Backsplash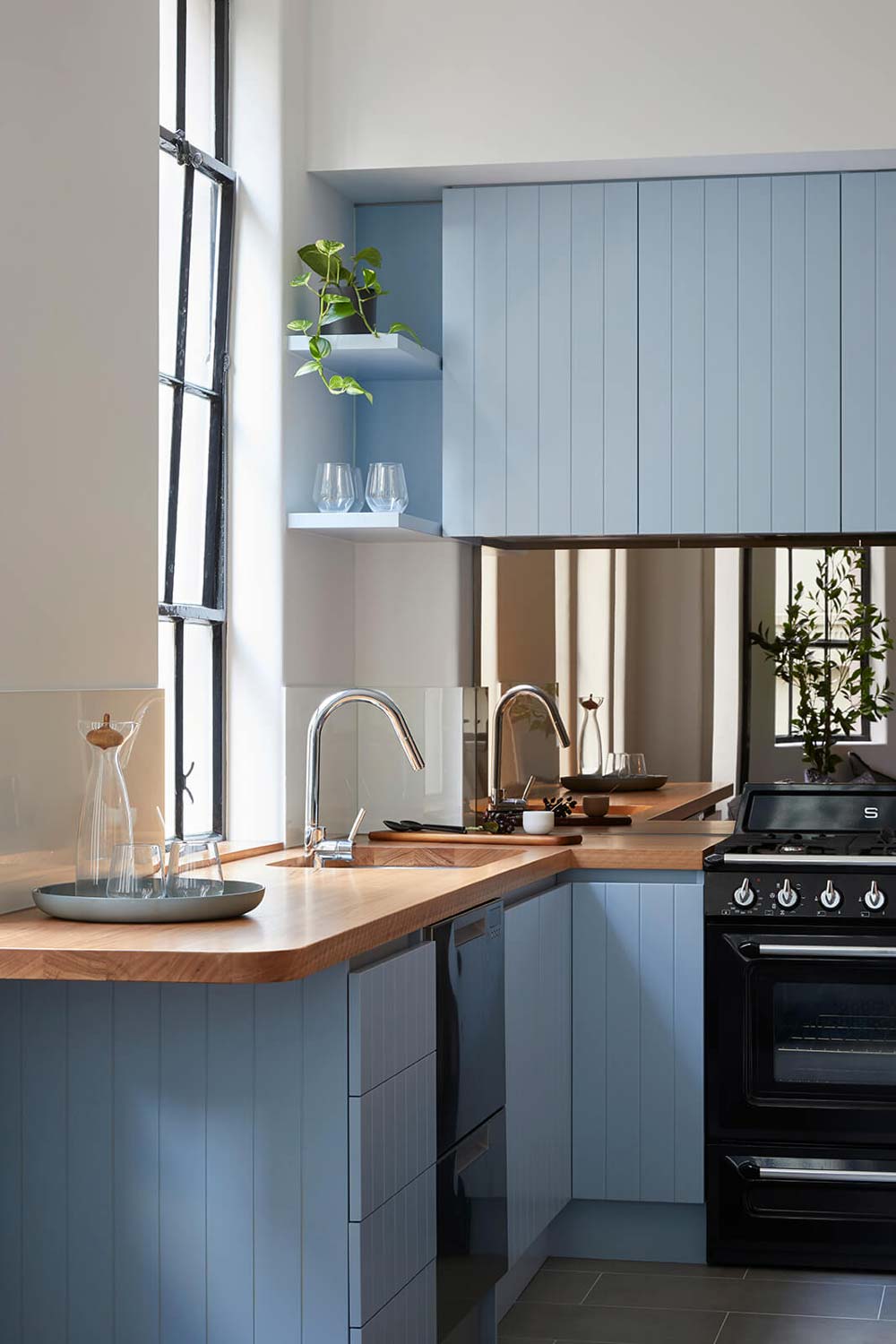 This kitchen is part of a two-bedroom apartment renovation by Australian studio de.arch. The light blue kitchen cabinets and mirrored backsplash give the space a modern feel.
Modern Light Blue Kitchen Cabinets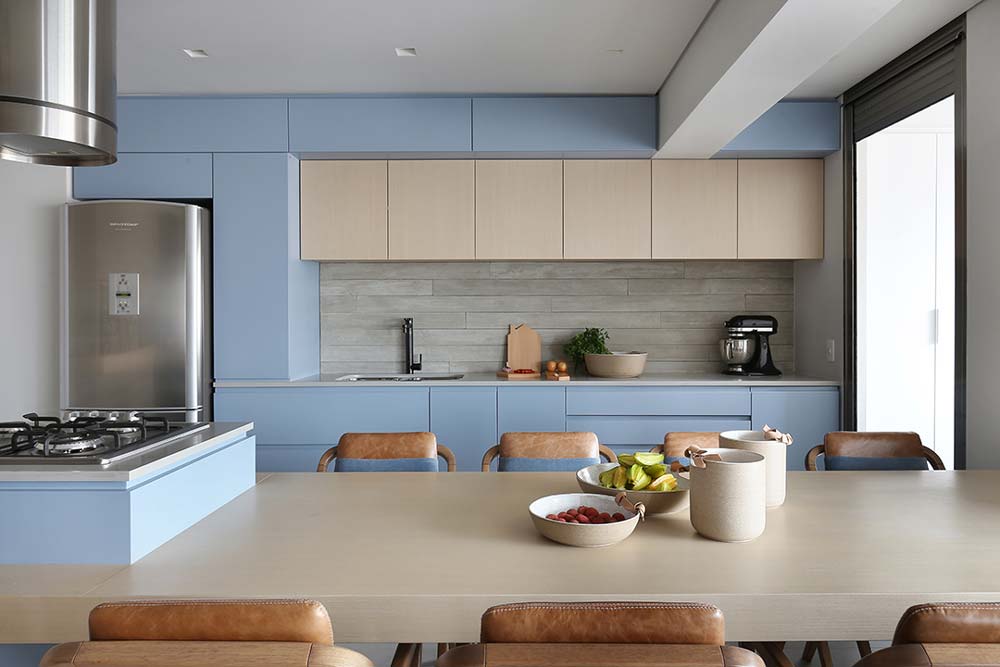 The home's spacious kitchen was designed by mab3 arquitetura to look like a bookcase. The kitchen incorporates light blue lacquer and wood veneer in a stylish and playful way.