12 Beautiful Rattan Table Lamps for a Warm and Cozy Home
One of the quickest, easiest and most affordable ways to add texture and warmth to your bedroom or living room is to buy a rattan table lamp. The neutral tones and woven texture of rattan lamps complement both traditional and modern decors.
A rattan bedside lamp adds a relaxed feel to any bedroom. These lamps also pair nicely with coastal, boho or eclectic living room styles. For those seeking vintage appeal, rattan works beautifully in farmhouse spaces.
How to Incorporate Rattan Lamps in Your Space
When styling with rattan table lamps, consider the overall aesthetic of your room. For a coastal look, pair your lamp with blues and whites, perhaps a chunky knit throw or a nautical-themed artwork. The natural aspect of the rattan will complement the beach-inspired tones beautifully.
In a boho setting, rattan table lamps can be mixed with other natural elements like macramé, terra cotta, and lush indoor plants. The result is a layered, eclectic look that is rich in textures and patterns.
For a modern farmhouse style, combine the lamp with vintage or rustic elements. Think distressed wood furniture, barn doors, and shiplap walls. The rattan will add an extra layer of texture and warmth.
In a modern or minimalist space, a rattan lamp can serve as an organic, textural contrast. Pair it with sleek furniture, metal accents, and a pared-down color palette. With the simple addition of a woven rattan lamp, you can infuse natural texture and invite relaxation into your living spaces.
Best Rattan Table Lamps for Sale
When selecting a rattan table lamp, consider the size, style and shape of the lamp. Opt for a cylindrical or urn-shaped base for a transitional look, or choose a lamp with clean, modern lines for a more contemporary style. Also, think about how the lamp will be used. A smaller lamp might be perfect for a bedside table, while a larger one may be needed for a living room end table.
For your inspiration, we've rounded up 12 rattan table lamps you can buy - browse our selections below to find the perfect one for your home.
You may also like: 13 Rattan Coffee Tables You Can Buy Right Now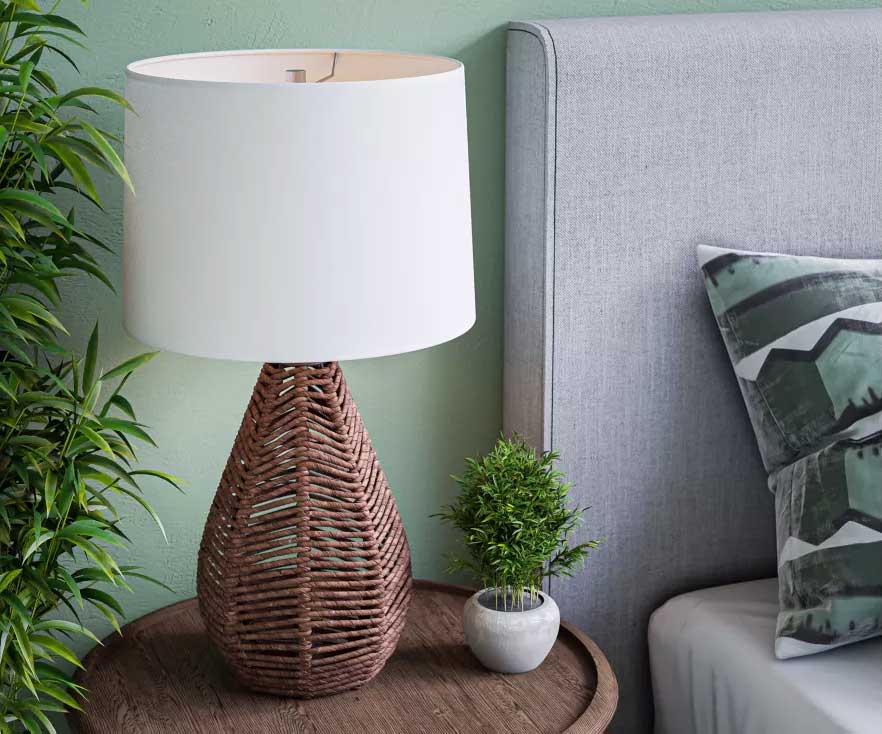 With its unique natural materials and coastal-inspired design, this table lamp is an excellent addition to any boho, beach-inspired, or rattan decor. Place it on the living room side table to complement your decor or use it as a nightstand lamp to create a calming and welcoming atmosphere in the bedroom.
Arcola Rattan Table Lamp (Set of 2)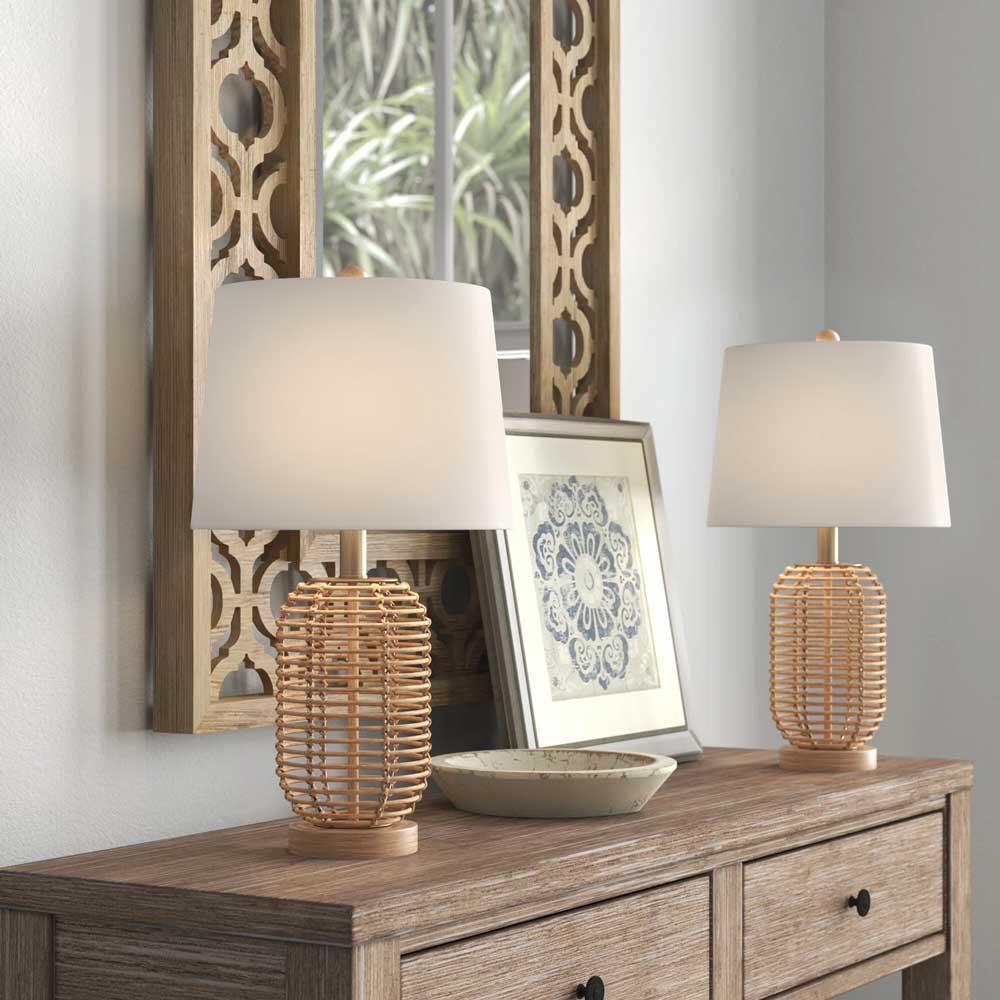 This 2-piece pair of table lamps adds a touch of boho charm and elegance to any living room, bedroom or guest room. Each lamp measures 21'' H X 12'' W X 12'' D. Topping each lamp is a white drum shade that softly disperses the light from a 60W bulb (not included).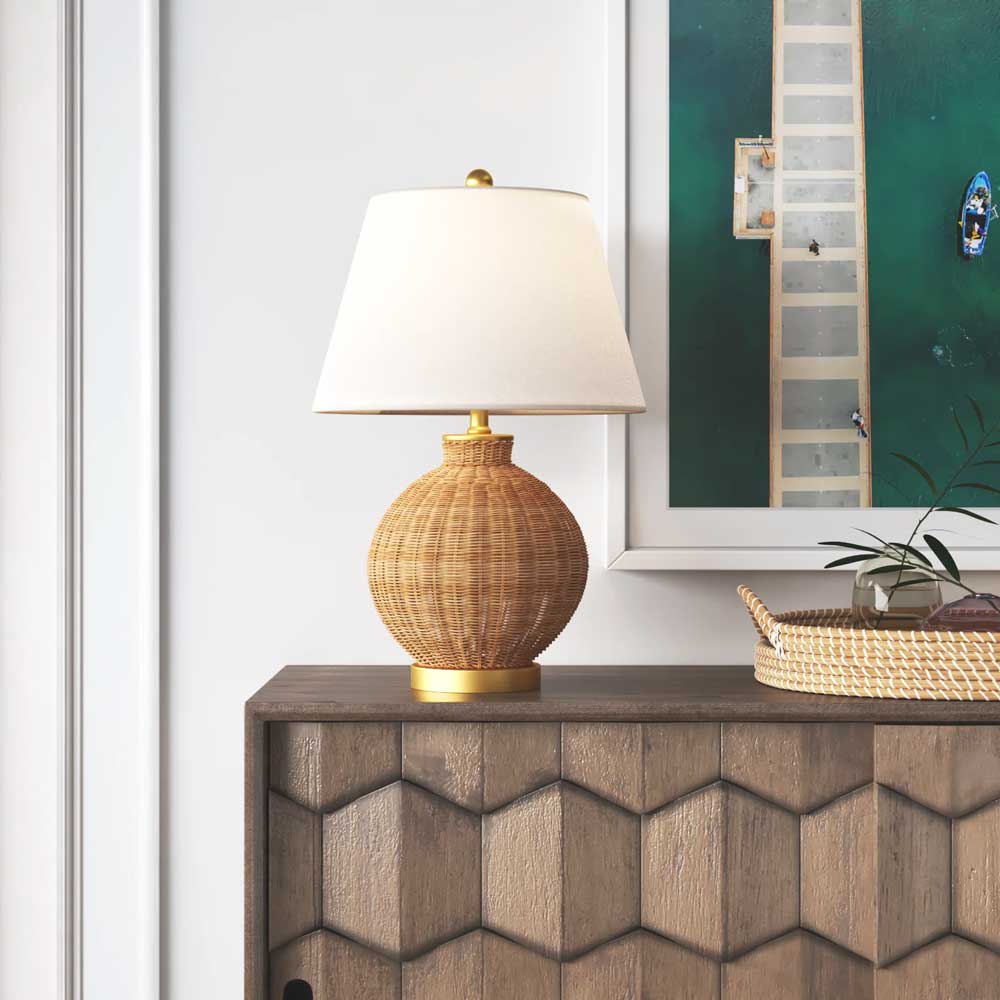 With its woven rattan sphere and gold accents, this table lamp serves as an ideal accent for end tables, nightstands, and entryway consoles. The natural texture of the rattan sphere gives it a warm and inviting feel, while the gold accents add a touch of glamour and sophistication.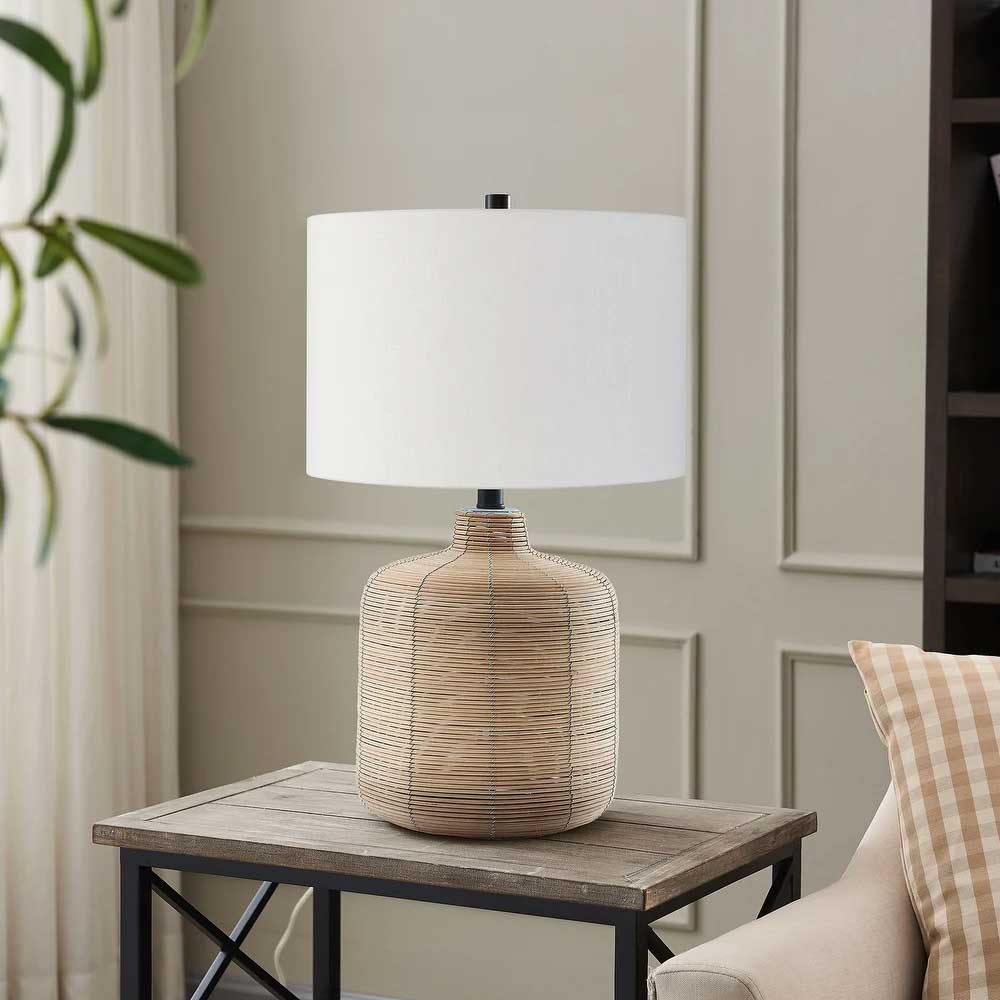 With its urn-shaped base made of woven rattan, this chic table lamp will add style to any living space. Its breezy look and feel make this lamp a great choice for different decorating styles, from coastal and bohemian to modern and eclectic. Place this lamp on an entryway console, nightstand or side table to instantly make a statement.
Freeport Rattan Bedside Lamp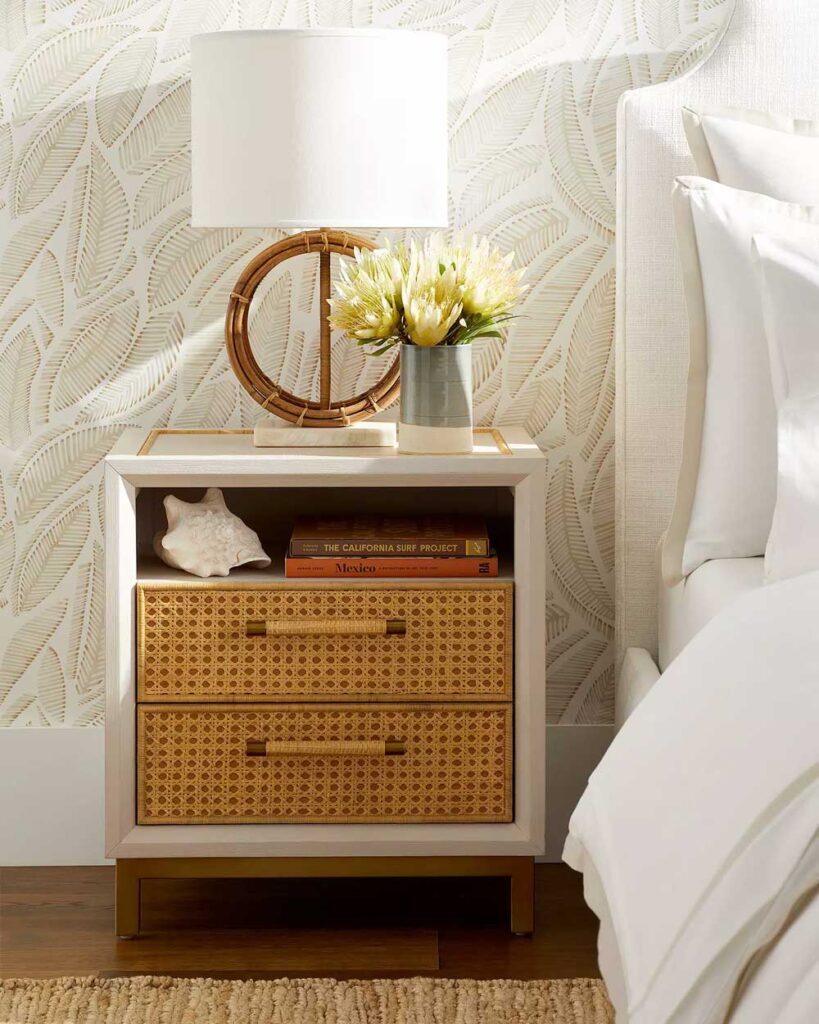 This rattan table lamp is gorgeous. It measures 10.5" W x 10.5" D x 22.25" H and features a hand-bent rattan base woven together with rattan peel. Place it on a cane sideboard or nightstand for a stylish and cozy home.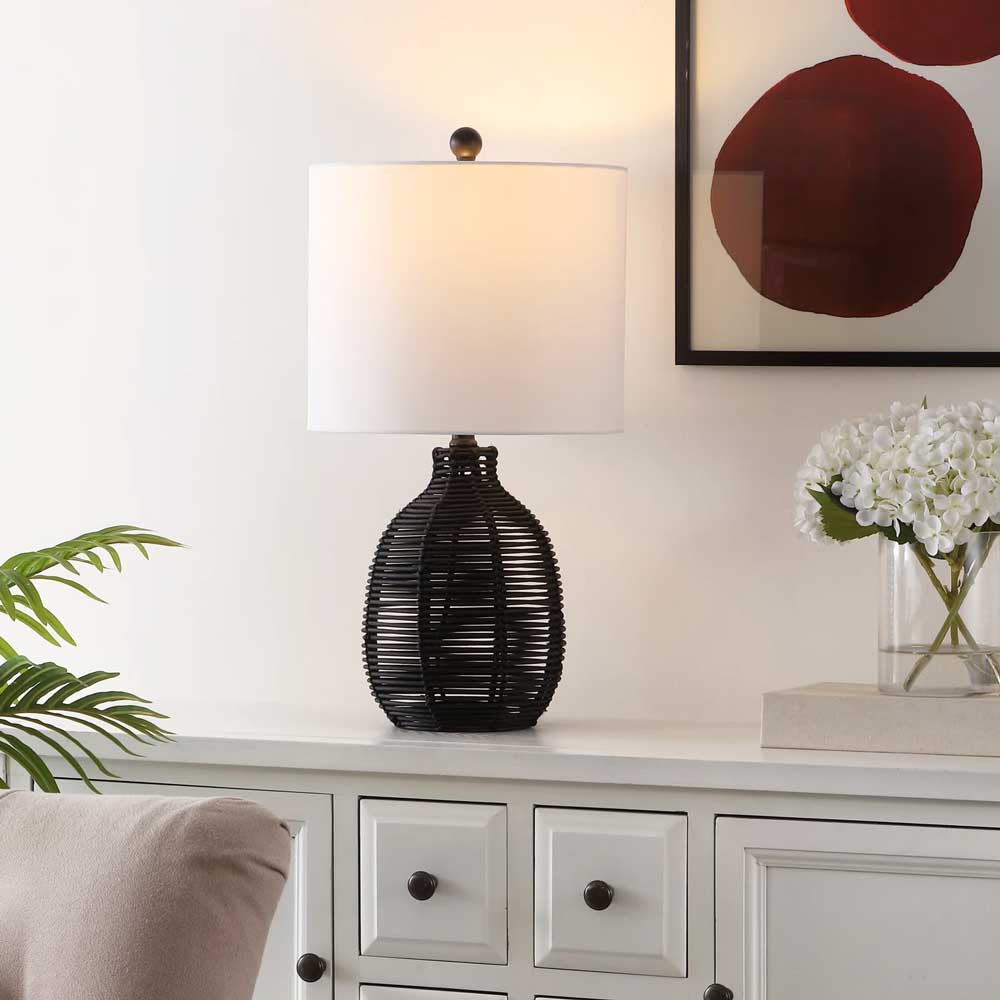 Add a touch of warmth and sophistication to your home with this beautiful rattan table lamp. With its rattan base and white drum shade, this lamp is the perfect choice to brighten up any reading nook, entryway, or nightstand. Choose from three color options: Black, Light Natural, and White.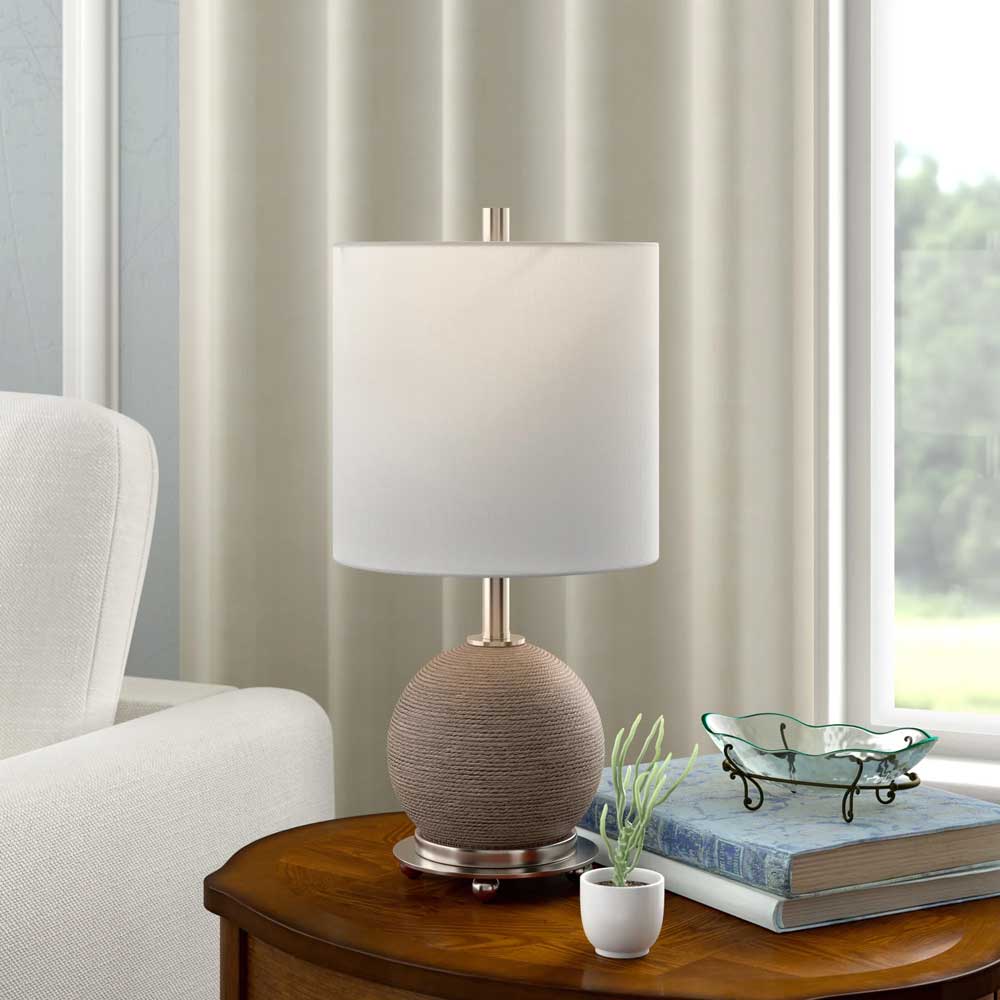 With its braided rattan wrap exterior, this accent lamp is a great choice for a stylish living room. Brushed nickel accents add a touch of sophistication, while the crisp white linen hardback shade complements the organic rattan material.
Arteriors Home Panama Natural Rattan Column Table Lamp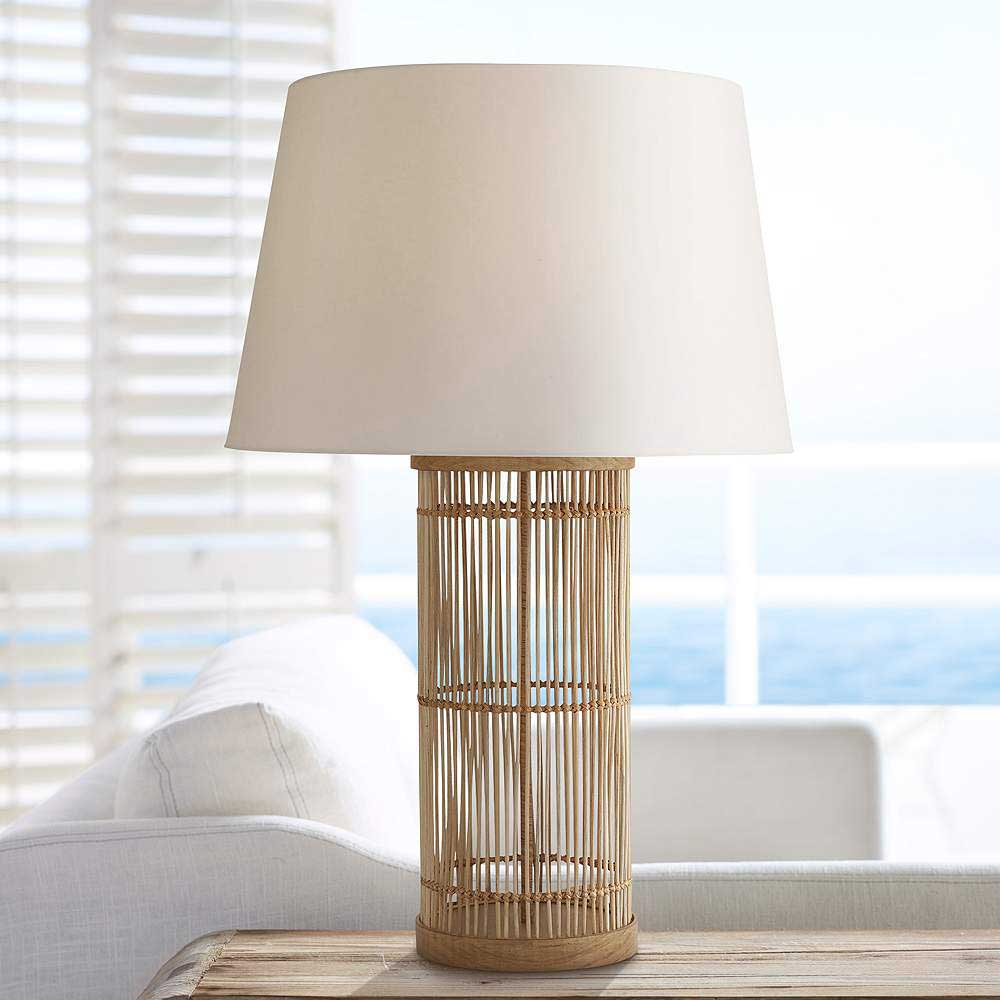 This natural rattan column table lamp will look great next to a white sofa or a cane bed. With its architectural design, it will infuse your space with a breezy, cozy vibe.
SAFAVIEH Lighting Juana Tropical Coastal Boho Rattan 22-inch Table Lamp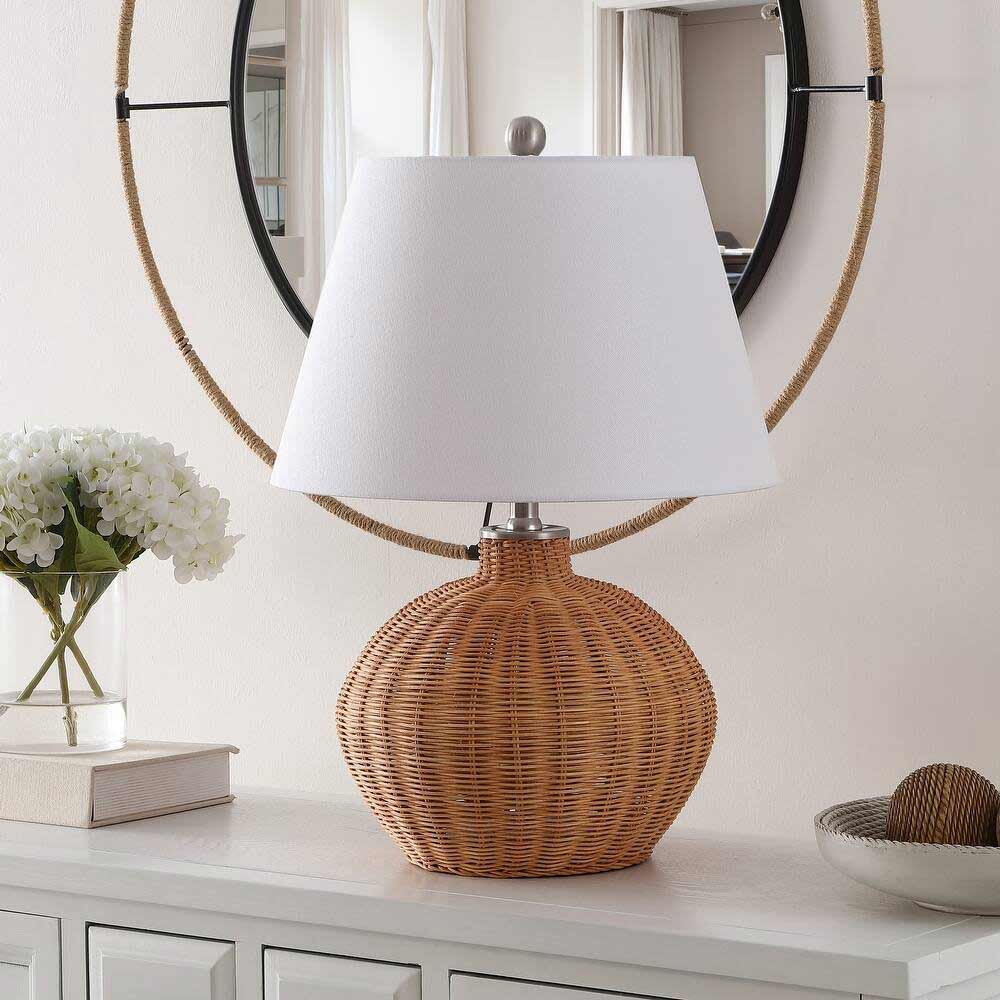 Measuring 15'' W x 22'' H x 15'' D, this rattan table lamp will add a touch of charm to any home. It will blend seamlessly into a variety of decor styles, including transitional, tropical, coastal, rustic, and bohemian.
Edgware Rattan Table Lamp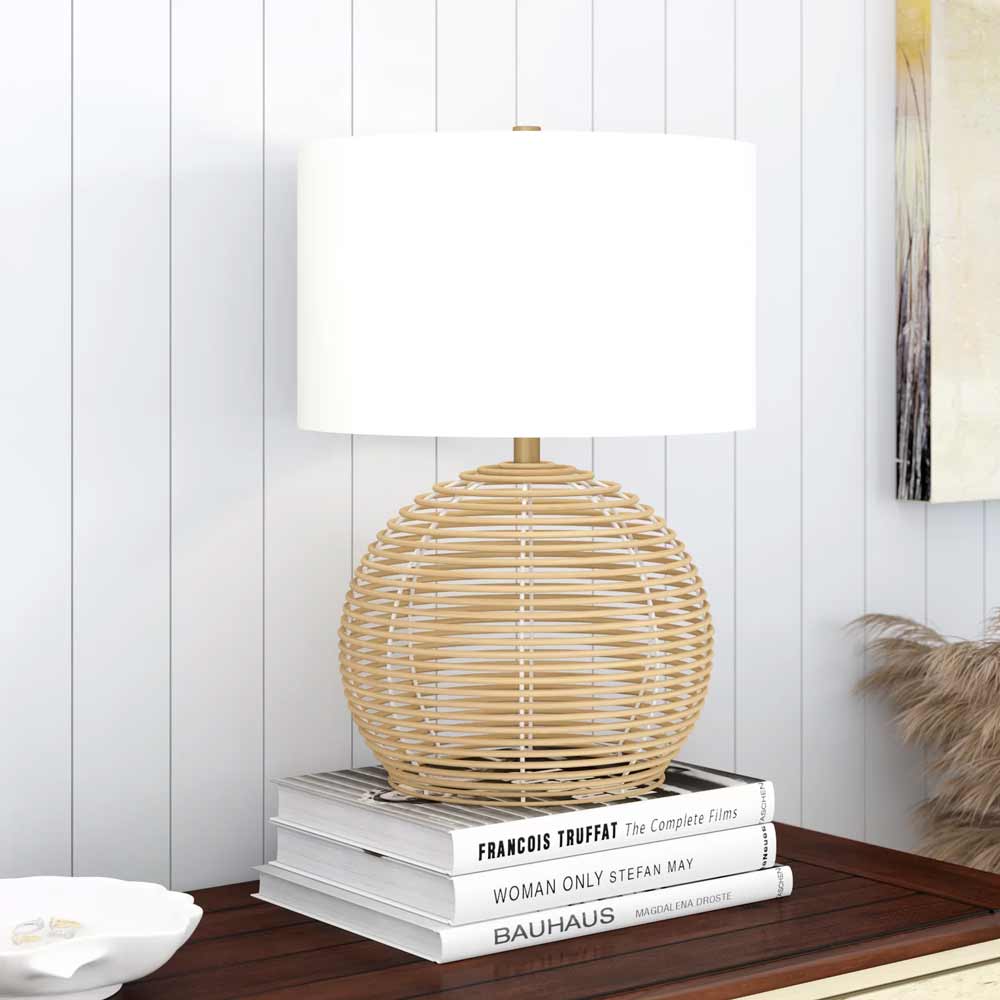 Crafted from natural wooden rattan, this beautiful lamp features an open orb-shaped silhouette that sits on a footed base. A crisp white chiffon drum shade tops off the design, amplifying the coastal vibe. The shade's polystyrene lining helps direct the light upwards, downwards, and outwards for ample ambient illumination. Place this lamp on a console table or nightstand to add a breezy, vacation-inspired vibe.
Arteriors Home Domingo Natural Rattan Rectangular Table Lamp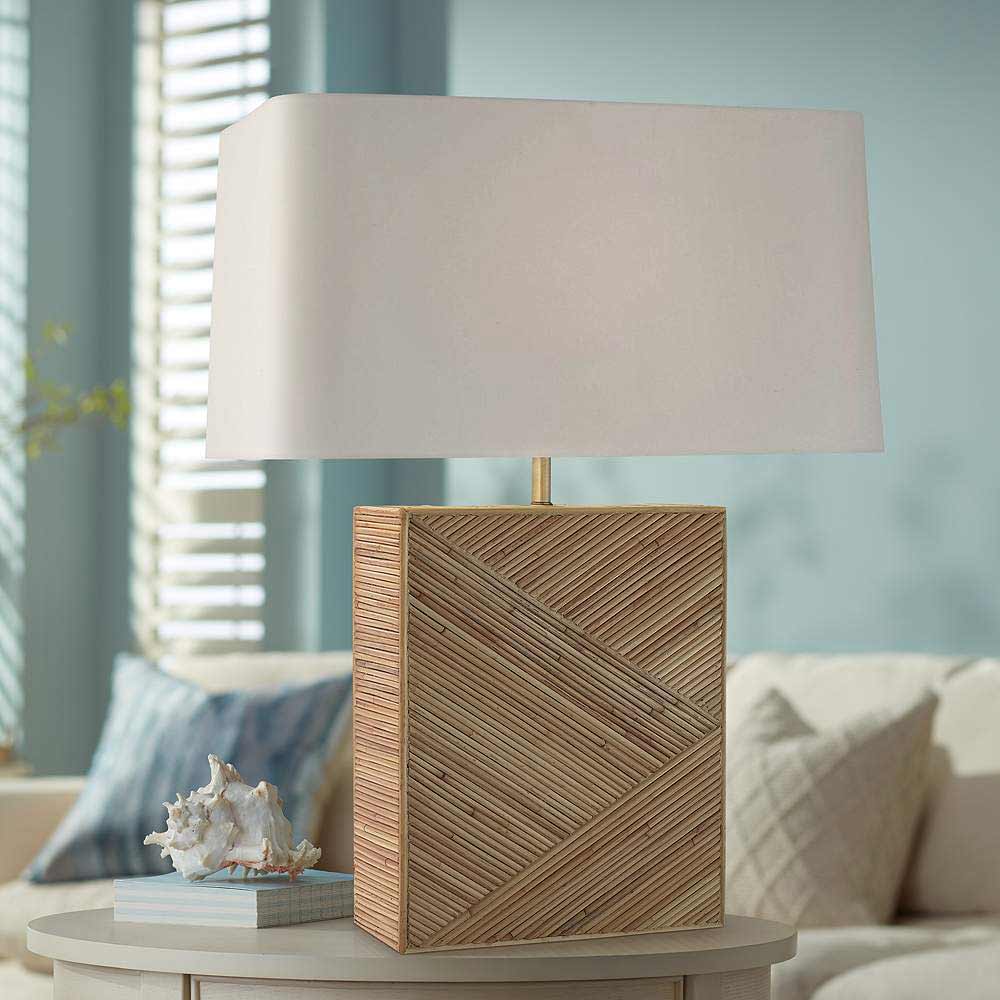 Add a tropical coastal feel to your home with this rectangular table lamp. With its geometric, modern design, it will become the focal point of your living room or bedroom. This lamp features a rectangular body made of natural finish rattan in an angular design pattern, and it's a great choice for modern or coastal decor styles.
Bridleridge 25 in. Rattan Table Lamp with White Fabric Shade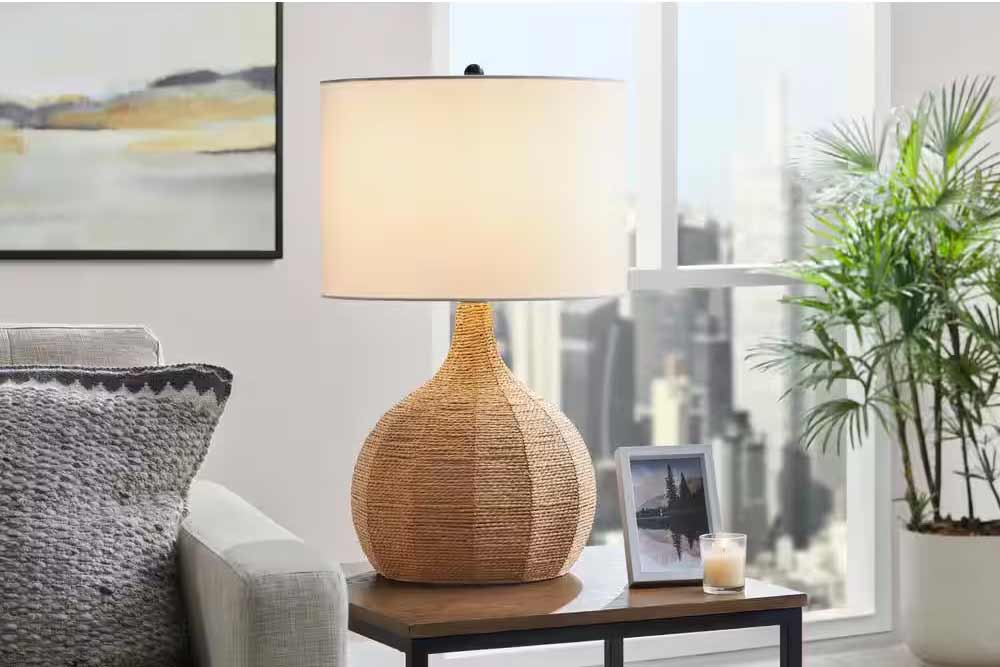 Another great option is this rattan lamp from Home Depot. With its chic, contoured rattan base and white fabric shade, this lamp is sure to set the tone for a relaxing and inviting atmosphere.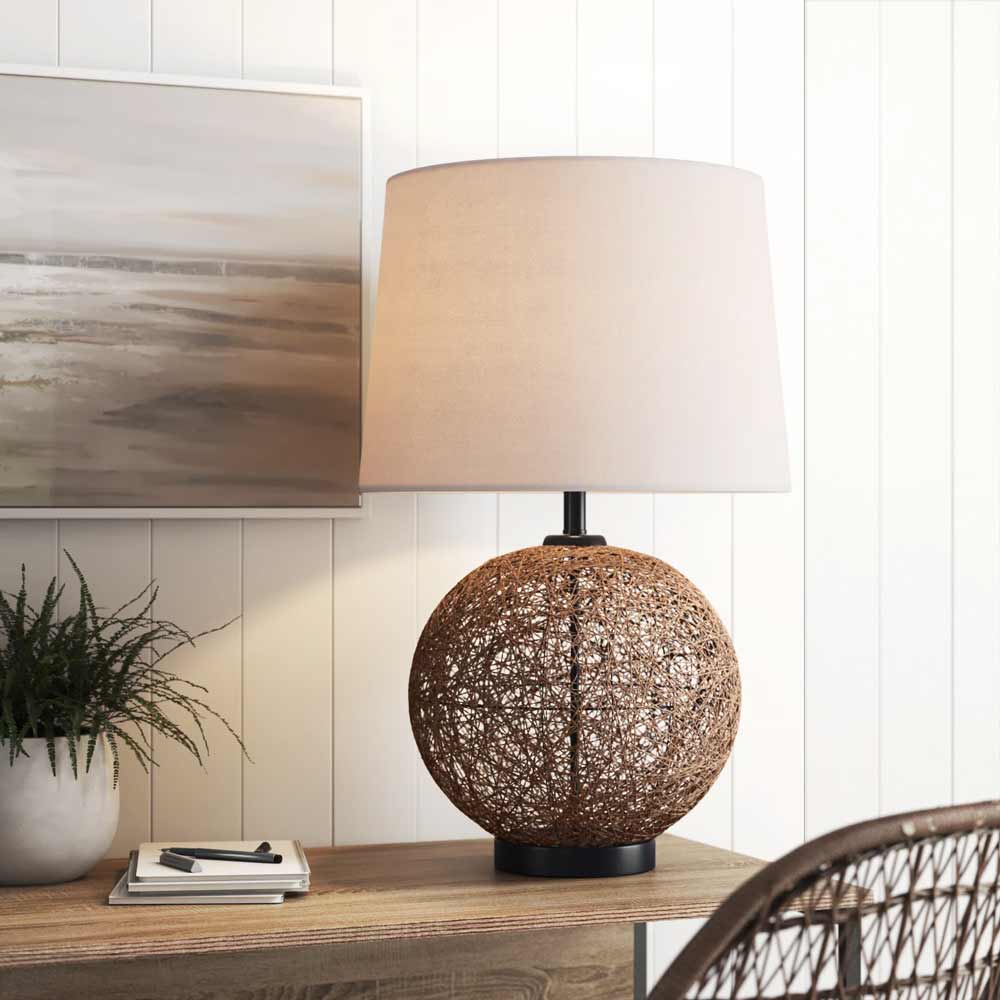 Our last pick is this unique table lamp from Wayfair. With its wound openwork design mimicking the look of a ball of twine, this rattan lamp is a true conversation starter. It's a great choice for any living room, bedroom, or home office.