Revolutionize Your Sound: Discover the Best Metal Guitars on the Market
Your guitar can be an extension of your personality and style. Choose a design that reflects your own personal style and aesthetic, and be sure to invest in quality pieces that will last you a long time.
Whether you're looking for a baritone, a 6-string or extended range, take a look at our favorite metal guitars that are currently available for purchase and choose the one that suits your playing style and your budget.
What Makes a Guitar Good for Metal?
While technically you can play metal on any electric guitar, some instruments are better suited to handle the genre. Some of the key features of a great metal guitar are high output pickups, neck profile and fretboard radius that facilitate fast playability, extended range or baritone, build quality and design.
High Output Guitar Pickups
Metal relies on overdriven, heavily distorted tones. Pickups with high output and gain, like active humbuckers, help achieve the thick, aggressive metal sound. Popular pickup manufacturers include Fishman, EMG, DiMarzio, Seymour Duncan and Bare Knuckle Pickups.
Guitar Neck Profile and Fretboard Radius
Thinner, flatter neck profiles allow for easier and more comfortable fast playing which is typical in metal.
Metal guitars usually have a C or D neck profile - as these necks are slim, slightly curved and are very comfortable to play.
Fretboard radius is the measurement of the curvature of the fingerboard across the neck, from the lowest string to the highest string. For metal, a fretboard radius of at least 15" (or 381mmR) is preferable, because the larger the number, the flatter the curve, the better the playability.
Extended Range Guitars and Baritone Guitars
Baritone guitars have a longer scale length, usually from 26.5 to 30 inches, compared to the typical 25.5 inch scale of a regular guitar. This extended scale length enables lower tunings (Drop C, Drop A, Drop G, Drop E etc.) and thicker strings to be used on the baritone guitar.
Extended range guitars usually have 7, 8, or even 9 strings. The additional strings allow for expanded range, both on the low and high end of the fretboard.
A 7 string guitar adheres to the same tuning of a typical 6 string guitar, but has an additional low B string.
7 string guitar tuning: B-E-A-D-G-B-E
An 8 string guitar follows the standard tuning of a 7 string instrument, but has an additional low F# string.
8 string guitar tuning: F#-B-E-A-D-G-B-E
A 9 string guitar boasts the same tuning configuration of an 8 string, but has a thunderously-low C# string too. This takes a 9 string guitar's tuning below that of a typical 4-string bass.
9 string guitar tuning: C#-F#-B-E-A-D-G-B-E
Guitar Build Quality and Design
Guitar build quality matters because it directly impacts the sound, playability, durability, resale value, and overall satisfaction of the instrument.
High-end metal guitars combine premium tone woods like basswood, maple, mahogany, alder, ash with quality bridges (either fixed or floating), locking tuners and great fretwork.
While often overlooked, design plays an important role in choosing the right guitar. The more the instrument appeals to you, the more likely you will pick it up and play it. So investing in a well-built, cool-looking guitar can provide a rewarding playing experience and contribute to your musical journey.
You may also like: Best Electric Guitars You Can Buy to Take Your Playing to the Next Level
Best 6-String Metal Guitars You Can Buy
Ibanez RGD61ALET Axion Label Electric Guitar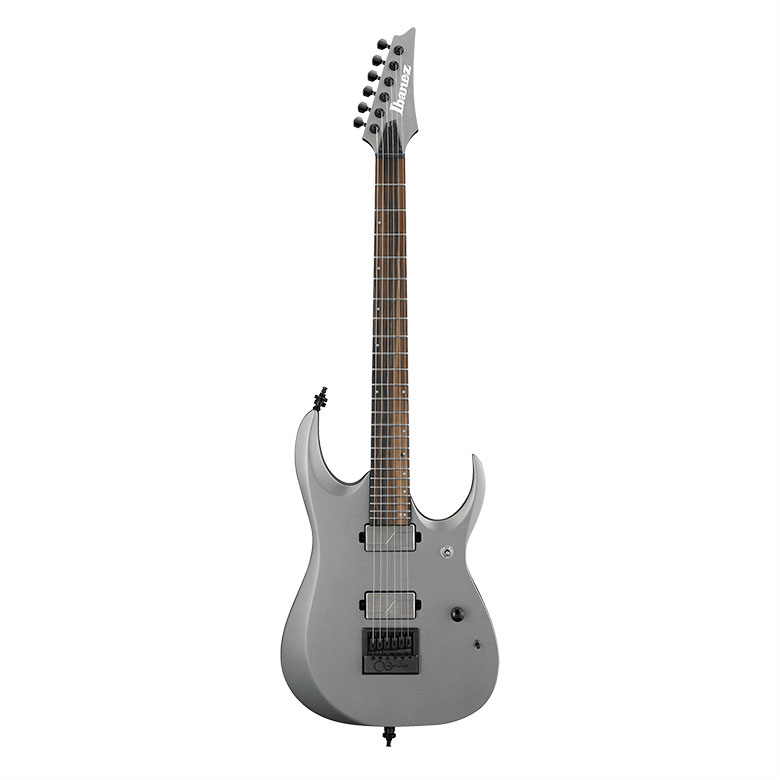 One look at Ibanez RGD61ALET RGD Axion Label electric guitar and you can tell it was made for metal. Finished in Metallic Matte Grey, it features a nayatoh body with a maple top. The fretboard is Macassar ebony, providing a tight low end with a quick response, while the rigid and thin 26.5" Nitro Wizard 5-piece panga panga/walnut neck adds sustain. The Sub Zero-treated frets ensure durability against intense riffing and string bending.
The Axion metal guitar is loaded with dual Fishman Fluence Modern humbuckers, pumping out aggressive tones and a powerful attack without noise. Push/pull pots transform the pickups' active, modern high-output sound to one that's crisp, clean and fluid. With the inclusion of an EverTune bridge, the RGD61ALET guarantees unparalleled tuning stability, even during the most demanding playing sessions.
The baritone guitar is equipped with Gotoh locking tuners, enabling swift and efficient string changes, while the Schaller S-Lock strap lock pins securely hold the straps in place, offering a quick release when needed. The Ibanez RGD61ALET RGD Axion Label sets a new standard for electric guitars in the realm of modern metal, catering to the needs of discerning musicians seeking a next-level instrument.
Features & Technical Specifications
Neck: Nitro Wizard 5-Piece Panga Panga/Walnut Neck
Fingerboard: Ebony
Scale: 26.5"
Body: Nyatoh Body w/ Maple Top & Metallic Gray Matte Color
Pickups: Dual Fishman Fluence Modern Humbucker
Frets: 24
Fingerboard Radius: 15.74 inches / 400mmR
Extended Range/Baritone: Yes
Slim/Fast Neck: Yes
Price range: $1000 - $1500
Ibanez RG550 Genesis Electric Guitar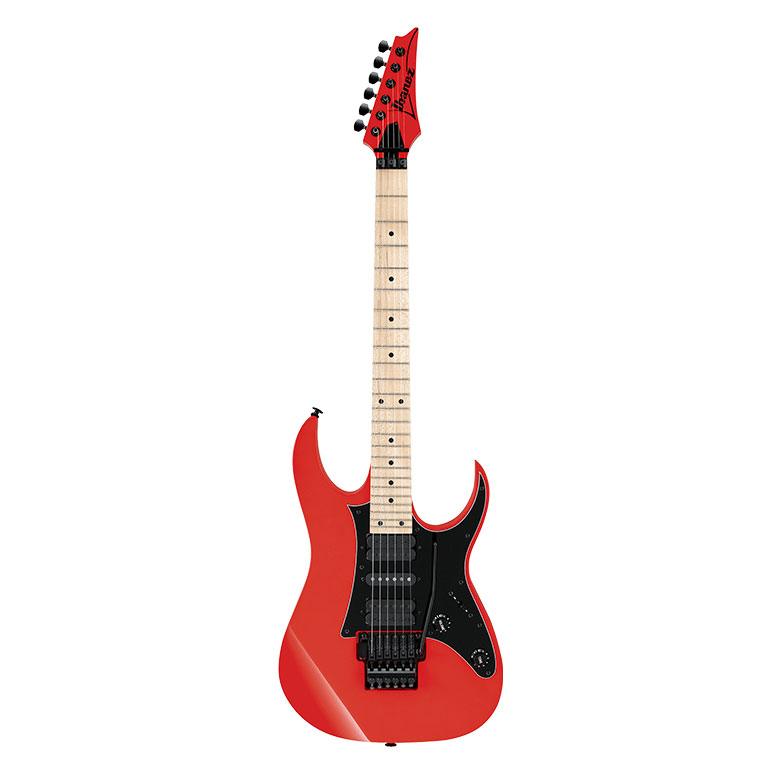 Made in Japan, the Ibanez RG550 Genesis Electric Guitar is a reissue of the legendary 1987 model that made rock & metal history. This reissue from the Genesis Collection retains the classic design of its predecessor while incorporating modern enhancements.
A prominent feature of the Ibanez RG550 is the ultra thin Super Wizard neck. Constructed of five solid pieces of maple & walnut, the neck provides rock-solid stability and a comfortably thin profile for a fast, frictionless feel.
The RG550's critically-acclaimed Edge tremolo bridge lets you dive bomb, raise pitch and return to perfect tuning. This double-locking system clamps the strings at the bridge and nut to prevent detuning during aggressive use. With adjustment screws, you can effortlessly control tremolo tension and bridge angle, facilitating smooth and seamless pitch bends and flutters.
The original Ibanez V7, S1, and V8 pickups installed in the RG550 deliver a versatile range of sounds and articulate attack. When combined with the 5-way pickup switch, they offer a wealth of tonal possibilities to explore. Furthermore, the modern Gotoh machine heads ensure impeccable tuning stability, allowing you to focus on your performance without worrying about frequent adjustments.
Features & Technical Specifications
Neck: Super Wizard 5pc Maple/Walnut
Fingerboard: Maple
Scale: 25.5"
Body: Basswood
Pickups: Ibanez V7 / S1 / V8
Frets: 24
Fingerboard Radius: 16.92 inches / 430mmR
Extended Range/Baritone: No
Slim/Fast Neck: Yes
Price range: $500 - $1000
Jackson Pro Series Misha Mansoor Juggernaut HT6 Electric Guitar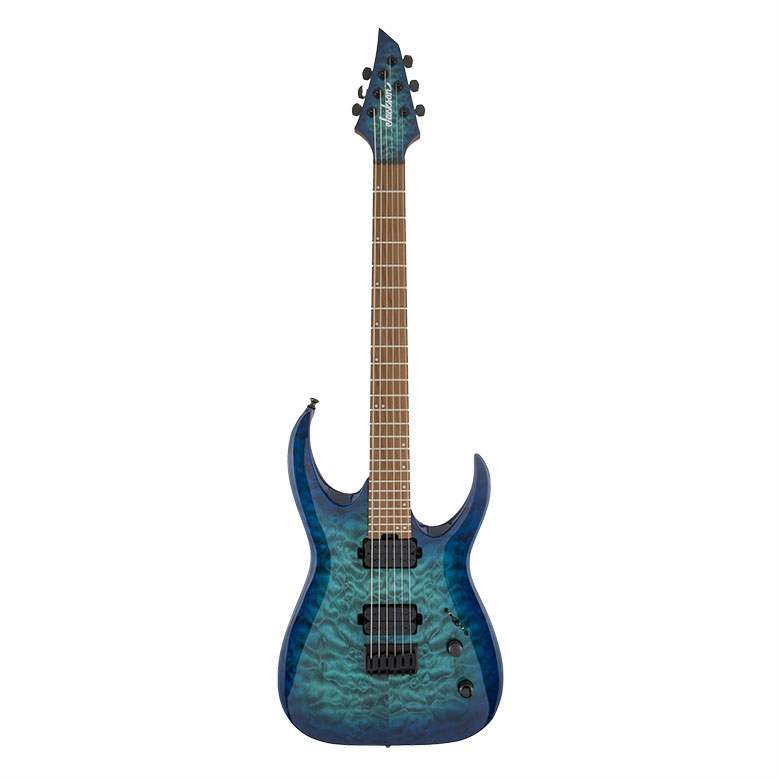 Renowned as the pioneer of Djent and guitar virtuoso, Misha Mansoor has garnered immense acclaim as the creative force behind the progressive metal band Periphery. His exceptional skill and lightning-fast technique have astounded even the most discerning metal enthusiasts.
The Pro Series Signature Misha Mansoor Juggernaut HT6QM showcases a basswood body adorned with a stunning quilt maple top. Its one-piece caramelized bolt-on maple neck, reinforced with graphite, exhibits a wrap-around heel and a smooth oiled back finish to enhance playing comfort. Unleash scorching solos on the 20" flat radius caramelized maple fingerboard, complete with rolled edges, 24 jumbo frets, and offset dot inlays.
Mansoor's unwavering commitment to exceptional tone led him to collaborate extensively with Jackson in creating the powerful Jackson MM1 pickups, which are uncovered and directly mounted. These pickups can be shaped to perfection using a five-way blade switch, single volume control, and single tone control with a push/pull select feature.
This metal guitar is further equipped with a Jackson HT6 string-through-body hardtail bridge, Jackson-sealed die-cast locking tuners, and sleek black hardware, completing its formidable features.
Features & Technical Specifications
Neck: 1-Piece Caramelized Maple Neck
Fingerboard: Maple
Scale: 25.5"
Body: Basswood
Pickups: Jackson Uncovered MM1
Frets: 24
Fingerboard Radius: 20 inches / 508mmR
Extended Range/Baritone: No
Slim/Fast Neck: Yes
Price range: $500 - $1000
Best 7-String Metal Guitars You Can Buy
Best 8-String Metal Guitars You Can Buy